Posted By Norman Gasbarro on November 10, 2014
George Spangler, who late in life was a school janitor in Lykens Borough, Dauphin County, Pennsylvania, died on 25 January 1921.  He was a Civil War veteran who served in the 2nd Company G of the 103rd Pennsylvania Infantry.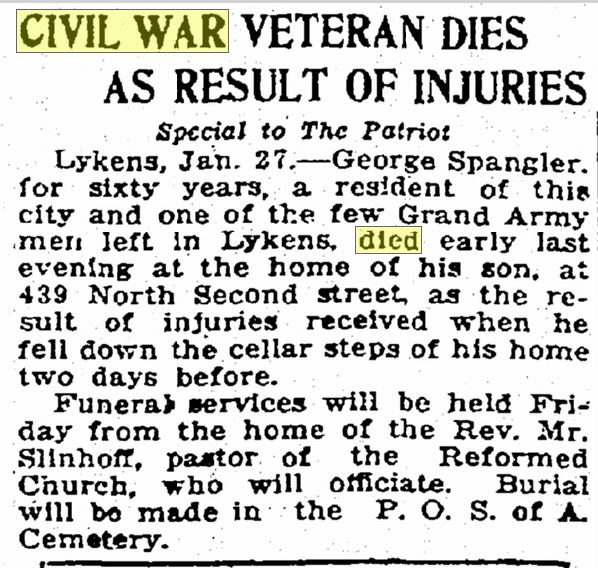 The obituary appeared in the Harrisburg Patriot on 28 January 1921:
CIVIL WAR VETERAN DIES AS A RESULT OF INJURIES

Special to the Patriot

Lykens, 27 January 1921 — George Spangler, for sixty years , a resident of this city and one of the few Grand Army men left in Lykens, died early last evening at the home of his son, at 439 North Second Street, as the result of injuries received when he fell down the cellar steps of his home two days before.

Funeral services will be held Friday from the home of the Rev. Mr. Slinhoff, pastor of the Reformed Church, who will officiate.  Burial will be made in the P.O.S. of A. Cemetery.
His death certificate (obtained through Ancestry.com and shown below), stated that the cause of death was apoplexy.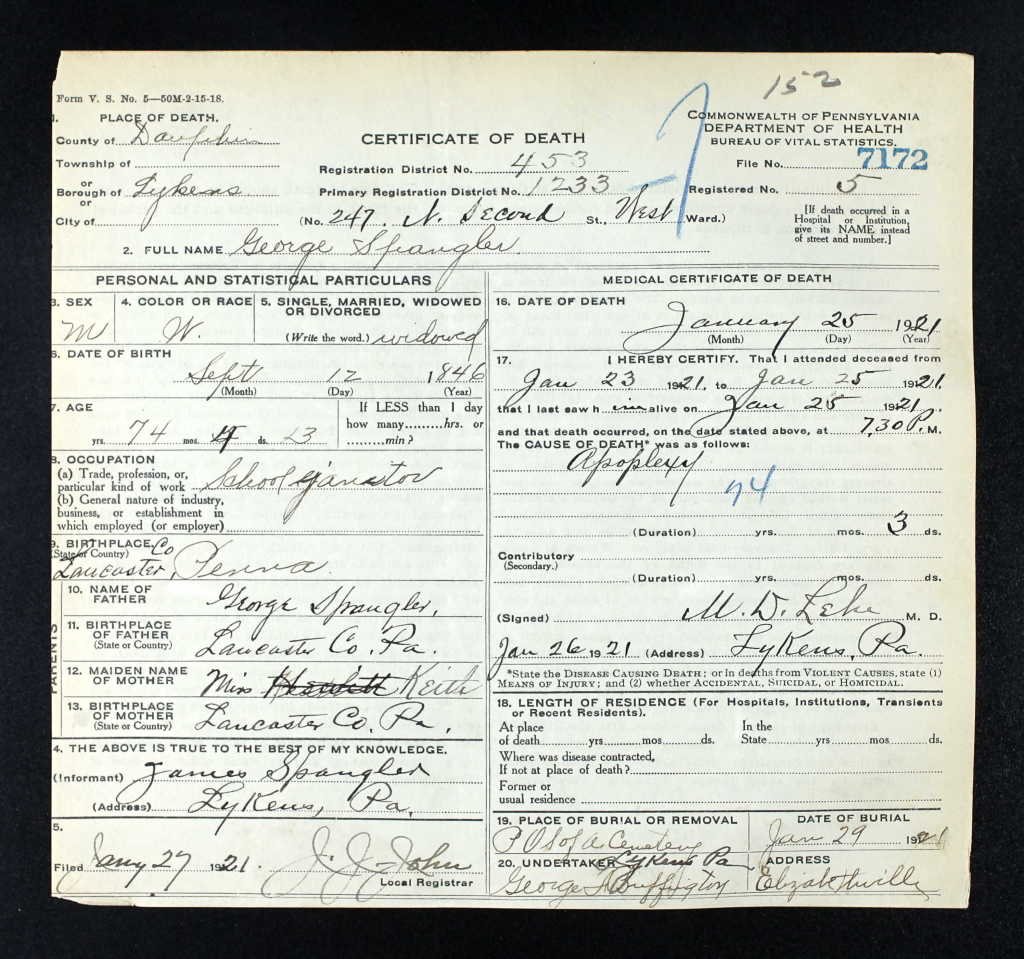 George Spangler was born on 12 September 1846, the son of George Spangler (born about 1806) and Sarah Keith, or Keath (born about 1810).  One source says he was born in Lebanon County [military record] while another source says he was born in Lancaster County [death certificate].  It is not known for certain when he moved to Dauphin County, but the obituary notes that he was a resident of Lykens for about 60 years.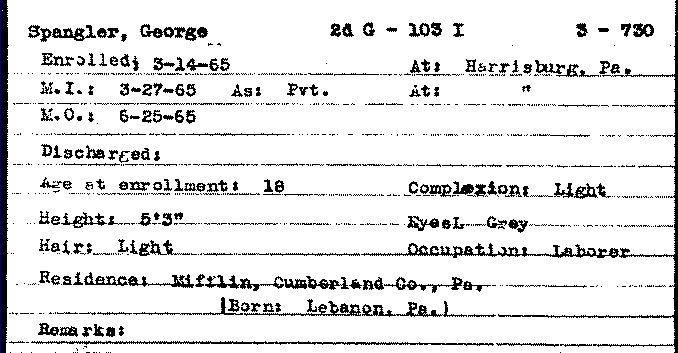 On 14 March 1864, George Spangler enrolled at Harrisburg in the 103rd Pennsylvania Infantry's 2nd Company G, a replacement company in a Pennsylvania regiment whose ranks had been decimated by capture and imprisonment of most of its men.  On 27 March 1865, he was mustered into service as a Private.  At the time of his enrollment he was 18 years old, stood 5 foot – 3 inches tall, and had light hair, grey eyes, and a light complexion.  He gave his occupation as laborer and his residence as Mifflin, Cumberland County.  It is possible that the county of residence was erroneously recorded and he lived in Mifflin Township, Dauphin County.   The service record for this regiment was relatively event-free as the war was winding down and this replacement group was stationed at Roanoke Island, North Carolina.  The company was discharged at New Bern on 25 June 1865, but had to return to Camp Curtin to receive their final pay.  What George Spangler saw in his service in his brief time in North Carolina was the processing and re-settlement of prisoners of war and their transport home as well as a large number of ex-slaves who were attempting to re-locate in safe areas.
In Lykens in 1890, George Spangler reported no Civil War-related disabilities.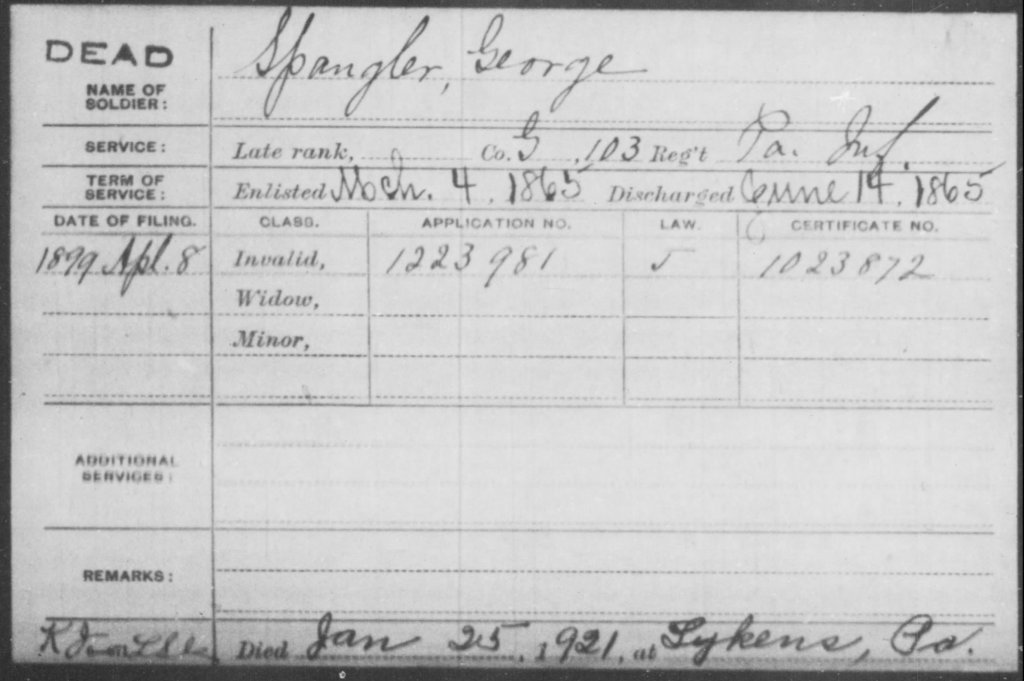 Further evidence that he did not suffer from his wartime experience is the late date of his pension application which was 8 April 1899, well after the rules had been sufficiently relaxed to include nearly every Civil War veteran who was still alive.
George Spangler is buried in the P.O.S. of A. Cemetery in Lykens.
Additional views of his grave marker and family plot can be seen at his Findagrave Memorial.
George Spangler joined the Heilner Post in Lykens at some point after its organization.  For his participation in the activities of the local G.A.R., he is recognized on the monument on North Second Street in Lykens:

Additional information is sought about George Spangler, specifically stories, genealogical data, and pictures.  Add comments to this post of send information by e-mail.
——————————
News clippings are from the on-line resources of the Free Library of Philadelphia.  The Pennsylvania Veterans' File Card is from the Pennsylvania Archives.  The Pension Index Card is from Fold3.