Posted By Norman Gasbarro on November 13, 2014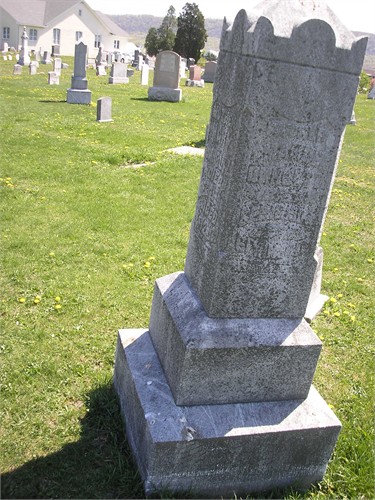 On 16 September 1904, Emanuel H. Umholtz died in Gratz, Dauphin County, Pennsylvania.  His funeral was held a few days later at Simeon Church and he was buried in the church yard, now called Gratz Union Cemetery.  About two weeks earlier a new 649 pound bell, purchased from Buckeye Bell Foundry in Cincinnati, Ohio, had been installed in the church steeple.  Old timers in Gratz recalled that although the new bell was not dedicated until 29 October 1904, it tolled for the first time for the funeral of Emanuel Umholtz.  The difficulty in hanging the bell was told in a book published in 1978, Simeon United Lutheran Church, pages 13-14.  In order to get the bell into the existing steeple, the supporting posts had to be notched so the bell could pass through the attic window.
Emanuel H. Umholtz, born 5 August 1843, was the son of Samuel Umholtz (1814-1883) and Elizabeth [Harner] Umholtz (1820-1855).    His great grandfather Heinrich Umholtz (1745-1829) served in the American Revolution and is recognized on a memorial plaque in the St. Peter's (Hoffman's) Church Cemetery in Lykens Township.  Living with the family in 1850 was a 16 year old African American, Edward Crabb, who was working as a laborer.  At about age 15, Emanuel went to Ohio and tried his hand at farming there, but soon returned to Lykens Township, where he joined his father and brothers on the family farm.  He also participated in the Gratztown Militia, and when Pennsylvania was threatened in by Lee's invasion in 1863, he joined the emergency group known as Company C of the 36th Pennsylvania Infantry Militia that went to Gettysburg to help clean up after the battle.  Edward Crabb was also a member of this militia.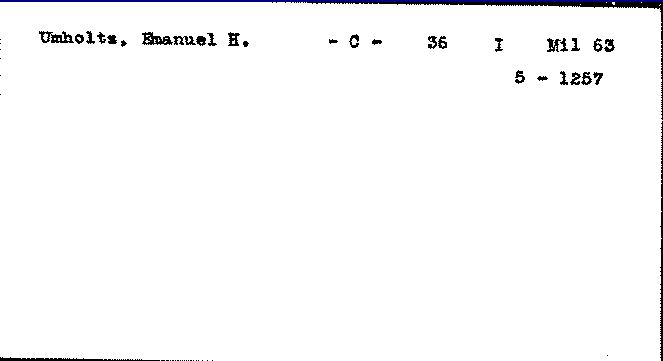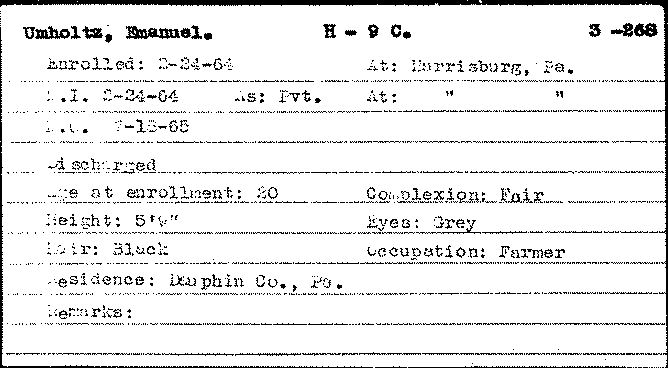 During the winter of 1863-1864, Emanuel pondered what he had seen at Gettysburg and decided to enlist in the 9th Pennsylvania Cavalry, Company H, as a Private.  At the time, 24 February 1864, the 9th Pennsylvania Cavalry camped for the winter and was getting ready to send the re-enlisted veterans on furlough.  Emanuel was one of the replacements for those who chose not to re-enlist.  When the 9th Pennsylvania Cavalry began to move in early 1864, it took action against Morgan's raiders and Hood in north Georgia and Alabama, and eventually moved into the "March to the Sea."  During that latter campaign, the 9th Pennsylvania Cavalry saw action at Lovejoy Station, Georgia.  Eventually, after traversing nearly the entire south, and receiving the surrender of Gen. Joseph E. Johnson, the regiment was eventually mustered out on 18 July 1865.
While serving with the 9th Pennsylvania Cavalry, Emanuel received word that his younger brother Isaac Umholtz had been killed on 1 April 1865 at Five Forks, Virginia, while serving with the 210th Pennsylvania Infantry.
The Pennsylvania Veterans' File Cards (shown above) are from the Pennsylvania Archives and show his service in both the militia and the cavalry.  The second card gives personal information such as Emanuel's height of 5 foot 9 inches, fair complexion, black hair, and gray eyes.  The Pension Index Cards (shown below) from Fold3 and Ancestry.com, give some details about his pension application.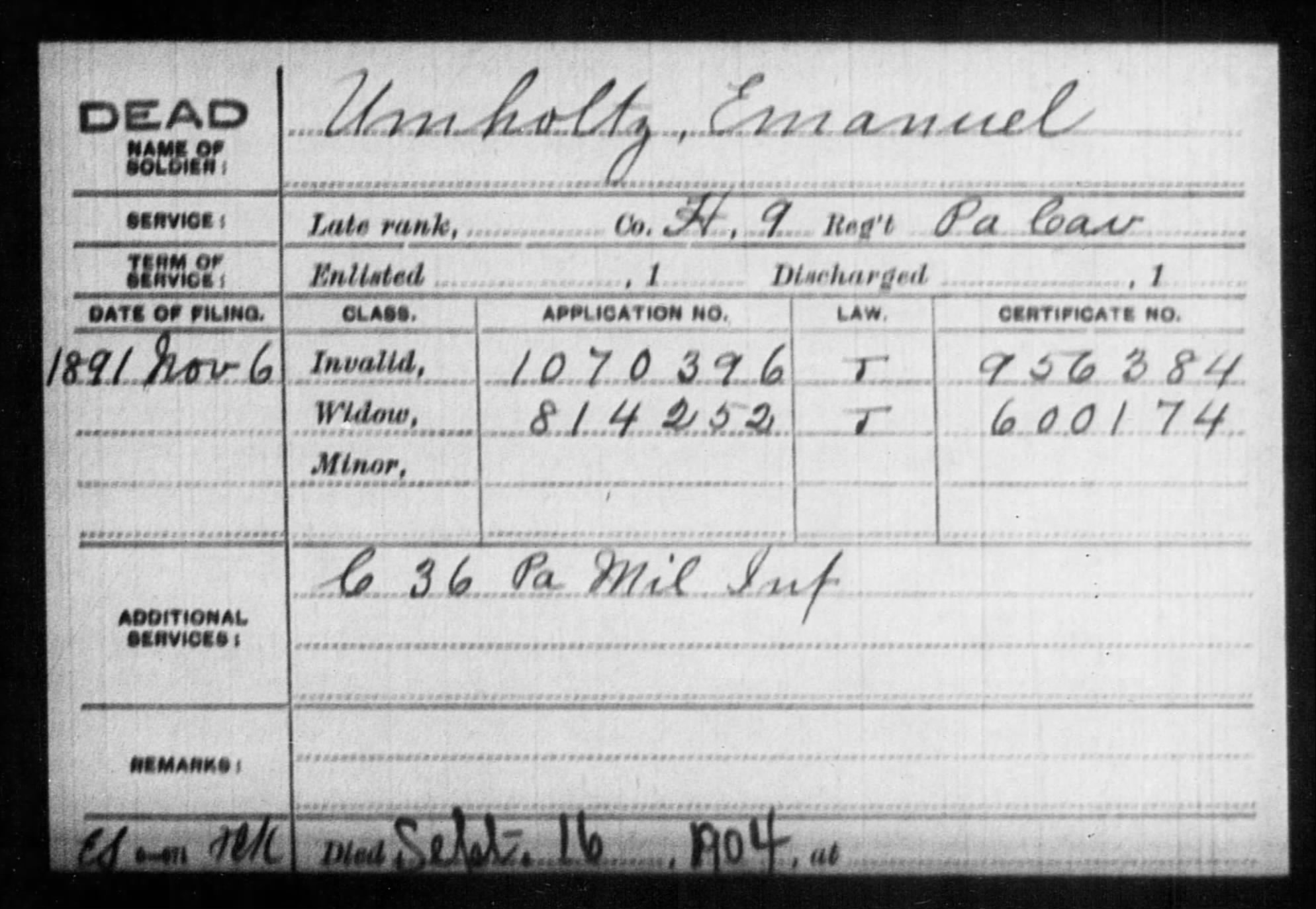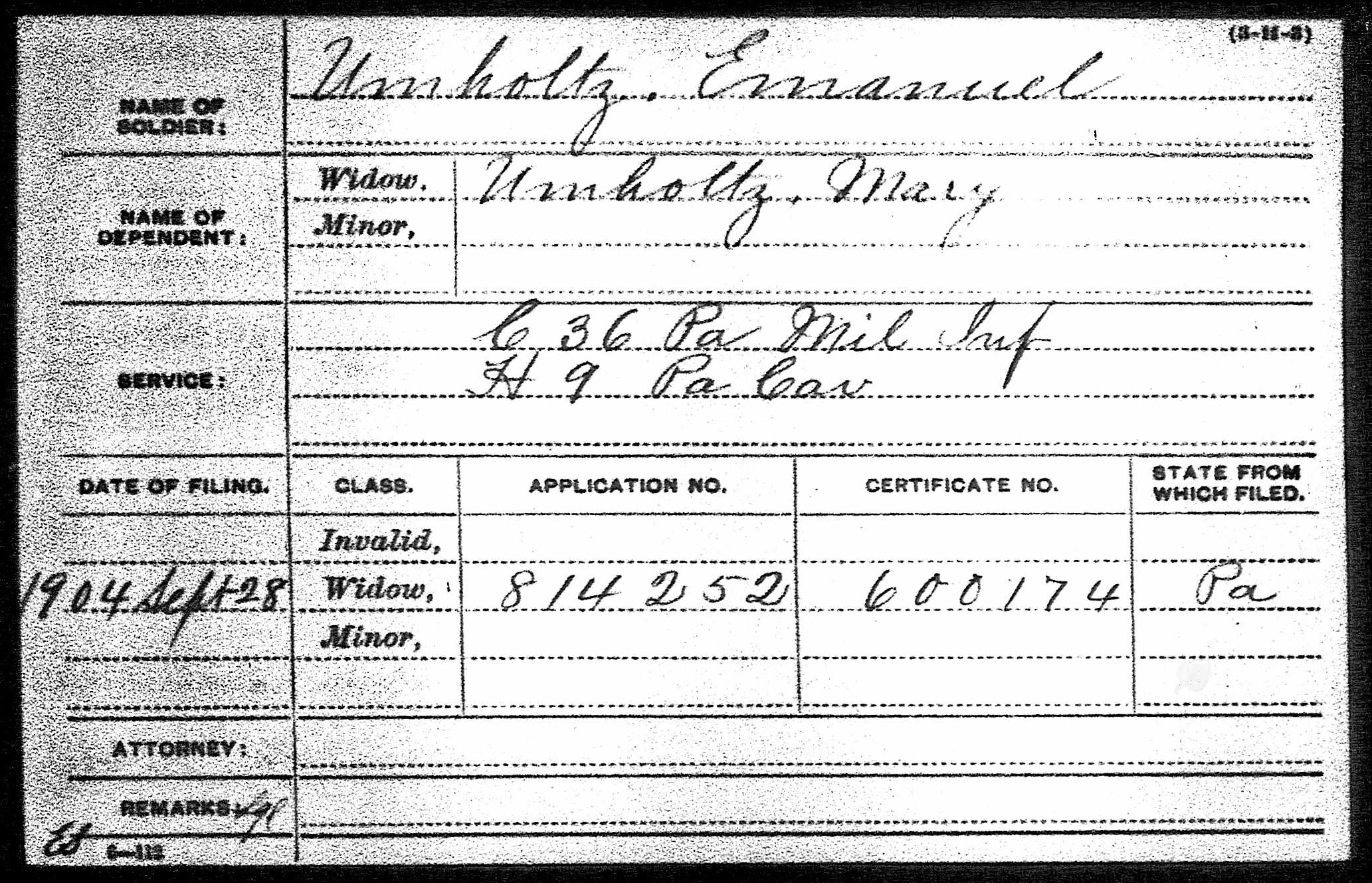 The Pension Index Card shows that Emanuel Umholtz first applied for a pension on 6 November 1891, which he eventually received.  That card also gives his death date of 16 September 1904 and the fact that his widow applied for benefits on 28 September 1904, which she also was given.  The second card gives the widow's name as "Mary Umholtz" but contains no information about Emanuel's pension.  It is always best to consult with both versions (Fold3 and Ancestry.com) of the Pension Index Card.  If only the latter was consulted, it could have been assumed that Emanuel never applied for or received a pension.
Mary Umholtz, the widow, was Mary Hartman (1840-1908).  She married Emanuel in an 1866 ceremony conducted by Rev. Jeremiah Shindle.  The couple had two known children:  Isaac Monroe Umholtz (1867-1901) and Ida Elizabeth Umholtz (1869-1937).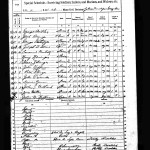 In the 1890 Census, Emanuel noted that he he served in the 9th Pennsylvania Cavalry, but did not mention that he also saw service with the militia.  He also did not mention any Civil War-related disabilities.  When he applied for a pension in 1891, although he could have claimed "old age" as a reason for receiving a pension, Emanuel must have felt compelled to convey to the Pension Bureau that he was truly disabled.
In the two pages below, from his pension application file available from the National Archives in Washington, D.C., the testimony of the local doctor and four of the Gratz-Lykens Township neighbors was provided to insure that he received benefits: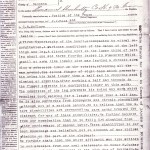 "I have known said soldier for the past twelve years…. He is now suffering from the following disabilities: First hypertrophy of the heart, accompanied by mitral regurgitation. A varicose condition of the veins of the left thigh and leg. A discolored spot on the lower third of left leg about one and three fourths inches in diameter will at some time likely give way leaving a chronic sore. Also a sebaceous tumor on the outside, extending all the way around, the second finger of right hand which prevents his hand longer than half day in chopping wood, plowing or grubbing. After working a half day the pain in the finger prevents his continuing longer at this work. The condition of the leg prevents his doing any work which requires much walking for a longer period that a half day. He is also suffering from dyspepsia and chronic rheumatism though not of a serious nature. We do believe that the above disabilities are permanent. We have never treated the claimant for any of these disabilities. We further believe from our examination that he is fully ¾ disabled from the performance of manual labor. These disabilities to our best knowledge and belief are not on account of any vicious habits on the part of the claimant…."  Signed and testified to by Dr. C. B McClure.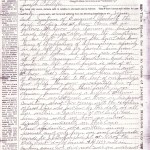 "Signs and symptoms of Emanuel Umholtz the said soldier as we know them are as follows. We know his tumor on his second hand left-finger. We also know the condition of his left leg below the knee. We also know him of complaining of rheumatism especially in his left leg. His leg prevents him from any hard labor. His leg in our opinion is f a permanent condition and his tumor on left hand finger is also of a permanent condition in our opinion and we know that they have not been resulted of vicious habits to the best of our knowledge and belief. They now incapacitate him of manual labor fully three fourths in our opinion from earning a support. We know him for over 20 years. We know him in his present condition about two years with the exception of Jacob Shiro who just saw leg this date. We all live within a radius of one mile. I see him every week. We have no interest directly or indirectly in this case…."  Signed and testified to by C. T. Bowman, Jacob Shiro, Henry Bush, and Joseph Phillips
Emanuel Umholtz's final years were spent as a farmer in Lykens Township and Gratz.  He was respected by his neighbors.  And he was honored by having the new church bell toll at his funeral.