Posted By Norman Gasbarro on October 16, 2014
The 41st Pennsylvania Infantry (12th Pennsylvania Reserves) Monument at Gettysburg is located south of the town of Gettysburg on the summit of Big Round Top.  It was not dedicated until September 1890 due to the conflict between what the regiment wanted (a memorial hall for all the reserve units) and the Pennsylvania governor who vetoed the proposal.  The view of the monument (above) is from Steven Recker's Virtual Gettysburg Web Site which has more information about the monument and the 41st Pennsylvania Infantry.
A full description of the monument, its GPS coordinates, a photograph, and some of the history of the 41st Pennsylvania Infantry can be found on the Stone Sentinels Web Site.
——————————
A brief statement appeared in the Philadelphia Inquirer article of 11 September 1889 giving the reason why the 41st Pennsylvania Infantry had no monument to dedicate:
The 12th Reserves.

The 12th Reserves will have no monument.  The survivors of the entire association meet at Little Round Top pavilion.  They were in favor of a memorial hall, and this was cut off by the Governor's veto.
—————————-
Martin D. Hardin, from Illinois, was a friend of President Abraham Lincoln.  He was born 26 February 1837.  He was the commander of the 41st Pennsylvania Infantry at Gettysburg.  On 25 July 1861, Lieutenant Colonel Hardin was mustered into the 41st Pennsylvania Infantry at Gettysburg on 25 July 1861 and on 1 August 1862 was promoted to Colonel, the position he held at the time of the Battle of Gettysburg. On 2 July 1864, he received a promotion to Brigadier General and on 15 January 1866 he was mustered out of the service.
General Hardin died on 12 December 1923 and is buried at St. Augustine National Cemetery, St. Augustine, St. John's County, Florida.
For further information about Martin D. Hardin, see his Findagrave Memorial.
——————————
Around the base of the Pennsylvania Memorial at Gettysburg are a series of plaques which, by regiment and company, note the names of every soldier who was present at the Battle of Gettysburg.  The plaque for the 41st Pennsylvania Infantry is pictured below.  By clicking on the plaque it should enlarge so the names can be more clearly read.  If a name does not appear, it could be that the soldier did serve in the 41st Pennsylvania Infantry, but was not part of the regiment during its days in Gettysburg.  There could also be errors on the plaque.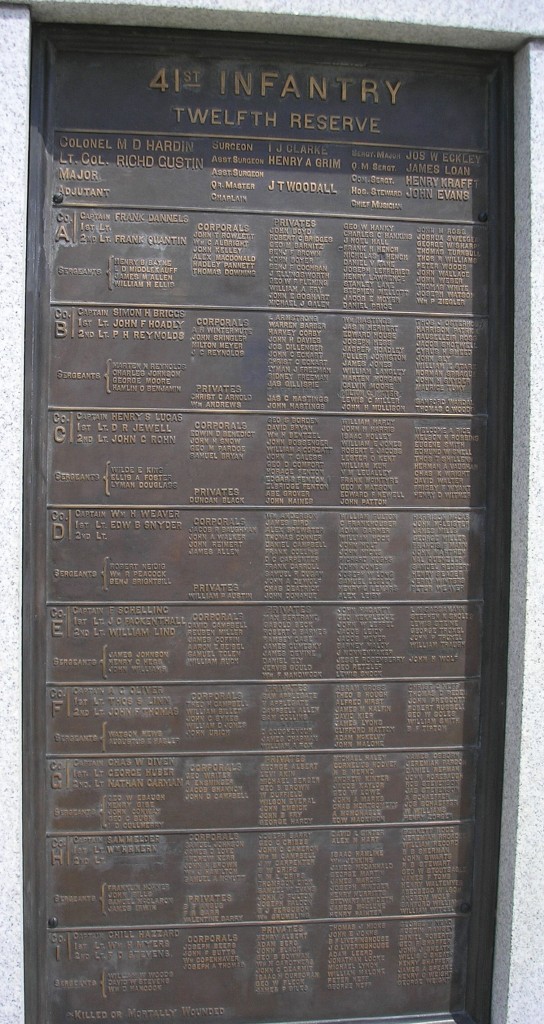 ——————————
The news clipping is from the on-line resources of the Free Library of Philadelphia.