Posted By Norman Gasbarro on October 14, 2014
The 39th Pennsylvania Infantry (10th Pennsylvania Reserves) Monument at Gettysburg is located south of Gettysburg on Confederate Avenue at the foot of Big Round Top.  It was not ready for the Pennsylvania Day ceremonies of 1889 and therefore was dedicated in 1890.  The view of the Monument pictured above is from Steven Recker's Virtual Gettysburg Web Site which has more information about the monument and the 39th Pennsylvania Infantry.
A full description of the monument, its GPS coordinates, several pictures, and some of the history of the 39th Pennsylvania Infantry can be found on the Stone Sentinels Web Sitewhich also has some more information about the 39th Pennsylvania Infantry.
—————————–
A simple statement about the monument to the 39th Pennsylvania Infantryappeared in the Philadelphia Inquirer of 11 September 1889:

The 39th's Not Completed.

The monument of the 39th will not be completed in time for Pennsylvania day, and this regiment will not have any programme.  The 10th Reserves will simply hold their annual reunion.
—————————
Adoniram Judson Warner was an New York native who commanded the 39th Pennsylvania Infantry at Gettysburg.  According to information on Wikipedia:
Born in Wales, New York (near Buffalo, New York), Warner moved with his parents to Wisconsin at the age of eleven. He attended school in Beloit, Wisconsin, and New York Central College, McGrawville, New York. He was principal of Lewistown (Pennsylvania) Academy, superintendent of the public schools of Mifflin County, Pennsylvania, and principal of Mercer Union School, Pennsylvania from 1856 to 1861. He was commissioned Captain in the Tenth Pennsylvania Reserves 21 July 1861, Lieutenant Colonel 14 May 1862, Colonel 25 April 1863, and Colonel of the Veteran Reserve Corps 15 November 1863. He was brevetted Brigadier General 13 March 1865.
Adoniram J. Warner died in Ohio on 12 August 1910 and is buried in the Oak Grove Cemetery, Marietta, Washington County, Ohio.
Additional information about Warner can be found at the Wikipedia article dedicated to him and at the Findagrave Memorial.  The photograph (above) is from Wikipedia and is in the public domain because its copyright has expired.  The Pennsylvania Veterans' File Card for Adoniram J. Warner can be found at the Pennsylvania Archives.
—————————
Around the base of the Pennsylvania Memorial at Gettysburg are series of plaques which, by regiment and company, note the names of every soldier who was present at the Battle of Gettysburg.  The plaque for the 39th Pennsylvania Infantry is pictured below.  By clicking on the plaque it should enlarge so the names can be more clearly read.  If a name does not appear, it could be that the soldier did serve in the 39th Pennsylvania Infantry but was not part of the regiment during its days at Gettysburg.  There also could be errors on the plaque.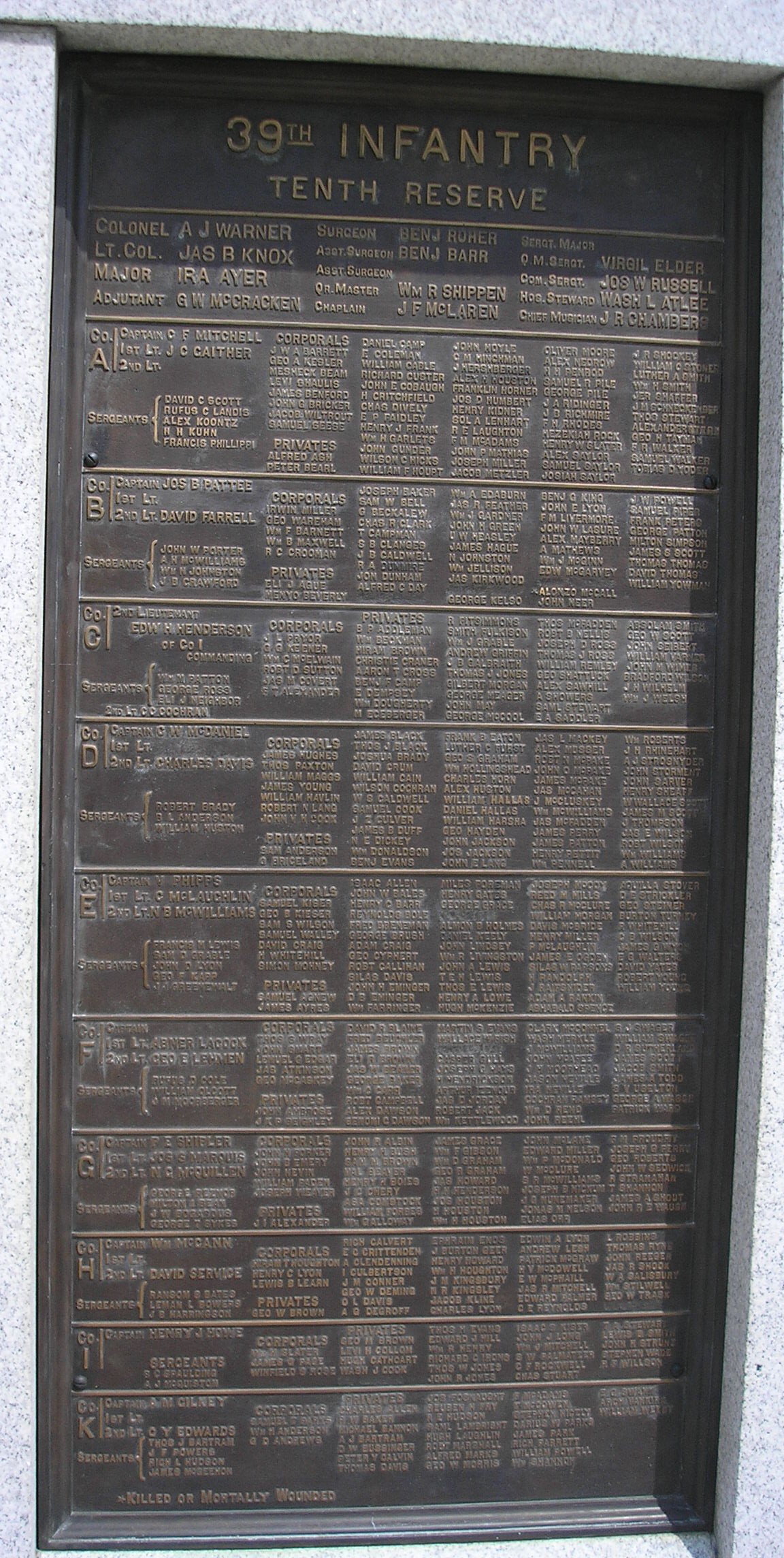 —————————
The news clipping is from the on-line resources of the Free Library of Philadelphia.