Posted By Norman Gasbarro on September 22, 2014
In researching men of the 9th Pennsylvania Cavalry, Company B, a company mainly consisting of men from the Lykens Valley area of Pennsylvania, the name of John Weaver posed a problem in determining a correct birth and death date, as well as other genealogical information.  In the process of examining the records, a second man was discovered with the same name but in Company I.  Both men served as privates.  Also of interest was the fact that both men died in Kansas.  To date, a genealogical connection has not been made between the two men.  Previously on this blog, in a post entitled Additions to Veterans List, this confusion was noted.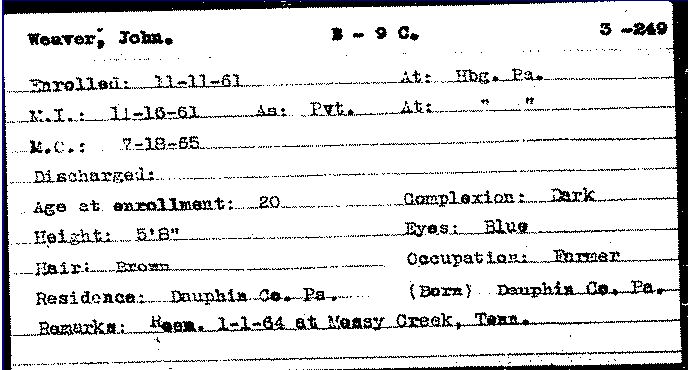 The John Weaver of Company B enrolled at Harrisburg on 11 November 1861 and was mustered into service at the same place on 15 November 1861.  He claimed to be 20 years old (birth year of about 1841), a farmer, with birth and residence in Dauphin County, Pennsylvania.  He stood 5 foot 8 inches tall, had dark complexion, blue eyes and brown hair.  On 1 January 1864, he re-enlisted at Mossy Creek, Tennessee.  He was discharged with his company on 18 July 1865.  This information is noted on the Pennsylvania Veterans' Index Card (shown above), available from the Pennsylvania Archives.
In addition to this information about him on the index card, several pages from his pension file have been examined.  These pages include five military index cards, one of which states that he was sick in the hospital at Camp Andy Johnson on 9 December 1861.  There is also a re-enlistment paper which was signed at Mossy Creek by Edward G. Savage, the Captain of Company B.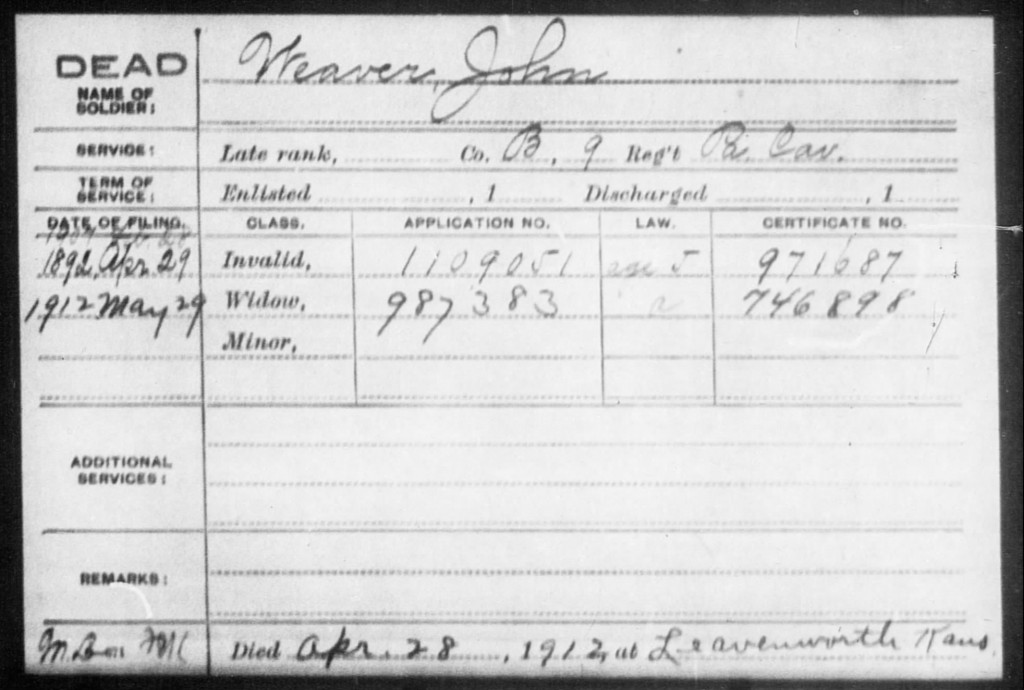 The next document examined was the Pension Index Card (shown above) available at Fold3.  From that card it was learned that the John Weaver who served in Company B of the 9th Pennsylvania Cavalry died at Leavenworth, Kansas, on 28 April 1912, that he had originally applied for a pension on 29 April 1892, which he received, and that a widow applied about one month after his death.  She also received a pension. In checking the corresponding Pension Index Card available at Ancestry.com, it was learned that the widow was Jennie A. Weaver and that she filed for benefits from Missouri.
Leavenworth, Kansas, was the site of one of the National Soldiers' Homes, so an examination of those records (available on Ancestry.com) was the next avenue pursued.  Page No. 18430 of the home ledger is presented below in three parts (click on thumbnails to enlarge):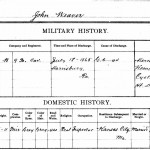 …..The first part of the ledger page gives the Military History and the Domestic History.  To the height previously given at enrollment, three inches appears to be added.  His hair has turned gray (as have his eyes). Ailments and disabilities at admission to the home include cystitis, hemorrhoids, and hernia.  As for his Domestic History, the wife's name and address is given as Jennie A. Weaver, Kansas City, Missouri.  He was 66 years old at the time of admission, he was born in Pennsylvania, and his occupation was inspector.  The Military History, dates of enrollment and discharge appear to match that found on the Index Card (above).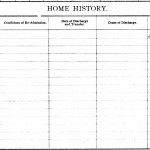 …..As for Home History, the admission date was 10 September 1909 (therefore his birth year was about 1843 – slightly inconsistent with the information on the Index Card).  He died at the home on 28 April 1812 and the cause of death was mental insufficiency.
….. The last section of the page, General Remarks, notes that he died in the hospital at 7:30 a.m., that his wife was notified in Kansas City, Missouri, and that his body was shipped to Kansas City for burial.  When he died, he had 15 cents on his person and his effects were valued by the home at $4.20.
A second document has been located that confirms that his body was shipped to Kansas City.  The "Burial Record" was a ledger kept at the home and noted the disposition of the remains of each person who died there.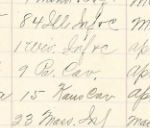 ….. From the "Burial Record" of Soldiers' Home at Leavenworth.  Document available from Ancestry.com.
At this time, not much more is known about this John Weaver.  Who were his parents?  When and why did he move to Kansas City, Missouri?  Did he live anywhere else?  Did he have children?  Exactly where is he buried in Kansas City? What more can be said about his military record and his life after his military service?
Obviously, many of the missing pieces of information can be obtained from the pension application files, for both his original pension and for the widow's pension.  However, at this time , only a few pages from the pension files have been seen and what has been seen is consistent with what is already known.  If any reader has obtained the complete pension application files and is willing to share the pages with readers of this blog, please contact the Project by e-mail.
—————————–
The second person named John Weaver is most often found in the records as John L. Weaver (or perhaps John Lyon Weaver).  He served in Company I of the 9th Pennsylvania Cavalry as shown by the Pennsylvania Veterans' Index Card (below) from the Pennsylvania Archives: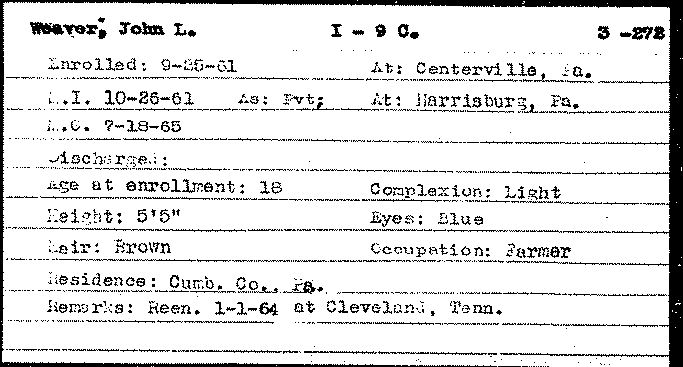 John L. Weaver was 18 years old (born about 1843) at the time of his enrollment in September 1861 at  Centerville, Pennsylvania. He was mustered into service on 26 October 1861 at Harrisburg.  He was a farmer whose residence was in Cumberland County.  He stood only five foot five inches tall, had brown hair, a light complexion, and blue eyes.  Like his namesake who served in Company B, this John Weaver also re-enlisted on 1 January 1864, but at Cleveland, Tennessee.  He served until the war was over and was discharged with his company on 18 July 1861.
Currently, there are several places in Pennsylvania named "Centerville" but their location would not be consistent with the enrollment of members of the 9th Pennsylvania Cavalry.   One place, formerly known as Centerville, now known as Penns Creek, is located in Snyder County, so it is possible that it was there that John L. Weaver enlisted as some of the men from this regiment did enlist in Snyder County.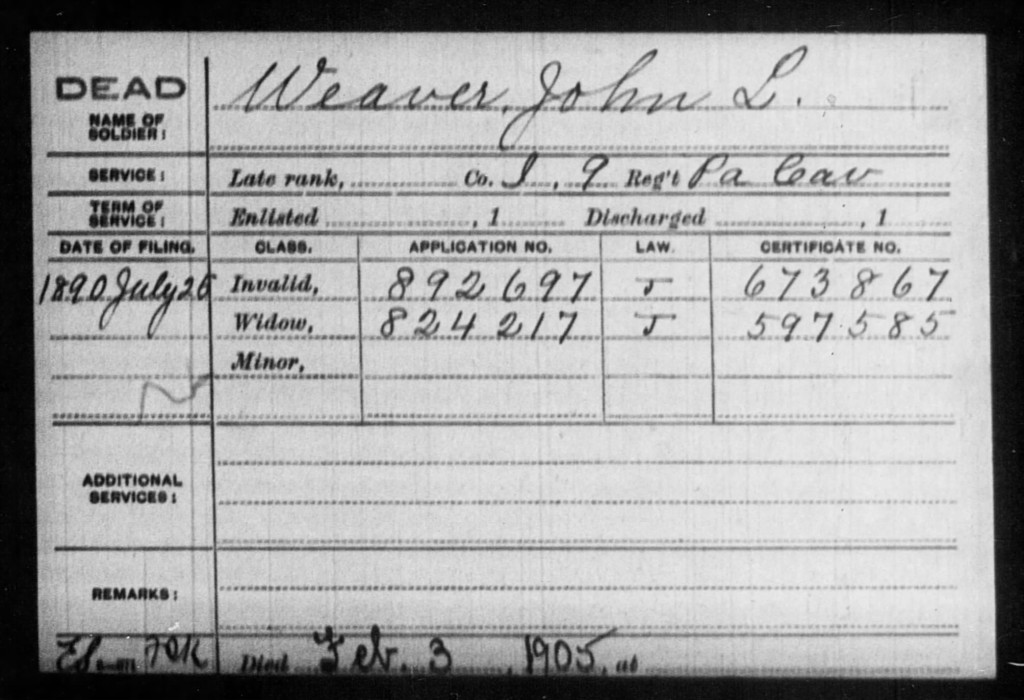 From the Pension Index Card (above) available at Fold3, John L. Weaver applied for an invalid pension on 25 July 1890, giving the 9th Pennsylvania Cavalry, Company I, as his service group.  He received the pension and collected it until his death which occurred on 3 February 1905.  His widow applied after his death, but the application date is not given on the Fold3 version of the card.  The widow collected until her death.
Turning to the Pension Index Cards available through Ancestry.com (not shown here), the following information can be added:  (1) The widow's name was Frances L. Weaver; (2) She applied on 20 March 1905 from Kansas.  This latter piece of information would seem to indicate that this John L. Weaver died in Kansas, but his place of death and burial has not yet been located in the records.
—————————–
There were clearly two different veterans named John Weaver.  Both were born in Pennsylvania.  They served in different companies of the same regiment.  They had different wives and they died on different dates.
The second John L. Weaver does not appear to have a connection with the geographical area of the Civil War Research Project.  The first John Weaver does appear to have a connection, however, the names of his parents have not yet been established, and it is not clear how long he remained in Pennsylvania after the war.
Help is requested from anyone having any information about these men.  Either add comments to this post or send by e-mail.