Posted By Norman Gasbarro on June 8, 2014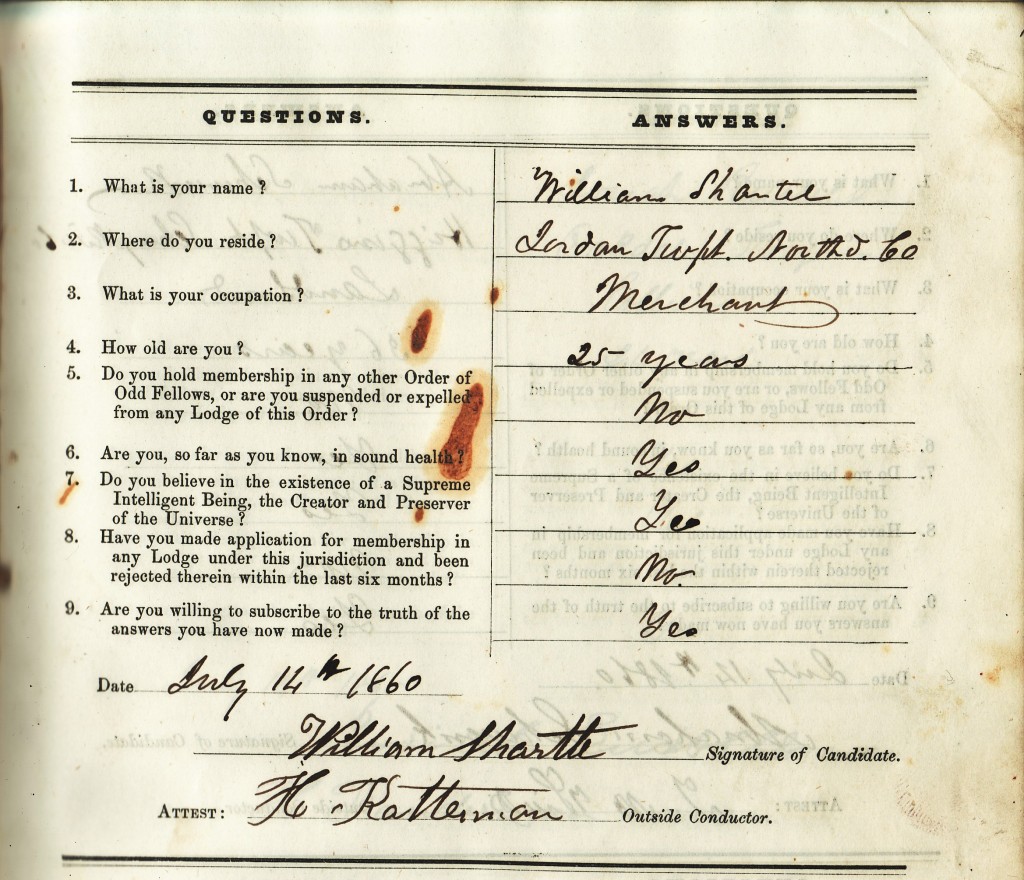 On 14 July 1860, more than two years before he was was drafted into service in the Civil War, William Shartle (1835-1874), applied for membership in the Gratz Borough, I. O. O. F. (International Order of Odd Fellows).  In his application, he declared that he was 25 years old, was living in Jordan Township, Northumberland County, Pennsylvania, and was a merchant.  He also stated that he was in sound health, that he believed in a "Supreme Intelligent Being, the Creator and Preserver of the Universe," and that he had not applied for membership in any other lodge in "this" jurisdiction in the past six months.
William Shartel (or Shartle or Schertel) was born 30 July 1835, the son of George Shartel (1835-1874) and Mary "Polly" Shartel (1817-1893).  George was a farmer living in Upper Mahoney Township, Northumberland County and William had three known sisters:  Elizabeth Shartel, born about 1836; Mary Shartel, born about 1838; and Julianne Shartel, born about 1850.  Not much is known at this time about the sisters.

Also confirming that William was a merchant in 1860 is the census for Jordan Township, which showed him and his wife, Justina [Wiest] Shartel (1828-1872) and three young children in the household:  Mary Shartel, born about 1855; Amelia Shartel, born about 1857; and Eve Shartel, born about 1858.  While an exact date for the marriage of William and Justina has not been located, it can be assumed that it occurred about 1854, based on the birth years of the three known children.  Justina Wiest was the daughter of Samuel Wiest (1795-1867) and Eve Elizabeth [Klinger] Wiest (1794-1870).
On 28 October 1862, William Shartel was mustered into service of Company K, 172nd Pennsylvania Infantry, as a Corporal.  He served with his regiment until it was discharged on 1 August 1863.
In 1870, William was living in Jordan Township and operating a hotel there.  In his household were his wife Justina and the three children previously named above.  Boarding in the hotel were two men:  Jessie Lahr, age 26, a blacksmith; and Gabriel Reed, age 21, a farm laborer.
Justina died on 6 February 1872 and William died on 17 April 1874.  Both are buried at Zion (Klinger's) Church Cemetery, Erdman, Lykens Township, Dauphin County.  No pension application has been located for William and nothing is known at this time of any descendants.
Justina Wiest's genealogy is found on page 137 and 138 of A Comprehensive History of the Town of Gratz Pennsylvania, but the genealogy does not contain the information that William was a Civil War veteran.
Any additional information about this veteran would be greatly appreciated!
——————————
The "cut" from the 1860 Census of Jordan Township is from the full enumeration sheet available on Ancestry.com.  The Veterans' Index Card is from the Pennsylvania Archives.