Posted By Norman Gasbarro on June 16, 2014
Two sons of Christian Walborn (1802-1871) and Judith [Hartman] Walborn (1804-1853) of Lykens Township, Dauphin County, Pennsylvania, have been confirmed as Civil War soldiers:  Jacob Walborn (1839-1915) was a member of the 78th Pennsylvania Infantry; and Jonas Walborn (1840-1912) was a member of the 99th Pennsylvania Infantry.  In addition, there is a possibility that a son-in-law, Henry Reed (1835-1904), who was married to Catherine Walborn (1844-1913), was also a veteran of the war, but no specific service records has been seen for him.
—————————–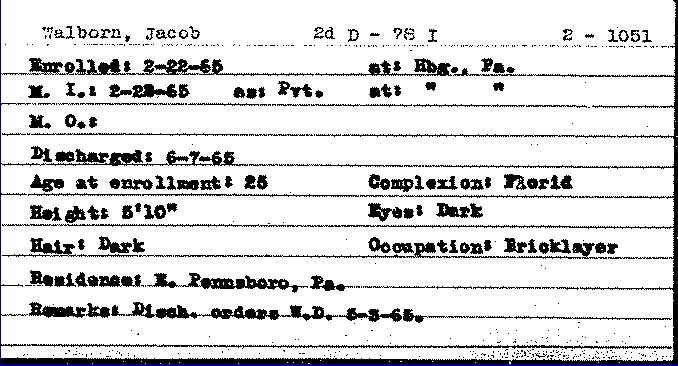 Jacob Walborn (1838-1915), a mason (bricklayer), and cabinetmaker, was mustered into service at Harrisburg in the 78th Pennsylvania Infantry, Company D, as a Private, on 22 February 1864.  His residence at the time was East Pennsboro Township, Cumberland County, Pennsylvania.  He was 25 years old, stood 5 foot ten inches tall, had dark hair, dark eyes, and a florid complexion.  He survived his enlistment, apparently unscathed, and was honorably discharged on 7 June 1865 by General Order.
There are two further indications that Jacob was not injured during the war.  The first is the Census of 1890, when he was living in Lykens Borough, and did not give any war-related disabilities.  The second, from 16 September 1890, when he applied for pension benefits; a pension application of 1890 or later is usually confirmation that benefits were based on old age, not war-related health problems.
No other Jacob Walborn has been located from the Lykens Valley in any census records.  However, a Jacob Walborn was drafted into the 177th Pennsylvania Infantry, Company I, as a Private, and was mustered in at Harrisburg on 2 November 1862.  That Jacob Walborn was reported as deserted on 24 November 1862.  The age given at the time of enrollment would have made the birth year 1839 and that company of the 177th was composed almost exclusively of Lykens Valley men under the command of Capt. Benjamin J. Evitts.  This was previously reported in the blog post entitled Deserters – 177th Pennsylvania Infantry, Company I.  Whether it is the same person who served in the  78th Pennsylvania Infantry is still to be determined.
The widower Jacob Walborn died on 1 May 1915 at Tower City, Schuylkill County, of tubercular ardenitis.  His death certificate (shown above), available on-line through Ancestry.com, confirms his birth date as 4 April 1939, and his parents as Christian Walborn and Judith [Hartman] Walborn.  The informant was his son Charles. His place of burial was given as Lykens, Pennsylvania.
Although Jacob Walborn was found in the cemetery list for the I.O.O.F. Cemetery in Lykens Borough, South Second Street, his grave site and grave marker have not been exactly located, due in part to the poor condition of this large cemetery and the confusion as to where the various sections begin and end.  The I.O.O.F. Cemetery is one part of a large community cemetery containing at least 7 sections.  Jacob is said be buried in mid Row 8 in the I.O.O.F. section.
Jacob Walborn married Catherine Heinzman, who was born about 1844, in 1867.  Children born of this marriage included:  William Walborn, born about 1867; Clara Walborn, born about 1868; George Walborn, born about 1873; Charles Walborn, born about 1875 (the death certificate informant named above); Levi Walborn, born about 1877; Jacob E. Walborn, born about 1879; and John F. Walborn, born about 1886.
In 1870, Jacob and family lived in Shamokin, Northumberland County, where he was employed as a bricklayer.  In 1880, working as a cabinetmaker, and in 1890, he lived in Lykens Borough.  In 1900 and 1910 Jacob and Catherine lived in the Tower City-Porter Township area where where he worked as a mason.  He mentioned his Union Army service to the 1910 Census.
Given that Jacob Walborn clearly lived in Lykens Borough for both the 1880 and 1890 Censuses, and that he is buried in a cemetery in Lykens Borough, it is strange that he is not one of the approximately 400 recognized veterans on Lykens G.A.R. Monument.  Neither is his name found on the Tower City Memorial.  And, he lived in Shamokin for at least the time of the 1870 Census and his name is not found on any of Shamokin monuments/memorials either!
—————————-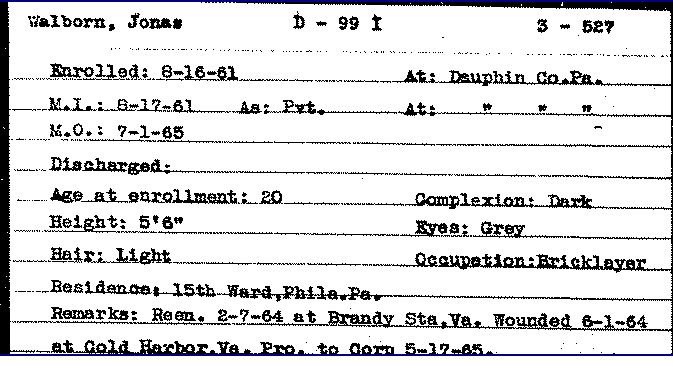 Jonas Walborn (1840-1912), a bricklayer, was mustered into service in Dauphin County, Pennsylvania, in the 99th Pennsylvania Infantry, Company D, as a Private on 17 August 1861.  His residence at the time was the 15th Ward of Philadelphia. He was 20 years old, stood 5 foot 6 inches tall, had light hair grey eyes and a dark  complexion.  On 7 February 1864, he was wounded at Brandy Station, Virginia. On 1 July 1865, he was promoted to Corporal and on 1 July 1865, he was mustered out of service with his company.
Information from the 1883 Pension List notes that he received a gunshot wound to the head.  At that time he was living in Numidia, Columbia County, Pennsylvania.  He has not been located in the 1890 Veterans' Census.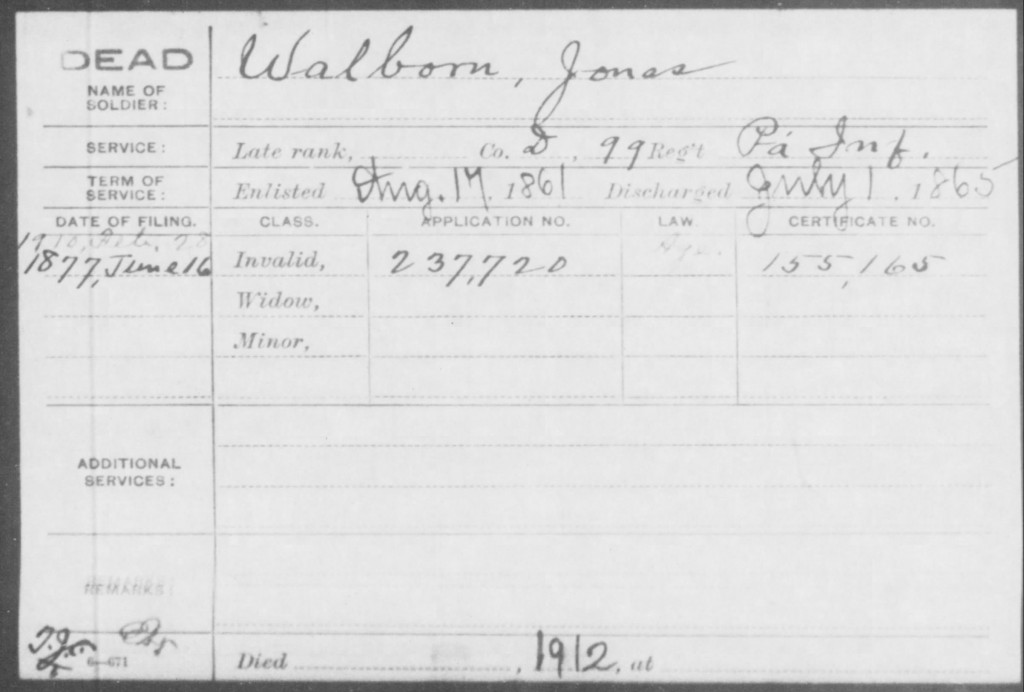 Jonas applied for a pension on 16 June 1877 as shown on the Pension Index Card (above) available from Fold3.  Also noted on the card is a death year of 1912, although no place of death is given.
In 1900, Jonas was living in Lykens Township, Dauphin County, was a single head of household, and no occupation was given; a servant, Elizabeth Fisher, a 70 old widow, lived with him.
By 1910, he had moved to Locust Township, Columbia County, Pennsylvania, was still single, and was working as a clock cleaner.  He was a boarder in the hotel of Edward Bowen, age 53.  Jonas identified himself in the census as a Union Army veteran.
Given that Jonas Walborn died in 1912, a search was made of the Pennsylvania Death Certificates (available on Ancestry.com) and good match was found in a Johnson Walborn (shown above) who died of apoplexy on 10 June 1912 in Snyder County.  The only problems with this certificate are that the informant, a Henry Hoffman, knew very little about the person he was reporting on and the birth date is slightly different than the one previously believed to be correct – 1 November 1840.  The birth date on the certificate is 10 June 1840 or 1841.  The "Johnson Walborn" who died on 10 June 1912, was buried in Snyder County.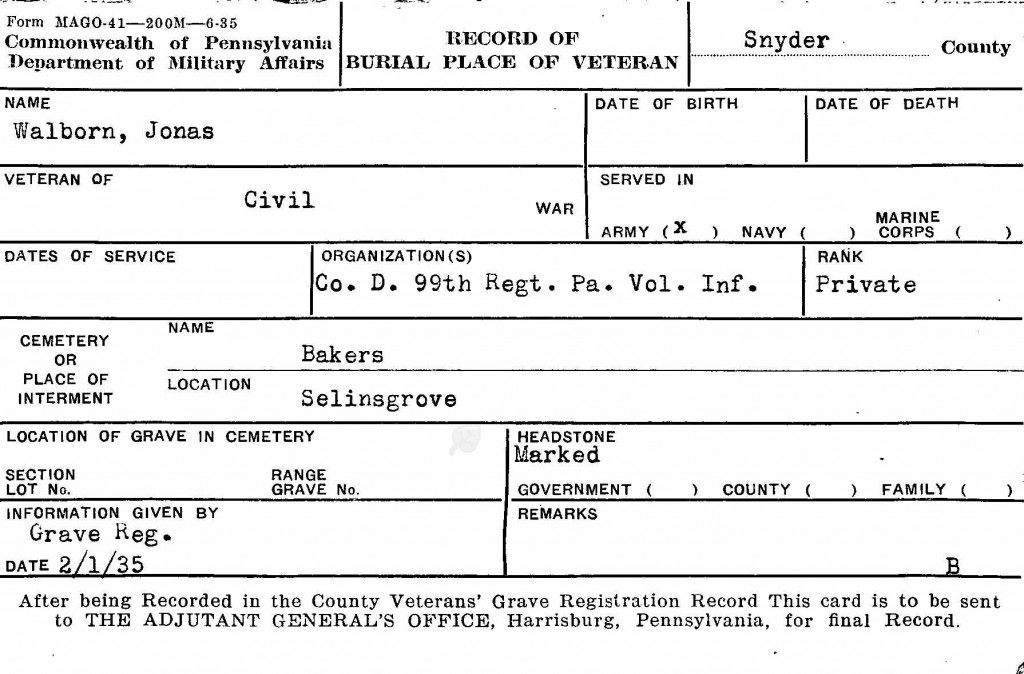 The Pennsylvania Veterans' Burial Card (above), available from Ancestry.com (via the Pennsylvania Archives), notes that the Jonas Walborn who served in the 99th Pennsylvania Infantry, Company D, as a Private, is buried at Baker's Cemetery in Selinsgrove, Snyder County.  There are no birth or death dates on the card – but it would have to be assumed that this is same person who is being researched here for this blog post.  The cemetery is called Baker's United Methodist Church Cemetery today.
More information is sought on Jonas Walborn.  Comment on this post or send an e-mail.
—————————-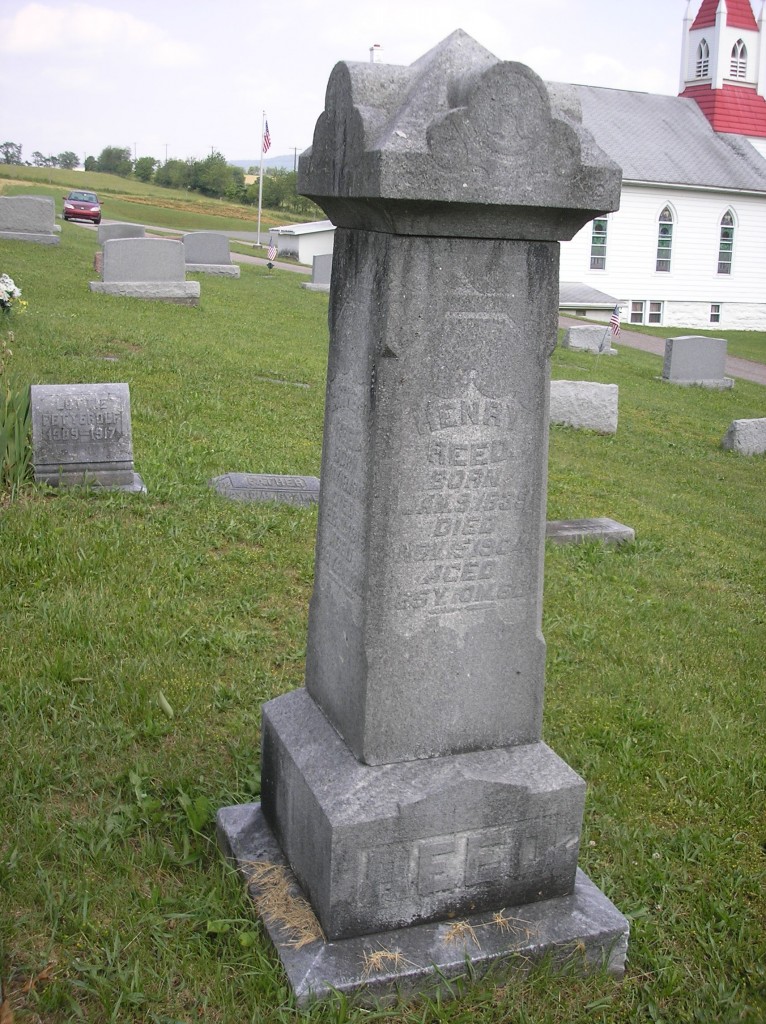 As sister of Jonas Walborn and Jacob Walborn was Catherine Walborn (1844-1913).  Her genealogy/ancestry can be found on page 128 of A Comprehensive History of the Town of Gratz Pennsylvania.  According to that source, she married Henry Reed (1839-1904) [Note: birth year on grave marker is 1835].  Henry and Catherine are buried at St. Matthew (Coleman's) Church Cemetery in Lykens Township, Dauphin County and Henry's grave marker is shown above.  Although a "Henry Reed" appears in several Civil War veteran lists, no direct connection was located to identify the Henry Reed who is buried at Coleman's with any particular Civil War service.  However, this Henry Reed has been connected to a known Civil War veteran of the 184th Pennsylvania Infantry, Company B, as a Private – Emanuel Reed (1840-1916), who was Henry's brother.
One clue to follow is that one of the veteran lists, Henry Reed was said to have been enrolled or mustered into service on 21 Apr 1861 in Harrisburg.  Since there are numerous persons named Henry Reed who served from Pennsylvania, a narrowing has to be done to locate the correct regiment, if indeed he did serve.  A likely group of regiments to examine, if the given enrollment/muster date is correct, is the first-called group of regiments including the early designated reserve regiments.  An examination of the ten Pension Index Cards available on Fold3, quickly results in the elimination of five because the veterans died at different dates and places than the Henry Reed who is buried at Coleman's.  Of the five remaining, no death dates are given, but following those regiments and companies through with other sources, either the enrollment dates are way off, or, as in one case, the soldier died in the war.  Not all veterans applied for pensions, for various reasons including that they were not eligible – so it is possible that this Henry Reed enrolled and was mustered into service, but was discharged quickly and/or was able to obtain a substitute.
Researching veterans with common names is difficult, but not impossible,  If any readers of this blog have information to connect this Henry Reed to Civil War service, please add comments to this post or send via e-mail.
—————————–
Pennsylvania Veterans' Index Cards are available from the Pennsylvania Archives.