Posted By Norman Gasbarro on June 12, 2014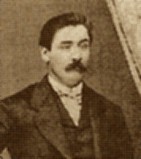 Cyrene Bowman enlisted on 9 September 1861 as a Private in Company A of the 50th Pennsylvania Infantry.  He was discharged from service on 23 October 1862.  The following information from his pension application file gives some insight into his experiences in the war:
Wounded at the battle near Chantilly, 1 September 1862 – treated 6 September to 23 October 1862, vulnus sclopet discharged from service, 23 October 1862.

From enrollment to 30 June 1862 [muster rolls] report him not present.  P.O.W. records show him paroled near Ox Hill, Fairfax County, Virginia, 3 September 1862.

Gun shot through left foot at Chantilla, Virginia.

I left about 2 August 1861 but one week at Camp Curtin, Harrisburg, Pennsylvania, from that time to the 19 August 1861 till we were sworn in the U.S. Service, for three years or during the war, unless sooner discharged.  Got wounded in Battle of Chantille, Virginia through the left foot, wa staken prisoner and parolled, and sent to Lyceum Hospital, Alexandria, Virginia, got discharge from the U.S. Service on 23 October 1862 at the aforesaid hospital  Gained this knowledge and exact dates from my discharge.  Was not in the U.S. Service prior to the dates above given.

That while in said service in the line of his duty at Chantilly in the State of Virginia on the 31 day of August 1862 he was wounded by gun shot in left foot in action for which he was treated at Lyceum General Hospital, Alexandria, Virginia, and that he has not been in the U.S. Military or Naval Service since discharge there from 23 October 1862.


That he believes himself to be entitled to an increase of the current pension on account of…now in entirely youseless [useless] of left leg also of left arm so I have to have another person to help me wen my bowls move and dress and undress myself.
The Pension Index Card (above) from the Pennsylvania Archives, notes that Cyrene T. Bowman enrolled at Hegins, Schuylkill County, Pennsylvania, about three weeks before he was mustered into service at Harrisburg.  He declared himself to be eighteen years old, was a blacksmith by trade, and his residence was Klingerstown.  The card does not give a date for his discharge, which was on a Surgeon's Certificate of Disability (S. C. of D.).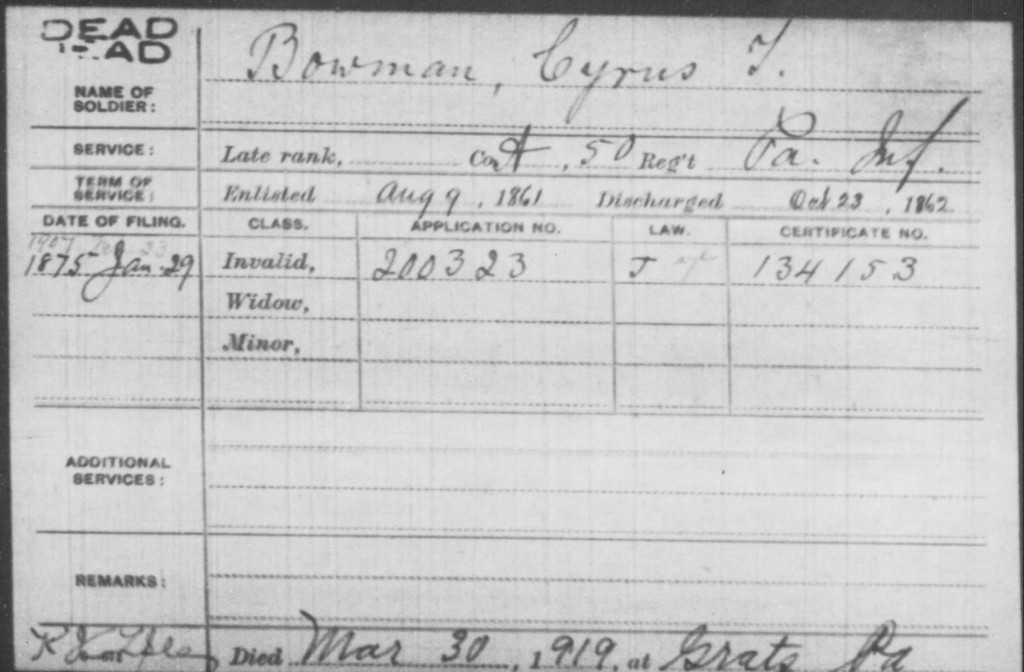 The Pension Index Card (above ) from Fold3, shows that Cyrene T. Bowman (Cyrus as he is noted on the card), did not apply for a pension until 29 January 1875 – nearly thirteen years after his discharge.  His death at Gratz on 30 March 1919 is also given on the card.
Finally, in the Census of 1890 (above, from Ancestry.com), Cyrene T. Bowman reported bis service in the 50th Pennsylvania Infantry, but did not mention that he was wounded, was held prisoner, or that he had a disability that was war-related, yet seven of fourteen of his fellow Gratz residents who appear on the census sheet noted disabilities that ranged from hearing loss, rheumatism, "shot in head" and ruptures.
It should also be noted that no original Prisoner of War record has been seen for Cyrene – other than the secondary accounts given above which supposedly are based on official records as noted above (muster rolls, discharge, etc.).
—————————-
In 1997, A Comprehensive History of the Town of Gratz Pennsylvania was published.  A biography of Cyrene T. Bowman appeared on pages 118 and 120 of that book, with pictures on page 119. Although the biography mentions that Cyrene was a prisoner of war, it gives the location of his imprisonment as Andersonville.  This information is not sourced.  It is possible that the person who wrote the biography was confused by the handwriting – Alexandria v. Andersonville.  The picture at the top of this post is cropped from a picture that appeared on page 121 and the picture of Cyrene in his general store/post office (shown below) is also from the same page.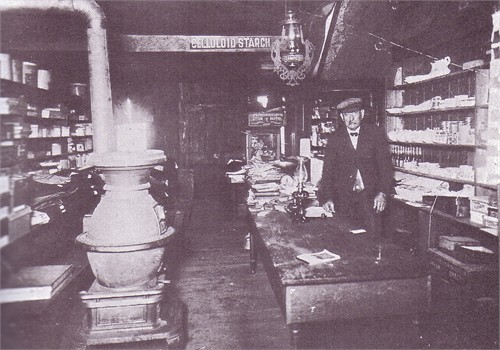 Cyrene T. Bowman had been a resident of Gratz for many years.  He came in 1866 upon appointment as Postmaster.  He started a general mercantile in the store building on lot number thirty-three.  Among many other itess, he stocked patent medicines.  Merchandise was not his only interest.  Mr. Bowman was adept at being involved in several business opportunities at the same time.  By 1783 Cyrene T. Bowman was a trader in horses, mules and ponies.  He traveled to far off places such as Missouri to pick up the animals.  In 1873 Dr. Schminky traveled with him, and at least for the last leg of the journey, they drove the animals home by foot.  He continued in that business for many years.  In 1886 a reporter mentioned that Mr. Bowman had just received another fine lot of horses and was ready to "buy, trade, or sell."  In 1889 he had a stockyard for cattle and hogs.

Some years earlier, in 1886 Cyrene Bowman became the manager of a coal operataion near Gratz.  He was affiliated in that enterprise with Jacob Shiro and others. Business according to written accounts was particularly brisk during sleighing time.  The farmers took advantage of those times to fill their coal houses.  Cyrene Bowman was also a partner with Jacob Shiro for a brief time in the merchant business.

Besiseds the various occupations of Cyrene Bowman, he was active in community organizations.  He belonged to Fraternal Organizations such as I.O.O.F. and Knights of Golden Eagle.  each year he had his own enterprise going on the fair grounds during Gratz Fair week.  He sold various items (mostly food).  He did create a bit of controversy during Fair Week of 1891.  Besides the regular items he offered for sale that year, he decided to quench the thirst of his various customers.  He was selling liquor without a license.  At a Quarter Sessions Court in 1892, Cyrene Bowman was sentenced to thirty days in jail and fined $500.00 plus costs!

Where there was life, there was Cyrene Bowman!  He served as a stage driver traveling from Gratz to other area for several years.  He engaged in hotel keeping, and belonged to the Gratz Driving park Association.  He engaged in arranging the "Sweep Stake Shooting Matches" which were so popular on Thanksgiving Day.  The shooting matches continued form the 1870's until well past 1900.

From what can be learned about the person of Cyrene T. Bowman, it is believed that above all else, he was a patriotic person.  He served his country during the Civil War.  During the process he received a gunshot wound of the foot, and was even taken prisoner at Andersonville.  As mentioned before, he was an active member in the patriotic organizations of Gratz after the war.  An article from the newspaper of 2 Jun 1898 probably best reflects the attitude of Cyrene Bowman and most of the the citizens of Gratz at the turn of the century:

"A demonstration in honor of the U.S. Fleet victory over the Spanish was witnessed on our street Thursday night.  It infused a spirit of patriotism as was shown by the universal participation on this occasion.  The procession was led by our Citizen Cornet Band, followed by a string of men and boys waving their flags and cheering for 'ol Glory.'  The procession was under the command of Capt. C. T. Bowman on of the old boys in blue of '62.  May God speed the day when all true and patriotic hears with one accord may shout for joy when the iron group of Spain upon cities shall be loosed."

In March 1889, Cyrene T. Bowman and family moved to Sacramento, where they occupied the hotel for some time.