Posted By Norman Gasbarro on May 29, 2014
Previously, on this blog, it was written:
Joseph Russell, [probably] the son of David Russell and Catharine Russell, of Washington Township, Dauphin County, was a laborer who served in the 9th Pennsylvania Cavalry, Company B, as a Private.  He was captured and held as a prisoner of war at Andersonville, Georgia [Note: Andersonville has not been verified], and Libby in Richmond.  During the Civil War he married Elizabeth Batdorf and they began their family [Note: see below for conflict in marriage date].  In 1890, Joseph was living in Loyalton, Washington Township, when he reported to the Veterans' census that he had been a prisoner at Libby and that he was suffering from weakness of the spine and rheumatism.  There is a possibility that the Joseph Russell who is listed on the Lykens G.A.R. Monument is the same person since Loyalton did not have a G.A.R. post and the closest community where he could join was at Lykens.
Resent research has yielded the following results: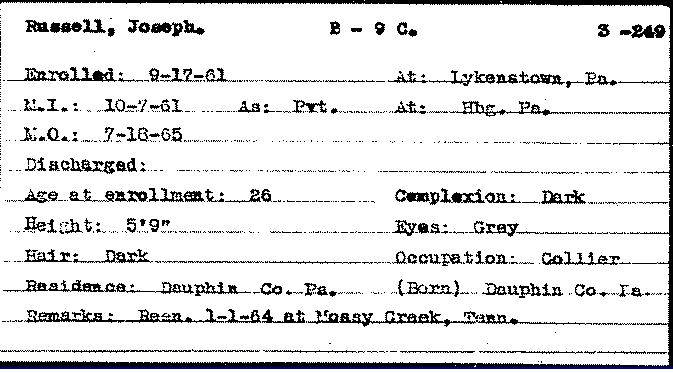 The Pennsylvania Veterans' Index Card (above) from the Pennsylvania Archives notes that Joseph enrolled at Lykenstown [Lykens Borough], Dauphin County, Pennsylvania, on 17 September 1861 and was mustered into service on 7 October 1861 at Harrisburg as a Private in Company B of the 9th Pennsylvania Cavalry.  At the time of enrollment, he claimed to be 26 years old [born about 1835], was 5 foot 9 inches tall, had dark hair, gray eyes, and dark complexion.  His occupation was collier and his residence as well as his birthplace was Dauphin County.  His service in the 9th Pennsylvania Cavalry included a re-enlistment on 1 January 1864 and Mossy Creek, Tennessee, through his final discharge on 18 July 1865.

Additional information on his military service can be gleaned from the 1890 Census of Civil War Veterans and Widows (available from Ancestry.com) in which he stated that he had been a prisoner at Libby [Richmond] for three months and had sustained injuries of the spine and rheumatism.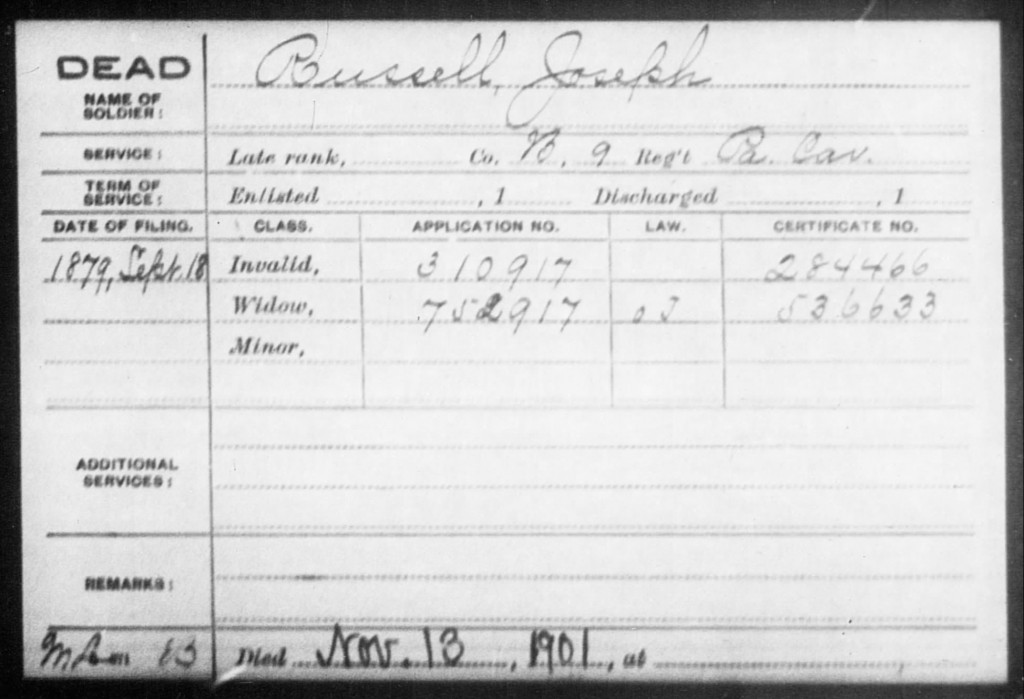 The Pension Index Card available from Fold3 (above) shows that Joseph Russell was a pre-1890 applicant for a pension [application submitted 18 September 1879], indicating that his war injuries were a factor in the awarding of the pension.  Pensions awarded after 1890 were primarily for old age, whereas pre-1890 pensions most likely had to be directly connected to injuries sustained during the war.  A widow's application was submitted after Joseph's death, but the Fold3 versions of Pension Index Cards generally do not give the widow's name or pension application dates.  However, the Fold3 cards often give the veteran's death date, which in this case is stated as 13 November 1901 [Note: See discussion of this below].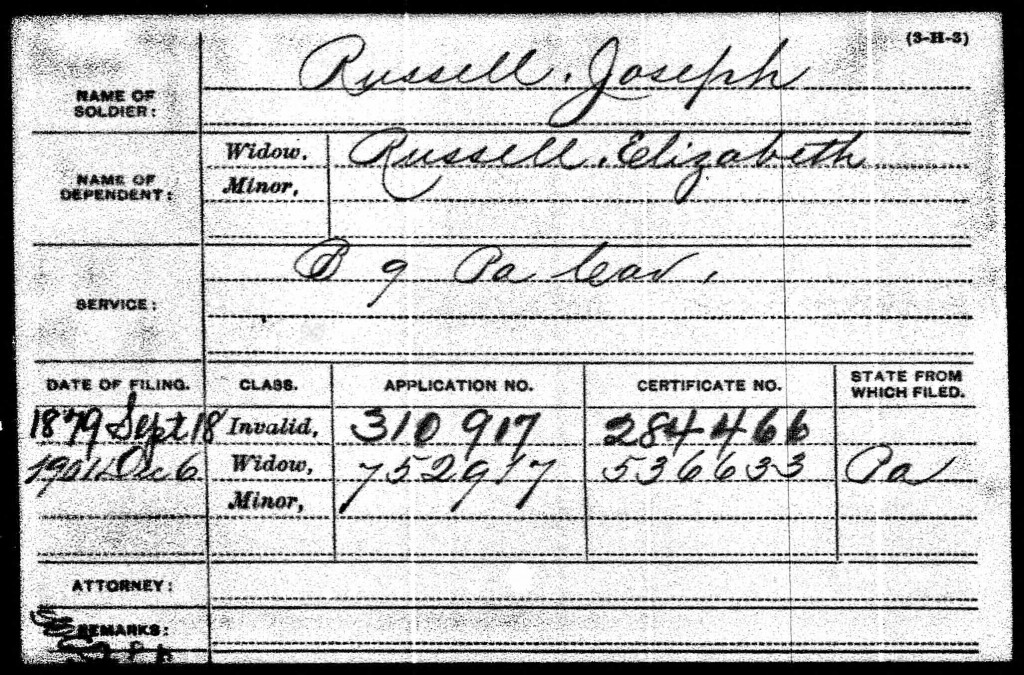 In the Ancestry.com version of the Pension Index Card (above), the widow's name is given as Elizabeth, and the date of her application is shown as 6 December 1901.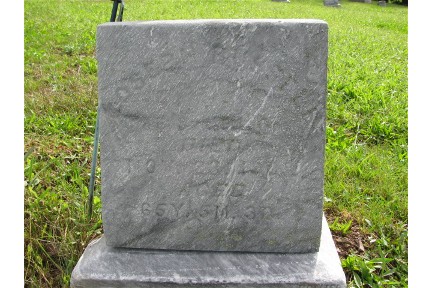 Joseph Russell was buried in the St. Peter (Hoffman's) Church Cemetery in Lykens Township.  His gravestone, pictured above, gives the date of death as 23 November 1901.  This date is also confirmed in other sources, but is in conflict with the death date noted on the Pension Index Card from Fold3 which states that Joseph died on 13 November 1901.
Elizabeth [Batdorf] Russell died on 23 January 1903 of a paralytic stroke.  She is buried next to her husband at the St. Peter (Hoffman's) Cemetery in Lykens Township.
Elizabeth Batdorf, born about May 1839, was the daughter of Peter Batdorf (1814-1880) and Elizabeth [Welker] Batdorf (1812-1868).  Her ten children with Joseph Russell were as follows:  Mary A. Russell, born about 1862; Alvin Russell, born 23 April 1866; John Wesley Russell, born 21 July 1867; Joseph P. Russell, born 17 December 1868; Fred or Frank Lafayette Russell, born 22 April 1870; Henry Milton Russell, born 27 August 1871; Margaret L. "Maggie" Russell, born 16 Feb 1873; Catherine M. "Katie" Russell, born 20 February 1875; Emma E. Russell, born 16 February 1876; and Sarah Ann "Annie" Russell, 12 January 1880.
No records have been seen on-line or in print which confirm that Joseph was held as a prisoner at Libby Prison in Richmond or indicate when and where he was captured.  However, the pension files have not yet been consulted, and the information surely must be contained in those files – or in the military records which are also available from the National Archives or the Pennsylvania State Archives.  [Note: As of this writing, the Widows' Pension Files are being placed on-line through Fold3, but the process has been slow and the records are not yet to 1870.  It will be some time before the widows' files for 1901 are on-line].
There is also some confusion as to the parentage of Joseph Russell.  In research done for the so-called Lykens Township Book (volume 2, page 101, not published), a connection is suggested ("apparently belongs to this family") with a Russell/Ressel family that had five children who were baptized at St. John (Hill) Church near Berrysburg, Mifflin Township, Dauphin County between 1814 and 1824.  One of those children, John Russell Jr., born 18 January 1814, married a Christiana Dietrich who was a daughter of John Dietrich and Catharine Dietrich.  However, in Our Dietrich Lines, by William Dietrich, on page 61, a John Dietrich Jr., born 26 November 1799, is given as married to a Catherine Russell who was born in 1806, died in 1878, and was buried at Zion Evangelical Cemetery, Oakdale, Washington Township, Dauphin County.  On page 198 of Our Dietrich Lines, it is stated that this Catherine Russell had two children with the John Dietrich who was born in 1799.  The oldest child named was John H. Dietrich who was born in 1842 and died on 18 April 1916, and the other child was Catherine E. Dietrich, no dates given.
In the 1860 Census (shown above, from Ancestry.com) for Wiconisco Township, Dauphin County, there appears a Catherine Deeter (Dietrich), a 60 year old widow who has in her household a John Deeter (Dietrich), age 18 (born about 1842), and a Joseph Rushle (Russell?), age 24 (born about 1836), a laborer.  This lends some credence to the theory that Catherine Deeter was the mother of Joseph Russell and that the father of Joseph Russell may have died before Catherine re-married John Deeter Jr.  Was the child she had with the second husband the John Deeter mentioned in the census, and was this the same person as John H. Dietrich who is mentioned on page 198 of Our Dietrich Lines?  Perhaps the answer may be found in the Oakdale Church Records which have not yet been consulted.
In the 1870 Census, there is a Catherine Deatrick (Dietrich), age 64, who is living in the household of a Joseph Rasel (Russell) in Washington Township.  This could further confirm that this Catherine was the mother of Joseph Russell.
At this time, the information in Our Dietrich Lines seems to be more in line with census information than in the unpublished Lykens Township research.

Joseph Russel (Russell) appears on the Lykens G.A.R. Monument as a member of the Heilner Post who joined after its organization.  While continued research should provide addition facts to verify that this is the same Joseph Russell who was a member of Company B of the 9th Pennsylvania Cavalry, it can almost be certain at this time that it is the same person.
Help is needed to verify the parentage of Joseph Russell.  Perhaps a family member has done the research and has the information.  Clarification and documentation is also sought on the prisoner of war record of Joseph.  Comments and suggestions can be added to this post or sent by e-mail.
—————————–
The photos of Joseph Russell and Elizabeth [Batdorf] Russell are from a family collection.