Posted By Norman Gasbarro on May 21, 2014
In late 1902, readers of the Harrisburg Patriot could follow closely the demise and eventual death of Abner M. Pike, a Civil War veteran who had served in the 192nd Pennsylvania Infantry, Company H, and was a member of the Slocum G.A.R. Post at Halifax, Dauphin County, Pennsylvania.  An early statement appearing in the 17 September 1902 edition reported the following:
HALIFAX, 16 September 1902 — Mrs. W. C. Farnesworth of Harrisburg, is at the bedside of her father, A. M. Pike, who is in a critical condition.
The next report appeared in the Patriot on 24 September 1902: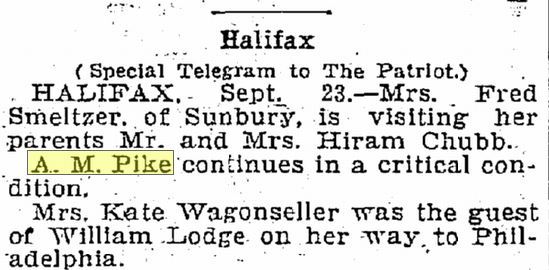 HALIFAX, 23 September 1902 — … A. M. Pike continues in critical condition.
No improvement was reported on 18 October 1902:
HALIFAX, 17 October 1902 –… A. M. Pike is still seriously ill.
The death of Abner M. Pike was reported in the Patriot on 5 November 1902: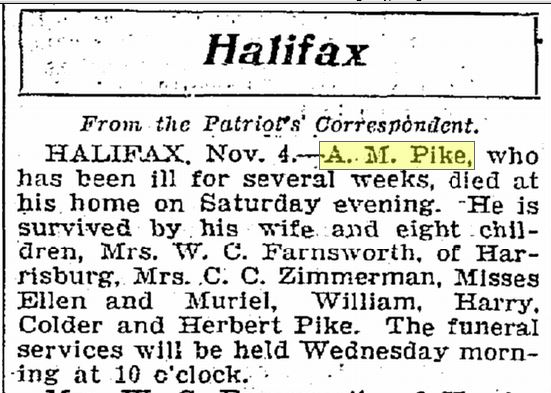 HALIFAX, 4 November 1902 — A. M. Pike, who had been seriously ill for several weeks, died at his home on Saturday evening.  He is survived by his wife and eight children, Mrs. W. C. Farnesworth, of Harrisburg, Mrs. C. C. Zimmerman, Misses Ellen Pike and Muriel Pike, William Pike, Harry Pike, Colder Pike, and Herbert Pike.  The funeral services will be held Wednesday morning at 10 o'clock.
And the report of the funeral was available to the Patriot readers on 10 November 1902: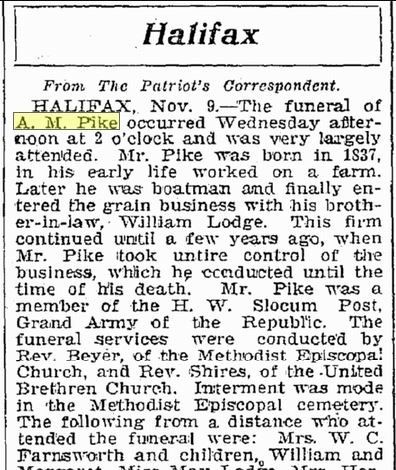 HALIFAX, 9 November — The funeral of A. M. Pike occurred Wednesday afternoon at 2 o'clock and was largely attended.  Mr. Pike was born in 1837, in his early life worked on a farm.  Later he was a boatman and finally entered the grain business with his brother-in-law William Lodge.  This form continued until a few years ago, when Mr. Pike took entire control of the business, which he conducted until the time of his death.  Mr. Pike was a member of the H. W. Slocum Post of the Grand Army of the Republic.  The funeral services were conducted by Rev. Reyer of the United Brethren Church.  Interment was made in the Methodist Episcopal Cemetery.  The following from a distance who attended the funeral were:  Mrs. W. C. Farnesworth and children, William Pike and Margaret Pike, Miss May Lodge, Mrs. Horace Lodge and son, Thomas Robins and Mrs. Horace Hipple of Harrisburg; Mrs. Furman, Miss Mary Jury, Mrs. William Rutter, Mrs. J. C. Johnson and C. M. Steward of Millersburg; Charles C. Lodge of Shamokin; Ephraim Fetterhoff of Steelton; Mr. and Mrs. William Lodge of Williamsport.
Abner M. Pike was one of three brothers who served in the Civil War.  Research is still openly being conducted on his two brothers, Luther Samuel Pike, born about 1834, and John Wesley Pike, born about 1832.  Abner's wife collected a widow's pension after his death.  More information is also being sought on her.  Comments can be added to this post or sent by e-mail.
—————————-
News clippings are from the on-line resources of the Free Library of Philadelphia.