Posted By Norman Gasbarro on April 28, 2014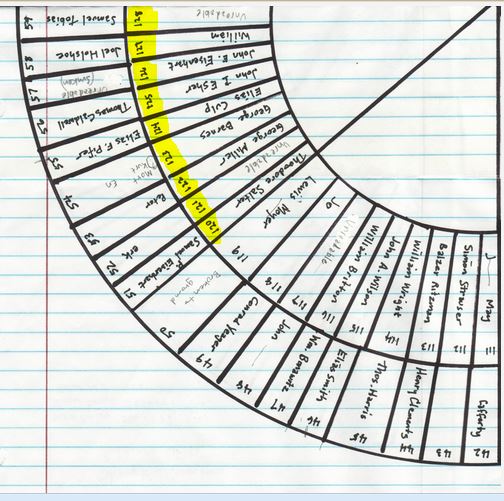 Today's post on the Shamokin Cemetery's Soldiers' Circle features nine graves in the second circle, third quadrant, beginning with photograph 120.  The photographs in this segment are numbered 120 through 128.  All of the stones in this section are sequenced in the order of the death of the veteran.  For each of the veterans, the best determination of the name is given and where possible some information about the military record.  Some errors may be noted where the information on the stone may not match other records.  Each grave photograph may be enlarged by clicking on it, and in some cases, readers may be able to identify or clarify some of the unknown information.  Comments can be added to this post or sent by e-mail to the Civil War Research Project.  The collected information on soldiers buried in the circle (including some military records, pension files, photographs, etc.) is available free-of-charge to veterans organizations, historical societies, and other non-profit groups.  Inquiries may be sent by e-mail or by regular mail, to the attention of Norman Gasbarro, P.O. Box 523, Gratz, PA  17030.
—————————-
#120 – Theodore Salter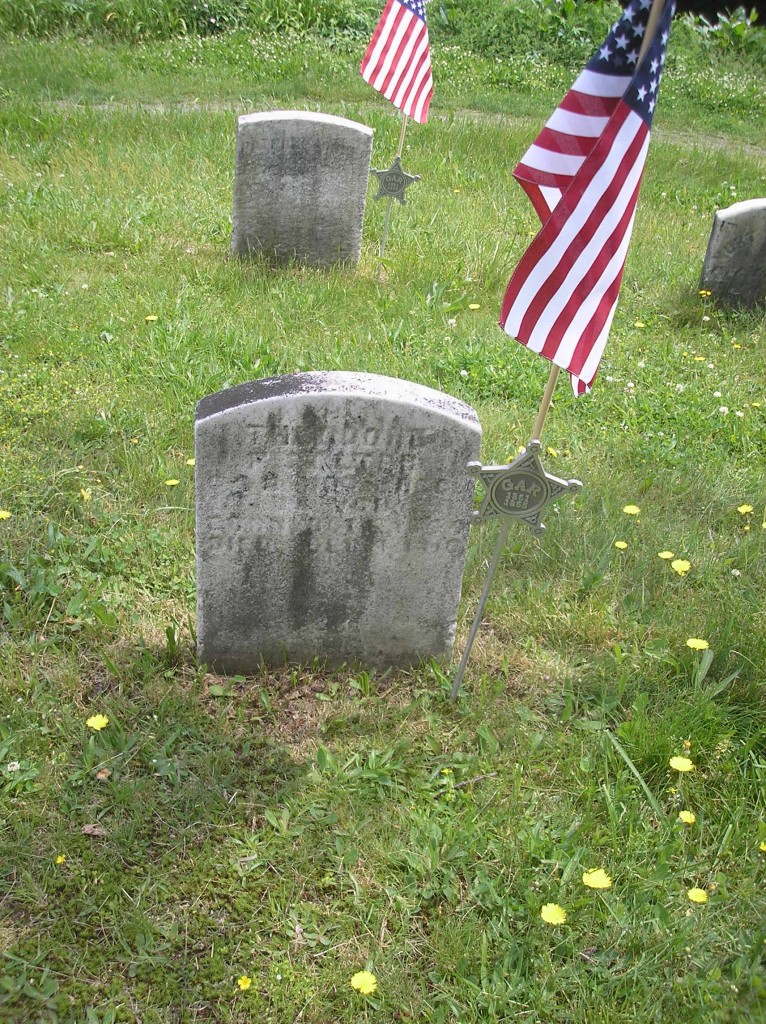 Theodore F. Salter died in Sunbury, Northumberland County, on 22 November 1910, although at least one other record gives his death date as 4 December 1910. Perhaps this latter date is for his burial.  He served in the 103rd Pennsylvania Infantry, Company C, as a Private, from 7 March 1865 through 25 June 1865.  At enrollment he gave his residence as Mill Creek, Lebanon County, and his occupation as miner.  In 1890 he appeared in the census for Shamokin and in that same year he applied for a pension.  After his death his widow, Harriet A. Salter applied, but she waited until 28 September 1916 to do so.  His is name is also found as Salters.
—————————-
#121 – Unreadable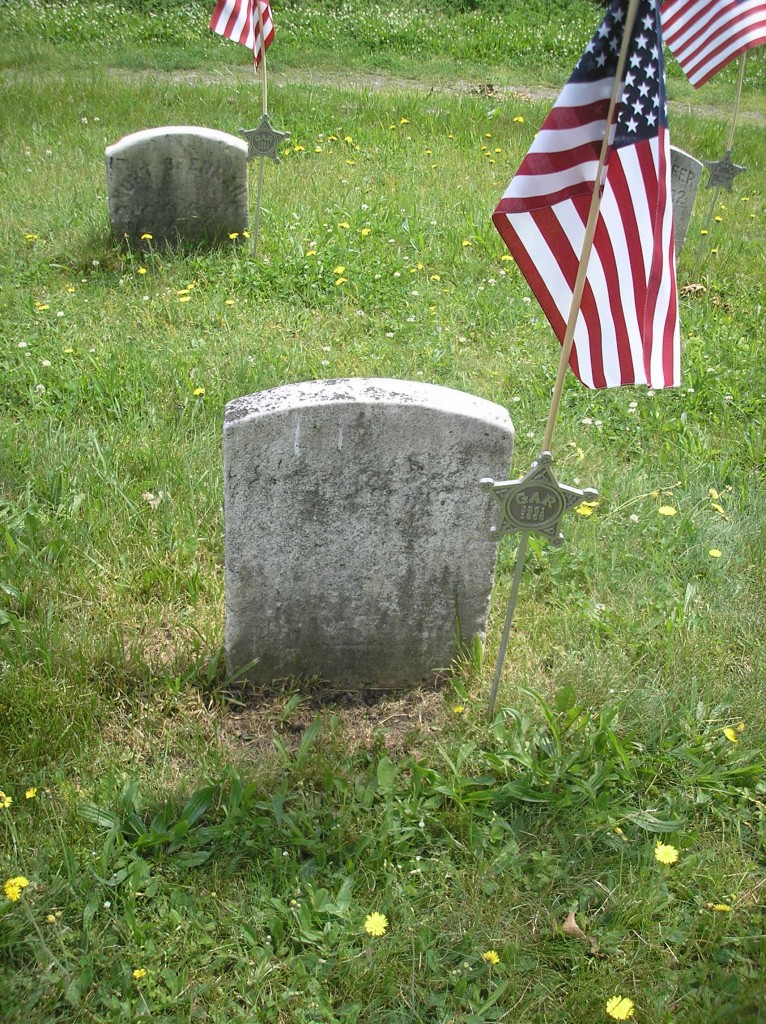 The stone at this site is badly weathered and completely unreadable.  The soldier buried here died between 4 December 1910 and 6 November 1911.
—————————-
#122 – George Miller
More information is needed about George Miller to determine his regiment and company of service during the Civil War.  From the stone's position in the Circle, it can be determined that he was born about 1846 and died 6 November 1911.
—————————-
#123 – George Barnes
George Barnes was born in Pennsylvania around 1834.  He died in 1913.  When he enrolled in the 96th Pennsylvania Infantry, Company F, as a Private, on 1 July 1862, he gave his residence as Philadelphia, his age as 28, and his occupation as carpenter.  He was mustered into service in Pottsville.  Like most of the members of the 96th Pennsylvania Infantry who were serving around 18 October 1864, his company was merged into the 95th Pennsylvania Infantry.   George completed his service in Company E of that regiment and was mustered out on 18 June 1865.  The 1890 census for Girardsville, Schuylkill County, indicates that George Barnes was shot in the head at the Battle of Spotsylvania, Virginia.  Pension application was made on 18 February 1888.
—————————-
#124 – Elias Culp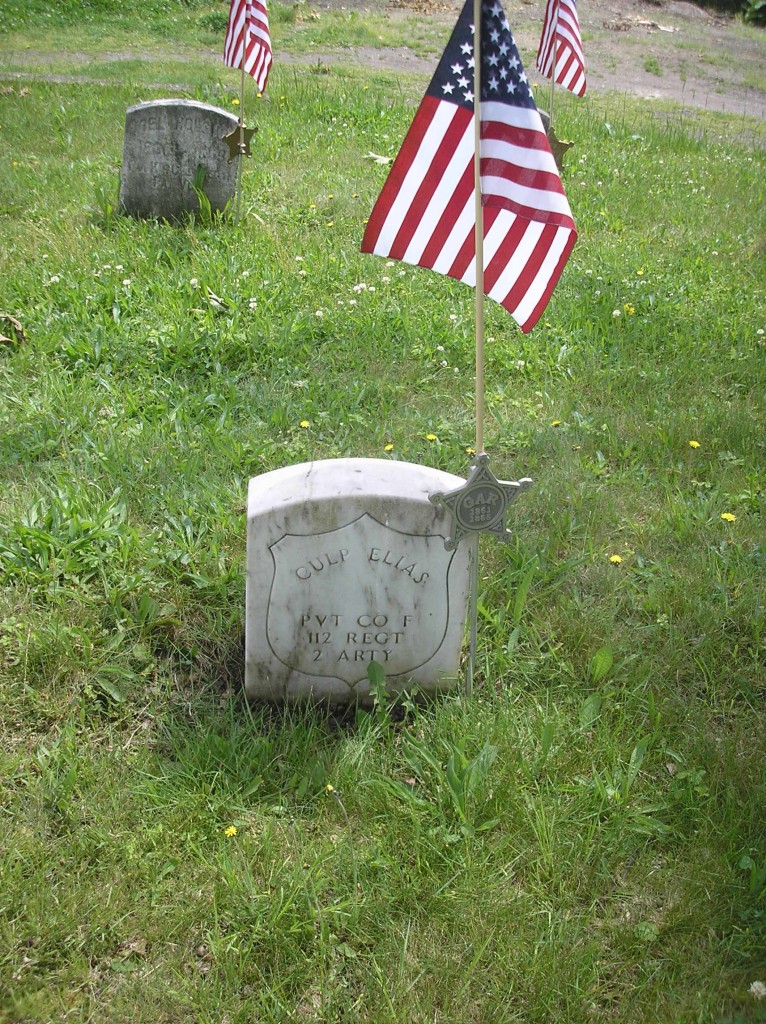 Elias Culp, who died at Shamokin on 18 October 1913, was born on 4 March 1839.  He is also found in the records as Elias Kulp.  This is at least the second headstone for Elias and there are pictures available of an earlier stone.  Elias Culp first served in the 11th Pennsylvania Infantry, Company H, as a Private, from 26 April 1861 to 1 August 1861.  He had enrolled in this regiment in Danville and was mustered in at Harrisburg.  Later he served in the 2nd Pennsylvania Artillery, Battery or Company F, as a Private, from 19 December 1861 through 18 December 1864.  In this latter service he was detached to serve as a regimental hospital attendant.  Elias was married three times:  to Katie Puff (or Poff); to Ellen Reed; and to Clara Lewis.  He applied for a pension on 3 December 1885 and his surviving widow made application on 28 October 1913.  The 1890 census for Shamokin notes that he received a disability discharge for a fractured scull and that he was deaf in one ear.
—————————-
#125 – John I. Esher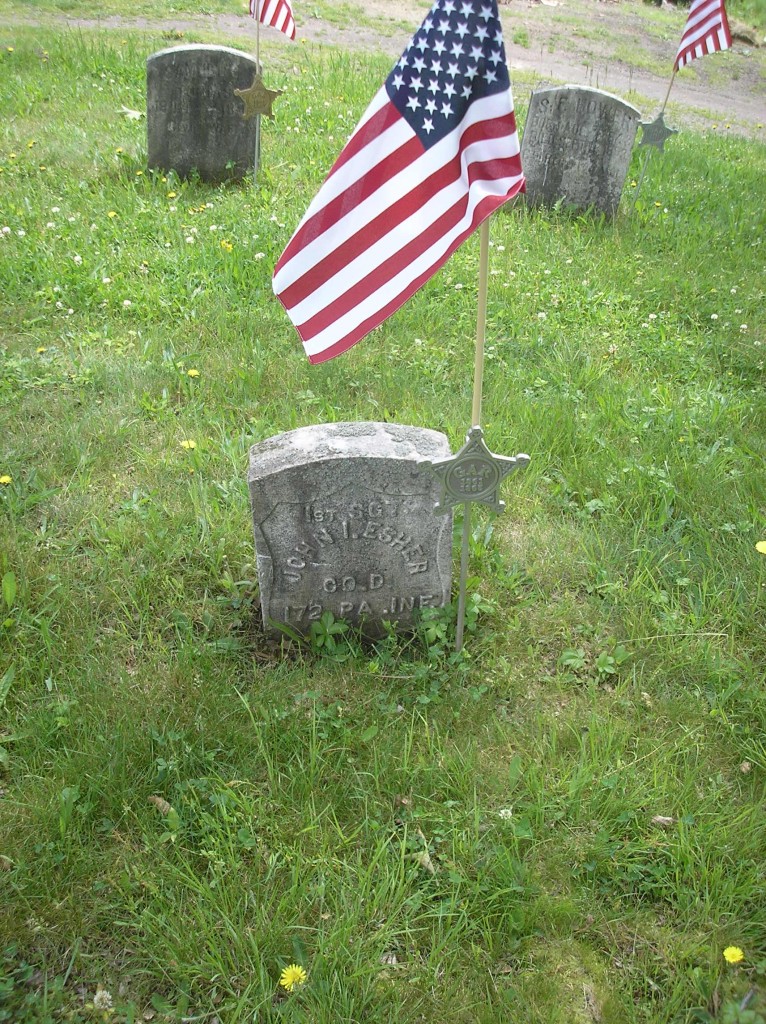 John I. Esher (or John J. Esher) died at Shamokin.  His death date was recorded as 19 October 1918.  He was born about 1830 and during the Civil War served in the 172nd Pennsylvania Infantry, Company D, as a 1st Sergeant, from 27 October 1862 through 1 August 1863.  He applied for a pension on 15 January 1890 and his widow, Margaret McCarty, applied on 6 February 1920.  The widow's pension file has been merged with the file of Michael McCarty who served in Company D of the 56th Pennsylvania Infantry.
—————————-
#126 – John E. Eisenhart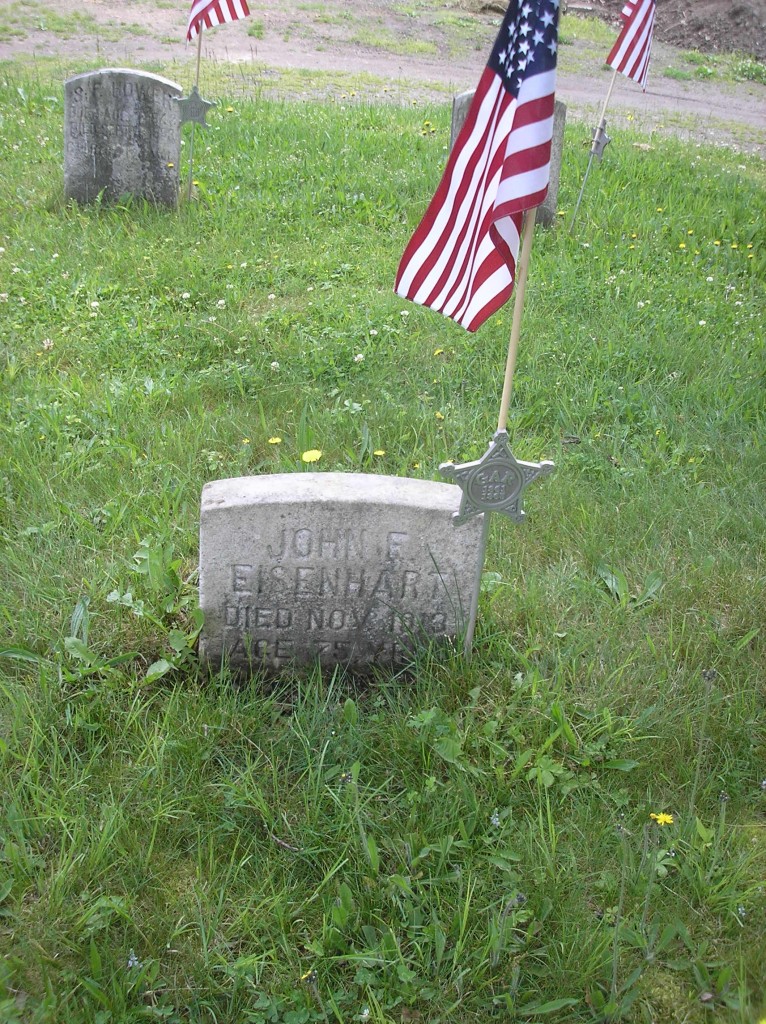 John E. Eisenhart's stone is partially sunken in the ground, but enough information is readable including his dates of birth and death as 11 October 1838 and 16 November 1913.  He either died at the National Soldiers' Home in Dayton, Ohio, or at Shamokin.  During the Civil War, he first served in the 8th Pennsylvania Infantry, Company A, as a Private, from 22 April 1861 through 29 July 1861.  At this time he was a resident of Shamokin and was working as a laborer.  Later he served in the 46th Pennsylvania Infantry, Company K, as a Private and Corporal, from 4 September 1861, through a promotion to Corporal on 1 October 1862, and through his discharge on a Surgeon's Certificate of Disability on 23 April 1863.  His residence continued to be Shamokin and his employment was as a laborer.  However, in the 1863 Civil War Draft, he gave his occupation as brakeman.   John was married to Catherine Schlegel.
—————————-
#127 – William ——–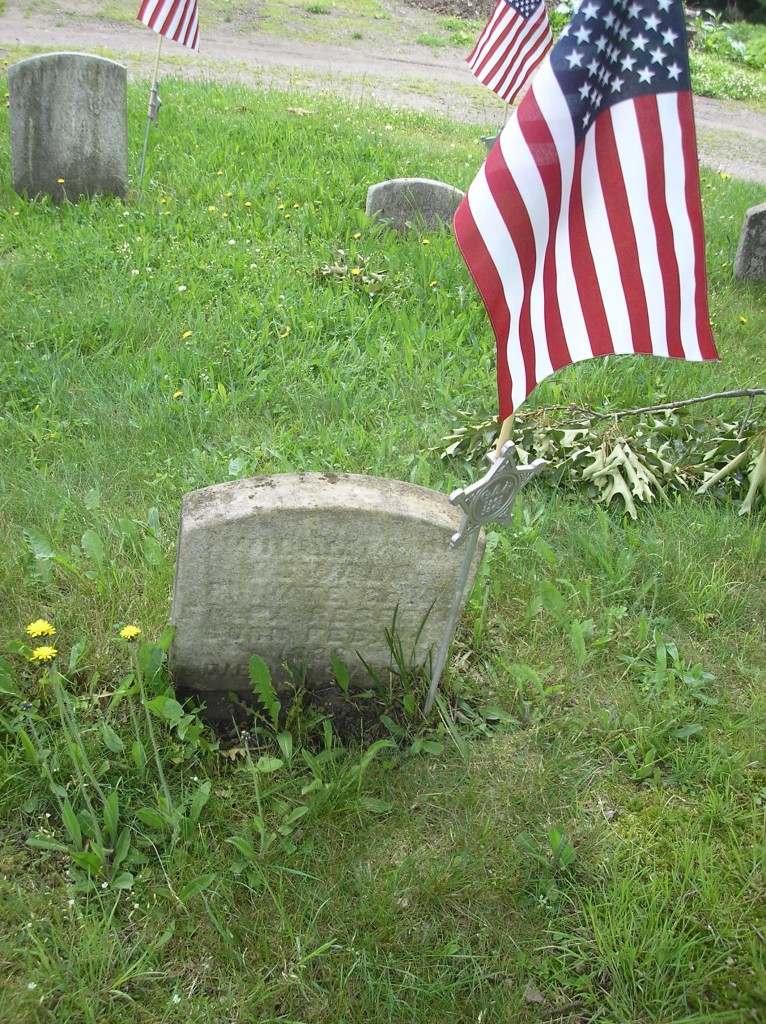 This stone marks the grave of a soldier named William, surname not determined.  He was born around 1828 and died between 16 November 1913 and 25 February 1914.
—————————-
#128 – Unreadable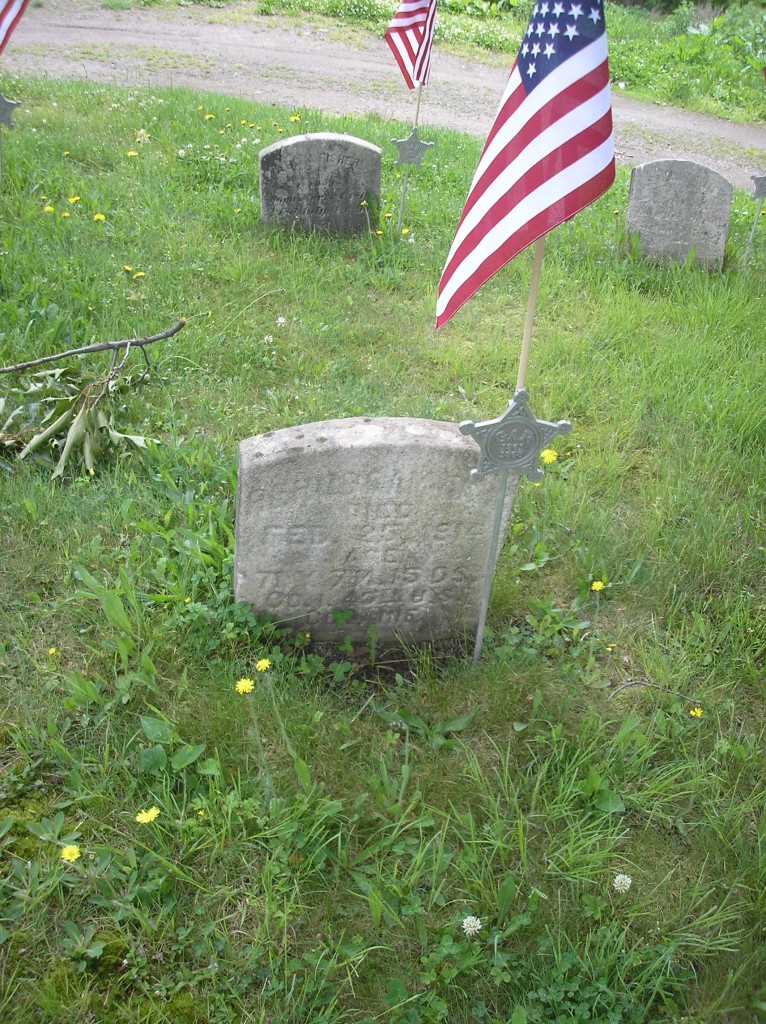 The name is difficult to read on this stone, but the veteran died on 25 February 1914.
—————————-
For all posts in this series, click on ShamokinSoldCircle.