Posted By Norman Gasbarro on April 22, 2014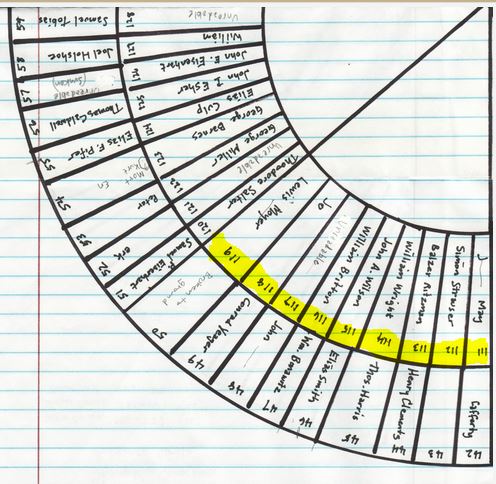 Today's post on the Shamokin Cemetery's Soldiers' Circle features nine graves in the second circle, third quadrant, beginning with photograph 111.  The photographs in this segment are numbered 111 through 119.  All of the stones in this section are sequenced in the order of the death of the veteran.  For each of the veterans, the best determination of the name is given and where possible some information about the military record.  Some errors may be noted where the information on the stone may not match other records.  Each grave photograph may be enlarged by clicking on it, and in some cases, readers may be able to identify or clarify some of the unknown information.  Comments can be added to this post or sent by e-mail to the Civil War Research Project.  The collected information on soldiers buried in the circle (including some military records, pension files, photographs, etc.) is available free-of-charge to veterans organizations, historical societies, and other non-profit groups.  Inquiries may be sent by e-mail.
—————————-
#111 – ——– May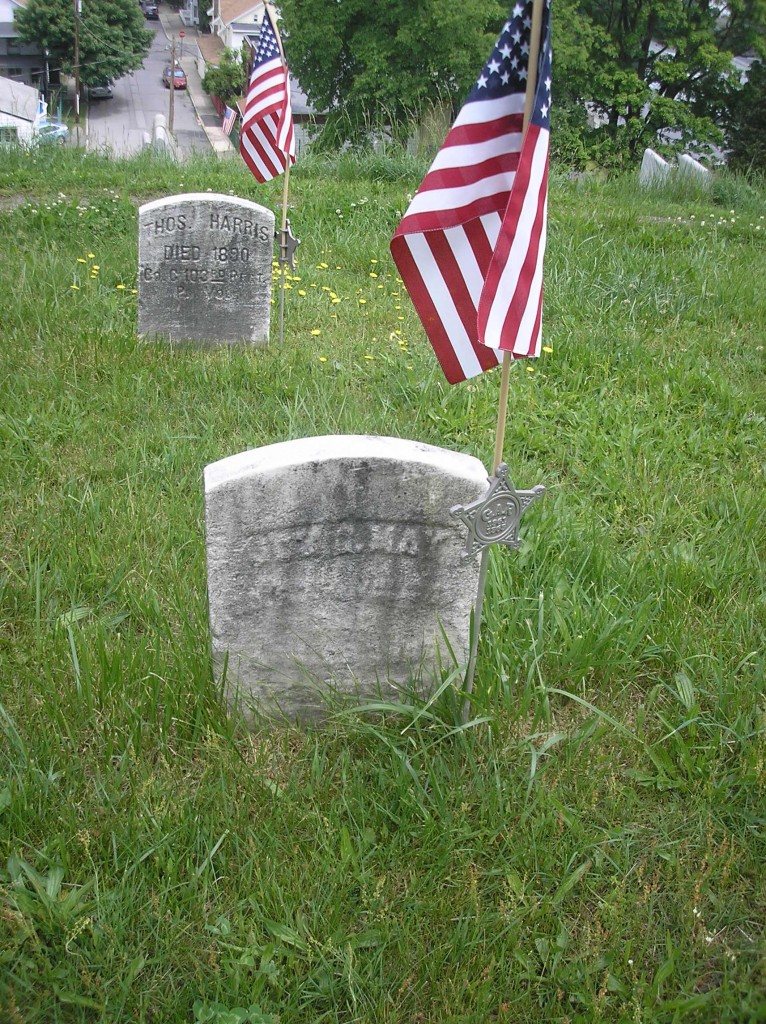 The name on this stone is possibly Joseph G. May, but additional information is needed to identify his Civil War service.  He died some time between the end of 1907 and the beginning of 1909.
—————————-
#112 – Simon Strauser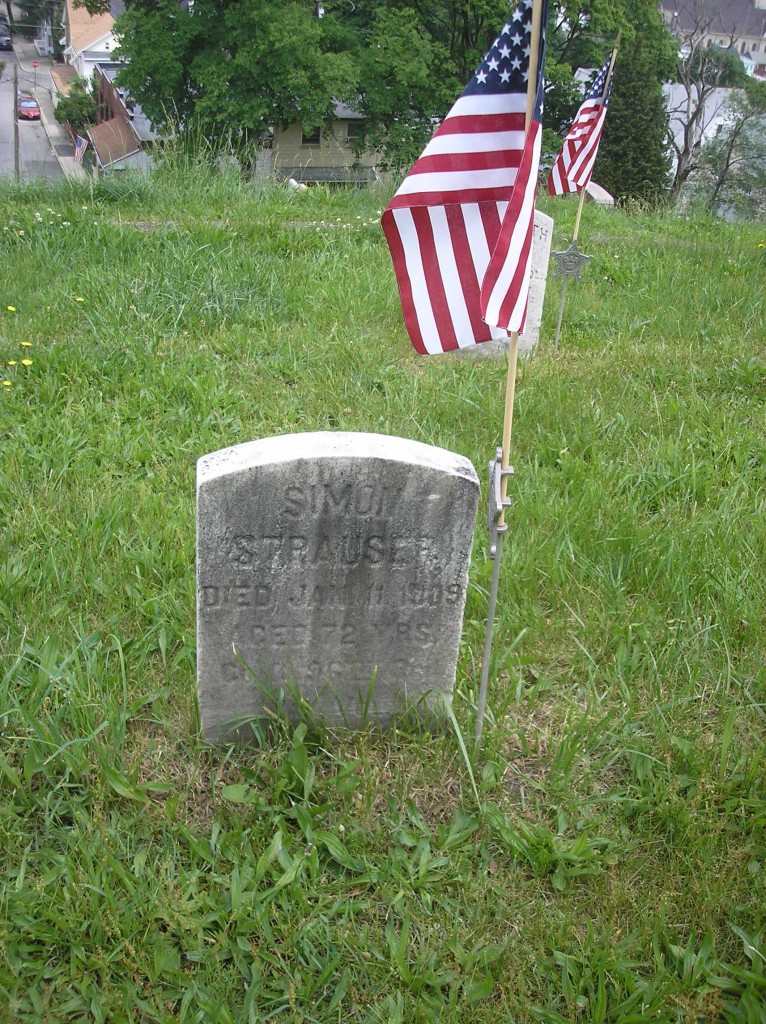 Simon Strausser was born around 1834 and died 11 January 1909.  He enrolled at Windsor, Pennsylvania, in the 96th Pennsylvania Infantry, Company G, as a Private, and was mustered into service on 14 October 1861.  On 29 January 1862, he was discharged on a Surgeon's Certificate of Disability.  He applied for a disability pension on 22 August 1890.  Not much more is known about him at this time.
—————————-
#113 – Balzer Ritzman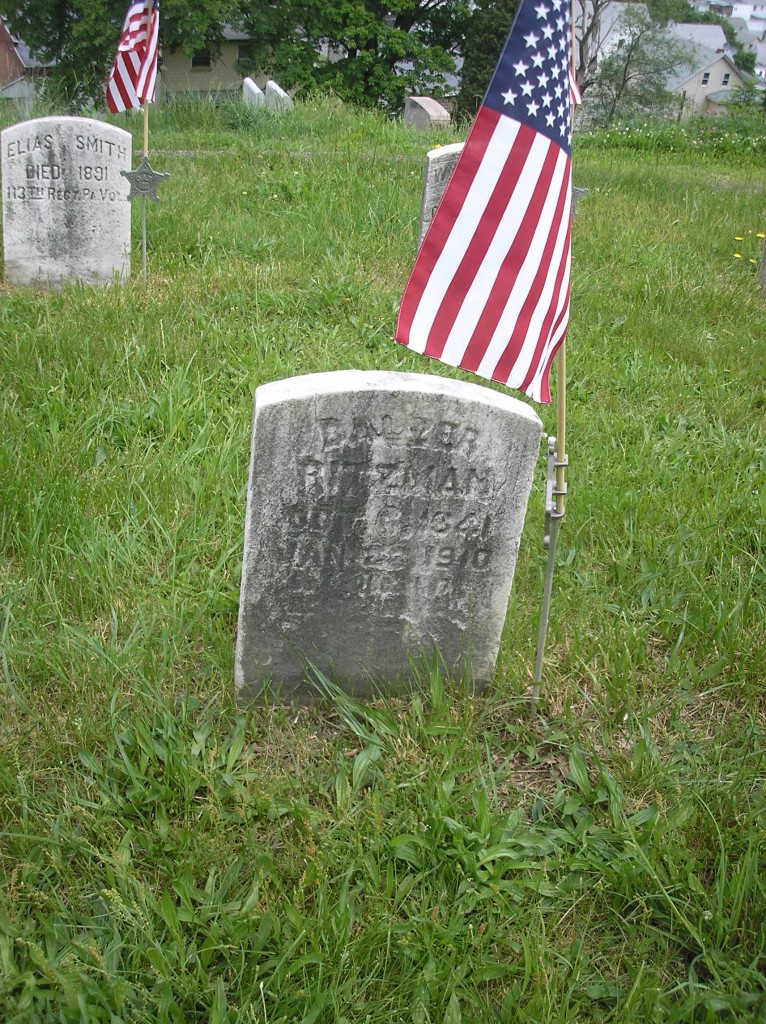 Balzer Ritzman who is buried here has been previously mentioned in other spellings of his first name, including Balthaser, Balthazer, Blatzer, Balser, and Baltzer.  He was featured in a previous blog entry on 3 December 2011, Honorable Discharges, 177th Pennsylvania Infantry.  He was born 6 October 1841 and died 22 January 1910.  He was married to Sarah Ann Faust.
—————————-
#114 – William Wright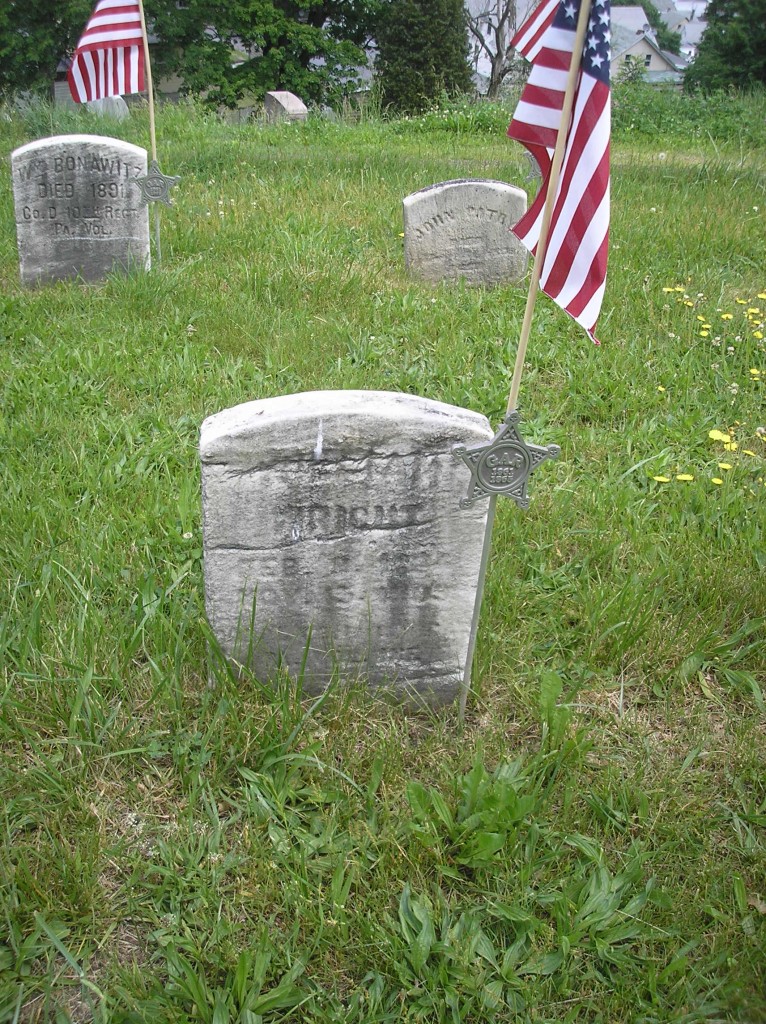 More information is needed about William Wright, born 8 February 1834 and died 15 November 1909, to determine his Civil War service.  There is some hard-to-read wording on the stone which may give the military information.
—————————-
#115 – John A. Wilson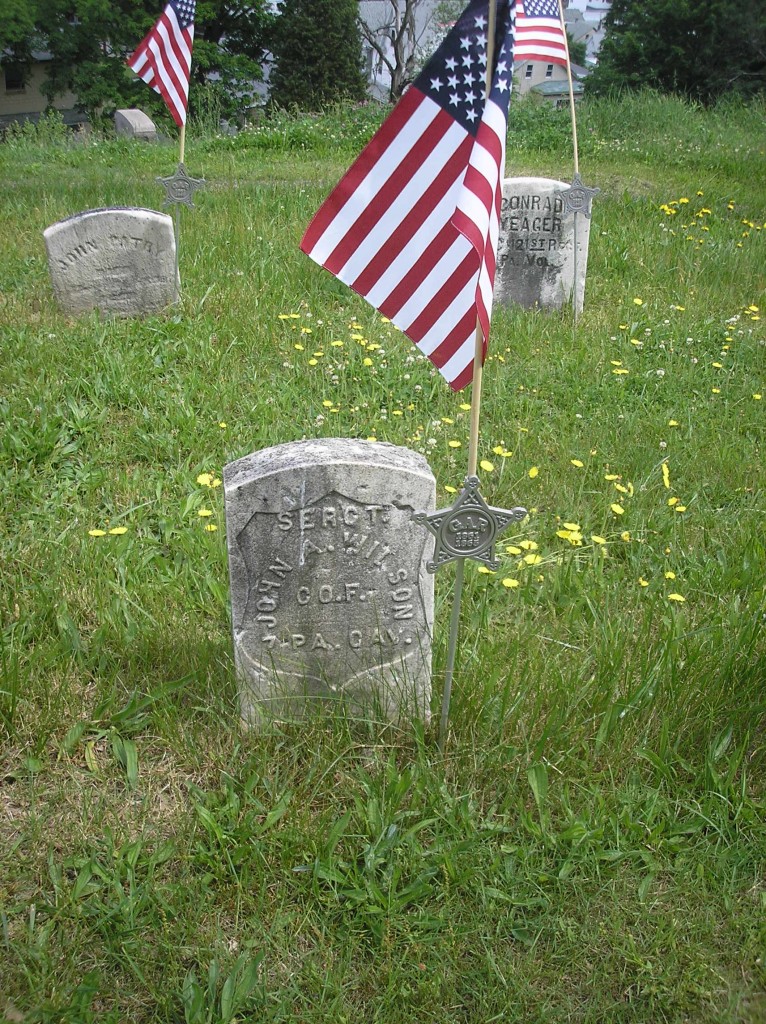 John A. Wilson's grave marker is a standard government issue and is very readable, possibly indicating that it was a later replacement.  Wilson was born around 1838 and died 19 February 1910.  His military records indicate that he first served in the 6th Pennsylvania Infantry, Company E, as a Private, and was mustered into service at Harrisburg on 22 April 1861 and mustered out at the termination of his three month enlistment in July 1861.  At the time of his enrollment, he was a laborer living in Ashland, Schuylkill County.  His second service was in the 7th Pennsylvania Cavalry (the regiment indicated on his grave stone), Company F, where he served as a Private and Sergeant from the time of his muster on 22 October 1861 through honorable discharge on 28 November 1864.  There is also some indication in the records that for a time during this cavalry service, he was detached to the 4th U.S. Cavalry. There is some confusion as to his actual birth year; he gave his age as 22 for the first enlistment and 33 for the second enlistment.  A pension application for John A. Wilson was submitted on 2 June 1883 and after his death, his widow, Esther Wilson applied on 26 February 1910.  His residency in Shamokin is confirmed in the 1890 census.
—————————-
#116 – William Britton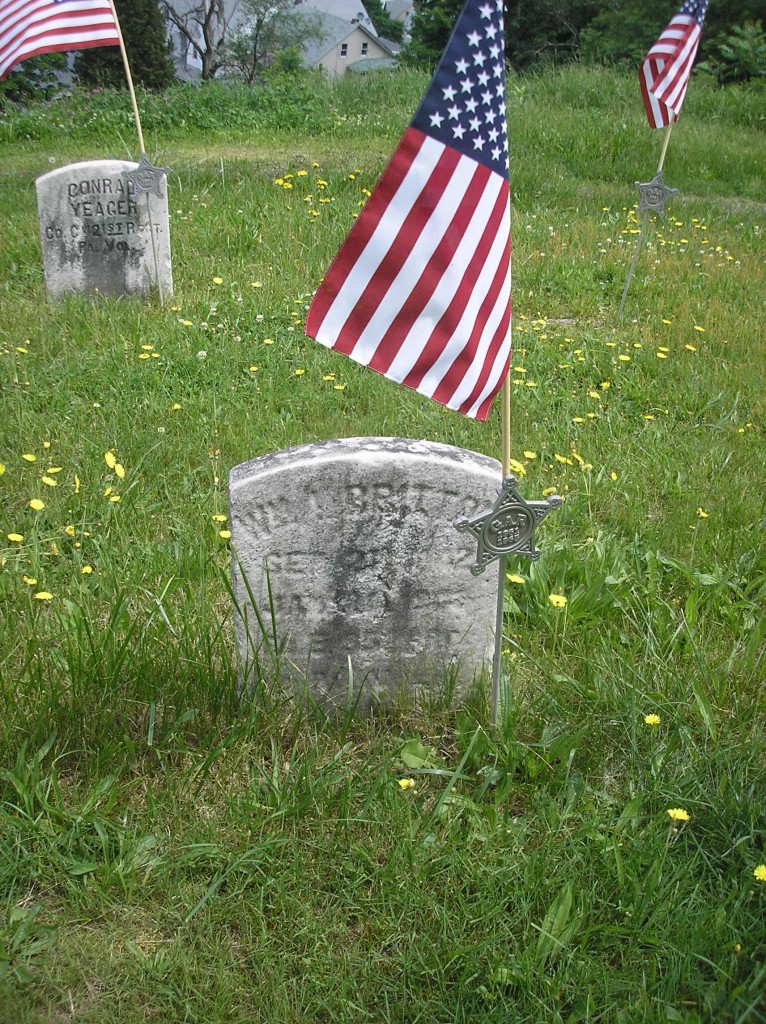 This stone appears to say that William Britton served in the 95th Pennsylvania Infantry.  If this is the case, he served first in the 96th Pennsylvania Infantry.  However, the Pennsylvania Veterans' Index Card gives the dates of service as 22 August 1861 through discharge on a Surgeon's Certificate of Disability on 1 March 1862.  These dates of service occurred before the 96th Pennsylvania Infantry was merged into the 95th Pennsylvania Infantry.  William Britton enrolled and was mustered in at Pottsville and was 28 years old at the time.  He served at the rank of Corporal.  A pension application was submitted on 25 April 1865.  No widow applied, possibly indicating that his wife died before he did, or he was never married.
—————————-
#117 – Unreadable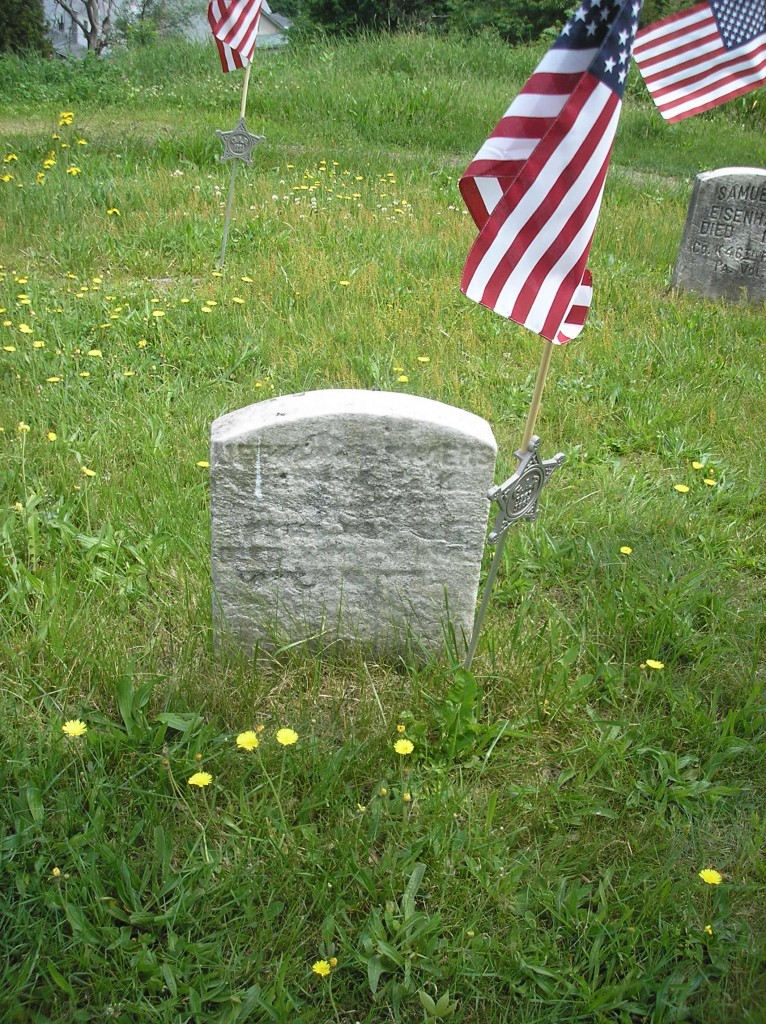 This stone is too difficult to read.  It is badly weathered.  The soldier buried here died between 20 June 1908 and 24 October 1910.
—————————-
#118 – Unreadable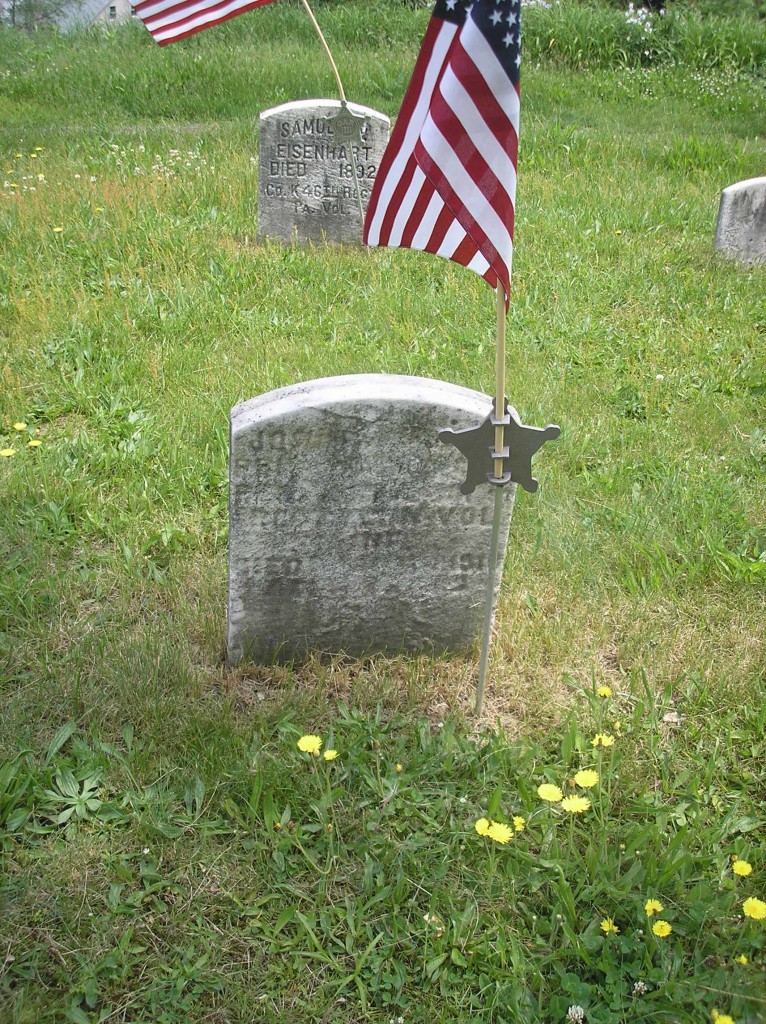 This stone is also difficult to read but some of the lettering can be deciphered. The soldier buried here died between 20 June 1908 and 24 October 1910.
—————————-
#119 – Lewis Moyer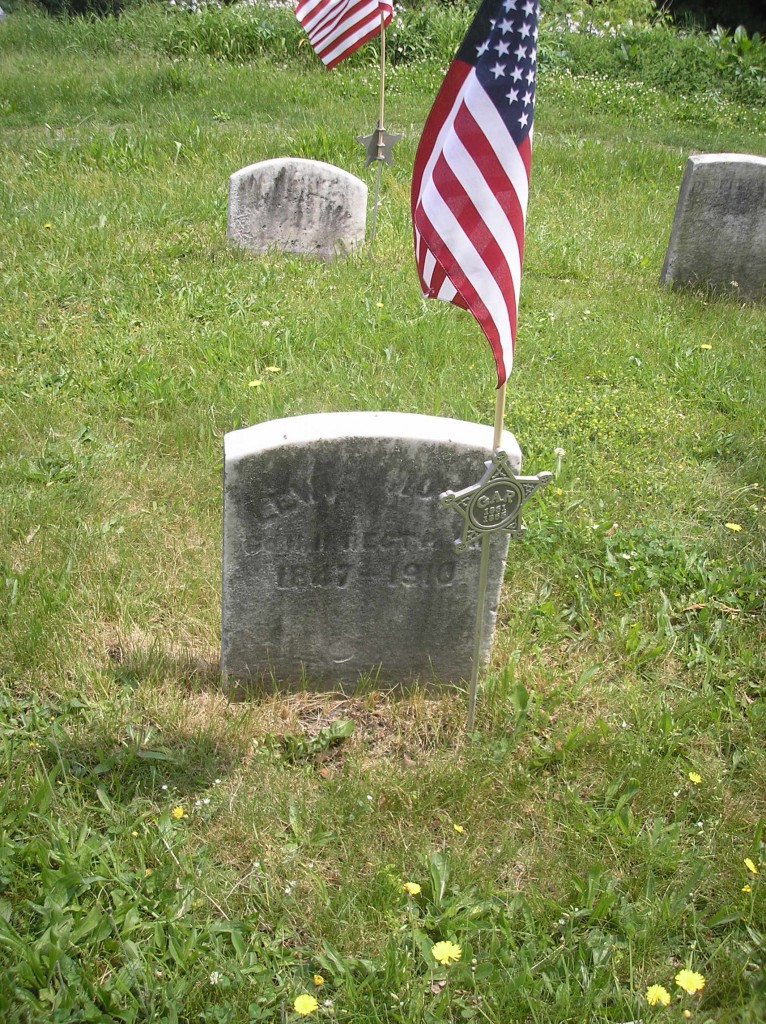 Lewis Moyer was born either in 1845 or 1847.  He died 24 October 1910, in Shamokin.  During the Civil War he enrolled at Mauch Chunk, Pennsylvania, and was mustered into service in Schuylkill County on 19 December 1861.  His military records are confused in that they state that he was wounded at Antietam, but then sentenced by General Court Martial for desertion.  It is reported that he re-enlisted on 1 January 1864 at Cedar Mountain, Virginia, but then he deserted again on 10 May 1864 at Spotsylvania, Virginia.  The records also state that he was mustered out with his company on 1 July 1865.  He applied for a pension based on his service in the 11th Pennsylvania Infantry, Company H, as a Private.  The pension was not awarded.  At the time of his enlistment he was a coal miner living in Tamaqua, Pennsylvania.
—————————-
For all posts in this series, click on ShamokinSoldCircle.