Posted By Norman Gasbarro on March 29, 2014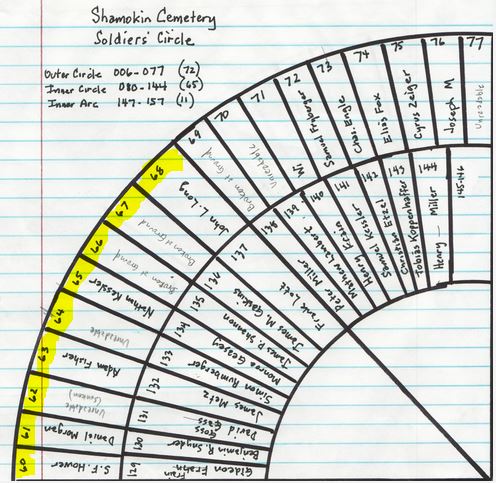 Today's post on the Shamokin Cemetery's Soldiers' Circle features nine graves in the outer circle, fourth quadrant, beginning with photograph 60.  The photographs in this segment are numbered 60 through 68.  All of the stones in this section are sequenced in the order of the death of the veteran.  For each of the veterans, the best determination of the name is given and where possible some information about the military record.  Some errors may be noted where the information on the stone may not match other records.  Each grave photograph may be enlarged by clicking on it, and in some cases, readers may be able to identify or clarify some of the unknown information.  Comments can be added to this post or sent by e-mail to the Civil War Research Project.  The collected information on soldiers buried in the circle (including some military records, pension files, photographs, etc.) is available free-of-charge to veterans organizations, historical societies, and other non-profit groups.  Inquiries may be sent by e-mail or by regular mail, to the attention of Norman Gasbarro, P.O. Box 523, Gratz, PA  17030.
—————————-
#60 – S. F. Hower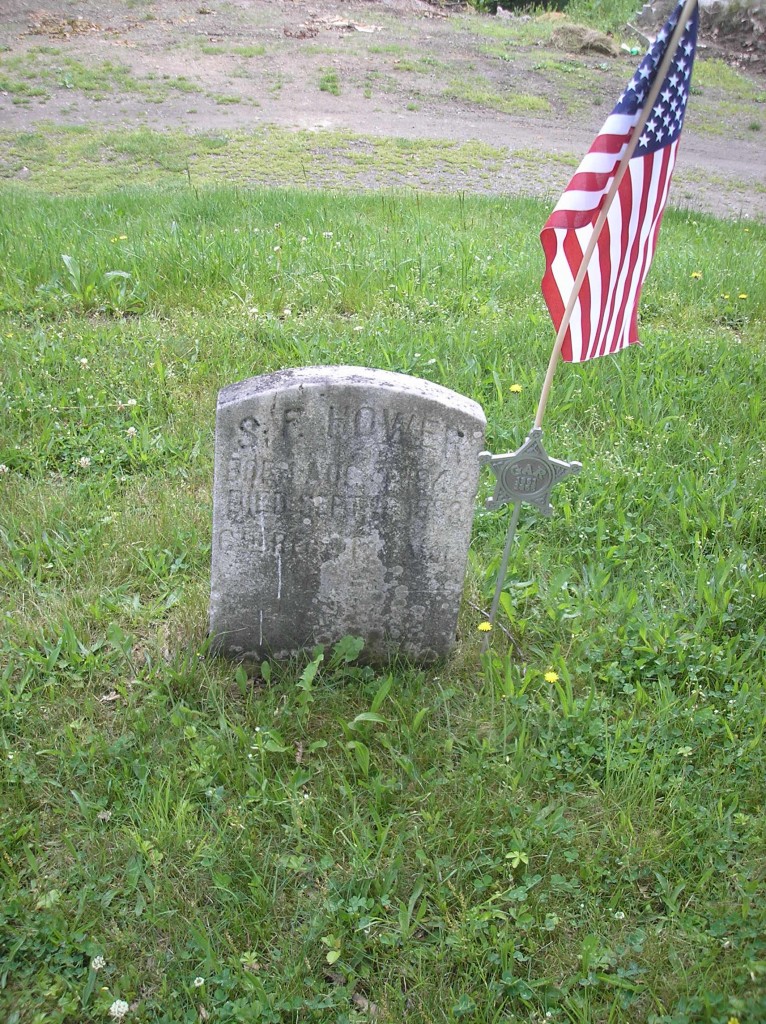 The name on this stone is clearly "S. F. Hower" and the regiment appears to be 191st Pennsylvania Infantry.  In the records, the closest match comes up as "Sebaltes F. Hower" but the given name is also found as Sylvester as well as variations on Sebaltes such as Sebaldis, Sebaldus, and Sebaltis.  The surname could also be Hoover.  One possible enlistment could be in the 35th Pennsylvania Infantry (6th Pennsylvania Reserves), Compoan A, as a Private, from July 1861 through June 1864.  This enrollment was in Bloomsburg, Pennsylvania, with mustering in at Washington, D.C.  The 191st Pennsylvania Infantry service was in Company F, as a Private, from 8 July 1861, with a notation that he was absent at muster out.  It is possible that two different men are confused here – but is that likely with such an unusual name?  Two women are found in the records as possible wives:  Mary E. Hower and Harriet Hower.
—————————-
#61 – Daniel Morgan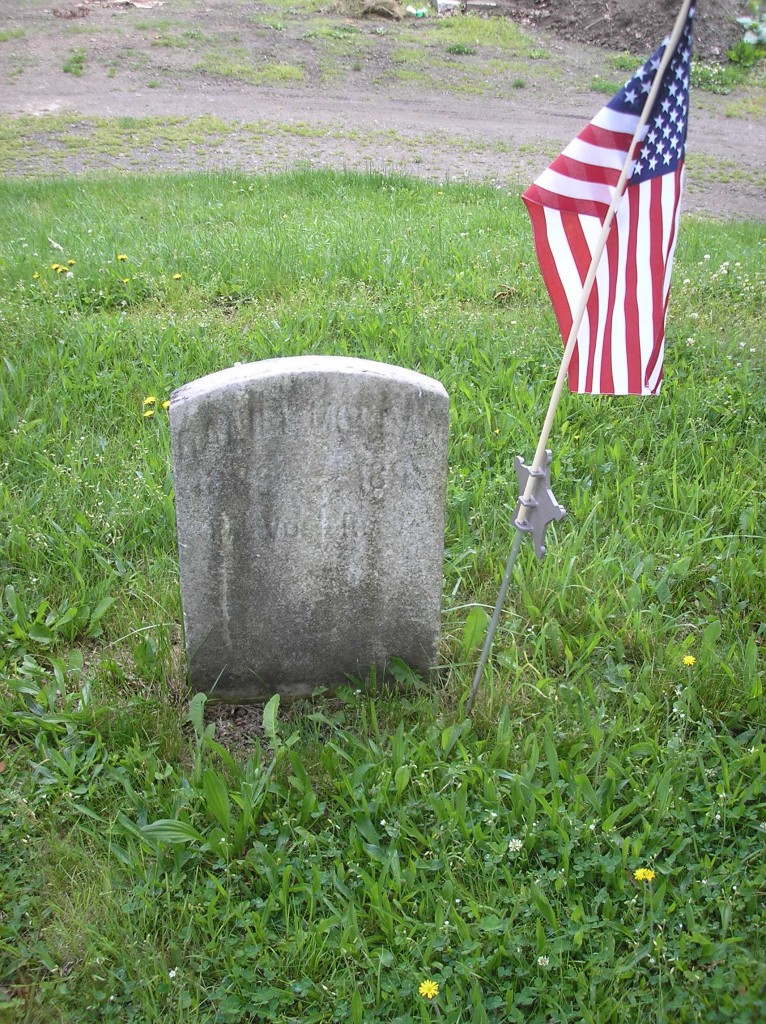 Daniel Morgan was born in January 1833 in Wales and emigrated to America some time prior to the Civil War.  He died on either 18 or 19 September 1893 in Shamokin.  His service was in the 1st Pennsylvania Artillery (Light), Company or Battery I, as a Private.  His enrollment was at Troy, Pennsylvania, where he was also mustered into service on 5 October 1864, with service concluding at discharge on 1 July 1865.  After the war he worked as a miner in the Shamokin area.  His pension application was made on 26 July 1890 and about that time he is found as a resident at the National Soldiers' Home in Dayton, Ohio.    His widow, Elizabeth Morgan, applied for his pension on 11 January 1898.
—————————-
#62 – Sunken Stone – Unreadable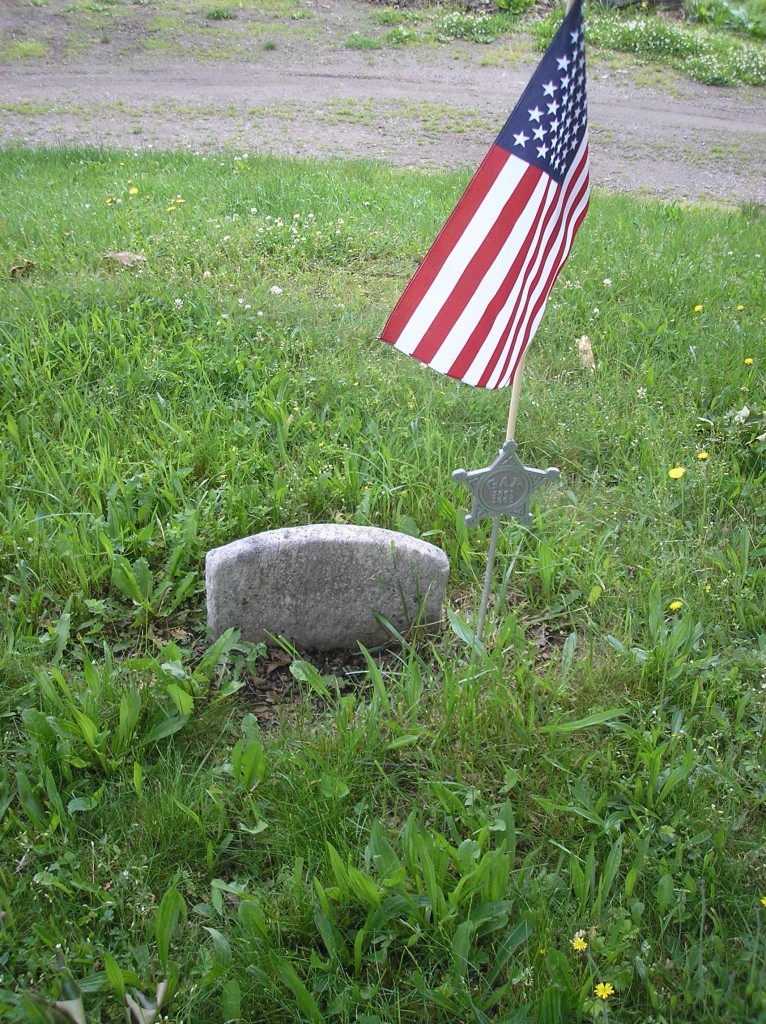 This stone needs to be carefully excavated and placed on a sturdy foundation.  It is currently too sunken in the ground to read.  It is possible that the name and regiment can be determined.  From the burial sequence in the circle, this veteran's death occurred between mid-September 1893 and early July 1894.
—————————-
#63 – Adam Fisher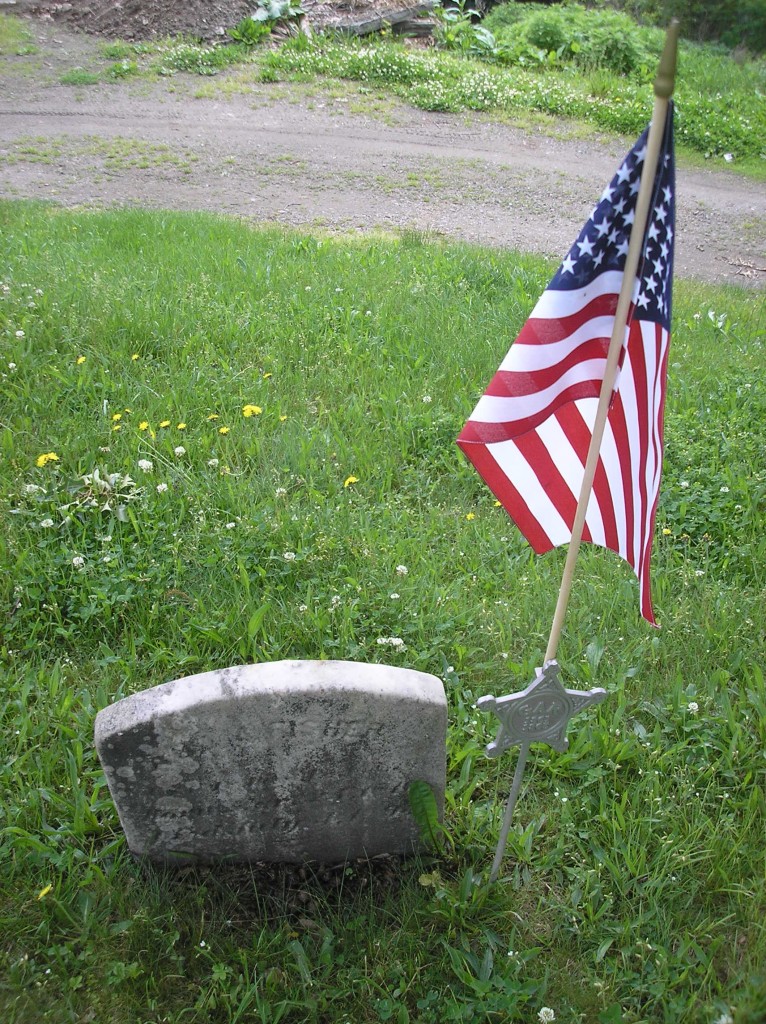 Also partially sunken, this stone may have some readable information beyond the name of the veteran, Adam Fisher.  If this a correct match, then Adam was born on 23 March 1814 and died on 6 July 1894, but more information is needed to determine his Civil War service.
—————————-
#64 – Unreadable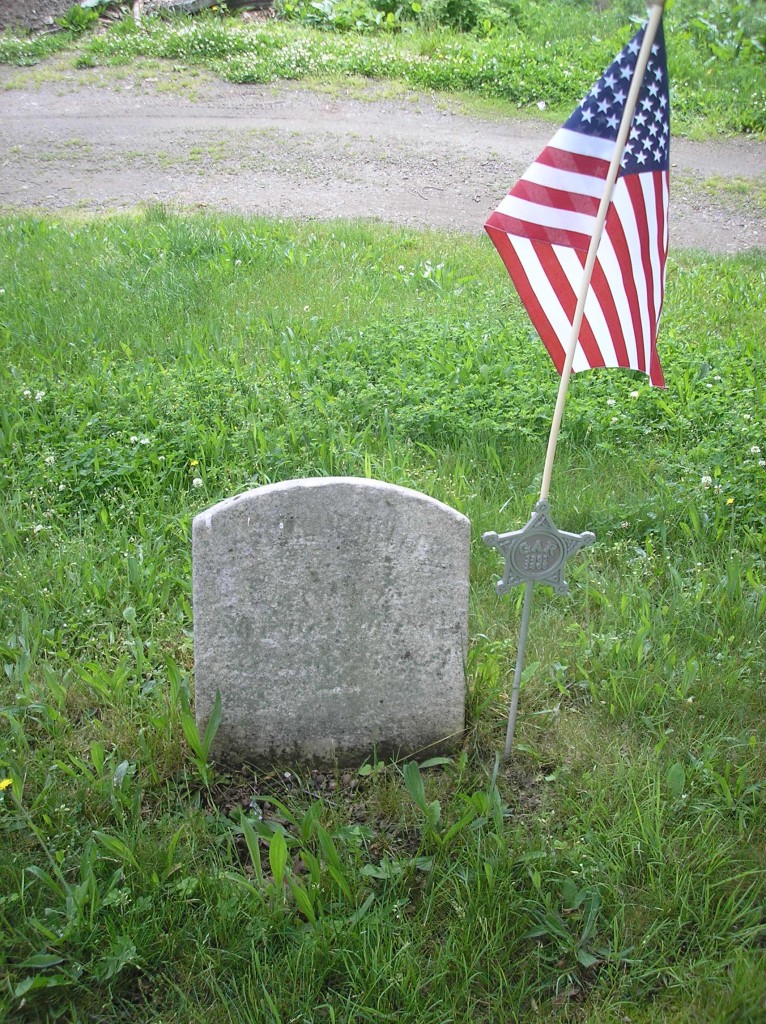 This is still another unreadable stone in the Soldiers' Circle.  This veteran probably died in July 1884 since he buried between veterans show died on 6 July and 27 July.
—————————-
#65 – Nathan Kessler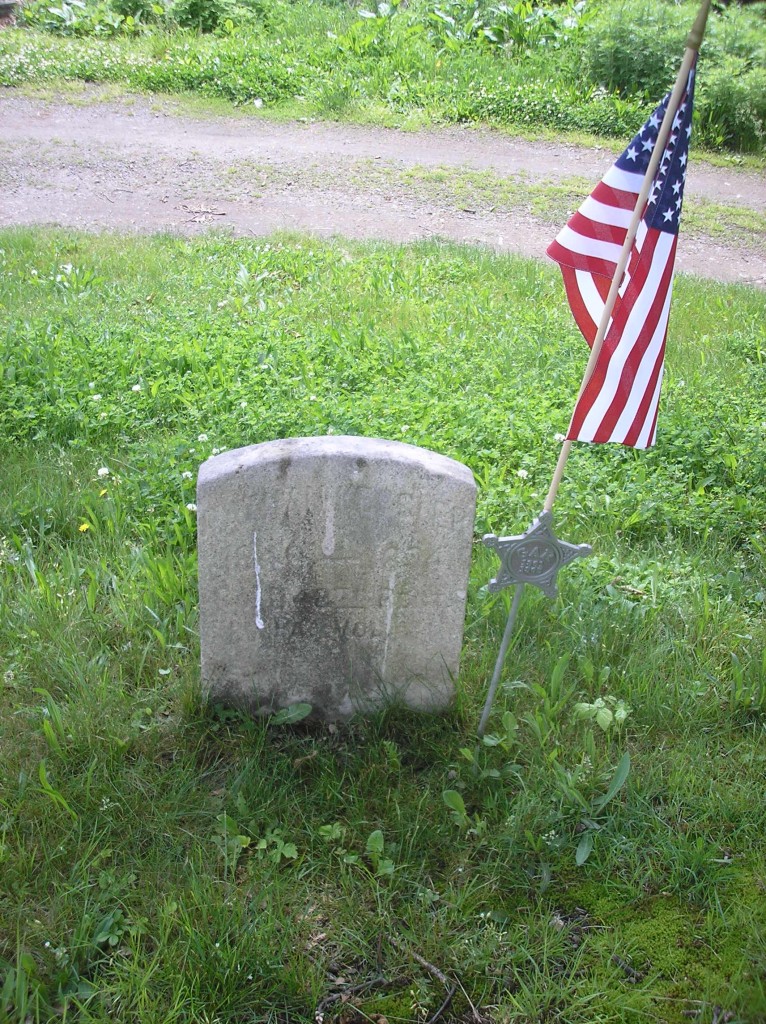 Nathan Kessler (or Kesler) was born about 1846 in Schuylkill County and died on either 27 or 28 July 1894.  During the Civil War, he enrolled at Pottsville, and was mustered into the service of the 48th Pennsylvania Infantry, Company D, as a Private (also at Pottsville) where he gave his age as 19, and his occupation as carpenter.  His service in this regiment lasted from 12 March 1864 through 17 July 1865.  He applied for a disability pension on 13 June 1892, and following his death, the widow, Mary A. Kessler also applied on 15 January 1895.
—————————-
#66 – Stone Broken at Ground – Unknown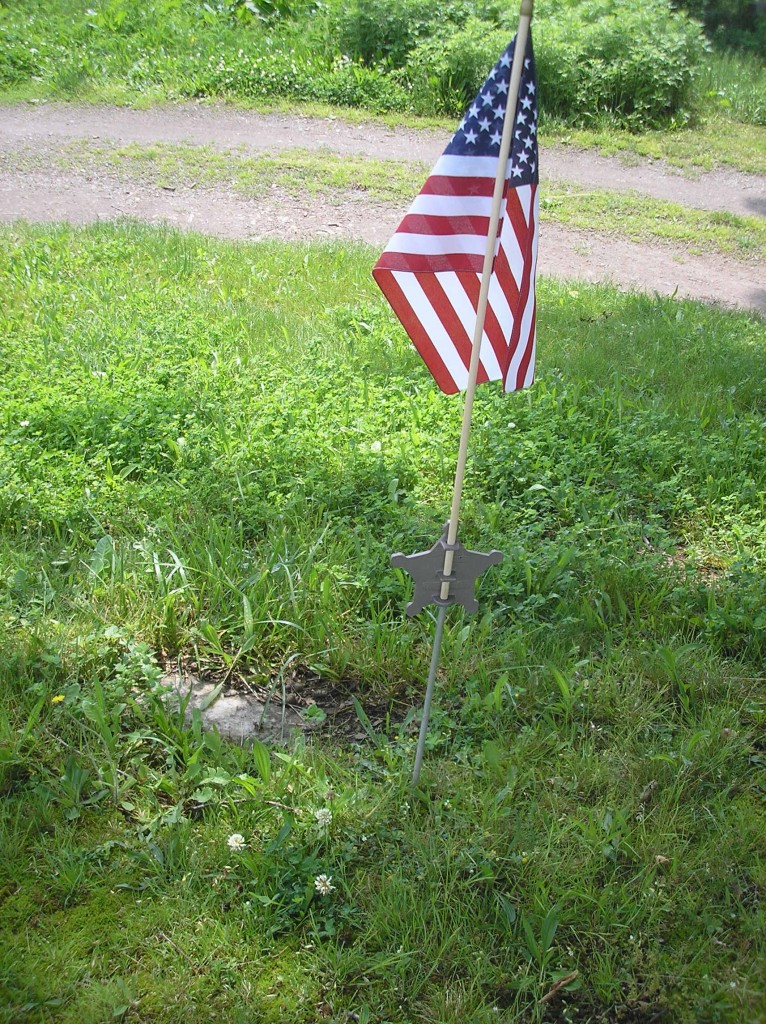 —————————-
#67 – Stone Broken at Ground – Unknown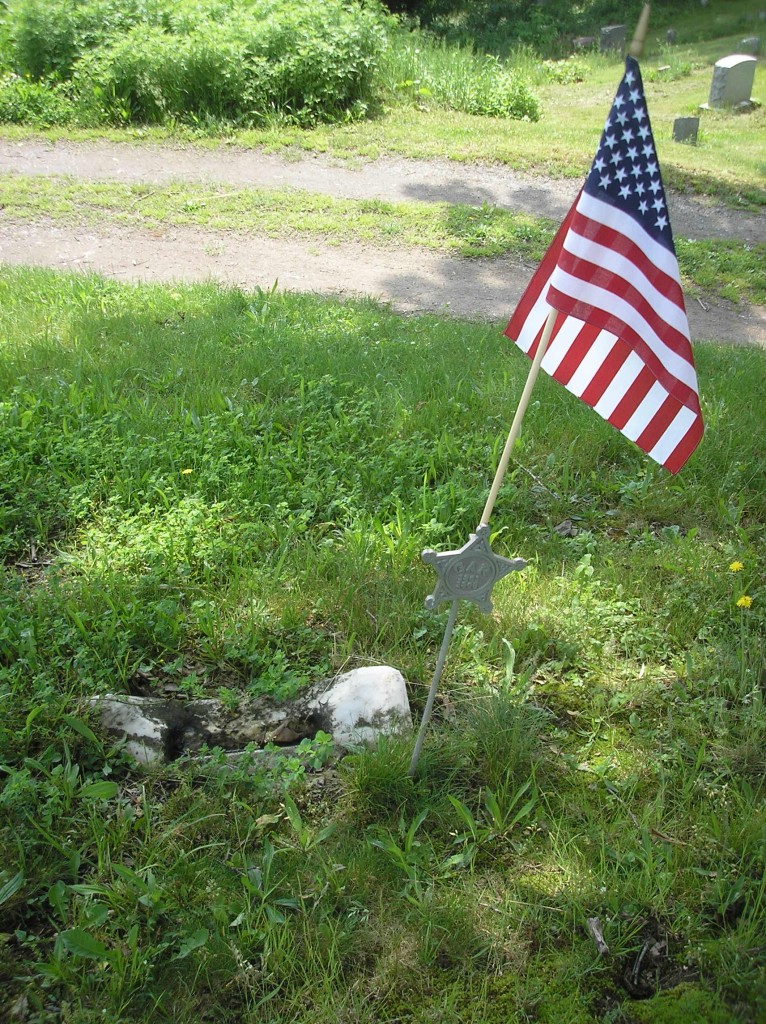 This stone is broken at the ground and thus it is impossible to tell who is buried here.  However, if the positioning of the burials is chronological, then this soldier died between July 1894 and September 1895.
—————————-
#68 – John L. Long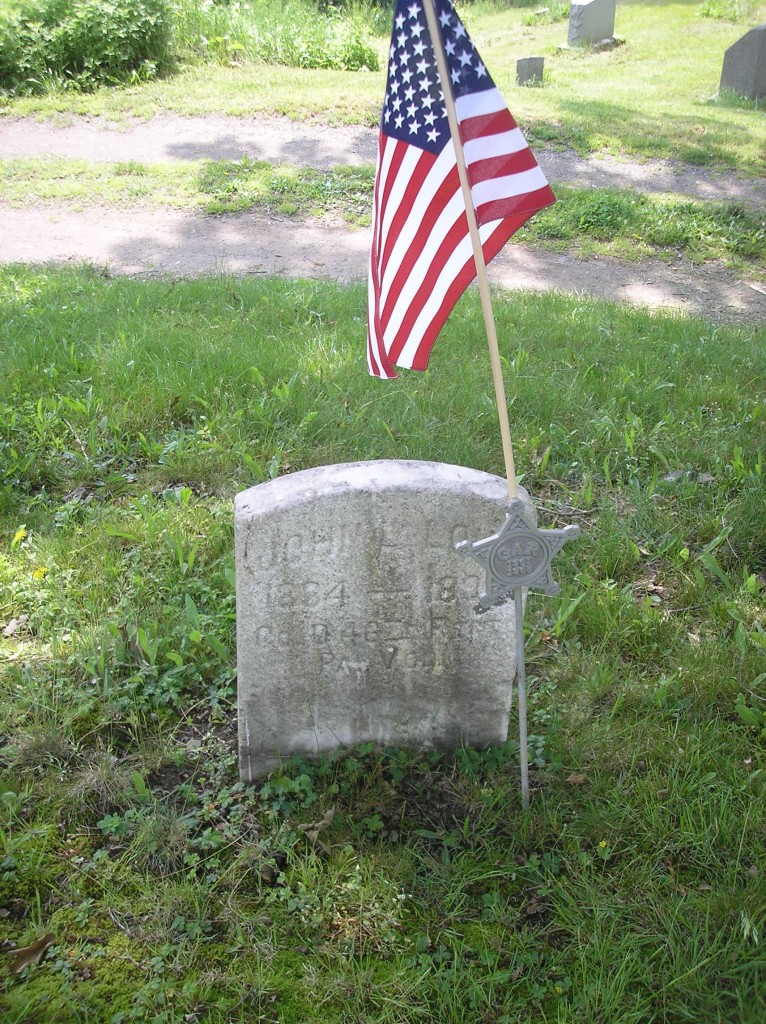 John L. Long served in the 46th Pennsylvania Infantry, Company D, as a 2nd Lieutenant, later promoted to 1st Lieutenant.  He was from the Halifax, Dauphin County area, and worked as a carpenter.  His enrollment was at Harrisburg and he was mustered into service on 2 September 1861 at Muddy Branch, Maryland.  His promotions were to Sergeant on 21 March 1862, from Sergeant to 1st Sergeant on 29 September 1864, to 2nd Lieutenant on 18 December 1864.  Regimental records also show that he re-enlisted at Dechard, Tennessee, on 5 January 1864.  Earlier service was as a Private and Corporal in the 10th Pennsylvania Infantry, Company F, from 26 April 1861 through 31 July 1861.  For this service in the 10th, he enrolled at Lykens Borough, was mustered in at Harrisburg, and gave his residence as Powell's Valley, Dauphin County.  In 1870, John L. Long was living in Millersburg and still working as a carpenter.  Because of this residence, he should be named on the Millersburg Soldier Monument – but he is not.  Because he had residence at Lykens, he is one of the many veterans named on the Lykens G.A.R. Monument – as a member of that group.  John's wife's name was Nancy.  After his death, she applied for a pension, but it was not received.
—————————-
For all posts in this series, click on ShamokinSoldCircle.