Posted By Norman Gasbarro on January 12, 2014
In today's post, William Leonard Steever (1839-1885) will be profiled.

On the Millersburg Soldier Monument there are three Steever brothers who are honored as Civil War soldiers.  Initially it was difficult to identify them as brothers and construct a genealogy.  However, a biographical sketch was located of a younger brother, Aaron M. Steever, a pharmacist born in Millersburg, which clarified the relationship.  That information was given in the post of three days ago, part 1 of 4 of this series.
William Leonard Steever enrolled and was mustered into service on the same day, 21 July 1861, at Camp Curtin, Harrisburg, Dauphin County, Pennsylvania.  He served as a Private at first in Battery G of the 1st Pennsylvania Light Artillery, later transferring to Battery G, date unknown.  William re-enlisted on 3 January 1864, and then served until his company was discharged on 9 Jun 1865.  The Pennsylvania Veterans' Index Card (Pennsylvania Archives) for him provides the information that he was 24 years old in 1861, he stood 5 foot-five inches tall, had a fair complexion, grey eyes, and light colored hair.  He gave his residence as Dauphin County and his occupation as farmer.  Although some records give his name as "William H. Steever," the Index Card notes that the company rolls give his middle initial as "L."
There is an extensive summary of the role of the 1st Pennsylvania Light Artillery on the site pacivilwar.com, so all of the skirmishes and battles need not be repeated here.  However, knowing that William's older brother John Jefferson Steever perished at Second Bull Run on 30 August 1862, it should be noted that at that time Pvt. William Leonard Steever was involved in Pope's Campaign in Northern Virginia from 1 August to 2 September 1862 and afterward in the Maryland Campaign from 6 to 24 September.  It is not known for certain where or when he learned of his brother's death – but it likely that it became known to him during one of these two campaigns.
Following the war, William L. Steever appears in the 1870 Census for Millersburg, where his occupation is given as either tanner, farrier, or farmer (bad handwriting).  His wife Mary A. Leonard, age 26, and two young children, James E. Steever, age 2, and Charles Steever, 11 months are also in the household.
In 1880, "William Steiver" and family are living in Old Forge, Lackawanna County, Pennsylvania, where he is employed as a teamster.  Wife Mary is in the household as are the two sons previously listed in 1870, James Steever and Charles Steever, who in the ten year span between the censuses seem to have only advanced 8 years in age since their ages are given as 9 and 8 respectively.  There are other children:  Annie Steever, age 6; Mary L. Steever, age 4; and Howard Steever, age 3.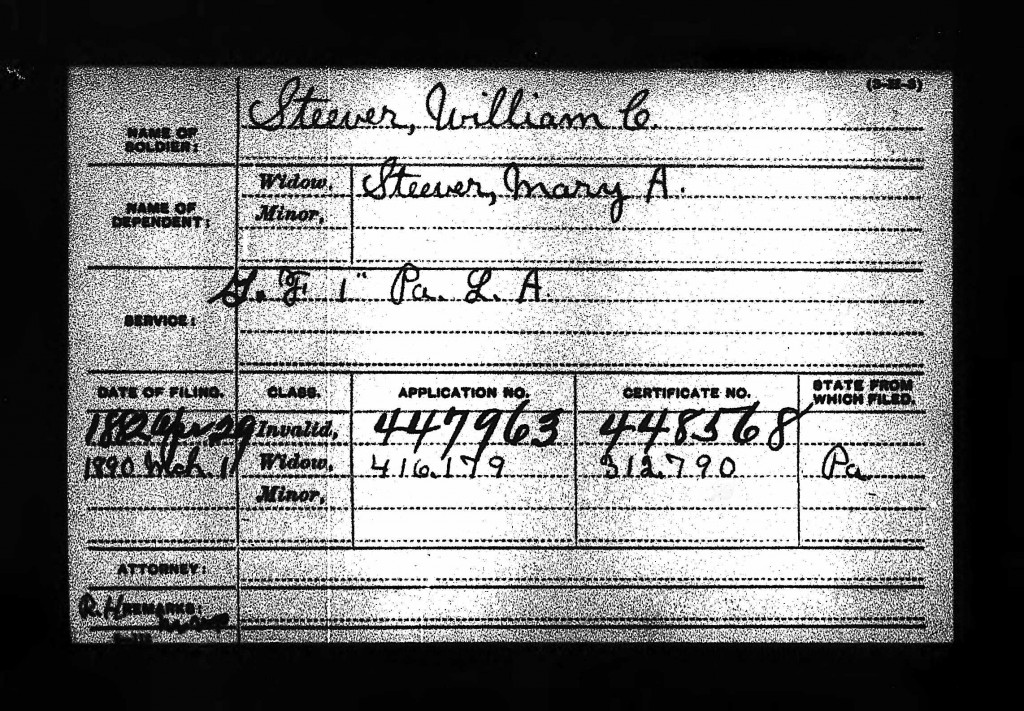 On 29 April 1882, William L. Steever applied for an invalid pension, which he received.  His death date, believed to be 4 January 1885, has not been confirmed with actual documentation, nor has his grave been located.  Once again, we have a widow applying for pension benefits a number of years after the possible date of death.  In this case, Mary A. Steever applied on 1 March 1890.  No widow's census has yet been located for Mary A. Steever for 1890, although she was most likely alive and surely living in Pennsylvania at the time – as noted on the Pension Index Card (above) from Ancestry.com.
The final question that has to be asked about William Leonard Steever (as well as his brothers John Jefferson Steever and Wesley Steever) is who in Millersburg knew about their service in 1914 when the Millersburg Soldier Monument was dedicated?  They are the only men named Steever on the monument and it is very certain that they were brothers.  None of them were alive into the 20th century and none of them are buried at Oak Hill Cemetery, Millersburg.  This series of posts started with the biographical sketch of the youngest brother, Aaron M. Steever, who was too young to have served in the war (born in September 1850), who moved to Harrisburg and conducted business there as a pharmacist, and who died in 1904.
As with the other brothers, more information is needed on William Leonard Steever.  Comments can be added to this post or can be sent via e-mail to the Civil War Research Project.