Posted By Norman Gasbarro on January 10, 2014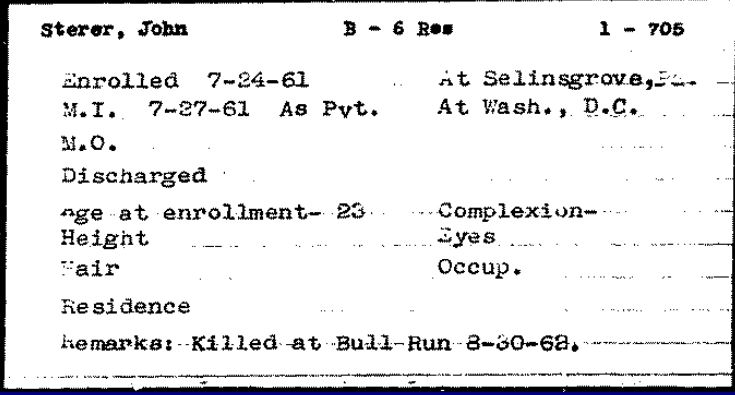 In today's post, John Jefferson Steever (1837-1862) will be profiled.

On the Millersburg Soldier Monument there are three Steever brothers who are honored as Civil War soldiers.  Initially it was difficult to identify them as brothers and construct a genealogy.  However, a biographical sketch was located of a younger brother, Aaron M. Steever, a pharmacist born in Millersburg, which clarified the relationship.  That information was given in yesterday's post, part 1 of 4 of this series.
At the time of his enlistment, 24 July 1861, at Selinsgrove, Snyder County, Pennsylvania, J. J. Steever was 23 years old. Three days later, at Washington, D.C., he was mustered into service in the 6th Pennsylvania Reserves, Company B, as a Private.  The 6th Pennsylvania was also known as the 35th Pennsylvania Infantry.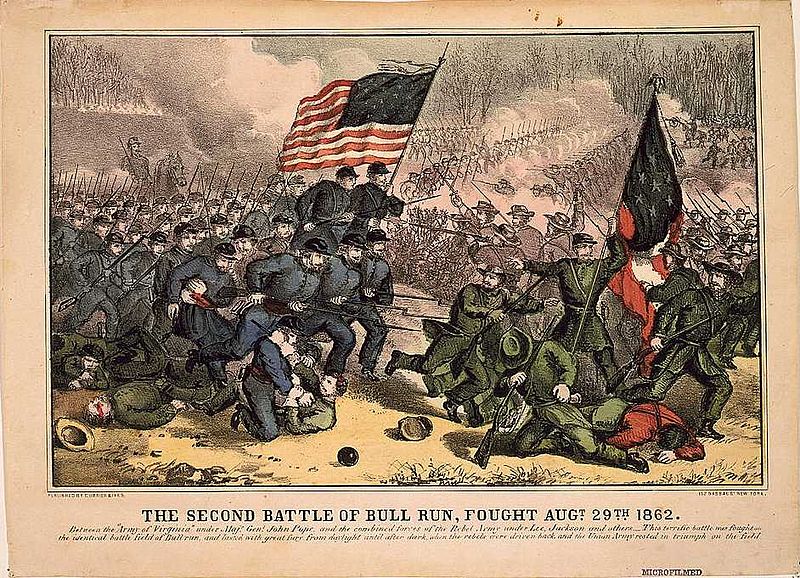 The Pennsylvania Veterans' Index Card from the Pennsylvania Archives (shown above at top of post) notes little else about him – except that he was killed at the Second Battle of Bull Run, 30 August 1862.  The card does note that he is found in the records as "John Sterer."
The Pension Index Card, available from Ancestry.com, gives more information:
John Jefferson Steever left a widow, who on 6 November 1863 applied for support based on the loss of her husband in the war.  The low application number (#5748) and the certificate number (#1984) indicates that this was one of the first 2000 Civil War pensions awarded – and the earliest one yet seen for anyone from the Lykens Valley area.  The widow's name was Clara.  In that all of these pension applications are now available on-line through Fold3, a site for military records, a quick search of that site produced 16 pages of data.  Some of the information obtained is summarized below.
The soldier married Clara Miller, 26 December 1859, at Selinsgrove, Snyder County, Pennsylvania.  The marriage certificate was presented (see below), but Clara still had to produce witnesses to the marriage.  The death of John J. Steever was verified from military records.  No children were named in the application.  Clara was awarded a monthly pension of $8.00 per month, commencing from 30 August 1862, the date of John's death.
The marriage certificate notes that the wedding was performed by Justice of the Peace John Emmett at the home of Washington Bottarf (probably Boddorf or Battorf) in Selinsgrove.
No information is given in the file indicating how long Clara collected the pension, but presumably it was until her death – the date of which has not yet been ascertained.  The widow Clara Steever needs to be located in later censuses.
No information was given in the file as to how John Jefferson Steever was killed – only that he was killed in the Second Battle of Bull Run.
Much more information is needed about John Jefferson Steever.  He has been located in the 1850 Census for Lykens Township where he living with his parents and siblings.  But no census has been found for him for 1860, when he was married to Clara.  Also, no occupation for him has been determined.  Variant spellings of the surname include Sterer, Stever, Stiver, and Stover.
Anyone with additional information is urged to come forward.  Is there information in the military records as to the circumstances of his death?  Where is he buried?  Are there any family stories that were passed down though his brothers or sisters?  What happened to his widow?  Are there any family pictures?
One thing that is certainly known at this time is that the J. J. Steever named on the Millersburg Soldier Monument is the John Jefferson Steever who died at Second Bull Run.
In tomorrow's post, Wesley Steever will be profiled.  He appears as "Wesley Steever" on the Millersburg Soldier Monument.
————————-
The Second Bull Run image of a Currier and Ives painting is from Wikipedia and is in the public domain because its copyright has expired.