Posted By Norman Gasbarro on September 2, 2013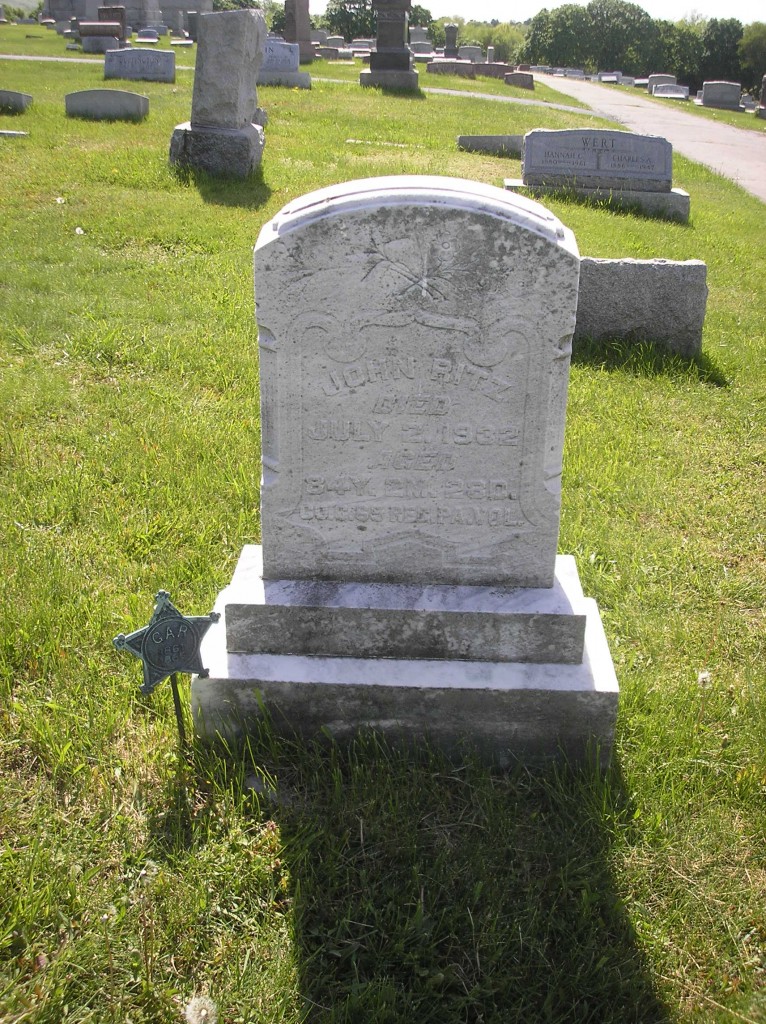 John Ritz (1848-1932) is buried at Maple Grove Cemetery, Elizabethville, Dauphin County, Pennsylvania.  At his grave site is a G.A.R. star and flag holder and his stone notes his service in Company C of the 69th Pennsylvania Infantry.  John Ritz died on 2 July 1932 at the age of 84 years, 2 months, 28 days (calculated birth date of 5 April 1848).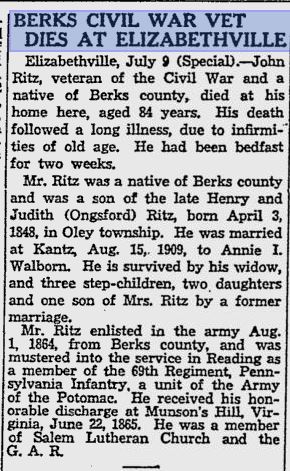 BERKS CIVIL WAR VET DIES AT ELIZABETHVILLE

Elizabethville, 9 July 1932 — John Ritz, veteran of the Civil War and a native of Berks County, died at his home here, aged 84 years.  His death followed a long illness, due to infirmities of old age. He had been bedfast for two weeks.

Mr. Ritz was a native of Berks County and was a son of the late Henry Ritz and Judith [Ongsford] Ritz, born 2 April 1848 in Oley Township. He was married at Kantz, 15 August 1909 to Annie I. Walborn.  He is survived by his widow, and three step-children, two daughters and one son of Mrs. Ritz by a previous marriage.

Mr. Ritz enlisted in the army  1 August 1864, from Berks County, and was mustered into the service in Reading as a member of the 69th Regiment, Pennsylvania Infantry [69th Pennsylvania Infantry], a unit of the Army of the Potomac.  He received his honorable discharge at Munson's Hill, Virginia, 22 June 1865.  He was a member of Salem Lutheran Church and the G.A.R.
The problem with both the grave marker and the obituary is that there was no soldier named John Ritz in any company of the 69th Pennsylvania Infantry.  Previous attempts to verify the service of John Ritz by checking in the usually consulted lists on Ancestry.com (U.S. Civil War Soldiers, 1861-1865; American Civil War Soldiers; and U.S. Civil War Soldier Records and Profiles) as well as the Pennsylvania Archives Veterans' Index Cards and Registers of Pennsylvania Volunteers all came up blank.This was also pointed out by a researcher who wrote on 29 July 2013 that he had a picture of the gravestone (shown above) but could not find reference to any John Ritz in the regimental lists or regimental history.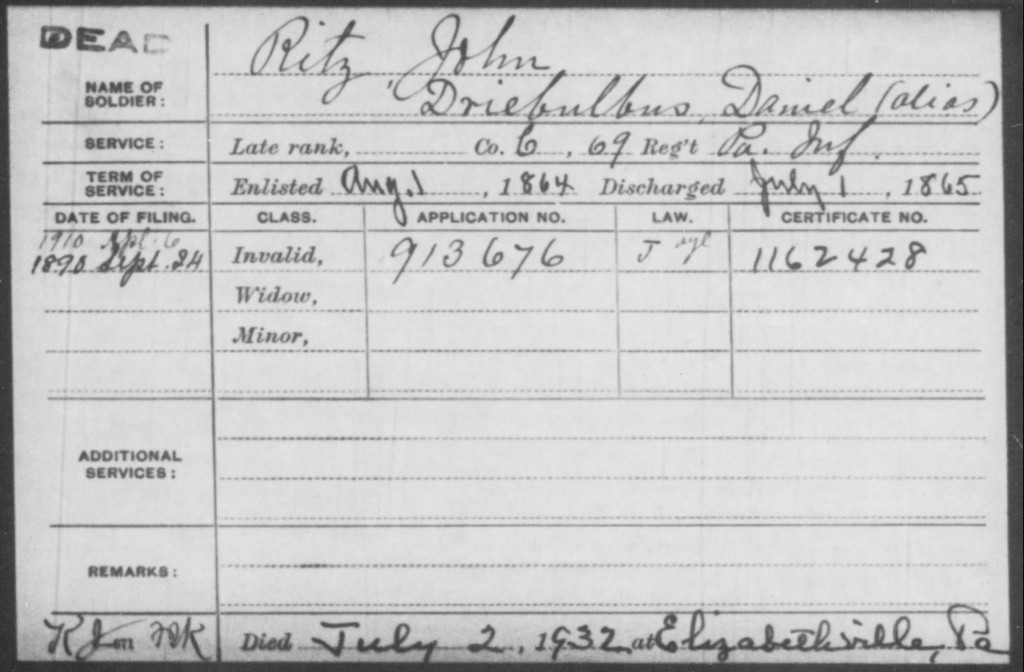 The Pension Index Card, above, which references John Ritz's pension application file in the National Archives, was located through the web site Fold3, which specializes in military records.  The Fold3 versions of the Pension Index Cards provide the added option of searching a specific company and regiment to locate pension records – an option not available on Ancestry.com which only allows searching by veteran name and location from which the pension application was submitted.  There are three interesting determinations that can be made from the Fold3 card:  (1) John Ritz used an alias of Daniel Driebelbeis; (2) the confirmation of the date of of death as 2 July 1932 and the place of death as Elizabethville, Pennsylvania; and (3) although John Ritz was survived by a widow, Annie I. Ritz (see obituary above), there was no widow's pension application noted on the card.  As a result of this new information, the searches of the military records would have to be re-done with the alias of Daniel Driebelbeis.
The first search was done in the Veterans' Index Cards of the Pennsylvania Archives, with the following result: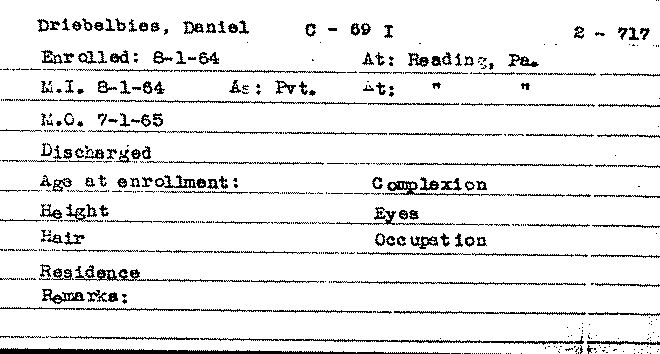 Daniel Driebelbies enrolled in the 69th Pennsylvania Infantry, Company C, as a Private, and was mustered into service at Reading, Berks County, Pennsylvania, on the same day, 1 August 1864.  There is no personal information on the card, such as age, complexion, height, eyes, hair, occupation, or residence.
The second search was done in the Registers of Pennsylvania Volunteers, a compilation of information on each Pennsylvania regiment and company – available on-line through the Pennsylvania Archives.- with the results shown below:
Daniel Driebelbis enrolled and was mustered in at Reading, Berks County, on the date given on the Veterans' Index Card (above), but no age is given on the register sheet.
Re-checking two of the databases available on Ancestry.com, the results are given below, first for U.S. Civil War Soldiers and second for U.S. Civil War Soldier Records and Profiles.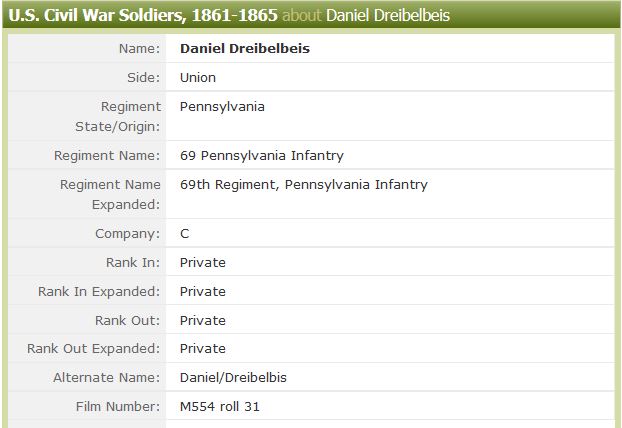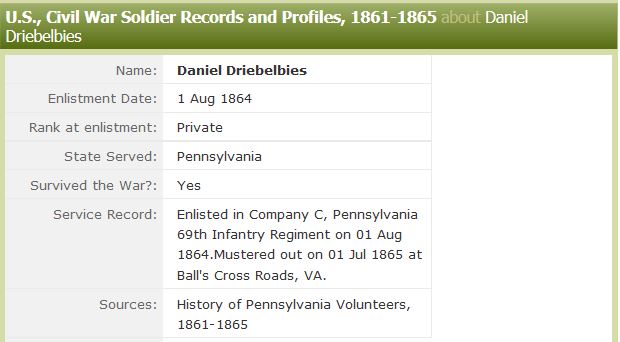 The two database results give no new information and only confirm that there was a Daniel Driebelbeis who served in the 69th Pennsylvania Infantry.  Was it the same person who is buried as John Ritz in the Maple Grove Cemetery in Elizabethville?  It would seem that a pension would not have been awarded unless John Ritz could prove that he did indeed serve as Daniel Driebelbeis and that there was no other person who could claim have served under that name.  Most probably, the answer as to how and why John Ritz served under the name of Daniel Driebelbeis can be found in the pension files in the National Archives.
One final record consultation was done in the 1890 Veterans' Census for Northumberland, Northumberland County, Pennsylvania.  John Ritz reported that he was a Civil War veteran but did not give the dates of his service or the regiment in which he served.  Most veterans knew this information – and this leads to questions as to whether he was covering up his other identity.  The 1890 Census was taken in June 1890, and the pension application was made in September 1890.
Further known information about John Ritz is given below: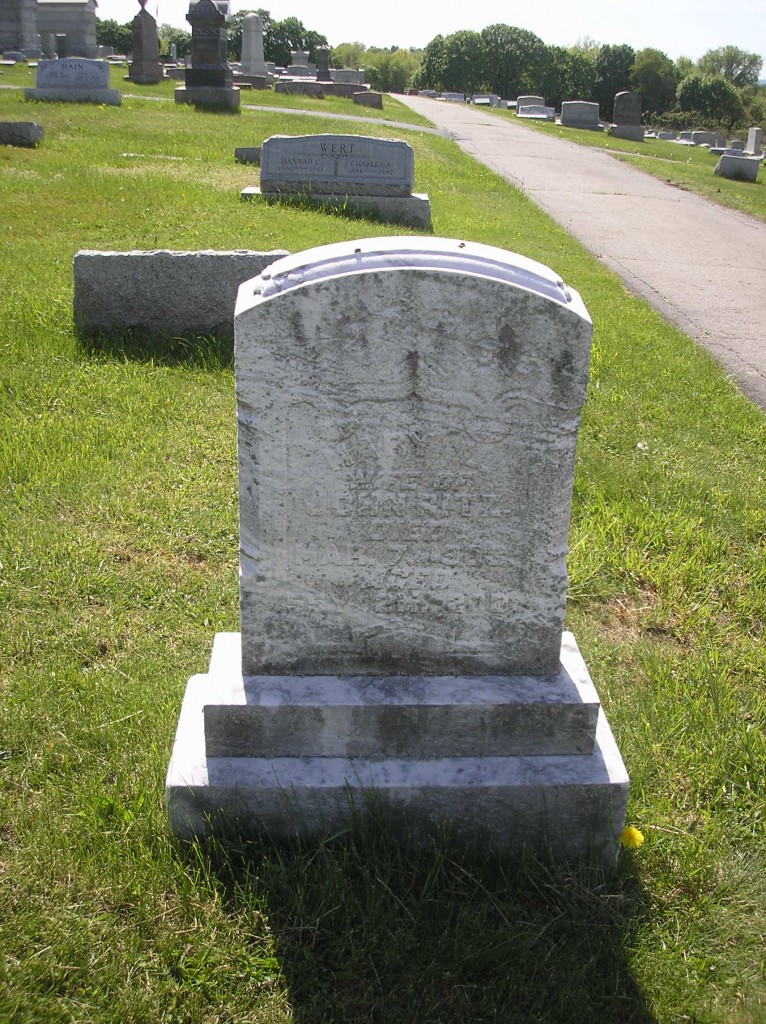 John Ritz's first wife Mary died on 7 March 1903 and is buried next to him at Maple Grove Cemetery.  She lived 55 years, 2 months, and 20 days, as noted on her stone (calculated birth date of 18 December 1847).  According to other records, they were married about 1873 – under the name of Ritz.  John is also found in the Census of 1880, working in Snyder County as a laborer.  By 1900 John and Mary were living in Elizabethville where he was working as a day laborer.
In 1909, John married for a second time – to Annie Walborn – but the marriage took place in Snyder County, Pennsylvania, not in Elizabethville, Dauphin County.  The Census of 1910 has John and Annie living in Elizabethville where his occupation is given as wheelwright in a wagon shop.  In 1920, still in Elizabethville, John is working as a woodworker in a wagon works.  Could this have been the Swab Wagon Works in Elizabethville, a large manufacturing business that is still in operation today?  A reproduction catalog of the Swab Wagon Company is pictured below.  See also:  Pvt. Jonas Swab – Wagon Manufacturer.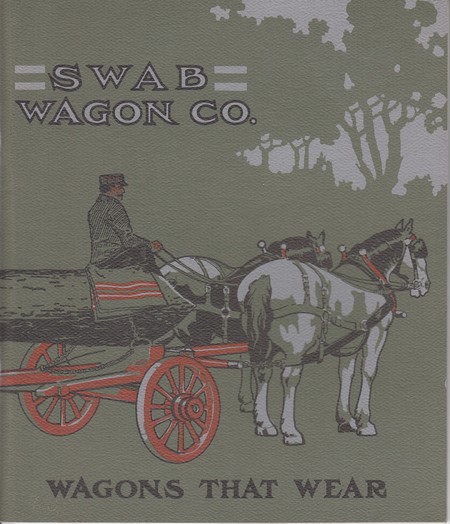 Although the obituary of John Ritz states that he was a member of the G.A.R., his name does not appear on the Lykens G.A.R. Monument – which would have been the closest G.A.R. Post to his Elizabethville home (Elizabethville did not have a G.A.R. Post).  There is, however, an Abram Dreibelbies (* indicates wounded), a Private, who joined the Heilner Post after its organization.  Abram Dreibelbies (1843-1921) was a saloon keeper in Gratz who, during the Civil War, served with the 96th Pennsylvania Infantry, Company G.  At this time, it is not known if there was any connection between John Ritz and Abram Dreibelbies.

Further research is needed to determine more facts.  Anyone with information is urged to add comments to this post or send the information via e-mail.
—————————-
Additional information on the 69th Pennsylvania Infantry can be found at www.69thPa.co.uk.