Posted By Jake Wynn on June 20, 2013
Almost as soon as the threat to Harrisburg became apparent in June 1863, preparations were made to properly defend the city from the Confederate advance. Civilian and military leaders in Washington approved the creation of a new military district that included Central Pennsylvania. Known as the Department of the Susquehanna, this new district would be administered by Major General Darius Couch, a veteran leader from the Army of the Potomac.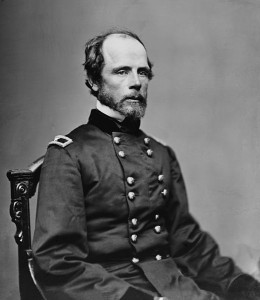 Immediately, the decision was made to construct defenses to defend the city from any possible Rebel incursion. Plans were drawn up and locations scouted. The need to defend the major river fords and bridges near the city meant that the best possible choice was the high ground just west of the city.
The high ground, now occupied by an upscale neighborhood,  was then known as Hummels Heights. It stood above both the Camelback Bridge and the Cumberland Valley Railroad Bridge into the city. It also offered commanding position over the surrounding land around the towns of Wormleysburg and Lemoyne.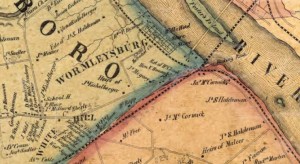 Fort Washington was constructed near the eastern limits of the ridge, offering those from the city a view of the work being done on the hills above. However, engineers discovered that this position had severe limitations. A half mile west of the fort was a ridge that would provide the enemy with the high ground. This would have forced the defenders in Fort Washington to evacuate if pressed, as artillery could sweep their entire earthworks.
An advanced position was proposed and construction on Fort Couch began a few days later. The design utilized earthen defenses, with wooden platforms that were designed to support artillery pieces. This position would have allowed the Union militia forces in the forts to sweep the surrounding areas.
The end of June would put these defenses and the resolve of their men to the test…
Here are the remains of Fort Couch as they look today: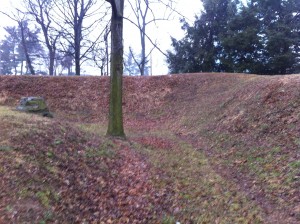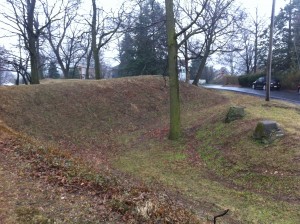 Stay tuned for more posts as Central Pennsylvania commemorates the 150th anniversary of the Invasion of Pennsylvania and the battle of Gettysburg.