Posted By Norman Gasbarro on May 26, 2013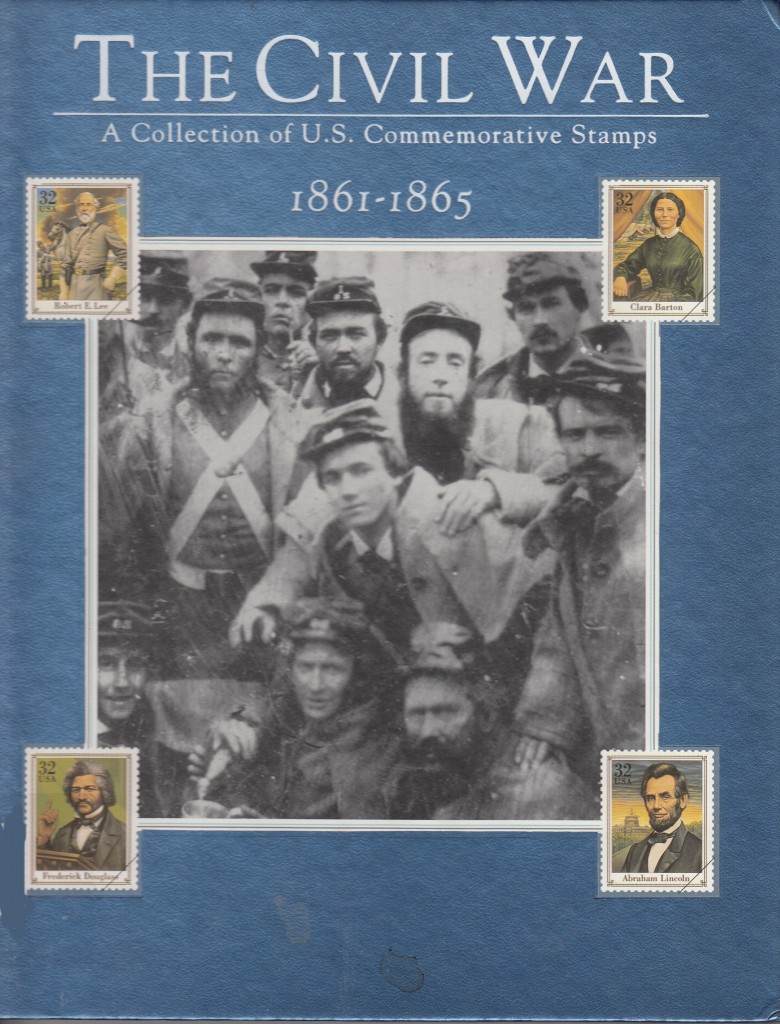 A book entitled, The Civil War:  A Collection of U.S. Commemorative Stamps, was published in 1995 in cooperation with the U. S. Postal Service, as a companion to the issuance of a sheetlet of 20 stamps recognizing sixteen individuals and four events of the Civil War.
The Civil War sheetlet was designed by Mark Hess.   There were 20 different designs (4 rows of 5 stamps).  The sheetlet was released on 29 June 1995 at Gettysburg, Pennsylvania. There were 1,950,134 First Day Cancels applied to the full sheetlet of 20 or to individual or combinations of stamps from the sheetlet.  There is no way to tell how many First Day Cancels were applied to individual stamps or combinations of stamps, or full sets of 20 stamps, since the post office didn't keep those records.
The stamps on the sheetlet are as follows:
FIRST ROW (left to right):
Monitor and Virginia (Merrimack) – (9 March 1862)
Confederate General Robert E. Lee (1807-1870).
Union Nurse Clara Harlowe Barton (1821-1912).
Union Lieutenant General Ulysses S. Grant (1822-1885).
Shiloh (6-7 April 1862).
SECOND ROW (left to right):
President of the Confederacy Jefferson Finis Davis (1808-1889).
Union Vice Admiral David Glasgow Farragut (1801-1870).
Journalist-Orator Frederick Douglass (1818-1895).
Confederate Rear Admiral Raphael Semmes (1809-1877).
16th U.S. President Abraham Lincoln (1809-1865).
THIRD ROW (left to right):
Abolitionist Harriet Ross Tubman (about 1821-1913).
Confederate Brigadier General Stand Waite (De-ga-do-ga) – (1806-1871).
Confederate General Joseph Eggleston Johnston (1807-1891).
Union Major General Winfield Scott Hancock (1824-1886).
Confederate Diarist Mary Boykin Miller Chesnut (1823-1886).
FOURTH ROW (left to right):
Chancellorsville (1-4 May 1863).
Union Major General William Tecumseh Sherman (1820-1891).
Confederate Nurse Phoebe Yates Levy Pember (1823-1913).
Confederate Lieutenant General Thomas Jonathan Jackson (1824-1863).
Gettysburg (1-3 July 1863).
——————————
Information on issue dates and first day cancels is from the Scott Specialized Catalog of U.S. Stamps and Covers, 2005.  Basic information on stamp issues is from Abraham Lincoln on Postage Stamps, the catalog for a special exhibit prepared for a county historical society in Pennsylvania in 2000.
For other blog posts about United States Postage Stamps and the Civil War see:
Early Postage Stamps Honoring Abraham Lincoln
Postage Stamps Honoring Abraham Lincoln – Bureau of Engraving and Printing to 1909
Abraham Lincoln on Stamps – Regular Issues of the 1920s to the Early 1950s
Former Presidents Who Were Alive During the Civil War
Abraham Lincoln on Stamps – Regular Issues of the 1950s through the 1960s
Abraham Lincoln on Stamps – Commemorative Issues, 1909-1958
Abraham Lincoln on Stamps – The Sesquicentennial Issues of 1959
Commemorative Postage Stamps for the Civil War Centennial, 1861-1865 to 1961-1965
Abraham Lincoln on Stamps – From the Sesquicentennial to the Bicentennial of His Birth