Posted By Norman Gasbarro on April 6, 2013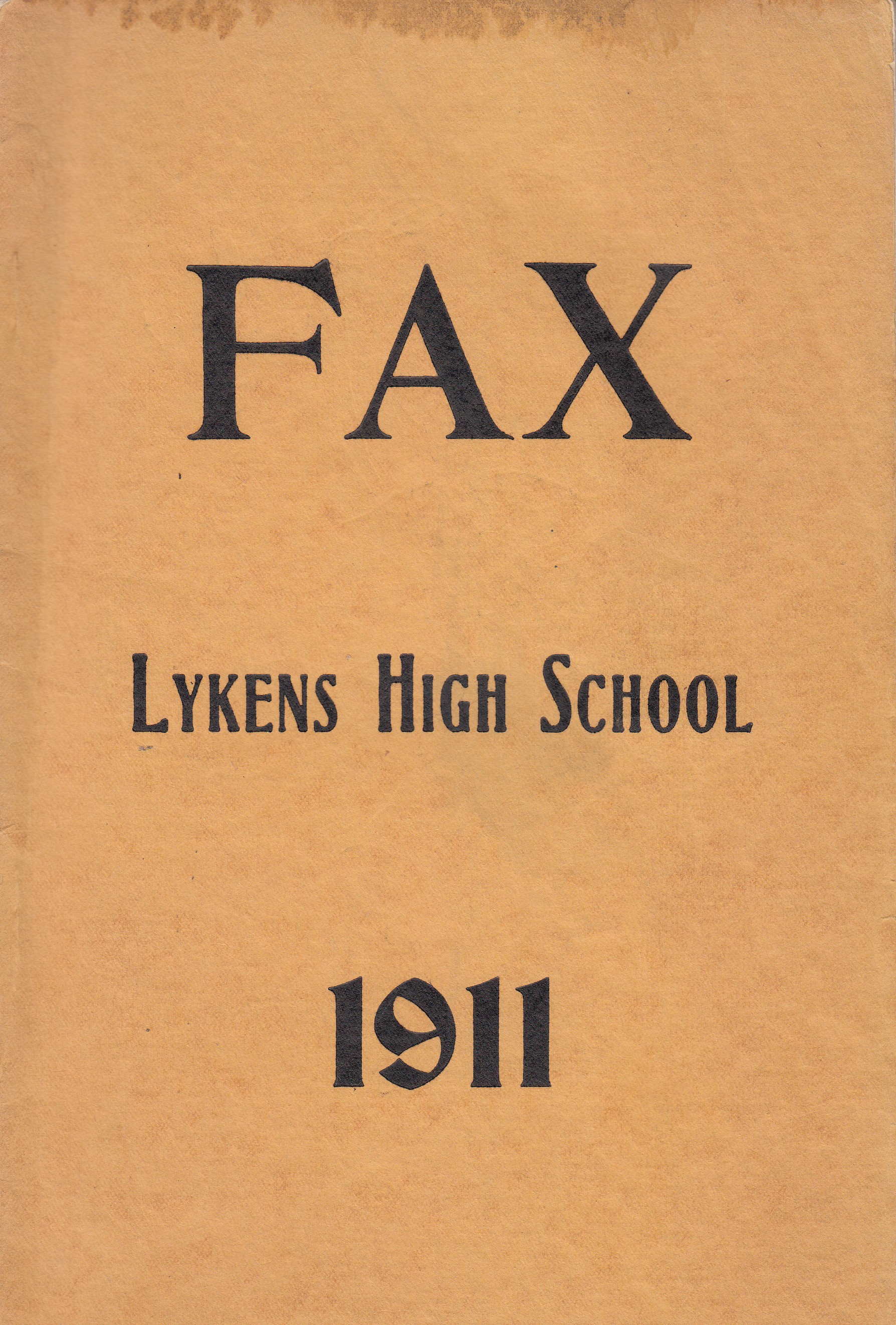 In a collection of recently cataloged yearbooks from the Lykens High School, Lykens, Dauphin County, Pennsylvania, an interesting speech was discovered.  According to the information given, the speech was delivered to a group of Civil War veterans in 1909, about two years before the 50th anniversary of the start of the war.  The author of the speech was identified as "H. W. D."  However, there is no indication as to whether this was an actual speech or whether it was a fictional creation by a member of the student body of the school or a member of the faculty.  The identity of "H. W. D." is also not known, there being no student or faculty member with those initials who is identified in any of the 1911 school lists.
Whether a fictional creation or an actual speech delivered before veterans, it is a period piece reflecting an unusual interpretation of the war – that is was part of an historic struggle between labor and capital, and between men of privilege and the poor.  It is presented here as an example of the thinking of the pre-World War I generation.  Comments are welcome.
****************************
At the closing period of one of the most subtle, most stubborn, yet most unfathomable periods of depression our country has ever seen, when industrial peace seems to again have settled over the land, it is but meet that we should go back and talk of the period when the dove of peace settled upon the country at the close of the most stubbornly fought civil conflict the world has ever witnessed.

When one reads of the struggles and hardships which our people undergo in order to raise themselves to that level where God almighty intended them to be; when one reads of amicable agreements whereby peace is assured to our region for another term of years, and when one sees that it must mean an everlasting struggle as long as we are but human beings – then the mind goes back to the time when a labor problem was settled in four years of blood, untold millions of money, and the sacrifice of untold life.

What at simple thing at times may cause a misunderstanding, and create enemies!  But there was no misunderstanding about that labor problem.  Immediately upon the adoption of the countries' Constitution in 1789 the question was discussed.  Thinkers at once turned their attention to the subject, and saw that slavery has no place in a Republic such as the fathers of the country intended this should be.  From Yorktown to Appomattox is a stretch of ninety years, yet every one of them deals with the slave.  Every year saw an advance, every year saw progress, every year gave strength to a cause which should make itself so obnoxious that the stench thereof clogged the nostrils of the nation and had to be snuffed out.

Yet this was a long time delayed.  With such masters as Clay, Webster and Calhoun fighting daily battles in our national halls, the time of the greatest battle was again and again put off from 1820 until 1860.  But when it came the creator and guide of this wonderful Republic saw to it that there were there or in the making military geniuses such as the world had seldom seen.

What a coterie of talent did display itself!  McClellan, Burnside, Meade, Sheridan, Sherman, Thomas, Hooker, Grant.  Was ever a nation so blessed?

Then the clerk laid down his pen, the grocer closed his shop, the blacksmith's anvil was silent, the plow in the field went to rust and one by one they gathered together at the call of the noblest American of them all.

There were bitter leave-takings and hearthbreakings at the sound of that call for 100,000 volunteers. Men who were planning a life of quiet and domestic ease were thrust into the thick of turmoil and thunder of war; men who were to become preachers and teachers became soldiers; the husband and father was town from his wife and children; the lover from his sweet-heart; and one and all willingly, yet reluctantly, left home, ease, or work, wife, mother or sweetheart at his country's call to do or die.

From East, West and North they came, yea, even some from the south to give their life, their all for that nation for which Arnold turned traitor, for which DeKalb, Steuben, and Lafayette left their country, for which Washington and his men froze at Valley Forge and of which a writer said:  "It is a country which breeds men; men who know how to work, think and fight."

And what a leader they had.  Homely, yet sweet; rugged, yet gentle; stern, yet kind; exacting, yet generous; warm hearted, sympathetic and noble he stood father to the fatherless, brother to the brotherless, and friend to the friendless.  Respected the world over; approached in awe by those who wished to see the president, but loved dearer than mortal e'er was loved by those who addressed him simply as Abe Lincoln.  Rome had her Caesar, France her Napoleon; England her Cromwell, but America had her Washington and Lincoln.

This was the man whose had guided those hundreds of thousands of men as they brought to a successful close the greatest labor problem of our country.  And what a fight!  Brother against brother; father against son, yet each wiling to die for the cause he thought in the right.  There may be adventure fighting the Indian, trailing the Bushman to his lair may have its attractiveness, but when a man fights against his own flesh and blood there is a conflict within and without.  And when either side is confident of being in the right that conflict is doubly stern.

From the Potomac on the East, through the mountains of Tennessee to the Mississippi, and South to the Gulf marched the spectre of war.  Ghastly it left its victims strewn upon richest green fields of the South.  Wretched and desolate it left that heart-broken country to gain its breath.  Cleaner it was and freed of the darkest blot upon an otherwise fair country.

Nobly fought those gallant gentleman of the South!  Made of the stuff that teaches the American not to know failure, they humbly bowed their heads in submission to another American; a brother in arms.  It was not failure, for they were not but adding strength to this Union by making it one solid undivided unit, from the lakes to the gulf and from the Atlantic to the Pacific.

"Lay down your arms, take your horses to your fields and plow, and may God almighty bless you abundantly" – such was the substance of the verdict given by that magnanimous man; the man who led you through the wilderness, at Cold Harbor, and who acclaimed you everyone heroes at Appomattox.  Strong men wept that day; mothers thanked God on their knees for putting an end to their anxieties; church bells rang forth the glad tidings, and peace and forgiveness settled upon the land.

But there were some who never returned!  All glory be theirs.  The youth who went forth rejoicing in the strength learned the stern duties of war, fought his fight, and lay down to sleep upon the banks of the Potomac.  The gentle streams flow, the balmy breezes and green fields blow over the graves of many of your comrades in Dixie Land.  Since then many have followed them in their long sleep; one by one they have laid aside their various duties, carrying with them to the last their memories of that bitter struggle and breathing a last prayer that never again may brother face brother in arms upon the soil of their beloved country.

And now dear friends we this day have come to shed a tear, and lay a flower upon the green graves of your comrades past in arms.  They marched with you side by side at Antietam; they bore with you the burden of the day at Chancellorsville; waist deep in mud and water they struggled with you through the wilderness.  Theirs is a past glory yet present, yours is ever present day by day.  No more do they relate to open mouthed grandchildren the wonders of war; while you have an ever ready audience every time your open you lips.

In this sacred spot near to the final resting place of the nation's defenders we think of naught but peace, friendship, and unity.

        "I love that ancient Saxon phrase

         which calls the burial ground God's acre."

What peace must come to a man's soul when at the end of a long and useful life he can feel at peace with the world and God, and how doubly soothing must be that peace if he can gaze with fast dimming eyes on rich green fields which he watered with his own life's blood.  This has been the peace enjoyed by your comrades gone before, how envied are they: all over this great land of our to-day are being recalled their acts of heroism, in most every town, city and hamlet is being retold the story of war with all its terrors; but nothing can recompense you more that a life given for your country and a life well lived:

        So that when thy summons comes to join

        The innumerable caravan which

        Moves to that eternal realm where each

        Shall take his chamber in the silent halls of death.

        Thou go not like the quarry slave at night,

        Scourged to his dungeon, but sustained and soothed

        Like one who wraps the drapery of his couch about him,

        And lies down to pleasant dreams.

The man who builds a city may pass out of mind; the winner of a race, the inventor, the doctor, the preacher and the teacher, one and all pass into oblivion, but the names of the defenders of our country remain indelibly written upon the pages of history; they are transcribed in blood upon the rich fields of the South, and will be remembered and revered as long as the stars and stripes are unfurled to the breeze.

Washington and his handful of colonials gave us the Fourth of July; you gave us the Thirtieth of May; the one gave us the free republic; the other preserved it; these are our two days on which we celebrate; upon the one we parade, speak and remember the dead; upon the other we fire back over the years and joins hands with the echoes which reverberated from Dorchester Heights in 1776. But this alone is not true patriotism; the man who floats the flag 365 days in the year, but hides in the cellar when the tax collector calls is the poorest patriot our country possesses.  The doctor who preserves and guards the health of our future citizens is far more patriotic than 10,000 marching men on the Thirtieth of May, who during the remainder of the year throw obstacles in the way of those laboring for the welfare of the community.

There is something wrong with the one man out of one hundred whose patriotism will not allow him to become a union man.  Thank God there will never again be a civil war in this country to settle the slave question.  But as long as we are but human there will be a labor struggle.  England has been dealing with this question for six hundred years, and she still has her capital and labor.  And we must ever have our capital and labor.  But you did not preserve our country, but to bestow it upon a favored few as a divine right.  Your victory was not to be a cloak for laws which were fake upon their face; for years this mistaken idea has cost the humble patriot a more comfortable home, an opportunity for higher education, and more abundance of God's free, pure air.  That man is indeed a patriot, whose untiring zeal, in the face of countless opposition has restored to you the right to demand full measure for your labor.

"The poor we have with us all the way." so do not expect that we shall become rich, but better conditions we can and will have and it is for this reason that I say – as long as we are human beings we shall have a struggle, a struggle upward, for that is the trend of humanity.  The destiny of our country rests upon the shoulders of our great laboring class, from this class came such men as Washington, Lincoln and Grant.

Upon the shoulders of the great laboring class rests the destiny, because being in the great majority they can, or can be influenced to place their country upon a pinnacle where it will be the laughing stock of the world; where dominated by evil politicians and unscrupulous financiers its course is shape so that its wealth is wasted, its people degraded, it becomes a gaudy show of fancy buildings and rolling parks, a prey to a younger and stronger nation as have the Empires and Republics of former times.

Or, remembering that this republic was founded not by wealth, but by labor, not by idleness, but by industry, not by traitors, but in spite of them, and preserved by the sacrifice of self-interests, devotion to duty and the Stars and Stripes, remembering thus they place their trust in men of proven integrity, men whose principles are above reproach – men who will conserve not waste our birthright – then we will grow stronger generation by generation, and if ever again must be issued the call for volunteers to defend our shores, men, true men, men sound in soul and body, not by thousands but by millions will answer the call as you did – "We are coming, father Abraham, a hundred thousand strong."