Posted By Norman Gasbarro on April 28, 2013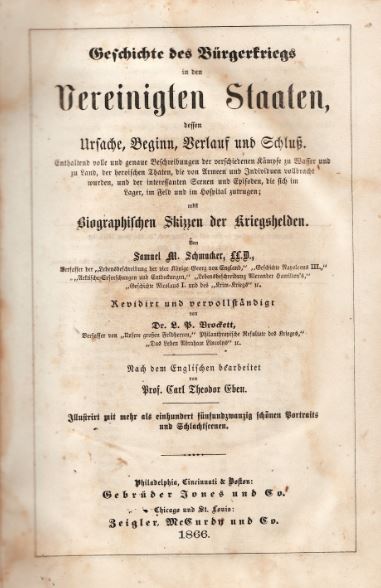 One of the most interesting books in the collection of the Gratz Historical Society is a volume published in Philadelphia in 1866 – a history of the American Civil War -in German!  This book was probably written for the German-speaking population of America, and not for foreign consumption.
The chapter on the Battle of Gettysburg has the following subsections: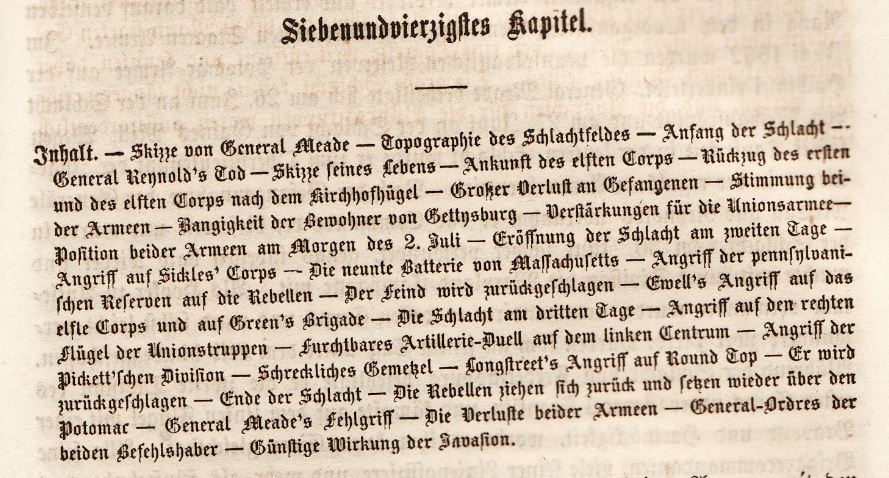 Inhalt – Skizze von General Meade – Topographie des Schlachtfeldes – Anfang der Schlacht – General Reynold's Tod – Skizze seines Lebens – Ankunft des elften Corps – Rückzug des ersten und des elften Corps nach dem Kirchhofhügel – Groker Verlust an Gefangenen – Stimmung beider Armeen – Bangigkeit der Bewohner von Gettysburg – Verstärkungen für die Unionsarmee – Position beider Armeen am Morgen des 2. Juli – Erȍffnung der Schlacht am zweiten Tage – Angriff auf Sickles' Corps – Die neunte Batterie von Massachusetts – Angriff der pennsylvanischen Reserven auf die rebellen – Der feind wird zurückgeschlagen – Ewell's Angriff auf das elfte Corps und auf Green's Brigade – Die Schlacht am dritten Tage  – Furchtbares Artillerie-Duell auf dem linken Centrum – Angriff der Pickett'schen Division – Schreckliches Gemetzel – Longstreet's Angriff auf Round Top – Er wird zurückgeschlagen   – Ende der Schlacht – Die Rebellen ziehen sich zurück und setzen wieder über den Potomac – General Meade's Fehlgriff – Die Verluste beider Armeen – General-Ordres der beiden Befehlshaber – Günstige Wirkung der Invasion.
With some help from the Bing Translator:
Content – Sketch of General Meade – Topography of the Battlefield – Beginning of the Battle – General Reynolds' Death – Sketch of his Life – Arrival of the Eleventh Corps – Withdrawal of the First and Eleventh Corps toward Cemetery Hill – "Groker" loss of prisoners – Mood both armies – Anxiety of the Residents of Gettysburg – Reinforcements for the Union Army – Position of both Armies on the morning of 2 July – Beginning of the Battle on the Second day – Attack on Sickles' Corps – The 9th Battery of Massachusetts – Attack by the Pennsylvania Reserves on the Rebels – The Enemy is Repulsed – Ewell's Attack on the Eleventh Corps and on Green's Brigade – The Battle on the Third Day –Terrible Artillery Duel on the Left Center –  Attack of Pickett's Division [Picket's Charge] – Terrible Carnage – Longstreet's Attack on Round Top – It Is Beaten Back – End of the Battle – The Rebels Withdraw and Go Back Over the Potomac River – General Meade's Blunder – The Losses of Both Armies–General Orders of the Two Leaders – Beneficial Effects of the Invasion.
It is hoped that for future posts, a few of the sections of the chapter on the Battle of Gettysburg can be translated and presented here.