Posted By Norman Gasbarro on April 13, 2013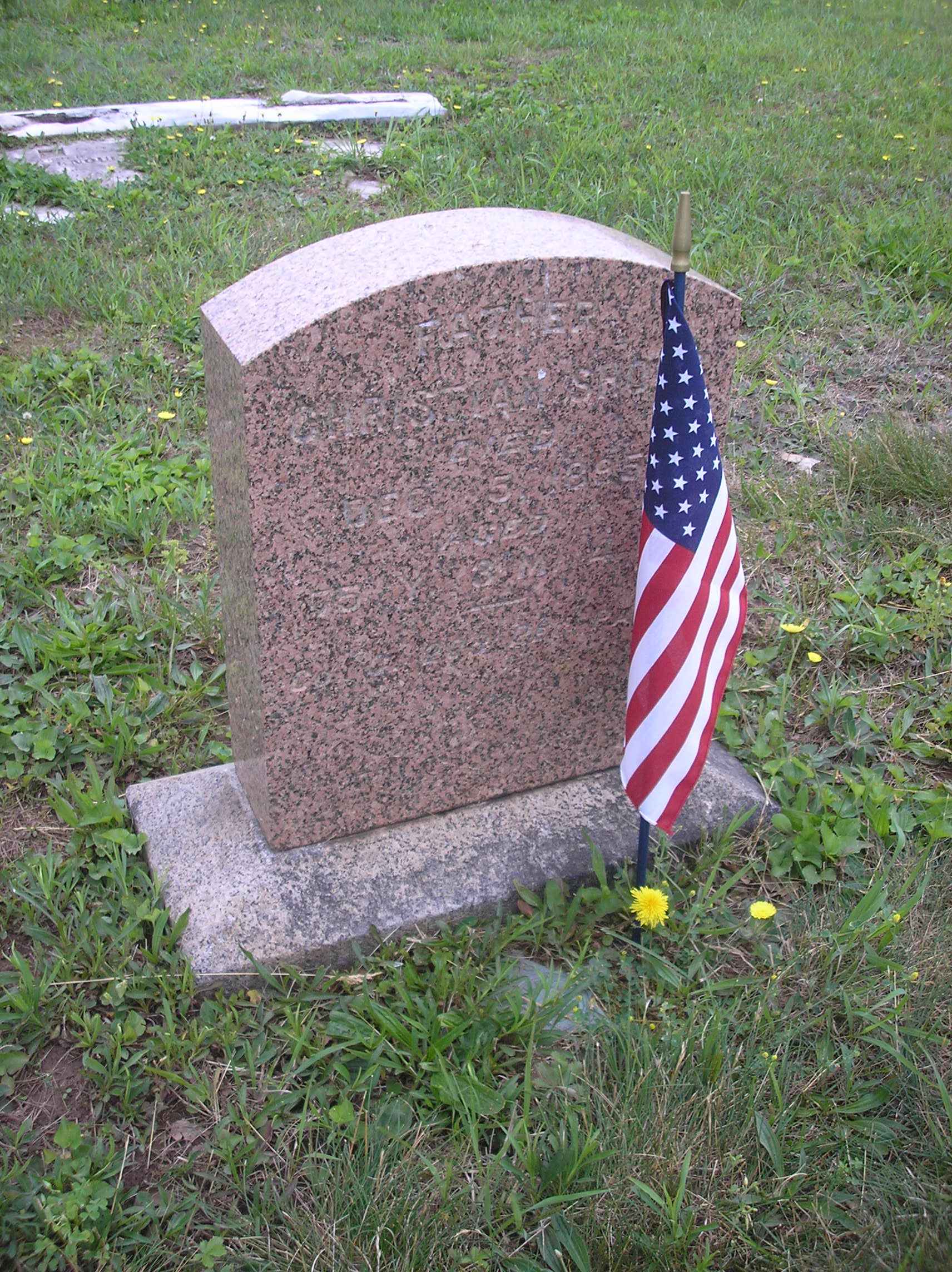 Christian Shoop (1820-1895) was a Civil War soldier and a farmer.  He is buried at Long's Cemetery, Halifax Township, Dauphin County, Pennsylvania.  His wife Martha Shoop (1827-1911) is buried next to him.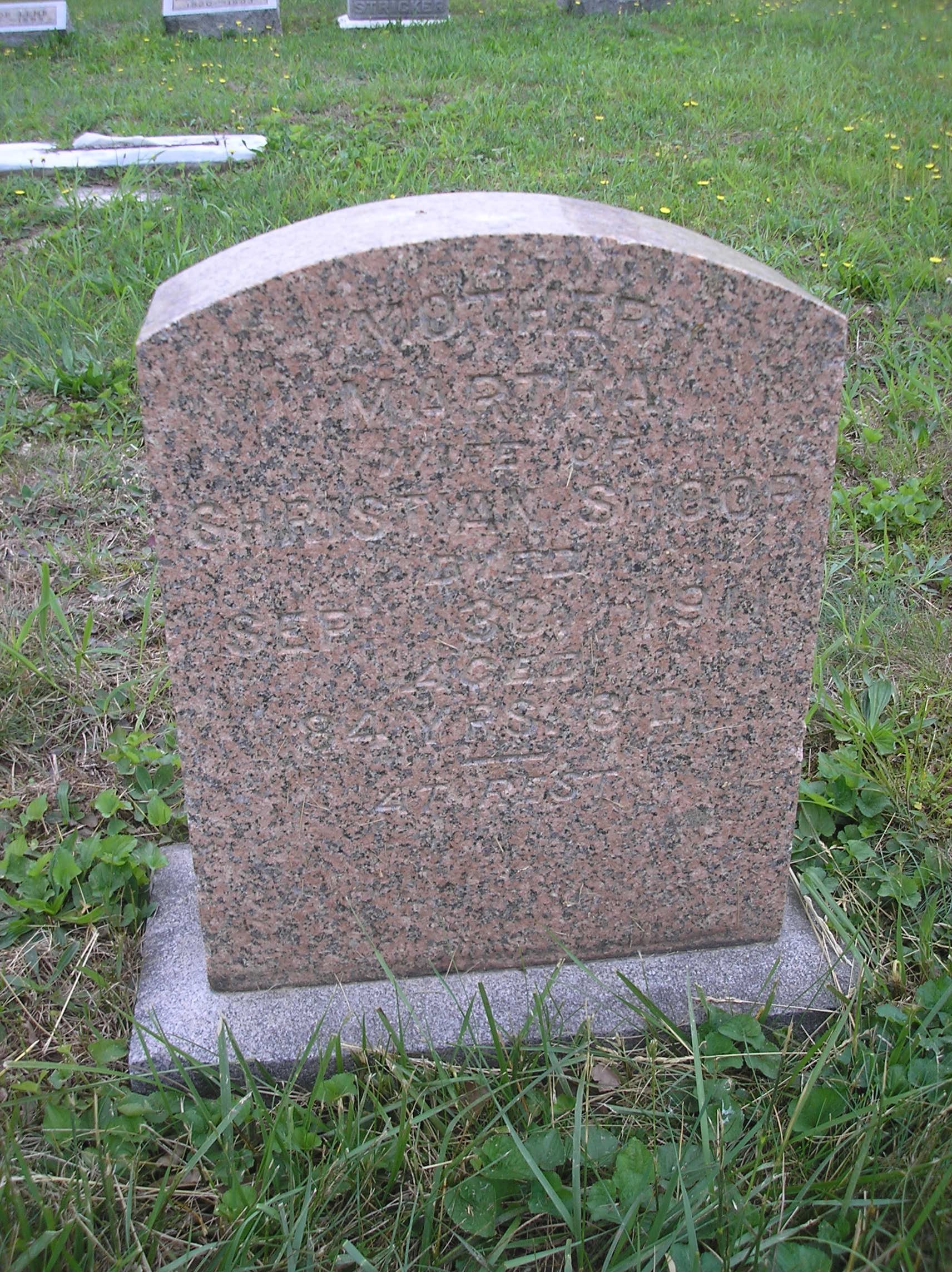 In 1850, Christian Shoop appeared in the census as a farmer in Greenwood, Perry County, along with his wife Martha Shoop, and children William Shoop, David Shoop, and John W. Shoop.
Christian Shoop did not immediately join the army at the outbreak of the Civil War.  He waited until 10 September 1864, to enroll as a Private in Company G, 208th Pennsylvania Infantry.  The record of the 208th Pennsylvania Infantry can be found in Volume 1 of The Union Army:
208th Pennsylvania Infantry. – Colonel Alfred B. McCalmont; Lieutenant-Colonel M. T. Heintzelmen; Major Alexander Bobb. This regiment was mostly recruited from the counties of Perry, Snyder, Blair, Lebanon, Dauphin and Bedford. The several companies rendezvoused at Camp Curtin, Harrisburg, where they were mustered into the U. S. service from 26 August to 12 September 1864, for one year. Both Colonel McCalmont and Lieutenant-Colonel Heintzelmen were veteran officers. On 13 September 1864 it left for the front and was there assigned to the provisional brigade commanded by Colonel Potter on the Bermuda Hundred front. Picket and fatigue duty and drill occupied it until 27 November when it reported to the Army of the Potomac and was assigned to the 1st Brigade of General Hartranft's Division, 9th Corps. It went into winter quarters near the Avery House, Gen. Hartranft's headquarters. It was in support during the movement upon Hatcher's Run in February 1865 where it was in line of battle and fortified its position, but was not attacked. It was warmly engaged at Fort Stedman, 25 March 1865, where it behaved with great gallantry, losing 4 killed and 38 wounded. Among the mortally wounded was Captain Prosper Dalien, a brilliant officer and a native of France who had served through the Italian wars of 1859. It formed part of the assaulting column on 2 April 1865 when the works of Petersburg were finally carried, losing 9 killed and 39 wounded. It then moved in pursuit along the line of the South Side Railroad as far as Nottaway Court House, which it reached on the day of Lee's surrender. On the 20th it returned to City Point and thence to Alexandria, where it was mustered out on 1 June 1865.
After the Civil War, Christian Shoop settled in Halifax Township, Dauphin County, where both he and Martha can found in 1870 – he working as a farmer and she "keeping house."  In 1890, still living in the Halifax area (Powell's Valley), he indicated his Civil War service but did not say that he had any Civil War-related disabilities.  Pension records give a date 0f 28 April 1882 as his initial pension application.  The pension was awarded and he collected until his death in 1895 at the age of 75 years, 3 months, and 4 days.  His widow, Martha, applied for benefits, which she was awarded and collected until her death in 1911.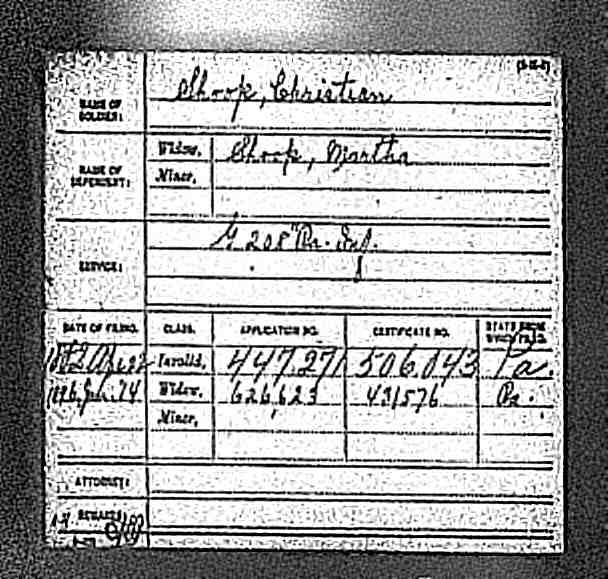 Not much is known about the life of Christian Shoop, his parents, or what happened to the three children who were enumerated in the 1850 Census.  If any readers can add anything to his story, it would be greatly appreciated.
Comments can be attached to this post, or sent by e-mail to the Civil War Research Project.
——————————
The Pension Index Card is from Ancestry.com.