Posted By Norman Gasbarro on March 16, 2013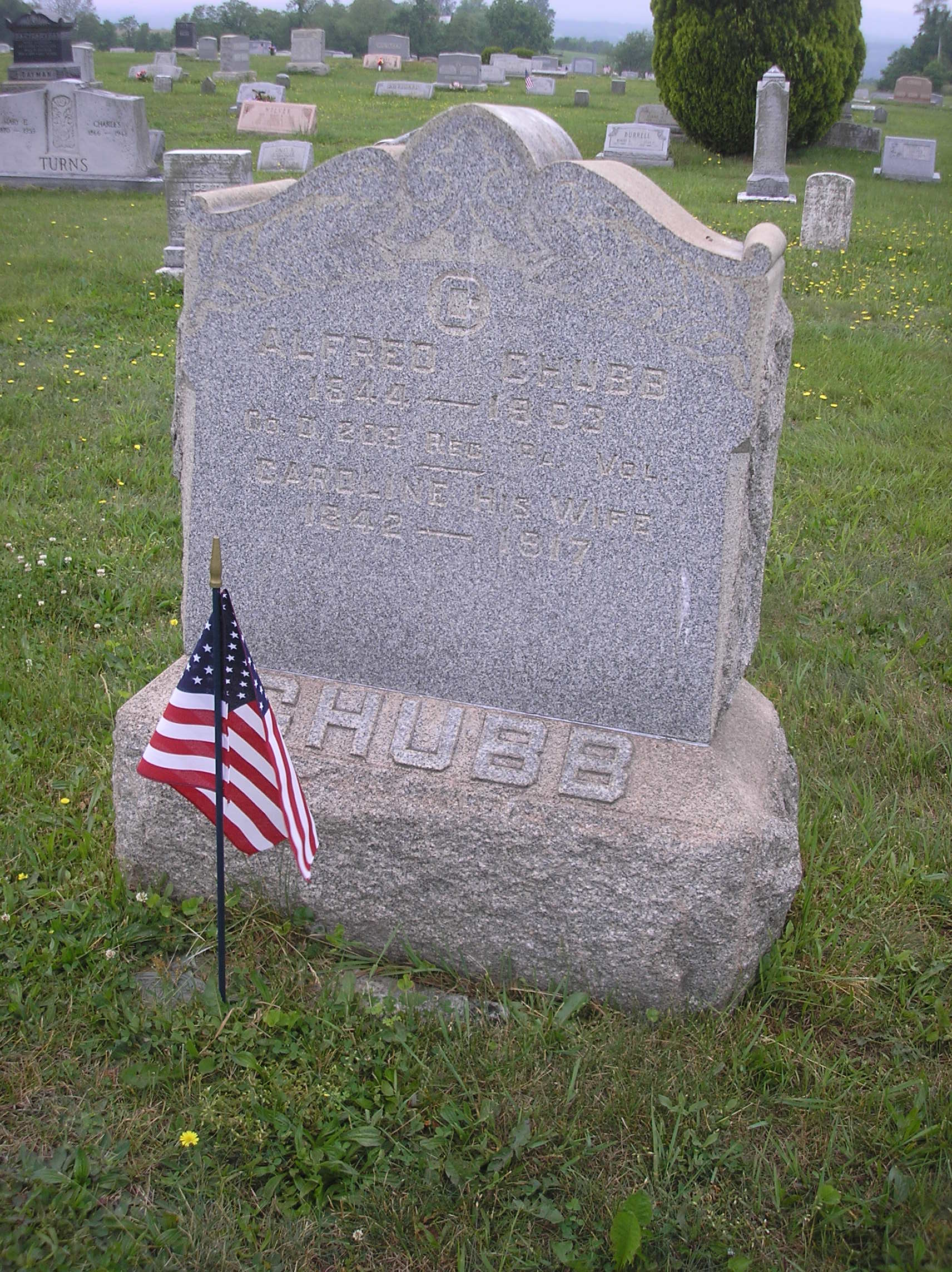 Alfred H. Chubb (1844-1903), a veteran of the Civil War, is buried at Long's Cemetery, Halifax, Dauphin County, Pennsylvania.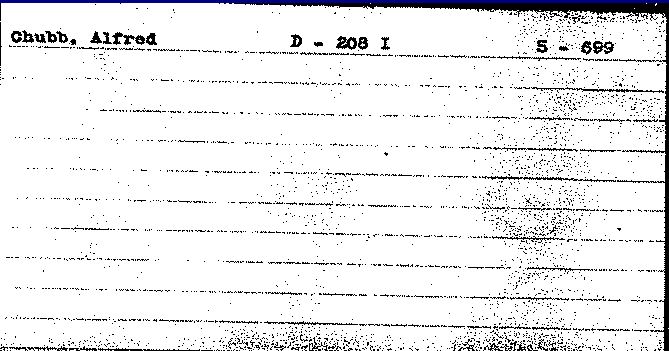 During the war, Alfred served in the 208th Pennsylvania Infantry, Company D. as a Private.  He was mustered into service on 7 September 1864 and served until his discharge on 1 June 1865.  The official description of the activities of the regiment during his time of service can be found in The Union Army:
The 208th Pennsylvania Infantry – Col. Alfred B. McCalmont; Lieut.-Col. M. T. Heintzelmen; Maj. Alexander Bobb. This regiment was mostly recruited from the counties of Perry, Snyder, Blair, Lebanon, Dauphin and Bedford. The several companies rendezvoused at Camp Curtin, Harrisburg, where they were mustered into the U. S. service from 26 August 1864 to 12 September 1864, for one year. Both Col. McCalmont and Lieut.-Col. Heintzelmen were veteran officers. On 13 September 1864, it left for the front and was there assigned to the provisional brigadecommanded by Col. Potter on the Bermuda Hundred front. Picket and fatigue duty and drill occupied it until 27 November 1864, when it reported to the Army of the Potomac and was assigned to the 1st Brigade of Gen. Hartranft's Division, 9th Corps. It went into winter quarters near the Avery House, Gen. Hartranft's headquarters. It was in support during the movement upon Hatcher's Run in Feb., 1865 where it was in line of battle and fortified its position, but was not attacked. It was warmly engaged at Fort Stedman, March 25, 1865, where it behaved with great gallantry, losing 4 killed and 38 wounded. Among the mortally wounded was Capt. Prosper Dalien, a brilliant officer and a native of France who had served through the Italian wars of 1859. It formed part of the assaulting column on 2 April 2 1865, when the works of Petersburg were finally carried, losing 9 killed and 39 wounded. It then moved in pursuit along the line of the South Side Railroad as far as Nottaway Court House, which it reached on the day of Lee's surrender. On 20 April 1865 it returned to City Point and thence to Alexandria, where it was mustered out on 1 June 1865.
Alfred H. Chubb was the son of Henry P. Chubb and Margaret [Peters] Chubb of Matamoras, Dauphin County.  The father was a laborer and by 1860, at age 16, Alfred had taken up the same occupation.  Younger siblings in the family household in 1860 were Sarah Chubb (born about 1849); William Chubb (born about 1852); and Mary Chubb (born about 1859).  Also in the household was Alfred's paternal grandmother, Suzannah Chubb, age 67.
After the war, Alfred H. Chubb married Caroline Heater and by 1870, he had settled in Jefferson Township, Dauphin County, where he was active in retail dry goods business.  None of the subsequent census note that any children were born of the marriage.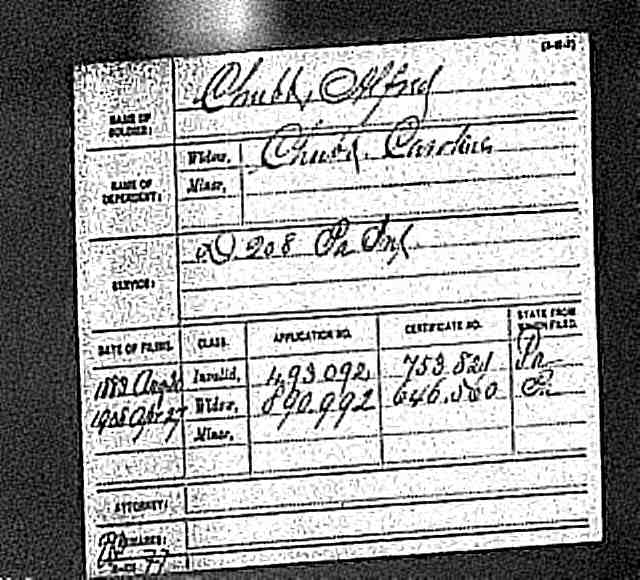 An early pension application was made in 1883 which was eventually approved.  Papers from the pension application file, indicate that Alfred had some problems proving that his disabilities were war-related.  One of those papers (shown below) was testimony from a fellow soldier who stated that he remembered that Alfred was sick and excused from duty at the time the regiment was "laid in front of" Petersburg.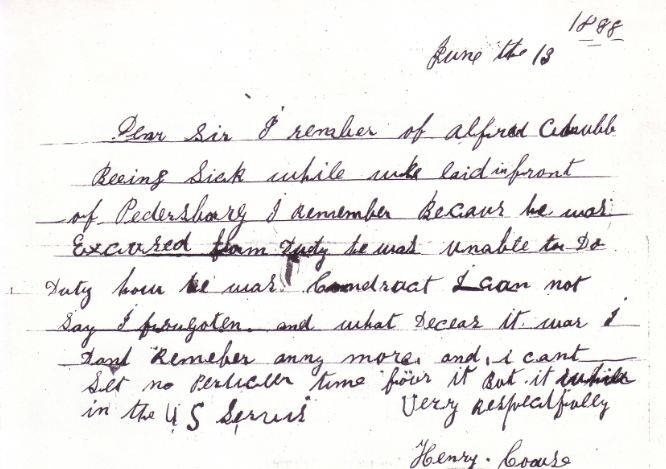 But Alfred disputed this, claiming that he never "reported sick" but instead, "tried to get along."  He admitted though that he had "to stay back" because of "disease."
Regardless of the difficulty in proving his case, Alfred H. Chubb  was able to get approval for his pension benefits.  His death occurred on 14 May 1903, and within a short time the widow applied for the pension, which she received and collected until her death in 1917.
One benefit of examining the pension application files of a veteran is that stories of the veteran's participation can be found that usually won't be found elsewhere.  If the official history is the only source consulted, then it could be assumed that the soldier fought in every battle.  But information in the pension application file, in the case of Alfred H. Chubb, tells otherwise.  Also in the application file are papers in Alfred's own hand telling of the progression of his illnesses – including piles, catarrh, weakness of the legs, etc. – and the kinds of medicines he had to take – all of which resulted in him getting worse, not better, and unable to do a day's work after 1872.  He concluded one page of his application with the words, "the first doctor is dead."  Prior to that he had stated that the doctor had not kept any records – except for cash owed – and that he only had receipts for the occasions on which he paid the doctor.  The doctor he referred to was H. R. Caslow, who has been mentioned in several prior blog posts.
Anyone with additional information on Alfred H. Chubb is asked to supply it so that a more complete picture of this laborer and merchant can be told.  Add comments to this post or send information by e-mail.