Posted By Norman Gasbarro on March 7, 2013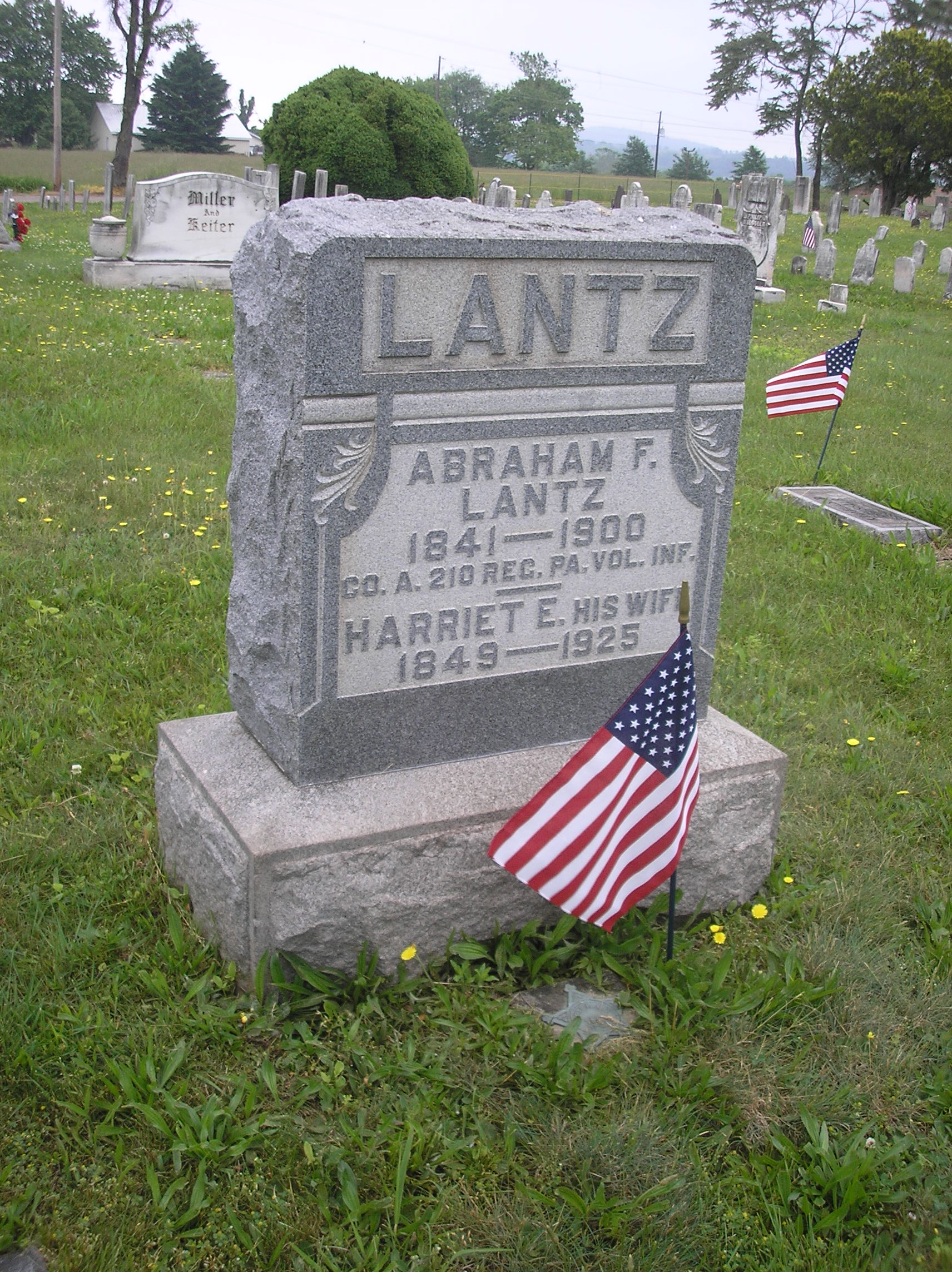 Abraham F. Lantz (1841-1900) and his wife Harriet E. Lantz (1849-1925) are buried at Long's Cemetery, Halifax, Dauphin County, Pennsylvania, where Abraham's Civil War service is recognized on his grave marker, and with a G.A.R. star mounted on the ground in front of his stone.  In various records he is found also as Abraham Lantz and Abraham Lentz.  He was the son of Michael Lantz, a farmer of Jackson Township, Dauphin County, and Sarah Lantz, and had a sister Elizabeth Lantz (born about 1839), and younger siblings, Elizabeth Lantz (born about 1843), Jacob Lantz (born about 1845), Hiram Lantz (born about 1847), and Sarah Lantz (born about 1849).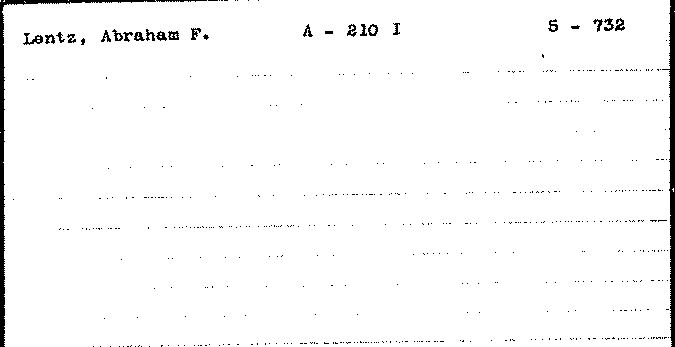 Abraham F. Lantz answered the call to service in the Civil War on 10 September 1864 when he joined Company A of the 210th Pennsylvania Infantry as a Private.  Not much information about him is found on the Pennsylvania Veterans' File Card (shown above) which references his military record available at the Pennsylvania Archives and in Bates, Volume 5, page 732.  The Register of Pennsylvania Volunteers (from the Pennsylvania Archives) notes that he was 23 years old, that he enrolled at Harrisburg, and was mustered into service at Camp Curtin.
From the history of the regiment and company, the following information is available:
[The 210th Pennsylvania Infantry] rendezvoused at Camp Curtin, Harrisburg, and was mustered into the U. S. service from 25 August 1864 to 24 September 1864, for one year.  A large proportion of both officers and men had been in the service before. As soon as it was organized it left for the front and joined the army of the Potomac before Petersburg, where it was assigned to the 3d Brigade, 2nd Division, 5th Corps. It was active for the first time at Hatcher's Run in October, meeting with slight loss. It shared in the Weldon Railroad Expedition in December, suffering much from the intense cold and exposure, which caused many to sicken and die. It behaved with great gallantry in the engagement at Dabney's Mill, in February 1865, where its losses were considerable. On the opening of the spring campaign it was heavily engaged from 29 March 29 1865 to 1 April 1865 at the Quaker Road, Gravelly Run, the Boydton Road and Five Forks, its loss being 35 killed, 115 wounded and 150 missing. Col. Sergeant was mortally wounded at Five Forks as were Adjt. Schlesinger and Capt. Hughes. It followed the enemy during his retreat from Petersburg and was at the front when Lee's final surrender took place. It then returned to the vicinity of Washington, participated in the Grand Review, and was mustered out at Alexandria on May 30, 1865 when the recruits were transferred to the 51st Pennsylvania Infantry with which organization they served until their final muster out on July 28, 1865.
There is no evidence that Abraham F. Lantz was one of those who was transferred to the 51st Pennsylvania Infantry.  The available records all state that he was mustered out of service on 30 May 1865.
After the war, he returned to civilian life and settled in Jackson Township where he had been raised.  Around 1869 he married and he and his wife Harriet, settled in work at farming in the area.  Two known children were born of the marriage:  Elizabeth Lantz (born about 1871) and Ida B. Lantz (born about 1873).  The family appears in the 1880 census for Halifax, and in 1890, still in Halifax, Abraham complained of rheumatism, which he said he contracted as a result of his Civil War service.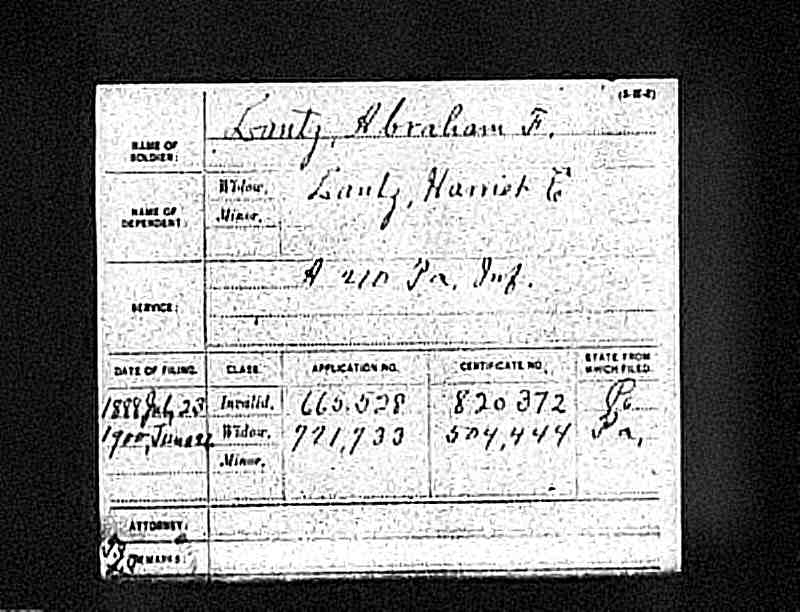 The pension application for Abraham F. Lantz was submitted in July 1888, and as a result of this application, his benefits began, which he was able to collect until his death in 1900.  Harriet, as the widow, was able to get government support for 25 years following her husband's death.
Not much more is known about Abraham F. Lantz, his family, or his military service, but more information is sought.  Perhaps a reader of this blog has obtained the pension application files of Abraham and Harriet from the National Archives and would be willing to share copies with the Civil War Research Project.
For a list of other Civil War veterans from the Halifax area, see the previous blog post:  Halifax Area Civil War Veterans.  The Pension Index Card is from Ancestry.com.