Posted By Norman Gasbarro on December 9, 2012
The story of Daniel S. Feidt (1839-1907) appears in the Commemorative Biographical Encyclopedia of Dauphin County Pennsylvania, page 1094:
Daniel S. Feidt, farmer, Millersburg, Pennsylvania, was born in Upper Paxton Township [Dauphin County], 19 January 1839.  He is a son of Peter Feidt and Elizabeth [West] Feidt, who was a daughter of Daniel West and Susanna [Shoop] West.  The grandfather, George Feidt, was married to Rachel Snyder, by whom he had six children:  John Feidt; George Feidt; Daniel Feidt; Catharine Feidt; Peter Feidt; and Thomas Feidt.  The father by his first marriage had a family of four children: Daniel S. Feidt; Nathaniel Feidt; David Feidt; and Peter Feidt.  He married secondly Miss Susanna Weaver, who died in 1881, leaving two children:  Aaron Feidt and Catharine Feidt.  The parents of Mrs. Feidt had a family of thirteen children, seven of whom survive: Sallie, Peter, Alfre; Charles; Leah; Carharine; and Ida.

Daniel S. Feidt received his education in the public schools of his native township. He was then engaged in farming until the war broke out, when he enlisted 19 September 1861 in Company B, 9th Pennsylvania Cavalry.  After serving faithfully in various parts of the field and taking part in numerous engagements he was honorably discharged at Kings Bridge, Georgia, 24 December 1964.  On 6 May 1865, he returned to Upper Paxton Township, and in 1866 engaged as a sawyer for ten years.  In 1876 he bought a farm on which he resided until 1882 when he moved to his father's farm, where he remained five years.  He next moved to the F. R. Gilbert farm which he purchased and resided thereon until 1893, when he moved to his present home.  He was married 10 March 1867 to Miss Anna Hoy, daughter of Christian Hoy and Leah [Novinger] Hoy.  Their children are:   Emma D. Feidt, born 7 April 1868; Wilson W. Feidt, born 31 May 1871; Leah A. Feidt, born 3 August 1874; and Sadie E. Feidt, born 11 September 1876.  His wife was born 29 January 1841 and died 19 November 1891.  She was a consistent member of David's Reformed Church at Killinger's.  He is a Republican in politics and has served as a school director, assessor three terms, and assisted in 1890 to take the census.  He is connected with Lodge No. 183, I.O.O.F., Millersburg, and Kilpatrick Post No. 212, G.A.R., Millersburg.  He is a member of the Methodist Episcopal Church.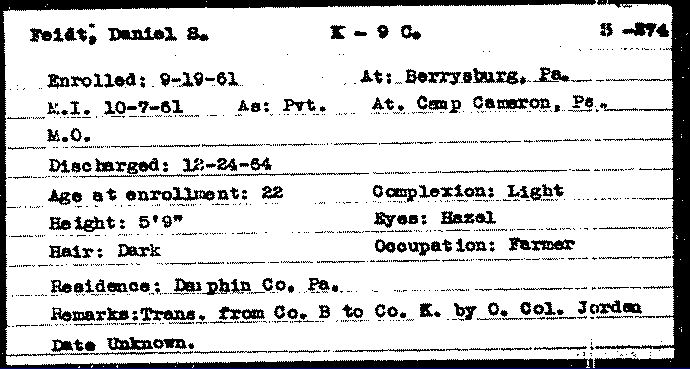 Daniel S. Feidt, whose middle name was Snyder, served in the 9th Pennsylvania Cavalry, Company K and Company B, as a Private.  He enrolled at Berrysburg, Dauphin County, on 19 September 1861 and was mustered into service at Camp Cameron on 7 October 1861.  He was initially assigned to Company B but at a date unknown was transferred to Company K by Colonel Thomas J. Jordan.  Daniel was a farmer at the time of his enrollment, was 22 years old, stood 5′ 9″ tall, had dark hair, hazel eyes and light complexion.  Given the choice to re-enlist at the end of his 3-year term of service, Daniel S. Feidt chose to accept a discharge and return home.  The exploits of the 9th Pennsylvania Cavalry are detailed in the book, Yankee Cavalrymen, which was previously mentioned on this blog.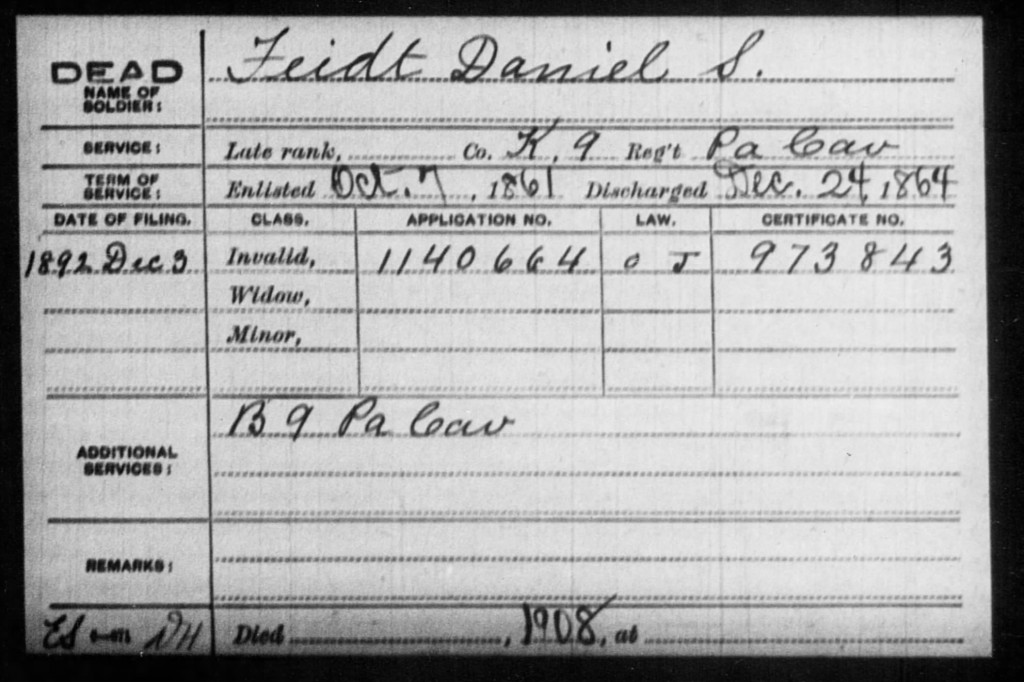 In December 1892, Daniel S. Feidt applied for an invalid pension based on his Civil War service – which he eventually received and collected until his death in 1907 (not 1908 as indicated on the Pension Index Card, above).  According to his grave marker, pictured at the top of this post, he died in January 1907.  There is some indication, not confirmed, that Daniel had re-married after his wife's death in 1891.  A woman named Malinda appears as Daniel's wife in the 1900 census of Upper Paxton Township, with the time of marriage being one year.  It is not known at this time whether she survived him or whether the woman buried in St. David's Cemetery along with Daniel S. Feidt, named "Susanna" is the Malinda Feidt who appears as Daniel's wife in the 1900 Census.  According to the information on the Pension Index Card, no widow applied for benefits after Daniel died in 1907.  St. David's Cemetery is located in Killinger, Dauphin County, Pennsylvania.
For his part in the Civil War, and because of his membership in the Kilpatrick Post, G.A.R. at Millersburg, Daniel S. Feidt is recognized on the Millersburg Soldier Monument.
——————————-
Pension Index Cards are from Fold3.  Pennsylvania Veterans' Index Cards are from the Pennsylvania Archives.