Posted By Norman Gasbarro on November 15, 2012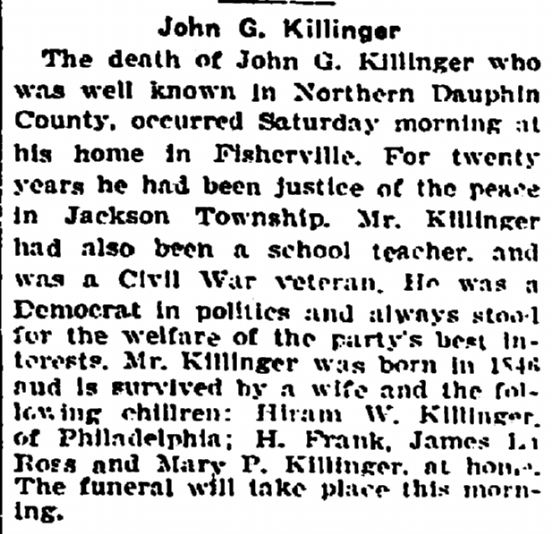 On 23 February 1904, the Harrisburg Patriot reported the following death:
John G. Killinger

The death of John G. Killinger who was well known in Northern Dauphin County, occurred Saturday morning at his home in Fisherville.  For twenty years he had been Justice of the Peace in Jackson Township.  Mr. Killinger had also been a school teacher, and was a Civil War veteran.  He was a Democrat in politics and always stood for the welfare of the party's best interests.  Mr. Killinger was born in 1846 and is survived by a wife and the following children:  Hiram W. Killinger, of Philadelphia; H. Frank Killinger, of Philadelphia;  James L. Kissinger, Rosa Killinger, and Mary P. Killinger, at home.
From the Commemorative Biographical Encyclopedia of Dauphin County, pages 739-740, we learn more about John G. Killinger:
John G. Killinger, Justice of the Peace and implement dealer, Fisherville, Dauphin County, Pennsylvania, was born 10 November 1846.  He is a son of Jacob Killinger and Maria Killinger.  Jacob Killinger was born in South Hanover Township, 3 November 1811.  He attended the township school, and worked on the farm until he was of age, and left home to seek employment.  His wife accompanied him.  Their only capital was five dollars in cash, and the sum of their goods was the clothing tied up in a red bandanna handkerchief.  They located in Halifax Township.  Mr. Killinger had learned shoemaking, so he opened a small shoe shop.  They set up housekeeping with two chairs and an empty dry goods box for a table which latter gave place to a tool chest.

Mr. Jacob Killinger invested first in twelve acres of land, on which he built a house and shoe shop.  Trade prospered, and frugality ruled the household.  In consequence, accumulations furnished means for adding to their holding.  In course of time they had eighty-eight acres of land and all the equipment and surroundings of a comfortable home.  In this home Mr. Killinger died 1 April 1876 and his wife on 23 August of the same year.  Their children were: Jacob Killinger, accidentally drowned in a mill pond; Susan Kissinger, widow of John Novinger, Tiffin, Ohio; Lydia Killinger, wife of Jacob Zimmerman of Halifax Township; Rebecca Killinger, died young; Mary Killinger, widow of Peter Klinger of Fisherville [Dauphin County]; John G. Killinger; and William Killinger, carpenter, Dauphin County.  Mr. Killinger was a Democrat.  He was a substantial and popular man.

John G. Killinger was educated in the common schools of his township and at Truly's Academy, in Snyder County, and Berrysburg Seminary.

On 1 September 1864, he enlisted, at Harrisburg, in Company A, 210th Pennsylvania Volunteers [210th Pennsylvania Infantry], under Capt. Bowerman, and served until the close of the war.  He was honorably discharged at Arlington Heights [Virginia], 31 May 1865, and returned home.

In June 1868, Mr. Killinger took up carpentry, at which he worked for fourteen summers, and taught school twenty-one terms during the winter months.  The confinement of the school room proved detrimental to his health, and compelled him to abandon the work of teaching.  He next tried work on the railroad, but this was too arduous.  In the fall of 1887 he began butchering, and has since followed that business.  He is also agent for all kinds of agricultural implements.  He has been very successful in this line.  He also superintends a farm of twenty-two acres.

Mr. Killinger was married, in Jackson Township, 3 June 1869, to Anna M. Whitman, born in Halifax Township, 22 October 1846, daughter of Philip Whitman and Susan [Fetterhoff] Whitman.  Their children were:  Laura A. Killinger, died when three years old; Hiram W. Killinger, in business in Philadelphia; Thomas J. Killinger, died at four years of age; John Killinger, died aged three years; H. Frank Killinger, James LaRoss Killinger, and Maggie P. Killinger, at home.

Mr. Killinger is a member of Enders Lodge, No. 359, K. of P., Fisherville; and of B. F. Miller Post, No. 393, G.A.R.; he is Adjutant of the Post.

The grandfather of Mrs. Killinger, Col. Fetterhoff, was in the war of 1812.  The great-grandmother of Mrs. Killinger (McFrederick Fetterhoff) was blind for thirty years previous to her death.
The Pennsylvania Veterans' Index Card at the Pennsylvania Archives references the Civil War service of John G. Killinger: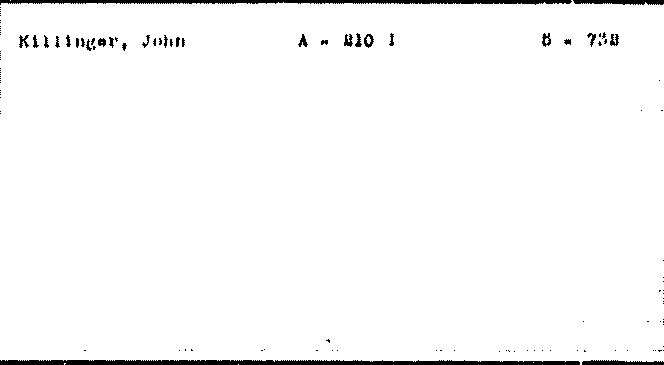 There is very little information on the index card, other than the Bates page reference (upper right corner).  Consultation of the various databases available with military records information makes note of the fact that John G. Killinger was mustered into service in the 210th Pennsylvania Infantry, Company A, as a Private, on 7 September 1864 and mustered out with his company on 30 May 1865.  His military experiences probably parallel those reported in the regimental history.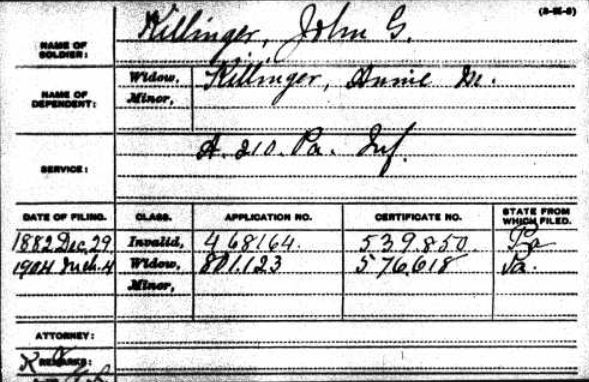 The information on the Pension Index Card, which references files available at the National Archives, Washington, D.C., notes that John applied for an invalid pension in December 1882, which he was awarded, and his widow Annie, applied for and received those benefits after his death in 1904.
The 1890 Veterans' Census for Fisherville, notes the actual disability of John G. Killinger:
"This man is troubled badly with hemorrhoids causing him great trouble."
Many of the legal matters decided by John G. Killinger made the local newspapers, including the following one which appeared in the Harrisburg Patriot of 18 August 1884: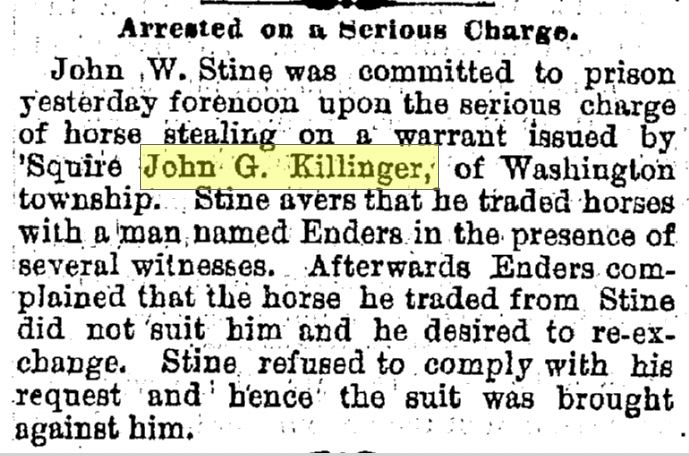 Arrested on a Serious Charge

John W. Stine was committed to prison yesterday forenoon upon the serious charge of horse stealing on a warrant issued by Squire John G. Killinger of Washington Township.  Stine avers that he traded horses with a man named Enders in the presence of several witnesses.  Afterwards Enders complained that the horse he traded from Stine did not suit him and he desired to re-exchange.  Stine refused to comply with his request and hence the suit was brought against him.
In 1888, John G. Killinger's involvement in Democratic Party politics was mentioned in a Harrisburg Patriot article appearing on 24 August: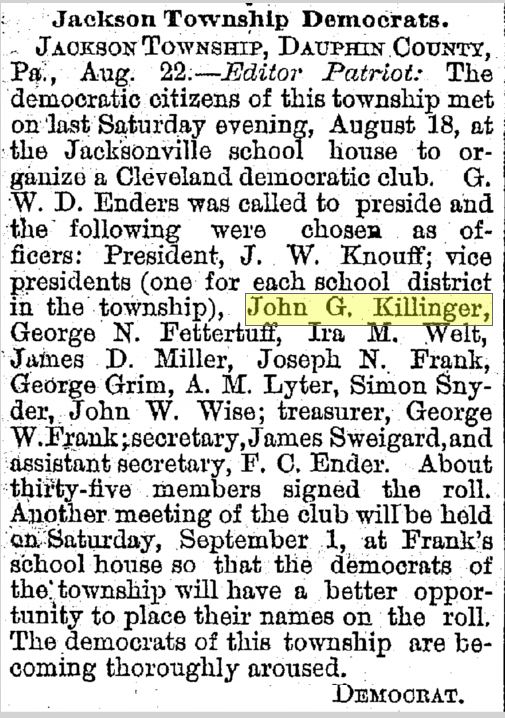 Jackson Township Democrats

JACKSON TOWNSHIP, DAUPHIN COUNTY, Pennsylvania, 22 August 1888. — Editor Patriot: The democratic citizens of this township met on last Saturday evening, 18 August, at the Jacksonville School House to organize a Cleveland Democratic Club.  G. W. D. Enders was called to preside and the following were chosen as officers:  President, J. W. Knouff; Vice Presidents (one of each school district in the township), John G. Killinger, George N. Fetterhoff, Ira M. Welt, James D. Miller, Joseph N. Frank, George Grim, A. M. Lyter, Simon Snyder, John W. Wise; Treasurer, George W. Frank; Secretary, James Sweigard; and Assistant Secretary, F. C. Ender.  About thirty-five members signed the roll.  Another meeting of the club will be held on Saturday, 1 September, at Frank's School House, so that the Democrats of the township will have a better opportunity to place their names on the roll.  The democrats of this township are becoming thoroughly aroused.  DEMOCRAT.
The object of support of this Cleveland Democratic Club was the then President of the United States, Grover Cleveland, who was the only Democrat elected to the presidency in the post-Civil War years of the nineteenth century.  However, Cleveland was not re-elected in 1888, so the local support for him in which John G. Killinger participated was not successful on a national level.  However, Cleveland was elected to a second term in 1892.  Cleveland was very pro-business and strongly opposed to subsidies to business, farmers and veterans.  He was against imperialism and supported low tariffs and a sound currency.
More information is sought on John G. Killinger and his political views in the post-Civil War period.  Comments can be added to this post or sent the the Civil War Research Project via e-mail.
——————————
News articles are from the on-line resources of the Free Library of Philadelphia.  Census records are from Ancestry.com.  The Commemorative Biographical Encyclopedia of Dauphin County is available on-line as a free download.