Posted By Norman Gasbarro on November 11, 2012
On 16 February 1900, Col. Edward Charles Williams died in Snyder County, Pennsylvania.  His obituary, which was published in the Philadelphia Inquirer, 17 February 1900, touted his accomplishments as a soldier in two wars: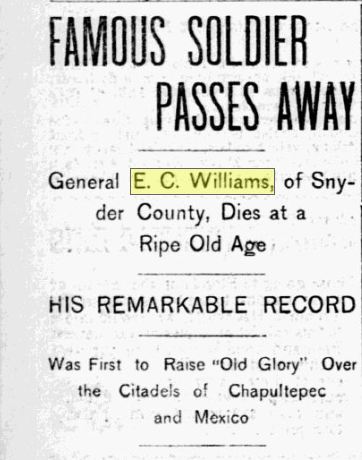 FAMOUS SOLDIER PASSES AWAY

General E. C. Williams, of Snyder County, Dies at a Ripe Old Age

HIS REMARKABLE RECORD

Was First to Raise "Old Glory" Over the Citadels of Chapultepec and Mexico

Special to the Inquirer.

SELINSGROVE, Pennsylvania, 16 February 1900. — General E. C. Williams, a renowned soldier, the hero of two wars and a prominent citizen of Snyder County, died at his home in Chapman this morning, at the advanced age of 80 years.  He has been bedfast since 1 January, and his demise was due to old age.

During the Mexican War General Williams served as Captain in the Second Pennsylvania Volunteers, and was the first to hoist the American flag over the City of Mexico after its capture.  The historic flag used on this occasion he had secured from the State Librarian at Harrisburg previous to his departure, and it was one that had been made by Betsy Ross and by her presented to General George Washington on the eve of the Battle of Trenton.

General Williams was the first man to be mustered into the service of the United States when the Civil War broke out, having been sworn into the service by General Seneca G. Simmons, a United States recruiting officer, three days before Fort Sumter was fired upon.  He served in the army with distinction, and was breveted Brigadier General for gallantry on the field.
The interesting story revealed by the obituary – that Edward C. Williams was the first to answer the call to service when the Civil War broke out – prompted further research.  A biography of Col. Edward Charles Williams was discovered in the Commemorative Biographical Encyclopedia of Dauphin County, along with a portrait of him which appears at the top of this post:
Edward Charles Williams, son of CharlesWilliams and Rebecca [Adams] Williams, was born February 10, 1820, in the city of Philadelphia. His father was a native of Philadelphia; his mother, of Mount Holly, New Jersey, of Scotch parentage. The son was educated in the public schools of his native city, then organized under the old Lancasterian system. He learned the trade of a bookbinder with Jacob Snyder, completing it with Robert P. DeSilver. He shortly after came to Harrisburg, where he established himself in business, firm of Clyde & Williams, bookbinders and stationers. For several years they did the State binding and also published several important works.

In December, 1846, upon the call for volunteers for the war with Mexico, Mr. Williams raised a company called the Cameron Guards, which were accepted and formed a part of the 2nd Pennsylvania Regiment. Previous to going to Mexico he had been connected several years with the old Dauphin Guards, one of the finest military organizations in the State, and was in service during the Philadelphia riots of 1844.

Upon Captain Williams' return from Mexico he was elected as an Independent, in 1850, to the office of Sheriff of Dauphin County, serving the full term.

When the Rebellion broke out and a demand was made for more troops, Governor Curtin sent for General Williams, who had been commissioned several years prior brigadier general of the Dauphin County Militia, and at once directed the organization of Camp Curtin, full particulars of which will be found in "Dauphin County in the War for the Union." General Williams had the honor of being the first volunteer mustered into the service for the defense of the Union. After organizing Camp Curtin, he organized Camp Slifer, at Chambersburg. He commanded a brigade during the three mouths' service, was with Patterson in the Shenandoah and subsequently mustered out at Washington City. He was then appointed by President Lincoln, through Secretary of War Cameron, Colonel of the Lochiel Cavalry [9th Pennsylvania Cavalry], directed to raise twenty-four companies of that branch of the service, which he accomplished in a very short time. It was difficult to handle three battalions of raw cavalry, but by hard work General Williams got his command into splendid discipline and drill. He went into camp at Jeffersonville, Indiana, where he exchanged his Pennsylvania horses for good Kentucky stock. After inspection by General Buford, he was ordered to the front under General Buell. On reaching Green River, and when ready to cross the stream, General Williams was directed to take the advance, but the same evening the news of the capture of Fort Donelson obviating that movement, he was ordered back, and his command cut up and distributed over Kentucky and Tennessee. His own regiment, the 9th Cavalry [9th Pennsylvania Cavalry], became very popular in that section with all classes of people, owing to their good discipline and behavior.  General Williams was at Henderson with his regiment when Buell and Bragg made their march into Kentucky, was ordered to Louisville without delay, and from thence to Crab Orchard, where he prevented Kirby Smith's cavalry from entering Kentucky at that point. His services in that campaign were indeed arduous. Owing, however, to a question of rank, in which not only he but the other officers in the volunteer service were concerned, he pre-emptorily resigned and returned to Pennsylvania.

He was twice married; first, 16 January 1843, to Selina Heltzel, daughter of John Heltzel, of Harrisburg; second, 5 June 1873, at Chapman, Pa., to Mrs. A. E. Hetzel.
While there are some vague dates in the above biographical sketch, the record at the Pennsylvania Archives is more clear and, as his Veterans' Index Card shows (below), he did serve as the Colonel of the 9th Pennsylvania Cavalry from 21 November 1861 through his resignation on 9 October 1862.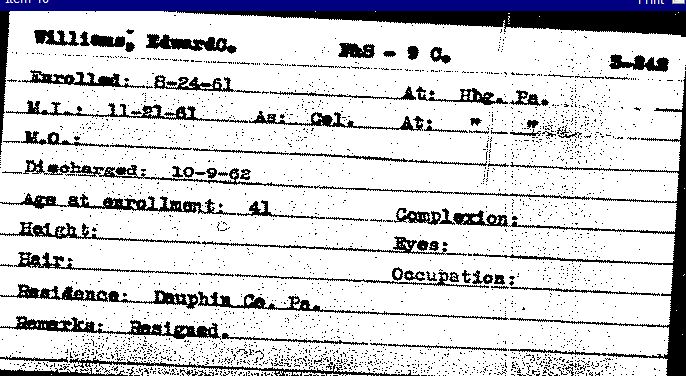 Another item discovered for Col. Williams is his draft record (below).  In July of 1863, he reported that he had service in both the Mexican War and in the Civil War:
At the time of the draft registration, he was living in Harrisburg and working as a bookbinder.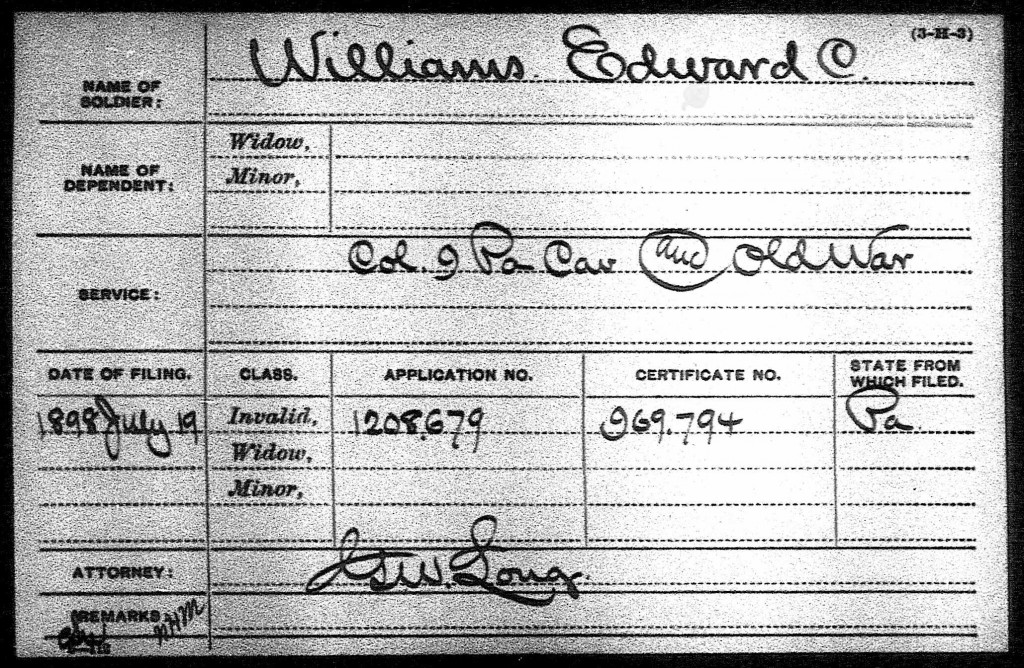 The Pension Index Card (above) notes a date of application of July 1898, indicating that Col. Williams waited until he was nearly 80 years old to apply.  His application was approved and for a short time he did collect, but there was no surviving widow.  Another Pension Index Card, available through Fold3, gives a "old war" pension application number of 15885.  Perhaps further research will clarify this.
In April 1865, Col. Williams was appointed to serve on a committee to welcome Pres. Abraham Lincoln to Harrisburg in celebration of the end of the war.  However, the assassination, turned the event into an "honor guard and mourning procession" when Lincoln's body passed through Harrisburg on the way to burial in Springfield, Illinois.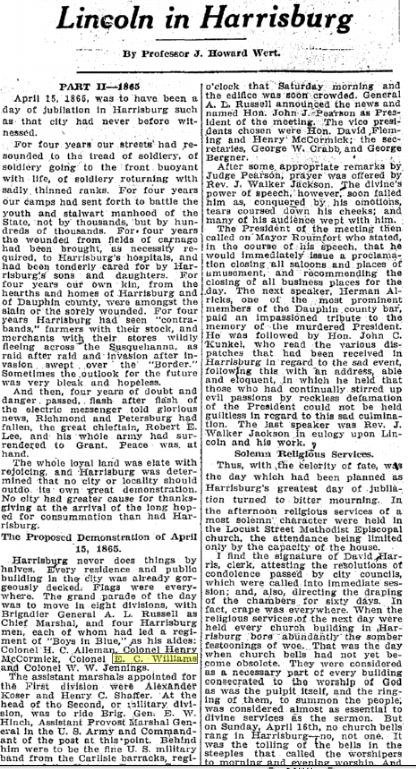 The story of the planned celebration that never occurred was told by historian J. Howard Wert in the pages of the Harrisburg Patriot on the 100th anniversary of Lincoln's birth in February 1909.  A portion of the article is shown above with the name of Col. Williams highlighted in yellow.
Previously, on this blog, the murder of George Hoffman Jr. at a militia encampment in Gratz in 1856 was told (click here).  It was then noted that Brig. Gen. E. C. Williams (of the pre-Civil War militia) was present at the encampment when the murder took place.  Thus, he was a familiar figure to those in the Lykens Valley area when the Civil War began.  Williams had no trouble recruiting members for the companies of the 9th Pennsylvania Cavalry. Company B of that regiment was composed almost entirely of men from around Gratz.  After the war, Col. Williams was made head of the Dauphin County Monument Association – to erect a suitable monument for those who lost their lives in the war.  That was also previously reported on this blog (click here).
Col. Williams is buried at St. John's United Brethren Cemetery, Snyder County, Pennsylvania.  Another soldier, Charles W. Ounifer (1846-1903) is named on his stone.  At this time, it is not known who that is.
Anyone with additional information about Col. Edward Charles Williams is urged to contribute it.
——————————
Pension Index Cards are from Ancestry.com.  Pennsylvania Veterans' Index cards are from the Pennsylvania Archives.  The Commemorative Biographical Encyclopedia of Dauphin County is available as a free download from the Internet Archive (click here).  Newspaper articles are from the on-line resources of the Free Library of Philadelphia.