Posted By Norman Gasbarro on November 24, 2012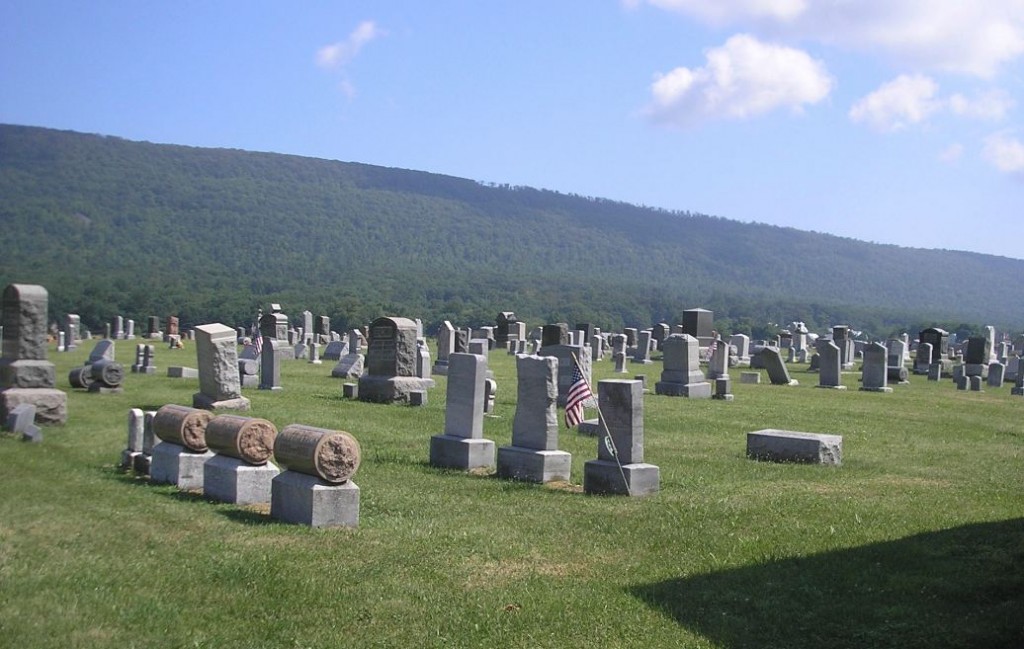 St. Peter's United Church of Christ Cemetery is located in Reinerton, Schuylkill County, Pennsylvania.  To find the cemetery, travel south on Clarks Valley Road (Route 325) from the main street of Tower City which is called Grand  Avenue (Route 209).  At Deitrich Avenue, make a left turn and travel east.  The church and cemetery are located on the left side (north side) of Deitrich Road.  Three communities in the area of the Reinerton vicinity make up the "census designated area" of "Reinerton-Orwin-Muir" and the cemetery can be located using any one of them in a Google search.
The graves of twelve Civil War veterans have been located here.  Yesterday, two of the veterans graves were featured.  Today, five veterans graves will be featured.  In the post tomorrow, the final five veterans graves will be featured.
—————————-
SIMON DIETRICH (1831-1869)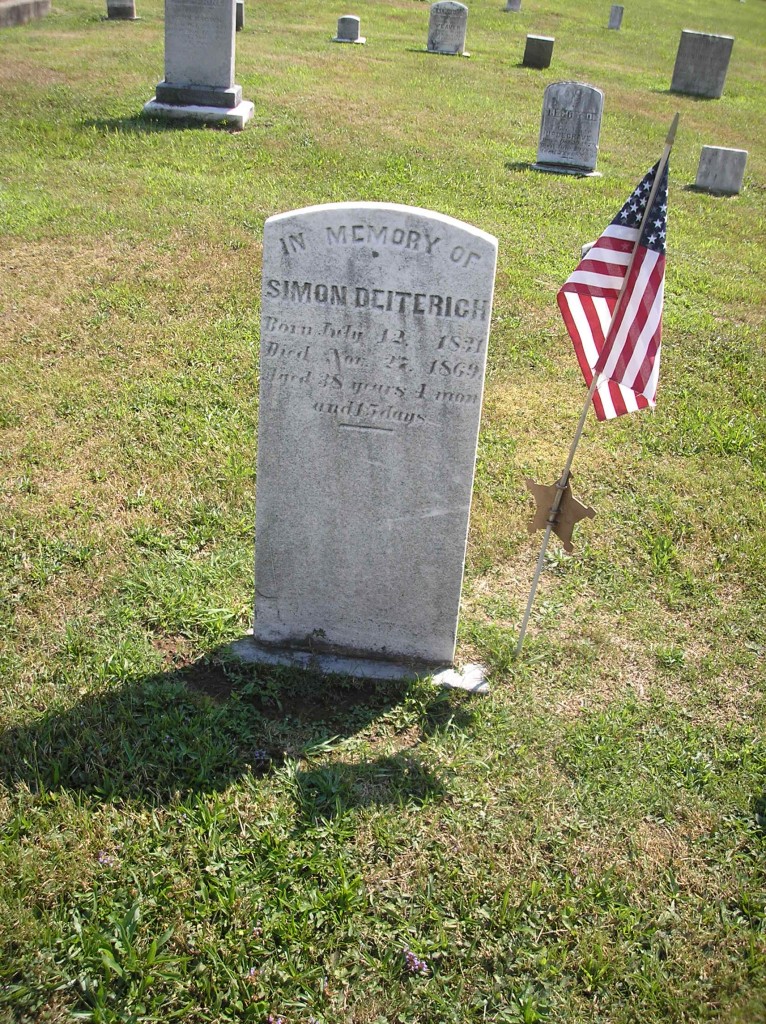 Simon Deiterich (also known as Simon Detrich, Simon Deitrick, Simon Deitrich and Simon Dietrich) is a new discovery for this Civil War Research Project.  As best can be determined, he served in the 57th Pennsylvania Infantry, Company G, as a Private, but his exact dates of service have not been confirmed.  His name does not appear on the Tower City Veterans' Memorial.  According to a Pension Index Card, his father, applied for his pension in 1880, but a pension was not awarded: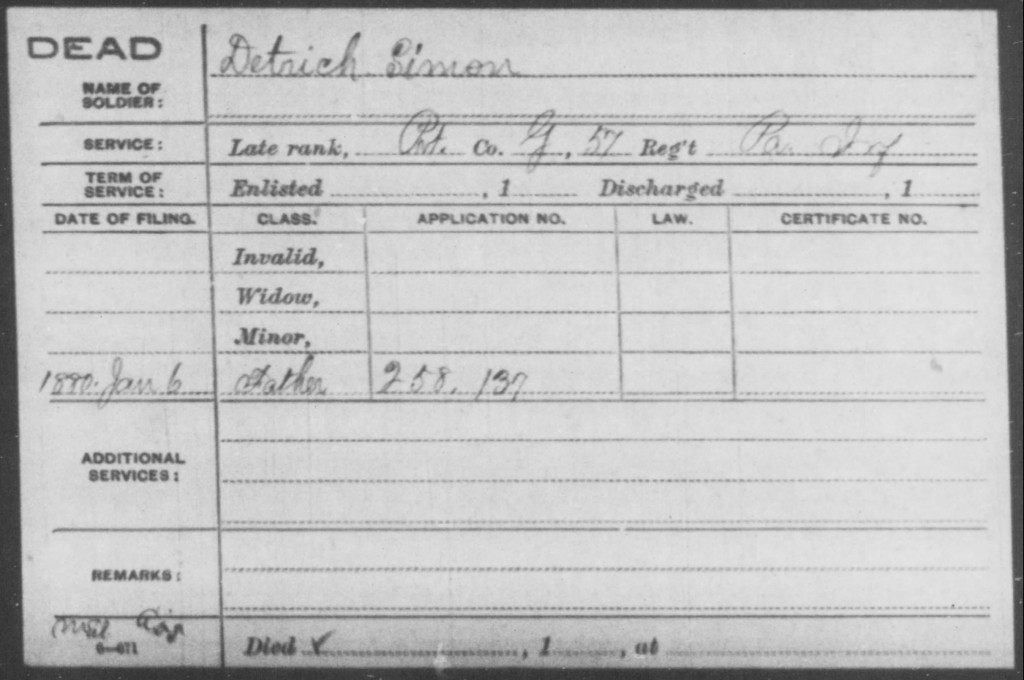 More information is sought on this individual.  Hopefully, someone has obtained a copy of the pension application file and is willing to share its contents.
——————————
PHILIP DIETRICH (1824-1894)
Philip Dietrich (also known as Philip Deitrick and Philip Dieter served in the 50th Pennsylvania Infantry, Company A, as a Private, from 7 March 1864 through 20 July 1865.  See:  Dietrich family in the Civil War and the post on the Tower City Veterans' Memorial.
——————————
ISAAC W. HOFFMAN (1849-1921)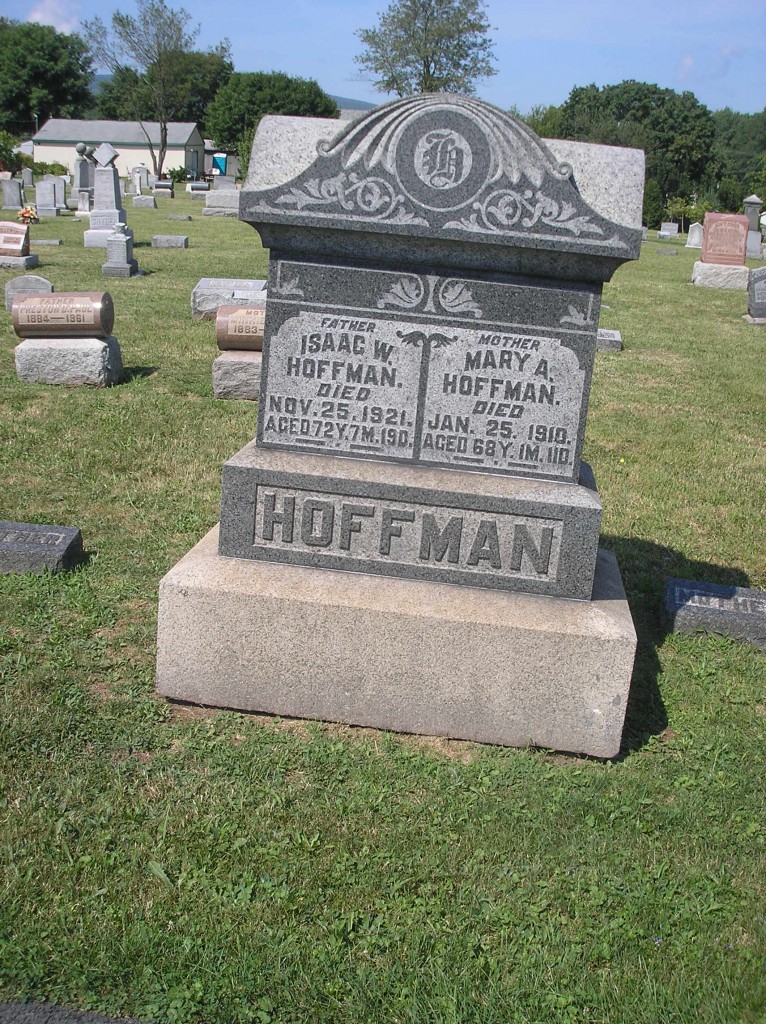 While several persons named Isaac Hoffman served in the Civil War,the Isaac W. Hoffman who is buried here probably did not.  Other persons named Isaac Hoffman are found in the Halifax area and in the Gratz area.  The dates for the one buried here (6 April 1849 – 25 November 1921) are such that unless he would have been underage to have served, even at the end of the war.  There is no G.A.R. marker this gravesite.
——————————
ISAAC MOYER (1827-1885)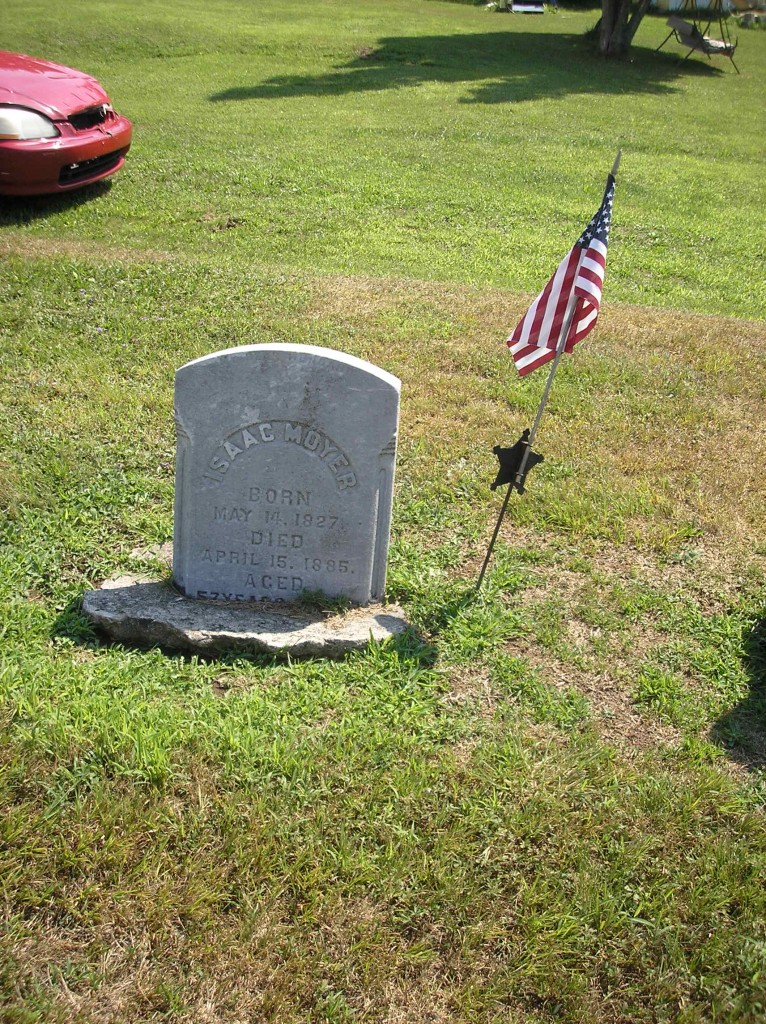 A G.A.R. marker at this grave is a possible indication that this Isaac Moyer, born 14 May 1827 and died 15 April 1885, is the Civil War veteran who was previously included in the Civil War Research Project.  However, that Isaac Moyer served in the 36th Pennsylvania Infantry (Emergency of 1863), Company C, as a Private and poor records were kept as to his age at the time of service and home town.  While it remains a possibility that it is the same person, additional confirming evidence is needed.  The Isaac Moyer mentioned on the Tower City  Veterans Memorial is probably the one buried here.
——————————
GEORGE W. MYERS (1832-1934)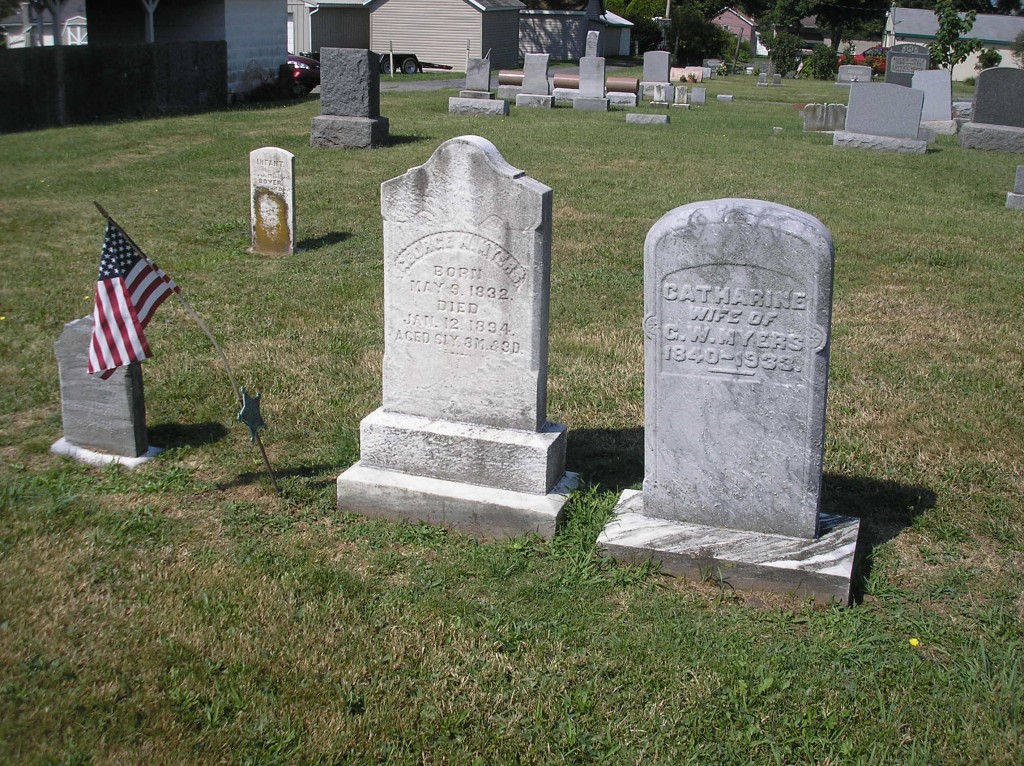 George W. Myers and his wife Catherine [Romberger] Myers are buried here.  George served in the 10th Pennsylvania Infantry, Company F, as a Private, from 26 April 1861 through 30 July 1861; in the 173rd Pennsylvania Infantry, Company K, as a Private, from 16 October 1862 through 18 August 1863; and in the 16th Pennsylvania Cavalry, Company H, as a Private from 23 February 1865 through 11 August 1865.  This is probably the same person who is named on the Lykens G.A.R. Monument.  Previously, he was mentioned as being named on the Tower City Veterans' Memorial.  As a result of finding this grave, additional information is known known about him.
——————————-
To be concluded tomorrow….