Posted By Norman Gasbarro on November 17, 2012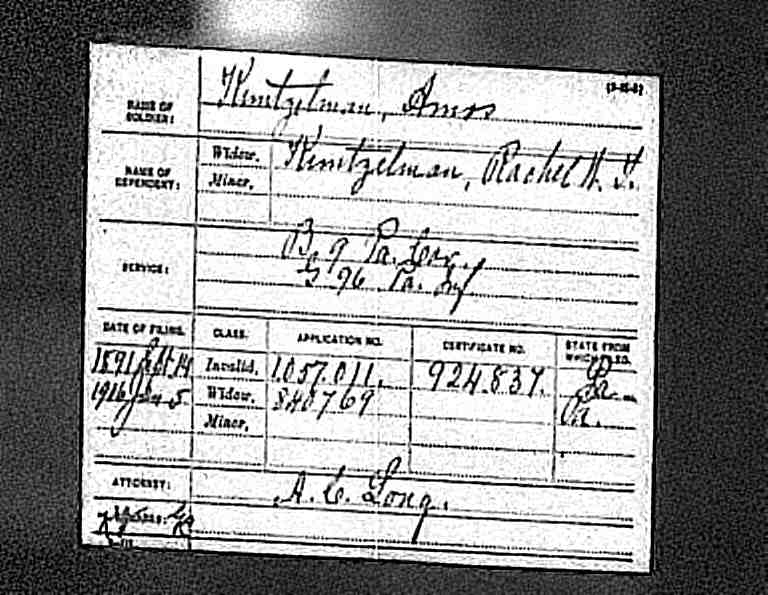 Amos Kuntzelman (1833-1905) was born in Dauphin County and died in Lykens.  He was a Civil War veteran and a founding member of the G.A.R. Heilner Post, No. 232, of Lykens and Wiconisco.  His name appears near the top of the Lykens G.A.R. Monument as a founding member: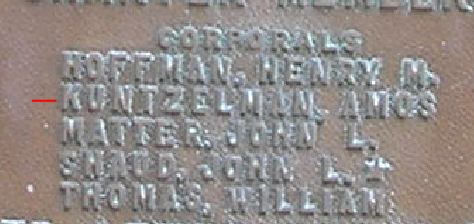 The following biographical sketch of Amos Kuntzelman is from the Commemorative Biographical Encyclopedia of Dauphin County (click on title for free download).
Amos Kuntzelman, sewing machine agent, Lykens, [Dauphin County] Pennsylvania, was born in Lykens Valley, 20 March 1833.  Henry Kuntzelman Jr., his father was born in Pine Valley, Schuylkill County, Pennsylvania, in 1779, and was a son of Henry Kuntzelman Sr., a native of Pennsylvania and a farmer.  Henry Kuntzelman Jr. was also a farmer, both in Pine Valley, and also in Washington Township, Dauphin County.  He married Elizabeth McLean, of Irish descent, born in Millersburg, Pennsylvania.  They had four children:  Josiah Kuntzelman, died in the army; Elisha Kuntzelman, residing in Illinois; Amos Kuntzelman; and Moses Kuntzelman, resides in Nebraska.

The father, Henry Kuntzelman Jr., died in Lykens, 19 January 1880.  He was a Republican and a member of the Methodist Episcopal Church.  His wife, Elizabeth [McLean] Kuntzelman, died in Lykens Valley in 1859.

Amos Kuntzelman attended the Valley public schools and worked on the farm until he was fourteen years old.  He then left home, learned tailoring in Lykens, and worked four years at that trade.  In 1854 he began business for himself as a merchant tailor, first for three years at Fisherville, afterwards at Lykens, continuing until the breaking out of the war.

Mr. Kuntzelman enlisted at Pottsville, Pennsylvania, 23 September 1861, in Company G, 96th Regiment Pennsylvania Volunteers [96th Pennsylvania Infantry], Capt. J. B. Haas and Colonel Cake.  He took part in the battles of West Point and Cumberland Landing.  He was taken sick from the effects of cold and exposure, and was confined to the hospital for two months.  He was discharged from the service at Philadelphia in June 1862, returned to Lykens, and for a time took up the sewing machine business.  He enlisted at Harrisburg, 6 September 1864, in Company B, 9th Pennsylvania Cavalry.  He was in the Atlanta Campaign, and went with Sherman to the sea, under Gen. Kilpatrick, who appointed him division tailor.  He was discharged at Lexington, North Carolina, 29 May 1865.  Returning to Lykens he resumed the sewing machine business.  He handled the Singer machine for twenty-seven years, has sold the Standard for the past three, and has managed the business successfully.

Amos Kuntzelman was married in 1851, to Sarah Hoffman, born in Lykens Valley.  They have four children:  William H. Kuntzelman, miner, of Lykens; Isaiah Kuntzelman, tailor, Bainbridge, Lancaster County, Pennsylvania; Mary E. Kuntzelman, wife of H. E. Rumlinger, manufacturer, Philadelphia; and Clara Kuntzelman, wife of Charles Foster, railroad man of Bradford County, Pennsylvania.

Mrs. Kuntzelman died 13 January 1865.  Mr. Kuntzelman was married again 23 October 1865, to Sarah C.  Ersenhower [Eisenhower], native of Halifax, Pennsylvania, by whom he had one child, Robert A. Kuntzelman, a miner of Lykens Valley.  His second wife died 5 May 1882.

Mr. Kuntzelman is a Republican.  He is a member of Heilner Post, No. 232, G.A.R., at Lykens, and of Wiconisco Lodge, No. 533, I.O.O.F.,Lykens.  He belongs to the Methodist Episcopal Church, and is a teacher in the Sunday School.  He is a diligent worker and an upright man, genial and popular, has a good family, and enjoys the respect and good will of all his neighbors.
As stated in the biography and on the Pension Index Card at the top of this post, Amos served in the 96th Pennsylvania Infantry, Company G, rank in as Private and rank out as Corporal, and in the 9th Pennsylvania Cavalry, Company B, as a Private.
After Amos Kuntzelman's second wife died in 1882, he again married.  His third wife, Rachel, survived him and she applied for widow's benefits, but as can be seen from the Pension Index Card at the top of this post, she was not awarded a pension.
Josiah Kuntzelman (1827-1864), brother of Amos, was a farmer who served in the 188th Pennsylvania Infantry, Company C, as a Private, and possibly also in the 3rd Pennsylvania Artillery (Heavy). He was wounded at Cold Harbor, Virginia, 3 June 1864.  Some records say that he was carried off the field, believed to be dead, but there is no record of his burial.  Some records say that he was absent and in the hospital when the regiment was mustered out, but no proof has been found of that.  There are even records that indicate that he may have died as a prisoner at Andersonville, Georgia.   Josiah's widow, Sarah A. [Miller] Kuntzelman, applied for a widow's pension after the news of Josiah's death reached her.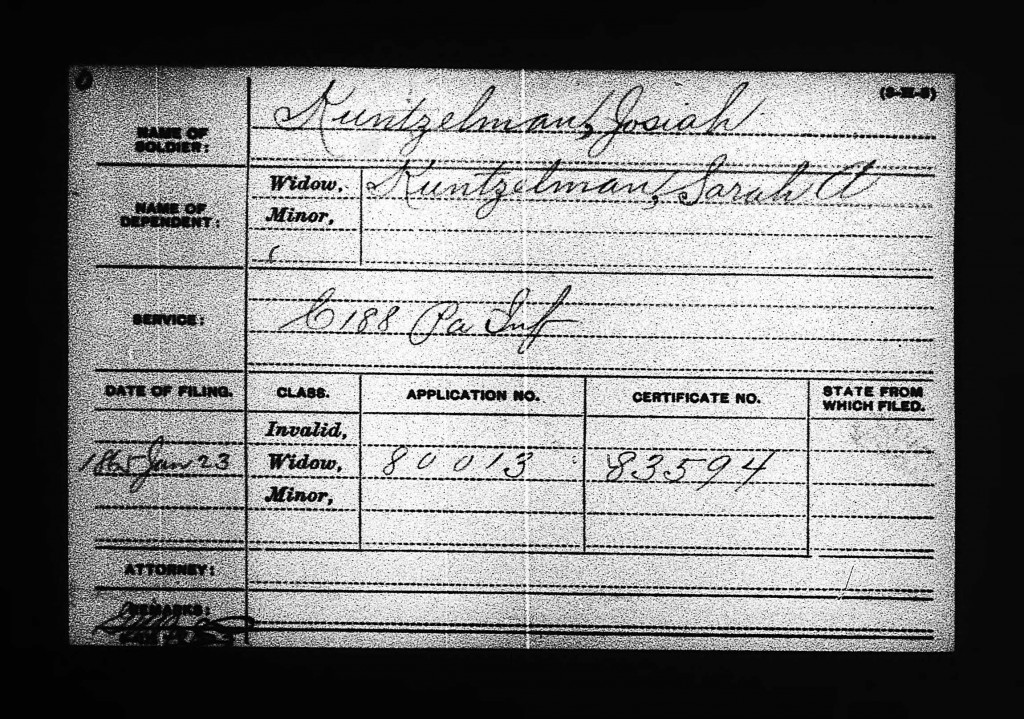 As shown by the Pension Index Card, Sarah's application was accepted and she was awarded benefits.  The complete pension file shows the difficulty she had to go through to receive the pension with the complicated procedure of not only proving she was married to him, but also that he had died in the war.  Josiah's name does not appear on the Lykens G.A.R. Monument.
More information is sought on both Amos Kuntzelman and Josiah Kuntzelman.
———————————–
The history of the sewing machine can be found at Wikipedia, click here.  Before the Civil War, the sewing machine probably didn't look much different that the one shown below:
A web site which pictures early sewing machine models is Sewalot, by Alex I. Askaroff.  To see the history of the 1865 Singer models, click here.
—————————–
Pension Index Cards reference records available at the National Archives in Washington, D.C., and are from Ancestry.com.