Posted By Norman Gasbarro on October 10, 2012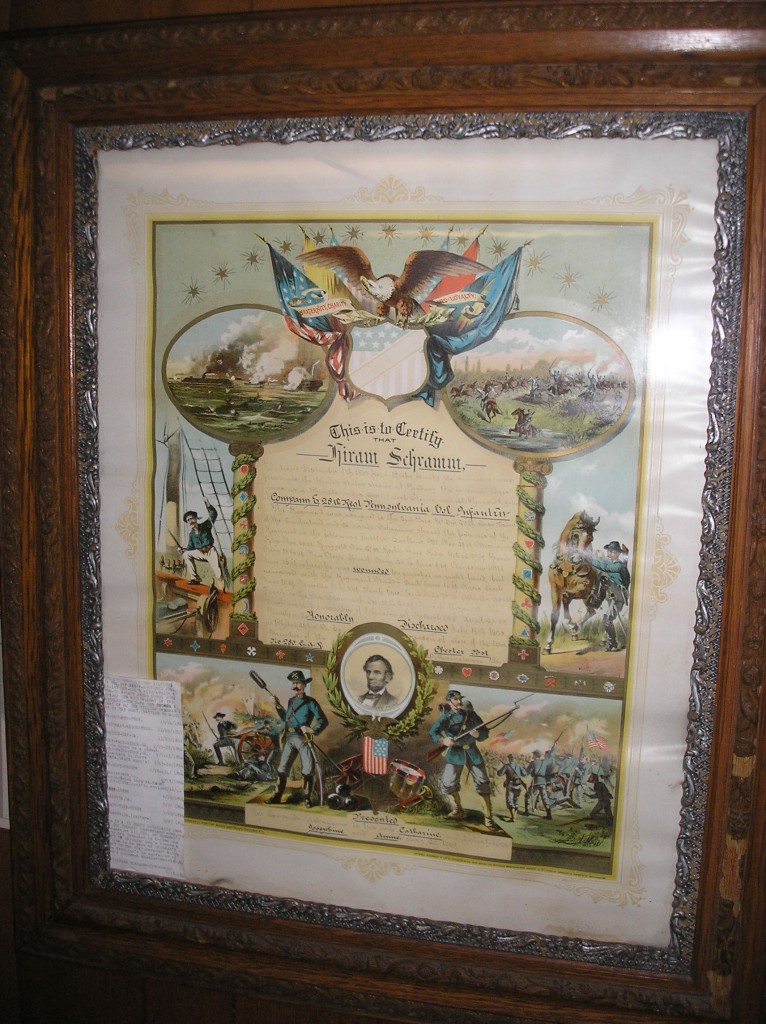 Hiram Schramm (also known as Hiram Schrom), was born 14 June 1837, in Lebanon County, Pennsylvania.  He was the Great-Grandfather of Ned Weaver of Elizabethville, Dauphin County, Pennsylvania.  Hiram died on 9 October 1911 and is buried in Maple Grove Cemetery, Elizabethville.
The colorful, framed military record shown at the top is this post was specially made for Hiram Schramm in the late 1890s when he was living in Elizabethville where he was working at his trade of wheelwright.  It was the proud possession of his Great-Grandson who had it displayed on a wall in his home.
The military record of Hiram Schram was as follows:
Hiram Schramm, enlisted 4 September 1863, 28th  Volunteer Infantry Regiment [28th Pennsylvania Infantry], assigned 2nd Brigade, 1st Division, Col's Fitzpatrick and Flynn, Company E – Capt. Jacob Horne, 20th Corps, Maj. Gen. Hooker, Army of the Cumberland – Com'd MJ Gen. George H. Thomas of MJ Gen. William Sherman's Army of the West.

BATTLES ENGAGED

Lookout Mountain, TN, 24 November 1863

Missionary Ridge, TN, 25 November 1863.

Ringgold Gap, GA, 27 November 1863

Rocky Face Ridge, GA, 25-27 February 1864, 1st-no-doubt as a picket

Rocky Face Ridge, GA, 7-13 May 1864, 2nd attack in force

Resaca, GA (SC supply), 13-16 May 1864

New Hope Church, 25 May to 4 June 1864

Kenesaw Mountain, GA, 15 June 1864, wounded, shot through right hand

Muddy Creek, cont. in action, 16 June 1864

Moses Creek, 19 June 1864

Marietta, GA, 3 July 1864

Peach Tree Creek, 20 July 1864

Atlanta, GA, capture, 2 September 1864.

The IV and XX Corps, originally part of Gen. Thomas' Cumberland Army, the largest, at 110,000, of Sherman's Army, are detached to become the Army of Georgia, under Gen's Howard and Slocum to be part of Sherman's March to the Sea, Savannah and through the Carolina's to surrender of Gen. Johnson & Wheeler, Raleigh, NC.

Pvt. Hiram Schram, discharged, 18 July 1865.
The Civil War Research Project has an extensive collection of papers (in digital form) from the pension file of Hiram Schram.  The photo of his grave (below) is also from the Project collection: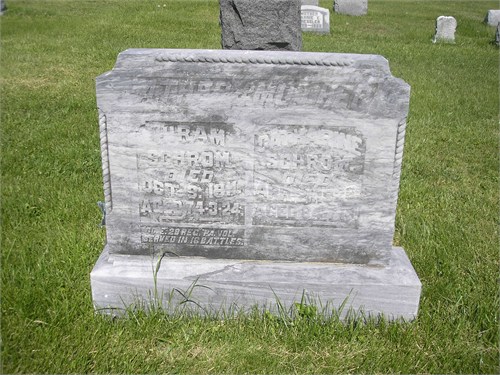 —————————–
Note: Ned Weaver passed away on 22 September 2012 while visiting family in California and celebrating his 88th birthday.  For a tribute to Ned Weaver, see The Passing of Ned Weaver – Civil War Specialist at Gratz Historical Society.