Posted By Norman Gasbarro on October 13, 2012
David W. Brown, born on 25 September 1802 in Northumberland County, England, came to America in 1829 and soon after settled in the area of Pottsville, Schuylkill County, Pennsylvania.  He had learned coal mining at the Hetton Colliery in Durham, England, where he worked from 1826 to 1829.  Knowing of the opportunities available to develop the vast coal reserves of the region around Pottsville, he formed a partnership and created Brown and Daddow eventually buying out Daddow and operating the enterprise himself until he died in 1846.  David W.Brown's marriage with Elizabeth Percy in England in 1824 had produced five children, each of whom was associated in some way with the coal business and each of whom – themselves or in the case of the daughters, their spouses – served in some distinguishing capacity in the Civil War.
——————————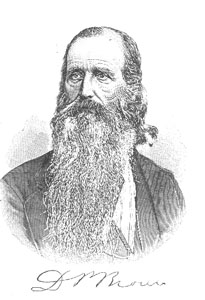 David Percy Brown (1825-1908), son of David W. Brown, was born in England and became a successful coal merchant and operator in the area around Shamokin, Northumberland County, Pennsylvania:
He was but eight years old when he took up his life work, commencing in the capacity of a screen boy at his father's Oak Hill Colliery, and working upward, filled almost every position about the breaker before he grew to manhood.  When his father died, he was so thoroughly familiar with the details of the business that he was enabled to continue uninterrupted the operation of the colliery for the estate, which he and his brother William did, under the firm name of David P. Brown & Company, until 1864, when the business was disposed of.  The development of the Mahanoy Coal Basin was then in its incipience.  Packer Collieries Numbers 1 & 2 had been opened and were being operated by the Philadelphia Coal Company.  The position of superintendent of these works was tendered to [David P. Brown], and he accepted and assumed charge at once.  The Philadelphia Coal Company was subsequently merged into the the Lehigh Valley Coal Company and Packer Colleries Number 3, 4, & 5 operated under the direction and management of Division Superintendent Brown, who has operated them successfully ever since…. Brown stands in the front rank among the progressive and successful colliery managers in the anthracite region, and the collieries at his charge are among the best equipped for the production, preparation, and shipment of coal.  Many of the mechanical devices for the movement of coal underground, for hoisting it to the surface and preparing it for the marker, are of his own invention, and have been adopted by other colliery managers.  He has devoted a great deal of time to the subject of mine ventilation, with the result that mine workings of the Packer collieries are the best ventilated perhaps in the entire anthracite region….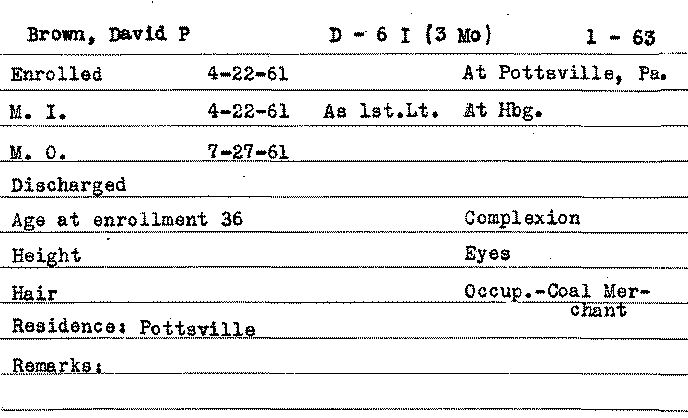 He also served in the Union Army during the War of the Rebellion.  Early ion 1861 he enlisted ion Company D, 6th Regiment Pennsylvania Volunteers [6th Pennsylvania Infantry], of which he was subsequently elected lieutenant.  He served three months, taking part in the skirmish at Falling Water, Virginia.  At the expiration of his term of service he received a captain's commission, with authority to recruit a company for the three years' service, but, on account of his brothers having enlisted, he was obliged to abandon this purpose in order to give his time to the management of his father's estate.  He is a member of Gowen Post… G.A.R., of Pottsville….
David P. Brown's marriage to Ellen Lloyd produced several children who were connected to the coal industry:  A. David Brown became outside foreman of the Packer Colliers Number 1 and 5;  William Brown became a clerk in the Philadelphia and Reading Coal and Iron Company in Philadelphia;  Hannah Brown married William H. Kaercher who was outside foreman of Packer Collieries Number 2, 3, & 4.
David P. Brown died in 1908 and is buried at Charles Baber Cemetery, Pottsville.
——————————
William Brown (1827-1878), born in England, was prominent in the coal industry around Shamokin, Northumberland County, where he was an industry operator until his death in 1878, which was the result of an injury sustained at one of his collieries.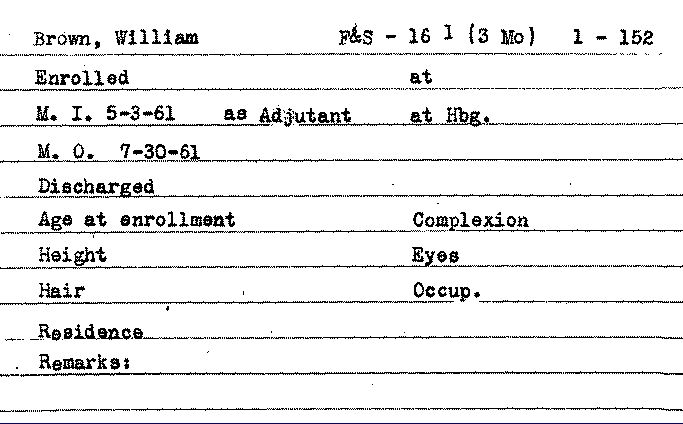 During the Civil War, he enlisted in the 16th Pennsylvania Infantry, Headquarters Staff, as Adjutant, on 20 April 1861 and left with the rank of Major on 30 July 1861 at the expiration of his service.
William Brown is buried at the Shamokin Cemetery, Shamokin, Northumberland County, Pennsylvania.
—————————-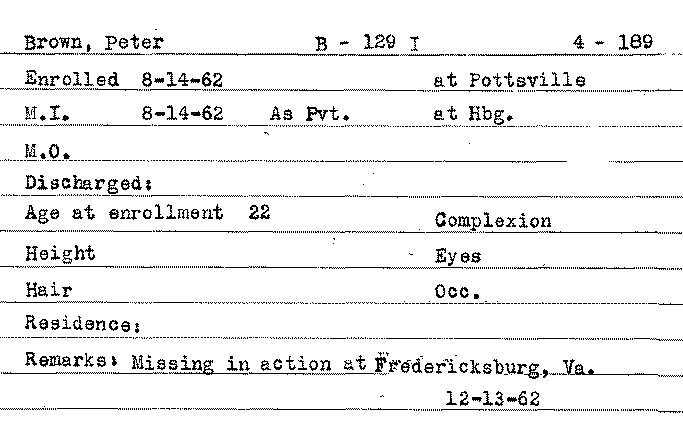 Peter Brown (1840-1862), the youngest son, enlisted at Pottsville, 129th Pennsylvania Infantry, Company B, as a Private.  At Fredericksburg, on 13 December 1862, he was missing in action and presumed dead.  A monument to his honor (pictured above) can be found in the family burial plot in Charles Baber Cemetery, Pottsville.  It is not known at this time whether he is interred in Pottsville or in an unidentified grave near Fredericksburg.
——————————–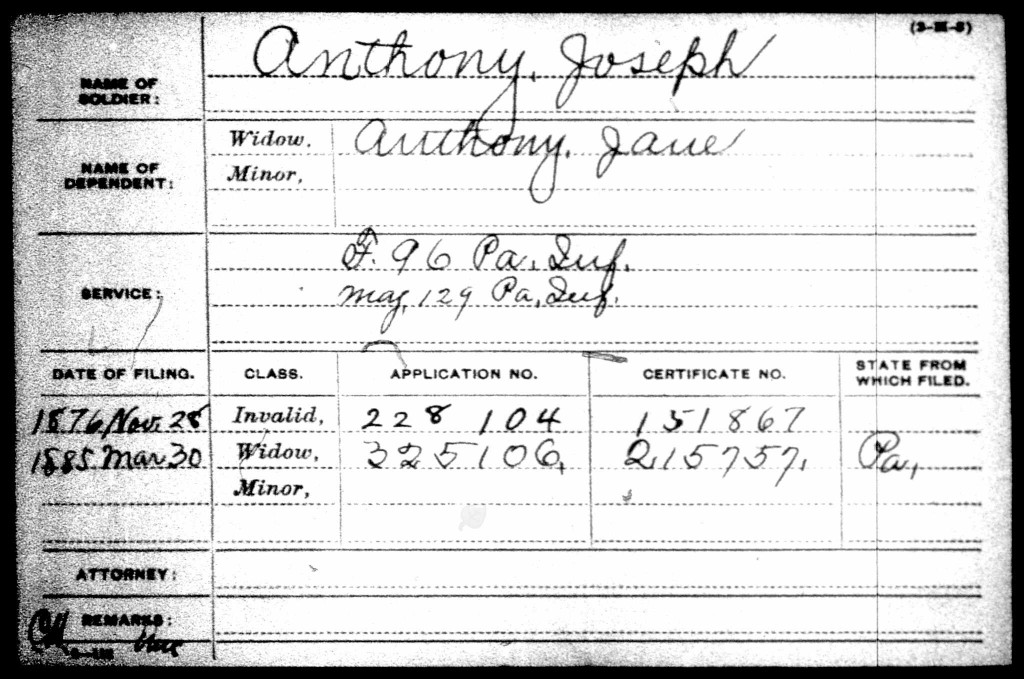 Jane Brown, born about 1829 in England, was the oldest daughter of David W. Brown.  She married Joseph Anthony (1829-1885), an Irish immigrant.  Joseph Anthony served in three Civil War regiments.  His first enlistment was on 26 April 1861 when he joined the 16th Pennsylvania Infantry, Company I, as its Captain.  After his discharge at the the conclusion of this three-months' service, 30 July 1861, he enlisted again on 23 September 1861 in the 96th Pennsylvania Infantry, Company F, as its Captain.  On the 31 July 1862, he resigned from the 96th Pennsylvania Infantry, to accept a commission on the headquarters staff of the 129th Pennsylvania Infantry, as a Major.  He served on the 129th Pennsylvania Infantry from 15 August through 31 July 1863.  On that latter date, he was forced to resign after being seriously wounded at Chancellorsville on 3 May 1863 and sent to a hospital in Washington, D.C., where he recovered enough to go home.  His disability, incurred from the wounds he received, probably resulted in his death some fifteen years later in 1885.
In 1870, Joseph Anthony was living in Williams Township, Dauphin County, where he was working as Superintendent of the Summit Branch, Big Lick, Lykens Valley, and Short Mountain Mines.  In 1880, he was living in Williamstown, Dauphin County, and was still emloyed as superintendent.
He is buried in the Shamokin Cemetery, Shamokin, Northumberland County, Pennsylvania.
——————————-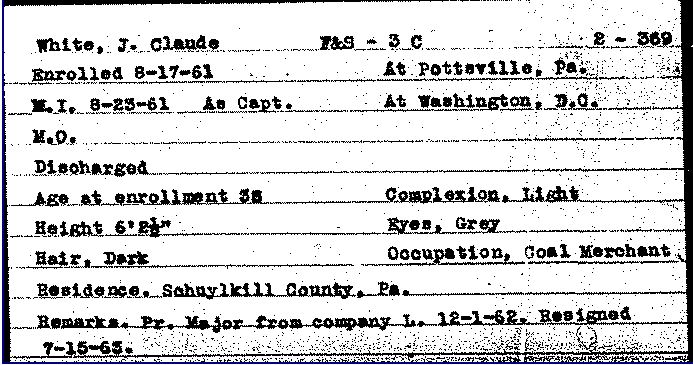 Mary Brown (1836-1927) married John Claude White (1829-1902), who first enlisted in the 16th Pennsylvania Infantry, Company K, as a Private, on 23 April 1861, but records do not indicate where or when he left the company.  Later, on 23 August 1861, he joined the 3rd Pennsylvania Cavalry, Company L, as a Captain, but resigned from the company on 1 December 1862 to accept a commission as Major on the headquarters staff of the same regiment.  He served as Major until he was forced to resign on 15 July 1863 due to a debilitating disease he contracted while in the service.  While serving, he reportedly distinguished himself for "coolness and bravery."
After the Civil War, John Claude White tried working as a farmer in Hegins, Schuylkill County, where he is found in the census of 1880.  Prior to that, in 1870, he was living in Reilly Township, Schuylkill County, where his occupation was "Superintendent of Mines."  In 1890, he was living in Reilly Township, Schuylkill County, where he indicated to the census that he had served as a U.S. Soldier" in the Civil War but didn't name his regiment or time of service.  No service-related disabilities were mentioned.  In 1900, he was living in Branchdale Village, Schuylkill County, and declared his occupation as "gentleman."
It is believed that Mary and John Claude had no children, at least none that survived to adulthood. John Claude White is buried at the Charles Baber Cemetery, Pottsville.
——————————
Some information on this family was taken from the Biographical and Portrait Cyclopedia of Schuylkill County, by Samuel T. Wiley, published by Rush, West and Company, Philadelphia, in 1893.  A free download of this book is available in "pdf" and other formats from the Internet Archive, click here.  Pension Index Cards are available from Ancestry.com.  Pennsylvania Veterans' File Cards are available from the Pennsylvania Archives.