Posted By Norman Gasbarro on October 4, 2012
On 22 September 1871 a statue was dedicated in Fairmount Park, Philadelphia, "To Abraham Lincoln – From a Grateful People."  The statue had been commissioned with $22,000 that had been raised by the public.  The bronze figure of a seated Lincoln was created by Randolph Rogers and placed on a traffic island near the entrance to the park.
The Philadelphia Inquirer reported the event in grand fashion, including all the speeches and names of the dignitaries in a full page story in its Saturday, 23 September 1871 edition: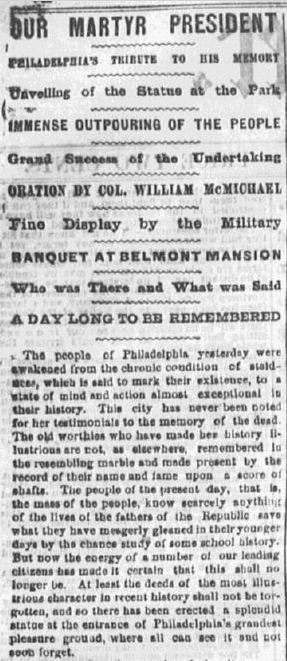 OUR MARTYR PRESIDENT

PHILADELPHIA'S TRIBUTE TO HIS MEMORY

Unveiling of the Statue at the Park

IMMENSE OUTPOURING OF THE PEOPLE

Grand Success of the Undertaking

ORATION BY COL. WILLIAM McMICHAEL

Fine Display by the Military

BANQUET AT BELMONT MANSION

Who was There and What was Said

A DAY LONG TO BE REMEMBERED

The people of Philadelphia yesterday were awakened from the chronic condition of staidness, which is said to mark their existence, to a state of mind and action almost exceptional in their history.  The city has never been noted for her testimonials to the memory of the dead.  The old worthies who have made her history illustrious are not, as elsewhere, remembered to the resembling marble and fame upon a score of shafts.  The people of the present day, that is, the mass of people, know scarcely anything of the lives of the fathers of the Republic save what they have meagerly gleaned in their younger days by the chance study of some school history.  But now the energy of a number of our leading citizens has made it certain that this shall no longer be.  At least the deeds of the most illustrious character in recent history shall not be forgotten, and so there has been erected a splendid statue at the entrance of Philadelphia's grandest pleasure ground, where all can see it and not soon forget.
As stated, the original location of the statue was on a traffic island in the middle of the east drive along the Schuylkill River – the present Kelly Drive.  The photograph below, from the Library of Congress, shows the original setting.
By 2001, heavy traffic and reconstruction of Kelly Drive were the reason that a decision was made to move the statue east of the road where it stands today (as shown in the picture at the top of this post).
Its present location is at the intersection of Kelly Drive and Sedgely Drive, Philadelphia.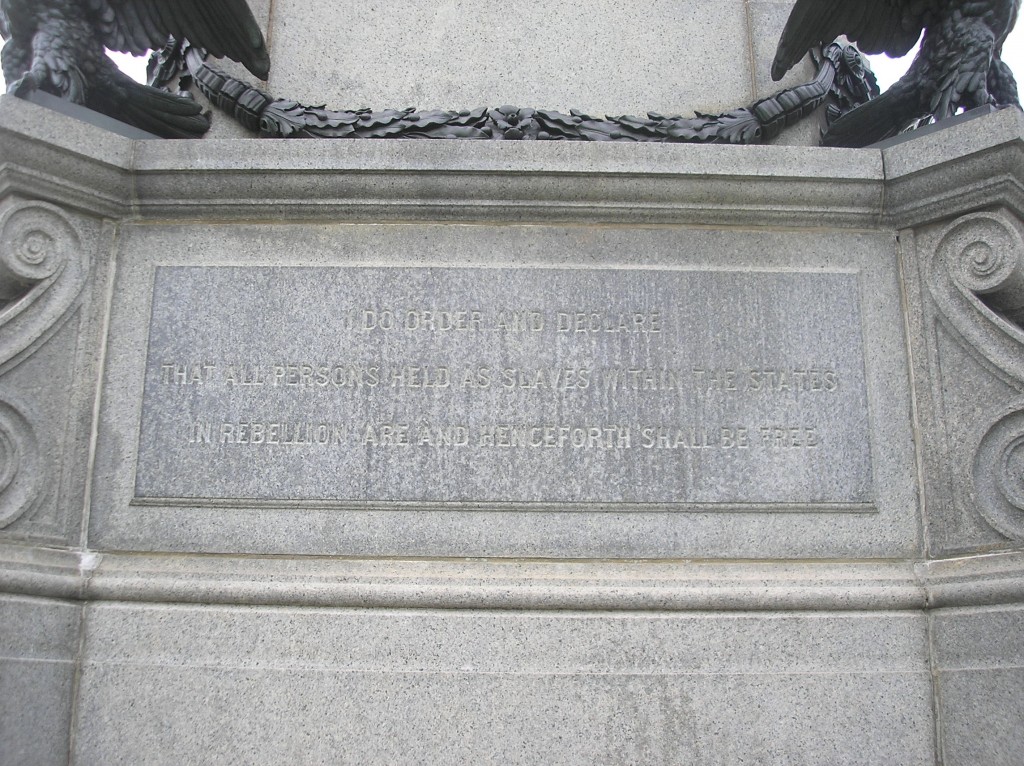 In addition to the inscription, "To Abraham Lincoln – From a Grateful People," which is found at the front base under the seated Lincoln, there are three other inscription plaques.  On the left side of the the base is the following:  "I do order and declare that all persons held as slaves within the states in rebellion are and hence-force shall be free."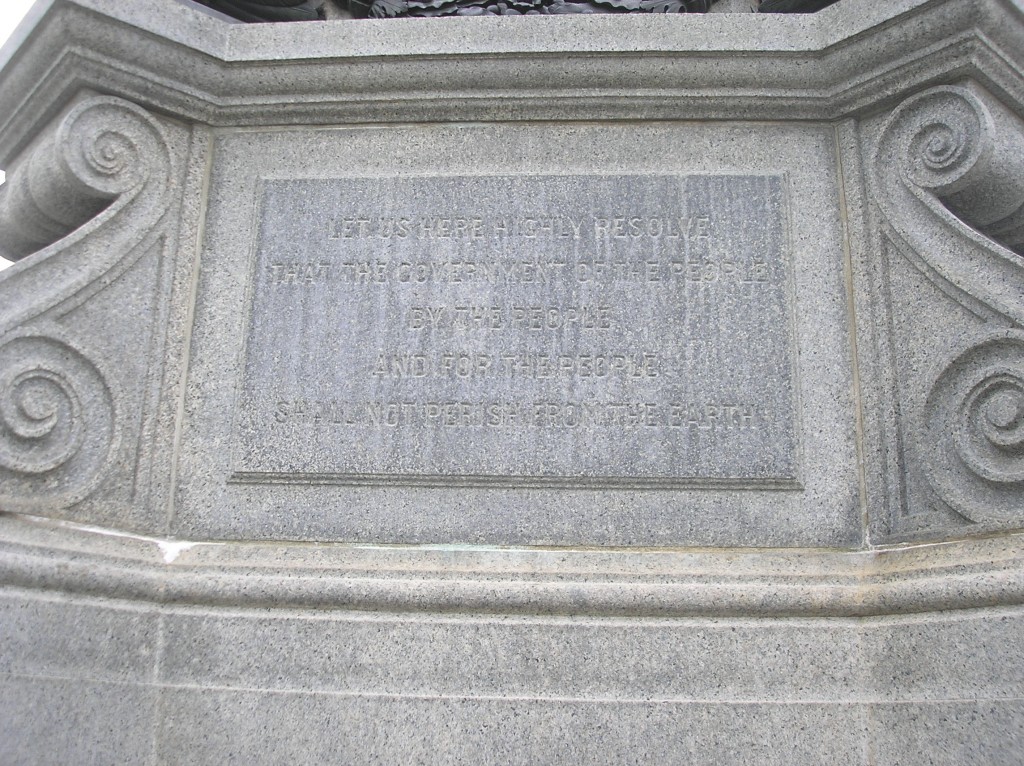 On the back of the base:  "Let us here highly resolve that the government of the people, by the people, and for the people, shall not perish from the earth."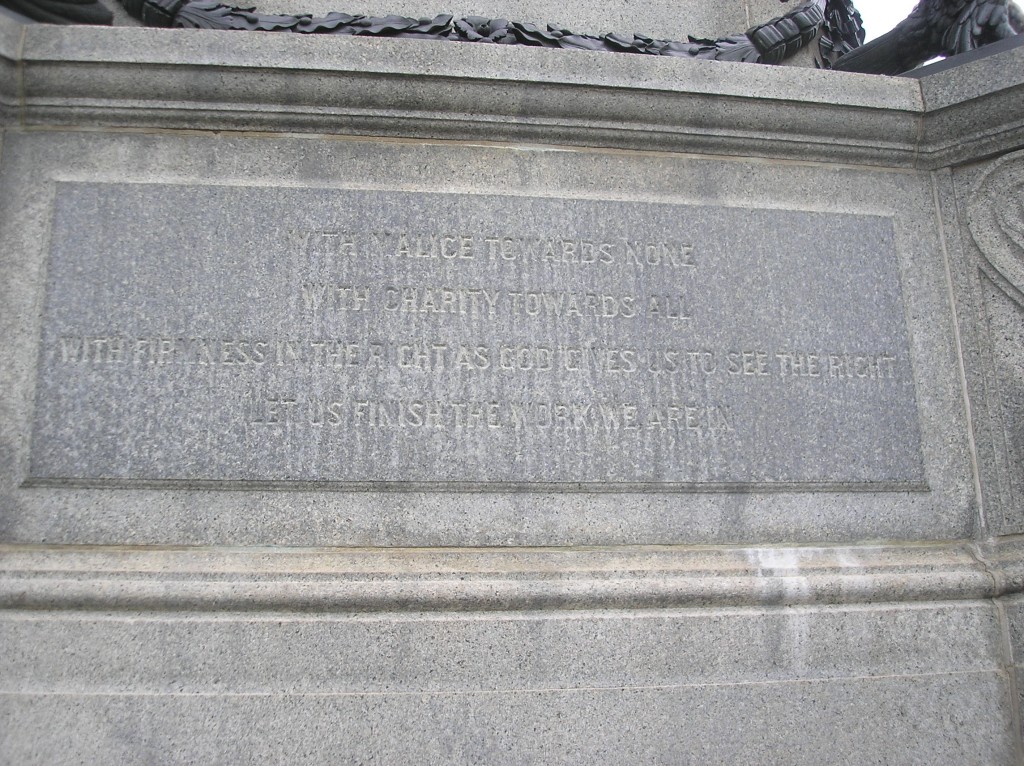 And on the right side of the base:  "With malice toward none, with charity toward all, with firmness in the right, as God gives us to see the right.  Let us finish the work we are in."