Posted By Norman Gasbarro on September 4, 2012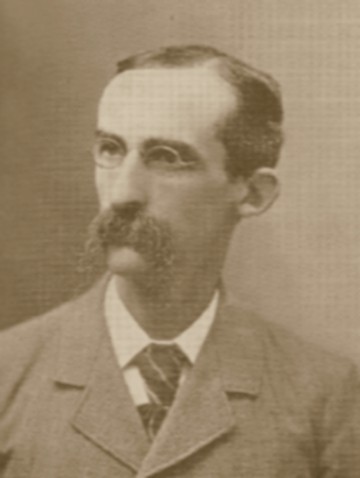 John H. Hoffman, a descendant of Johann Peter Hoffman (1709-1798), pioneer settler of the Lykens Valley was a prosperous merchant and manufacturer of Williamstown, Dauphin County, Pennsylvania.  His biography was prominently featured in the Biographical Encyclopedia of Dauphin County, published in 1896 by J. L. Runk Company of Chambersburg, Pennsylvania.
John H.  Hoffman… was born in Lykens Township, on the old home farm, 7 November 1846.  He received a common school education in his native place.  He was early put to work on the farm and could attend school only a few months each year.  At sixteen years of age he went to Uniontown [Pillow], Mifflin Township, Dauphin County, to learn the trade of tanning, and had served about one and a half years when he decided that his country had need of his services in the army.  He enlisted at Uniontown in August 1864, in Company A, 208th Pennsylvania Volunteers [208th Pennsylvania Infantry].  His regiment was soon ordered to the front by way of Bermuda Hundred, on the James River.  They lay at Petersburg about six weeks and were then transferred to Petersburg and were placed in General Hartranft's Division, doing such duties as fell to the lot of reserve troops.  They took part in the Weldon Raid.

Their first regular engagement was on 25 March 1865, when the Battle of Fort Steadman was fought.  They were engaged in the siege of Petersburg.  They followed Lee as far as Burkville Junction, where they lay until after his surrender at Appomattox Court House; they then returned to Petersburg and City Point, and were transported thence to Alexandria, Virginia, and mustered out 1 June 1865.

Mr. Hoffman then returned home and followed his trade of tanning for a number of years.  About 1874 he opened a general store at Berrysburg, which he conducted two years and then located at Williamstown, and formed a partnership with Philip C. Swab.  At the end of two years he sold his interest to his partner, and opened a general store at Curtin, Dauphin County, which he conducted three years and then sold and was engaged in a similar business at Selinsgrove, Snyder County, for five and a half years.  In the spring of 1885 Mr. Hoffman purchased the stock and property of David Clallinger at Williamstown, his present site, where he engaged in business and has built up an extensive trade.  Here, also, in conjunction with John M. Hughes, in the fall of 1895, he erected a plant for the manufacture of underwear, equipped with the latest and most improved machinery at an outlay of $12,000, and employing twenty-five hands.

Mr. Hoffman was married at Berrysburg, August 1870, to Miss Mary Swab, a native of Berrysburg, Dauphin County.  Their children are:  Elsie Irene Hoffman, pupil at Wilson College, Chambersburg, Pennsylvania;  Edward Harper Hoffman, traveling man in the employ of Krause, Ingham, and Heister, Philadelphia; Charles Edgar Hoffman, at home; Henrietta Hoffman, at home; Sally Hoffman, died at the age of two and a half years; John Robert Hoffman, at home; Carrie May Hoffman and Joseph Hoffman, at home.

Mr. Hoffman is a member of Chester Post, No. 280, G.A.R., Williamstown; master mason, Lafayette Lodge, No. 194, Selinsgrove, Pennsylania.  He has been chief burgess one year and a school director for seven years.  Mr. Hoffman is a member of the Methodist Church, and is its trustee and for many years its secretary.  He is intelligent, genial, and hospitable. He is fond of history and well versed in it.  It follows that he is agreeable company and very popular with his neighbors.