Posted By Norman Gasbarro on September 30, 2012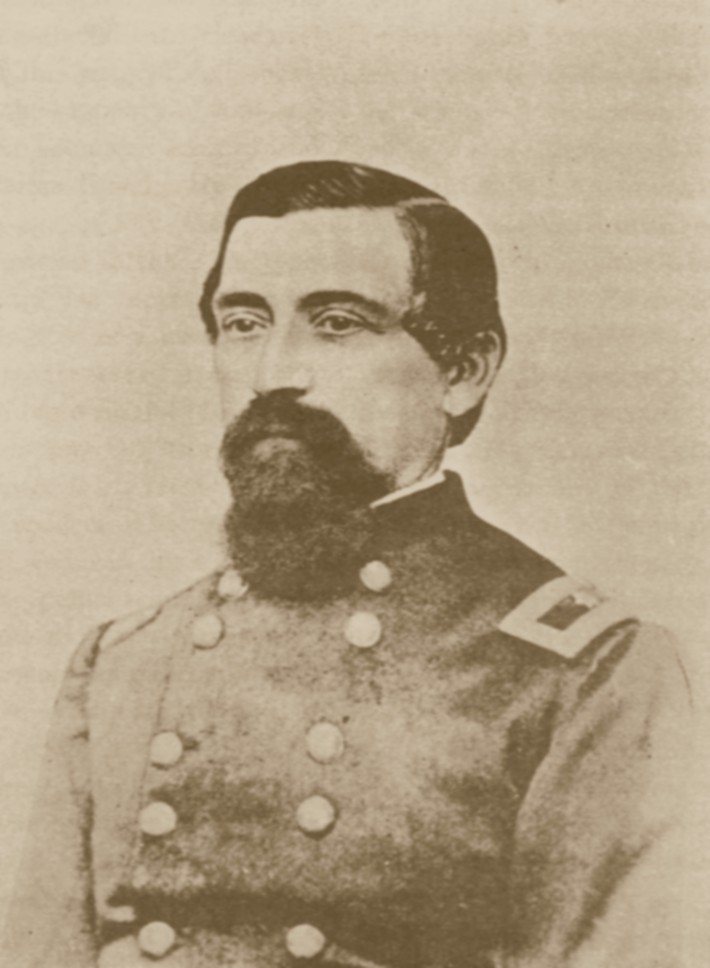 The following biographical sketch of Gen. James Nagle of Pottsville, Schuylkill County, Pennsylvania, is adapted with annotations from the Biographical and Portrait Cyclopedia of Schuylkll County Pennsylvania, pages 298-230.  The work was compiled by Samuel Wiley and published in 1893 by Rush, West and Company of Philadelphia.  The full work is also available as a free download through the Internet Archive (click here).
General James Nagle, soldier and citizen, was a son of Daniel Nagle and Mary [Rorig] Nagle, and was born in Reading, Berks County, Pennsylvania, 5 April 1822.  Philip Nagle, his grandfather, was a native of Reading, where he died in 1840, at the age of 84 years.  He was a stone mason by occupation and served in the Revolutionary War as a drummer.  His son, the father of James, was born in 1803, but before he had reached his majority removed to Womelsdorf, Berks County, and thence to Pine Grove, Schuylkill County, in the year 1830.  Five years later he removed to Pottsville, where he died in 1851.  By occupation, he was a cabinet maker, in connection with which he did painting of various kinds.  He voted with the Whig party, and in religious belief adhered to the doctrine of the Lutheran Church.  By his marriage, eight children were born that grew to maturity, three daughters and five sons:  James Nagle; Eliza Nagle; Daniel Nagle; Ellen Nagle; Mary Nagle; Philip Nagle; Levi Nagle; and Abraham Nagle.

Philip Nagle [brother of James Nagle] enlisted in Captain D. A. Smith's Company as a 1st Lieutenant [Civil War], for a term of 3 months.  The company was among the first at Washington, and belonged to the troops known as the "First Defenders."  At the expiration of this term of enlistment, he was promoted to the captaincy of Company G, 48th Pennsylvania Volunteer Infantry [48th Pennsylvania Infantry], and was stationed at Hatteras Island. He died in March 1891 at the age of 53 years.

Levi Nagle [brother of James Nagle] enlisted as a musician in the 48th Regimental Band [48th Pennsylvania Infantry], and after his term of service remained in Washington as a clerk in the Pension Bureau.

Abraham Nagle [brother of James Nagle] served in Company D, 6th Pennsylvania Regiment [6th Pennsylvania Infantry] for 3 months and afterwards in Company D, 48th Pegiment Pennsylvania Volunteers[48th Pennsylvania Infantry], for a term of three years.  He is now a resident of Pottsville.

James Nagle, our subject, received his early education in the Reading Public Schools, but the greater part of his education was obtained in the "school of experience" and through continued self-effort.  He usually worked during the day and went to school at night.  In his youth he learned the trade of paper-hanger and painter, which he followed throughout his active business life, taking his father's business after the death of the latter.  He showed a decided military talent from earliest manhood, and became a member and later a captain of a company of Pennsylvania State Militia.  In 1844, he organized the Washington Artillery, of which he was captain, and left Pottsville on 5 December 1846 to enter the Mexican War.  This company was known as Company B, 1st Regiment Pennsylvania Volunteer Infantry, Col. F. M. Wynkoop commanding.  During the course of the war he took part in the siege of Vera Cruz, and at the Battle of Cerro Gordo acting major or his regiment.  On 20 January 1847, his command routed a force of guerliias at Lahoya, and on 14 October and 19 October he took part in engagements at Huamantla, Puebla, and Atlixco, each of which resulted in an overwhemling victory of the United States troops.  Subsequently, he entered Mexico City with his regiment in the triumphal procession which marked the coup d'etat of the Mexican War, and was finally stationed at San Angle until the war formally closed.  He was mustered out of service with his company at Philadelphia, 27 July 1848.  Upon his return to Pottsville, he was in 1852, elected Sheriff of Schuylkill County, and shortly thereafter he was appointed Brigade Inspector of Pennsylvania, with the rank of Colonel.  He remained closely identified with the military affairs of the county and state until  1861, when at the beginning of the Civil War, he was commissioned colonel of the 6th Pennsylvania [6th Pennsylvania Infantry], and ordered out for service, taking part in the Skirmish at Falling Water.

In August 1861, he organized the 48th Pennsylvania Regiment [48th Pennsylvania Infantry] with a view to serving three years, and of which he was commander.  His regiment did service at Fort Monroe, Hatteras Inlet and New Berne, while at the Second Battle of Bull Run, Gen. Nagle commanded with gallantry and judgment the 1st Brigade, 2nd Division of the 9th Army Corps.  Soon after this battle he was recommended for promotion by Gen. Reno, and was subsequently commissioned by Pres. Abraham Lincoln as Brigadier General.  In this capacity he commanded at the Battles of Chantilla, South Mountain, and Antietam, in each of which engagements his brigade bore itself with credit and distinction.  At Antietam, his command took an important part in carrying the Antietam Bridge, which was considered by Gen. McClellan as the one event that saved the day.  For this service, Gen. Nagle received the highest compliments.  At Annisville and Fredericksburg his brigade was in the thickest of the fight and sustained heavy losses in both killed and wounded.  From this time until 1863, Gen. Nagle was ordered into Kentucky, and in consequence of heart disease, was compelled to resign his command much to the regret of his men and Gen. Sturgis, who was in chief authority.  While at home, rest and absence from the excitement and ardous duty of war soon actted as a restorative, and his general health improved to such an extent that when Gen. Robert E. Lee began his invasion of Pennsylvania, he organized the 39t Regiment of Pennsylvania Militia [39th Pennsylvania Infantry, Emergency of 1863] for the emergency and was placed in command.  The troops were mustered out, however, 2 August 1863, and in the next year he organized the 194th Pennsylvania Infantry for a 100-day service, was commissioned commanding Colonel 21 July 1864, and ordered to Baltimore, Maryland, where he was placed in command of 8000 troops at Monkin's Woods to guard the approach of the city.  On 5 November 1864, he was finally dismissed, and on 23 August 1866, died of heart disease at his home in Pottsville.

Gen. Nagle was married to Elizabeth Kaercher, a daugher of John Kaercher and Elizabeth Kaercher, 15 December 1852.  To them have been born nine children, seven of whom grew to maturity:  Emma Nagle, wife of James Bowen, Superintendent of the Pottsville Gas Works; James W. Nagle, married to Josephine Hutchinson, and at present advertising agent for the Philadelphia Inquirer; John D. Nagle, Secretary and Treasurer of the Textile Record, Philadelphia, married to Mary Crossland; Laura Nagle, wife of John Dooley, late conductor on Philadelphia and Reading Railroad, both deceased; Marcus H. Nagle, married to Sally Helms of Pottsville;  Frank L. Nagle, of Boston, Massachusetts, connected with the Textile Record of Philadelphia, and principal agent, married to Laura Rosengarten, of Pottsville; Kate A. Nagle, wife of Lincoln Philips, a jeweler of Jamestown, New York.

In politics, Gen.Nagle, in the earliest part of his life aligned himself with the Whig party, but upon the organization of the Republican Party, transferred his allegiance to that party. At the time of his death, he was a member of the Borough Council of Pottsville.  He held membership in the Lutheran Church.

Gen. Nagle was pre-eminently a military man and a patriot.  His life was permeated with a military spirit, and in this respect broadened him into a loyal and devoted citizen.  After his return from the Mexican War, the citizens of Schuylkill County, in token of his eminent services and the goodwill they bore him, presented him with a valuable sword.  He is still remembered by a large number of his fellow-townsmen, and occupies a generous place in their hearts.
The Civil War military career of Gen. James Nagle is chronicled in summary in two databases available through Ancestry.com, American Civil War Soldiers and U.S. Civil War Soldier Records and Profiles:
Enlisted as a Colonel on 22 April 1861 at the age of 39 and given a commission in the 6th Pennsylvania Infantry.

Mustered out of the 6th Pennsylvania Infantry, 27 July 1861 at Harrisburg, Dauphin County, Pennsylvania.

Promoted (and commissioned) as Full Colonel of the 48th Pennsylvania Infantry on 1 October 1861.

Commissioned on the General Staff of U.S. Volunteers on 10 September 1862 and on the same day discharged from the 48th Pennsylvania Infantry.

Promoted to Full Brigadier General on 10 September 1862.

Resigned from the General Staff of U.S. Volunteers on 9 May 1863 at rank of Brigadier General.

Accepted rank of Full Colonel of 39th Pennsylvania Infantry, Emergency of 1863, on 1 July 1863.

Mustered out of the 39th Pennsylvania Infantry,Emergency Militia of 1863, on 2 August 1863.

Commissioned at rank of Full Colonel of the 194th Pennsylvania Infantry, 24 July 1864.

Mustered out of the 194th Pennsylvania Infantry, 6 November 1864, at Harrisburg, Dauphin County, Pennsylvania.
After the death of Gen. Nagle, his widow, Elizabeth [Kaercher] Nagle was not able to immediately apply for a pension because his death was not war-related.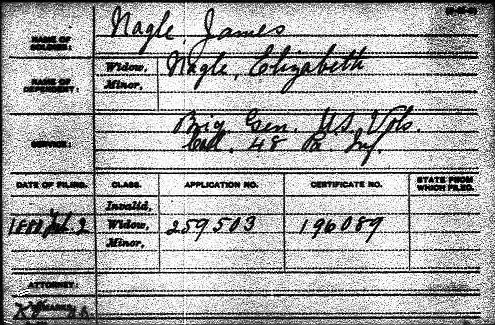 The Pension Index Card shown above, available through Ancestry.com, and referencing pension application files in the National Archives, shows that he did not apply for support until 1880, but eventually was able to receive the pension which she collected until her death in May 1900.
Another biography of James Nagle appears on Wikipedia – click here. That biography features a better-known portrait of Nagle which is from the collection of the Library of Congress:
Gen. Nagle is also recognized at the Antietam Battlefield with a statue that is atop the monument to the 48th Pennsylvania Infantry and its role at that battle.
For portraits of the brothers of James Nagle who also served in the Civil War, see the blog of the 48th Pennsylvania Infantry – click here.