Posted By Norman Gasbarro on August 14, 2012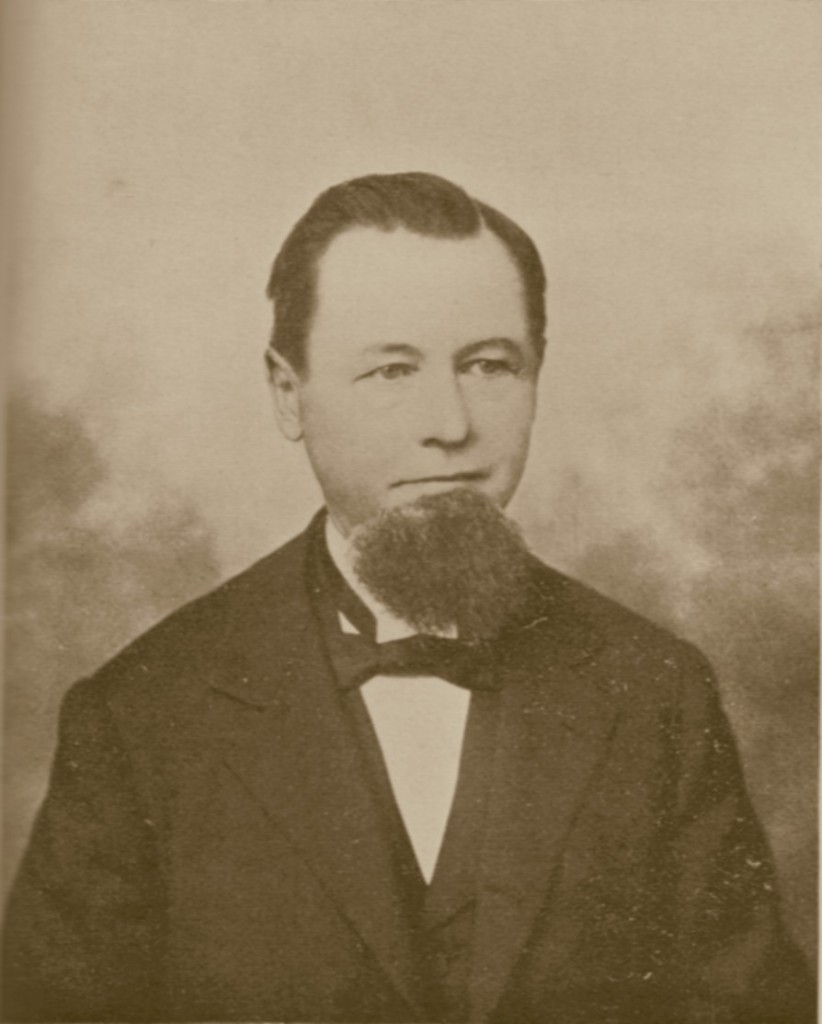 Two previously published biographies of John F. Helt are presented below:
John F. Helt was the son of David Helt and Elizabeth [Miller] Helt of Clark's Valley, Dauphin County, Pennsylvania, where he was born on 14 January 1841.  John married Margaret A. Enders in October 1861.  She was the daughter of Philip Enders and Margaret Anne Zimmerman and was born 9 January 1840 in Enders, Pennsylvania.  John and Margaret had two children, Annie Jane Helt, born 4 July 1862 and Ira M. Helt, born 17 August 1865.  Their children were born in Enders.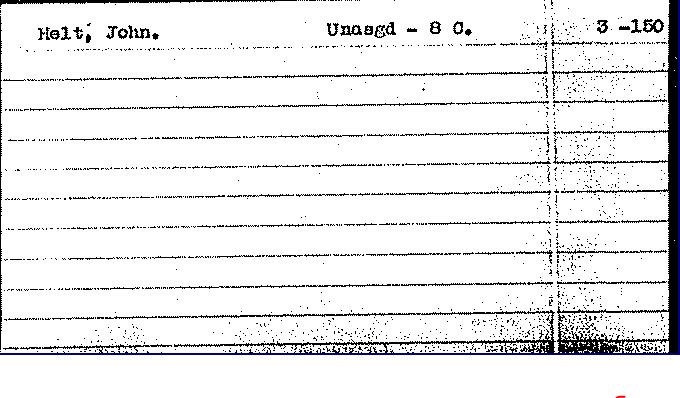 On 4 November 1863, John enlisted in the 89th Pennsylvania Regiment, Eighth Cavalry [8th Pennsylvania Cavalry] for a three year term.  He entered the army and agreed to serve in place of another enlistee for the bounty sum of $300.00.  John reported to his regiment that was in winter quarters in Bealton Station, Virginia.  On 21 Dec, the regiment was ordered out and participated in a raid in the Luray Valley, where much property valuable to the enemy was destroyed.  On 1 January 1864, they crossed the Blue Ridge at Chester Gap, destroying forage, partially tanned leather and tan-yards.  They then went back into winter quarters.  On 4 May, the 8th Cavalry marched with General Sheridan in the Wilderness Campaign.  They participated in engagements at the fortifications at Richmond, Virginia and Brock Road and lost about 100 men, among them Lt. Colonel Samuel Wilson who was wounded.  Rejoining Sheridan, they skirmished at Hawes' Shop and lost 25 killed and wounded.  On 31 May, Sheridan attacked Fitz Hugh Lee's Cavalry, supported by Clingman's Infantry and routed them.  On 7 June, the regiment under Sheridan raided Gordonsville and met Confederate forces at Trevilian Station and lost 35 more killed and wounded.  The next engagement was at St. Mary's Church and the enemy was held in check.  Staff Officer Colonel Pennock Huey and Captain John Piggot Jr. of Company D were captured and 40 men were killed, wounded and missing.

In July 1864, the 8th Cavalry was stationed near Petersburg, Virginia, and picketing from Blackwater towards South Side Railroad.  Further engagements were at Malvern Hill, Charles City Road, Spotted Tavern and Nelson Farm.  with heavy losses, the regiment was left with about 200 men present for duty in mid August.  More losses were suffered at Reams' Station on 23 August.  During the fall and winter, the regiment was in reserve as they lost all their field officers, having been either wounded or captured.

On 29 Mar 1865, the regiment had their final engagement at Five Forks, where Capt. John S. Howard, Company G, who had displayed signal daring and gallantry in bearing dispatches, was mortally wounded.  After the 9 April Confederate surrender, the regiment moved with the Cavalry to Danville, Virginia, to reinforce General Sherman and after the surrender of General Joseph E. Johnston on 26 Apr, returned to Petersburg.  Ordered then to Lynchburg, on 24 July, the 8th was consolidated with the 16th Pennsylvania Cavalry.  It was mustered out of service with that organization on 11 Aug 1865 at Richmond.

By researching the military history, in Bates Civil War History of Pennsylvania Volunteers and the National Archives, their files indicate that most of John F. Helt's records were lost or misplaced.

When John came home after the war, he resumed his trade as a carpenter.  Later he entered the mercantile business, as a partner with his brother-in-law, G.W.D. Enders.  He also served as Postmaster in Enders and was a Director of the Halifax Bank for a number of years.  John also served as School Director in Jackson Township.

Margaret died 21 Nov 1894 in Enders and John passed on 15 March 1910 in Enders and is buried beside his wife in Fairview Cemetery.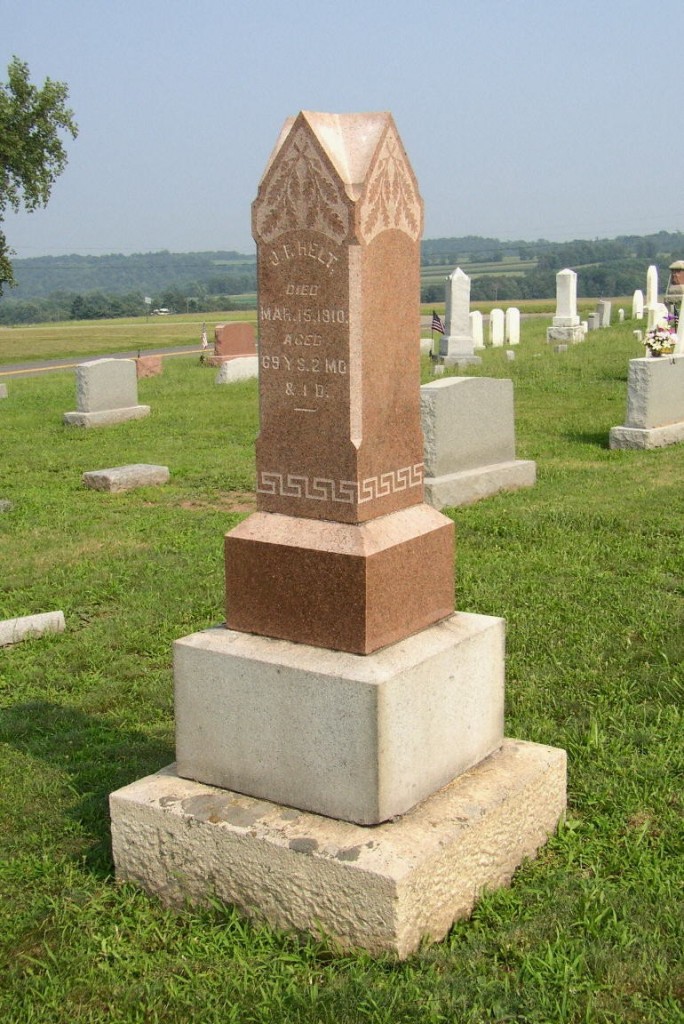 The biographical sketch of John F. Helt that appears below was published in 1896:
John F. Helt, postmaster and general merchant, was born in Clark's Valley, Dauphin County, Pennsylvania, 14 January 1841.  His father, David Helt, was a native of Dauphin County, and a son of Christian Helt, an extensive farmer and stockman in Clark's Valley. David Helt was also largely interested in the same business, being the owner of over three hundred acres of land.  He married Elizabeth Miller, a native of Dauphin County, by whom he had eight children:  John F. Helt; Henry Helt, deceased; Emeline Helt, widow of David Smink; William Helt, deceased; Daniel Helt, farmer of Jackson Township; Elizabeth Helt, deceased; Catharine Helt, unmarried; and one child who died in infancy.  David Helt died in Jackson Township, 3 May 1883. His wife is living and resides in the township.  Mr. Helt was a Republican.  He was a member of the Lutheran Church, and was a deacon and elder, and held other church offices.  He was a prominent and popular man.

John F. Helt attended school in Uniontown, Clark's and Powell's Valley, for six months.  This was his entire school education.  He is self-educated.  He worked with his father on the farm until he was fifteen, after which he hired out to work for wages for three years.  At eighteen years of age he went to learn carpentry, in which occupation he spent ten years.  During part of the time he was a contractor and builder.  In 1867 Mr. Helt formed a partnership with George W. D. Enders in the mercantile business in Jackson Township.  This partnership continued until 1876, when he bought the interest of Mr. Enders and has since conducted the business with fair success.  He is a director of the Halifax Bank and was one of its organizers.

Mr. Helt was first appointed postmaster under the administration of President Hayes, and has given so general satisfaction that he has been retained in office through all the changes in the General Government.  Mr. Helt is a Democrat.  He has filled the township offices of school director, auditor and treasurer.  He was married in 1861 to Margaret Enders, a native of Jackson Township, daughter of Conrad Enders and sister of George W. D. Enders.  They have two children:  Anna J. Helt, wife of Dr. C. C. Miller, of Halifax; and Ira M. Helt.  Mrs. Helt died 21 November 1894.  Mr. Helt is a member of the Lutheran Church.

Ira M. Helt, son of John F. Helt, was born 17 August 1865.  He was educated in the district schools, in the high school of Elizabethville, and in Berrysburg Academy.  He is now in charge of his father's store.  He is a promising young business man, and is popular in all circles.  Mr. Helt was married on his twenty-fifth birthday, 17 August 1890, to Maggie Phillips, daughter of William Phillips.  They have two children:  Vernie Helt; and Carrie Helt.  Mr. Helt is a Democrat.  He is a member of the Lutheran Church.
Surprisingly, the 1894 biographical sketch contained no reference to John F. Helt's Civil War service.  It is not know why this was so other than the comment made in Captain Enders Legion suggesting the records were lost.  While the three databases available on Ancestry.com (U.S. Civil War Soldiers, 1861-1865; American War Soldiers; and U.S. Civil War Soldier Records and Profiles) do include John's Civil War record, none of them indicate a date of discharge.  The Steve Maczuga database, Pennsylvanians in the Civil War, which is compiled essentially from information in Bates, notes that John was "not accounted for" at the time of discharge.
Attempts thus far to locate a reference to a pension application have been unsuccessful.  Perhaps John F. Helt never applied for a pension.  He lived until 1910 and this meant that if he applied after 1890, he probably would have received one (the rules were greatly relaxed in 1890).   He also has not yet been located in the 1890 Veterans' Census.  This could be an indication that he never reported his service to the census takers.  Finally, he is not named in the Registers of Pensylvania Volunteers for the "Unassigned" enrollment group of the 8th Pennsylvania Cavalry.
John F. Helt's Civil War records are referenced on Microfilm Series M554, Roll 52, at the National Archives, as shown below by the search result in the database U.S. Civil War Soldiers, 1861-1865, on Ancestry.com: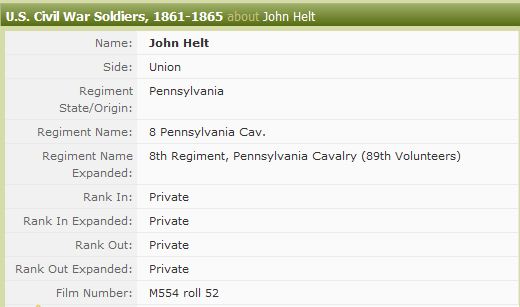 Many questions remain unanswered about John F. Helt, including whether he actually served in the 8th Pennsylvania Cavalry as reported in the first biographical sketch at the top of this post.  Anyone with information about John F. Helt who can help clear up these unanswered questions, is urged to come forward with the information.
Information for this post was obtained from Captain Enders Legion, page 91-93, and from the Biographical Encyclopedia of Dauphin County, pages 742 and 755 (the portrait, which has been digitally enhanced from the version published in 1894).  The grave marker of John F. Helt is from www.findagrave.com and was posted by the author of Captain Enders Legion.  Copies of Captain Enders Legion are still available from the author or from the Enders Association.