Posted By Norman Gasbarro on August 25, 2012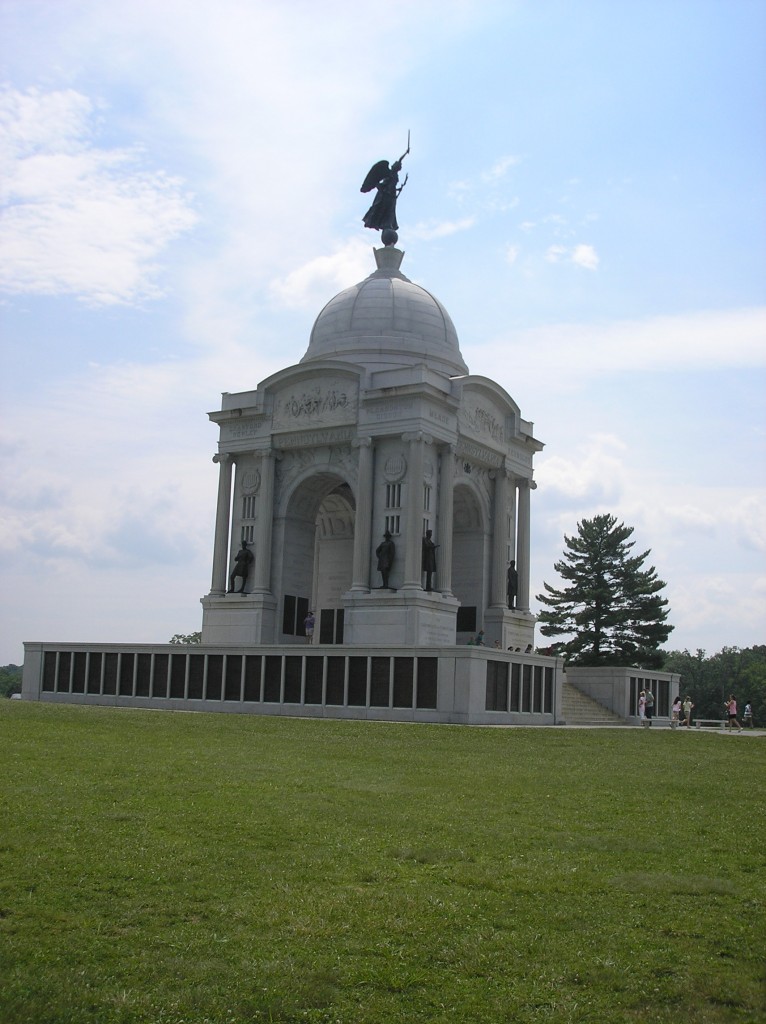 Several readers of this blog have written requesting information on how to have changes made to the plaques on the Pennsylvania Gettysburg Monument.  All the regimental plaques have previously been presented here on this blog and descendants of some of those whose names were missing from the plaques inquired as to how to get the name of their ancestor added.  The readers were certain that their ancestor was at Gettysburg and wanted to know why the name was omitted.  All of these readers were directed to the National Park Service at Gettysburg to find out who is currently responsible for the monument and how changes can be currently made.  It is obvious from the plaque pictures that changes have been made to the plaques – names added as well as names removed.
On 12 July 2012, the following e-mail was received from Patty Shoemaker Giroult:
A few months ago I was at the National Archives looking for my civil war soldiers and found a young man, probably not related to me but was interesting nonetheless. He was at the Battle of Gettysburg and died: Sylvester Shoemaker:  Company F, 53rd Pennsylvania Infantry, 2 July 1863.  He had a very haunting history but to make this short I went to Gettysburg yesterday but did not find his name on the Pennsylvania monument although he fought and died (buried in the national cemetery there). Is there any recourse for this so that he too could be recognized for giving his life. He was a teenager at that time and I guess got scared and left his regiment to go into town. He was arrested and jailed, rank lowered to corporal but then sent back to the battle and subsequently died there…. This young man just haunted me since he died there and I saw his records at the Archives. Thank you so very much.
The reply, on the same day:
He's on the plaque for the 53rd Pennsylvania Infantry, Company F, as "Sylvester Shemake", a corporal.  The plaque for the 53rd can be found at:  http://civilwar.gratzpa.org/wp-content/uploads/2011/03/053PA-Gettysburg-001a.jpg.  Click on it to enlarge it and you will be able to read his name.
The response:
That is how he is known in the Bates book, but that wasn't his name. Anyway do you know how I can get that changed to his real name? On the grave stone they had his name right,  "S. Shoemaker."
And in reply, on 12 July 2012:
Contact the National Park Service office at Gettysburg.  They should be able to direct you to the department that is in charge of the battlefield monuments.  It appears that there have been many changes made to the Pennsylvania tablets over the years, so what you are trying to do is not impossible.  Let me know how you make out…. and if you'd like to write up the story of Sylvester (as well as your effort to get the change on the monument tablet) I'd consider posting it on the blog.
This was the same advice given to the several readers who inquired about the Pennsylvania Monument errors.  The first official response from the National Park Service, just received a few days ago, was forwarded to me by Patty Giroult:
I wrote you last month about a relative on the Pennsylvania Monument with his name misspelled. I wrote to the park service and I am attaching their email back to me. It is quite sad that he cannot be honored since he gave his life for his country. If it would  have been Abraham Lincoln, they would make sure his name was spelled correctly. I am very sad for Sylvester, not sure that there is any family left since he was a young boy when he was killed —  but what is right is right. Thank you for helping me though, I appreciate it.
The official response from the National Park Service was sent to Patty by Katie Lawhon, Management Assistant, Gettysburg:
From: "Katie Lawhon" <Katie_Lawhon@nps.gov>
To: pguru@comcast.net
Sent: Tuesday, August 21, 2012 3:26:55 PM
Subject: Name on PA monument

Dear Ms. Giroult:

This is in response to your recent email to Gettysburg National Military
Park regarding the misspelling of your relative's name on the Pennsylvania
Memorial.

The Pennsylvania Memorial at Gettysburg is one of more than 1300 monuments,
memorials and markers in the park, the vast majority of which were placed
on the battlefield by the battle veterans themselves between the 1870's and
the 1930's.  Due to the age of the monuments, and their personal
connections with the veterans who survived the battle, the monuments are
considered historic in their own right.  They are the historic record left
behind by those who fought here.

When errors such as misspellings and omissions are discovered on monuments
in national park areas, it is the policy of the National Park Service (NPS)
not to change or correct the monuments or their inscriptions.  NPS
management policies state:  "Many commemorative works have existed in the
parks long enough to qualify as historic features.  A key aspect of their
historical interest is that they reflect the knowledge, attitudes, and
tastes of the persons who designed and placed them.  These works and their
inscriptions will not be altered, relocated, obscured, or removed, even
when they are deemed inaccurate or incompatible with prevailing present-day
values."

The park has created a full listing of Pennsylvania soldiers present at the
Battle of Gettysburg, including corrected spellings and names that were
omitted from the memorial.  The list is kept in the park's archives, with a
copy available for visitors to review at the park's Museum and Visitor
Center.  If you have not already provided information concerning your
great-great-grandfather's service for this listing, you may send copies of
your documentation to the Historian's Office, Resource Planning, Gettysburg
National Military Park, 1195 Baltimore Pike, Suite 100, Gettysburg,
Pennsylvania, 17325.

We respect and admire your wishes to honor Sylvester Shoemaker's Civil War
service.  Thank you for your interest in the National Park Service.

Sincerely,

/s/

Katie Lawhon
Management Assistant
Gettysburg National Military Park
1195 Baltimore Pike, Suite 100
Gettysburg, PA 17325
phone:  717/ 334-1124 x3121
fax: 717/334-1891
www.nps.gov/gett

"From the Fields of Gettysburg" blog: http://npsgnmp.wordpress.com/
So that's the answer.  The National Park Service will not correct errors on the monument itself, but instead will maintain a "correct" list at the park archives with a copy at the Museum and Visitor's Center.  It does then seem proper to ask why this information is not posted at the monument itself – i.e., where the corrected list is kept so that visitors can examine it.  Perhaps the National Park Service doesn't want to admit that the largest monument on the battlefield that it maintains – and the one that has the most names, is the one with the most errors and omissions.  This is not a fitting tribute to those who served from Pennsylvania, nor is it a proper memorial to those who gave their lives at Gettysburg.
Thank you to Patty Shoemaker Giroult for making the inquiry and forwarding the NPS response here so that it can be shared with readers of this blog!  She has the privilege of the last words for this post:
I was just very sad when I got that e-mail… They are restoring the platform where Lincoln stood in the cemetery and spending thousands to do that. Why not honor those who gave their lives there? Lincoln wouldn't be famous for his speech if there were no Gettysburg and if men didn't fight and die there…. It is just very sad for not just Sylvester but any of those men who fought and died or were wounded or just were there  serving their country, not to be recognized for what they did. What visitors are going to go to the archives and ask for the list of men who died or who were left off of monuments or had their name spelled incorrectly?  I am not sure that anyone knows about being able to do that and anyway they all need to be recognized for their service.
This is the 75th post in a series on the Battle of Gettysburg.  Additional posts will follow.