Posted By Norman Gasbarro on August 22, 2012
The Halifax United Methodist Church Cemetery is located at the corner of Rise Street and Wind Hill Drive in Halifax, Dauphin County, Pennsylvania.  The graves of twenty Civil War veterans are easily located in this cemetery.  A prior post described the cemetery and showed old maps with its location noted.  Today, Part 4 of a 5 part series is presented, each part focusing on four of the twenty veterans buried here.
——————————
GEORGE BAUER (1831-1905)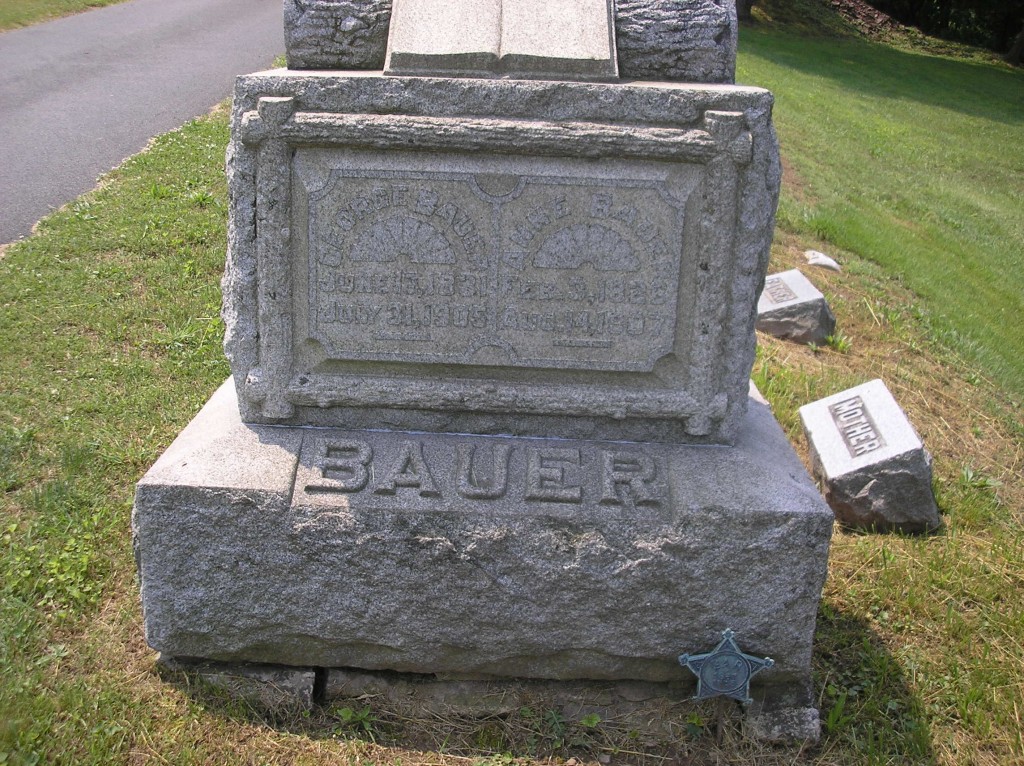 A G.A.R. star at the grave of George Bauer indicates Civil War service, but a specific regiment and company has not yet been identified by the Civil War Research Project.  According to the stone, his wife's name was Annie.  Previously, George was not included in the Veterans' List, but will be added at the next update, assuming his actual service can be confirmed.  Information is sought from readers.
——————————
HENRY C. BOWMAN (1836-1903)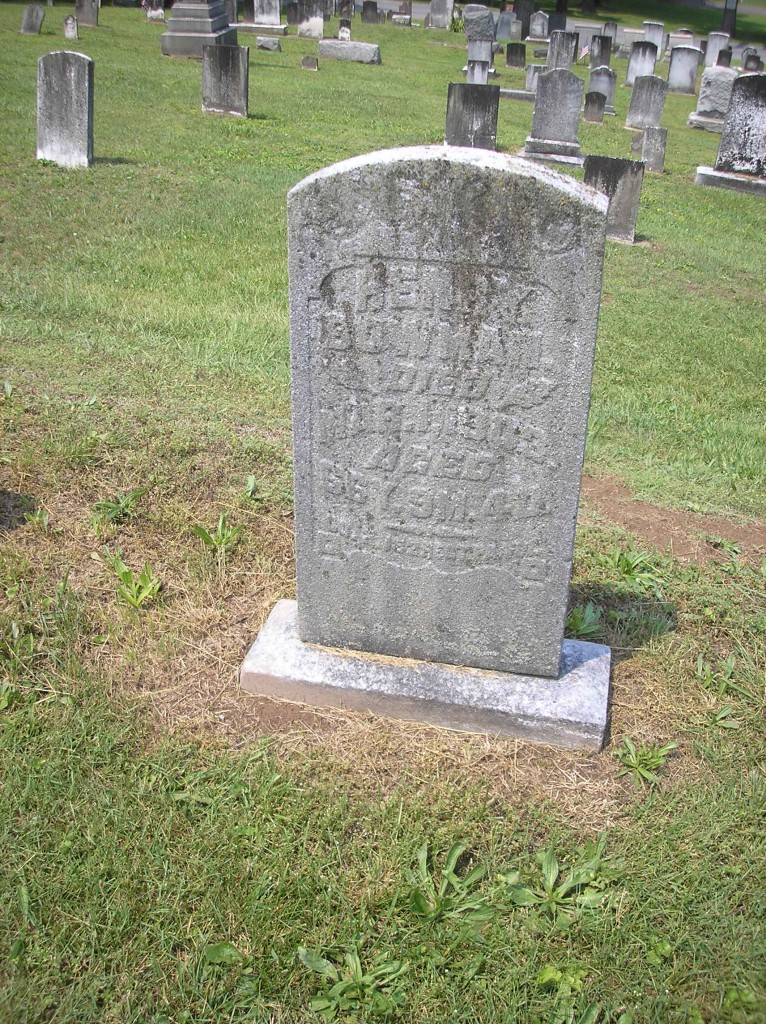 Although there is no indication at this grave that the Henry C. Bowman who is buried here was a Civil War veteran, other records seem to suggest that this is the same person as the one who served in the 192nd Pennsylvania Infantry, Company H, as a Private.  Henry was the son of Christian Bowman (born about 1817) and Mary [Dunkel] Bowman (born about 1815).  He married Rebecca E. Frank after the Civil War and had the following known children (birth years approximate):  Margaret A. Bowman (1869- ?), Lidia E. Bowman (1872- ?), Sarah J. Bowman (1874-?), Hannah A. Bowman (1876-?), Myrtle M. Bowman (1879-?), Isaac Franklin Bowman (1881-?) and Minnie F. Bowman (1883-?).
In 1880, Henry was working as a laborer in Halifax.  In 1890, still living in Halifax, Henry reported his service in the 192nd Pennsylvania Infantry, and did not indicate that he received any disability from it.  In 1900, Henry was living in Halifax and working as a day laborer, and three children living in the household were working in manufacturing enterprises in Halifax.
In 1890, when the pension application rules were relaxed, Henry applied for an invalid pension and received a pension which he collected until his death.  His widow, Rebecca, applied for benefits in 1903 when Henry died, which she received until her death.
Several pictures exist of Henry C. Bowman and Rebecca Bowman and have been posted on family trees on Ancestry.com.
——————————-
CHARLES E. McFARLAND (1838-1896) also found as CHARLES MCFARLAND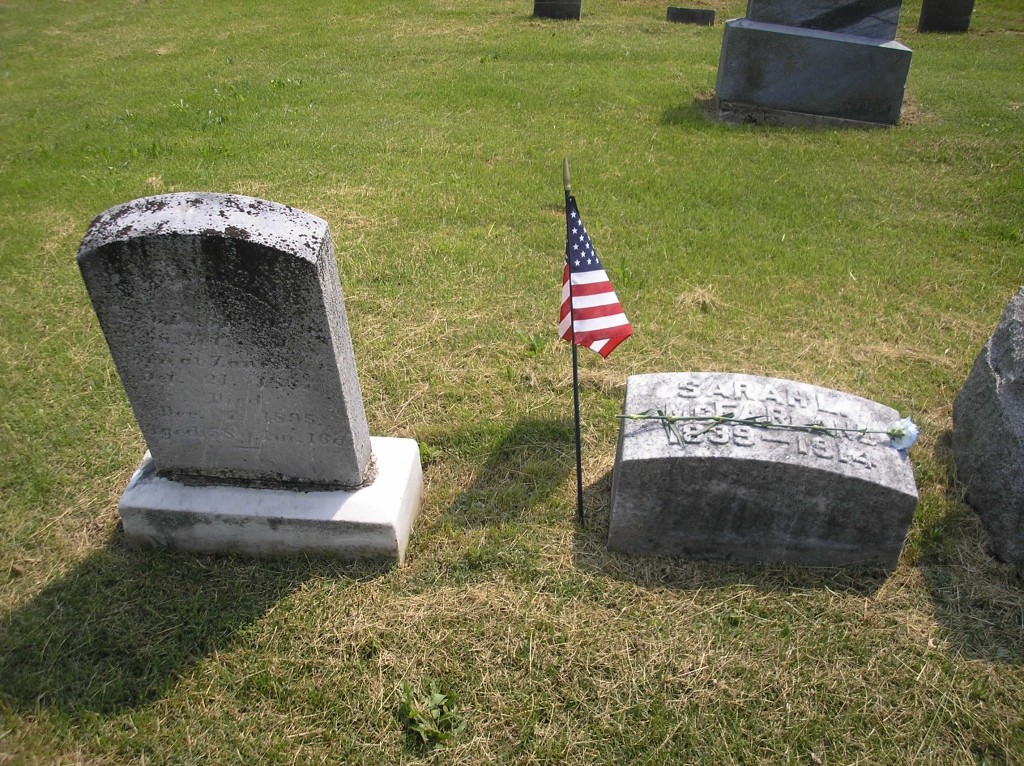 According to census returns, Charles E. McFarland was born in Ohio.  He was living in Halifax, Dauphin County, at the time of his enrollment in the 46th Pennsylvania Infantry, Company D, as a Private.  He was then working as a school teacher.  Charles served a first enlistment in the 46th Pennsylvania Infantry from 2 September 1861 to 4 January 1864, and then re-enlisted in the same regiment and company on 5 January 1864.  His discharge came on 16 July 1865.  The Pension Index Card also notes service in the 11th Pennsylvania Infantry, probably the three month service at the beginning of the war.
It appears from the records that Charles married a woman named Sarah at about the time the Civil War began.  One child, Jennie McFarland, was born during the war.  Children born after the war were (birth years approximate):  Robert B. McFarland (1866-?), Mabel S. McFarland (1868-?), Helen A. McFarland (1869-?), Emma K. McFarland (1872-?), Laura E. McFarland (1875-?), Charles E. McFarland (1878-?), and Walter S. McFarland (1879-?).
In 1870 and 1880, Charles McFarland continued working as a school teacher in Halifax.  In 1890, he attributed his heart disease to his Civil War service. He died in 1896 and was buried in the Halifax United Methodist Cemetery.
An early pension application in 1879 indicates that Charles was able to connect his disability to his war service.  The pension he received continued to his death and afterward was collected by his widow Sarah.
——————————-
JOHN W. METZGER (1845-1926) also known as JOHN METZGER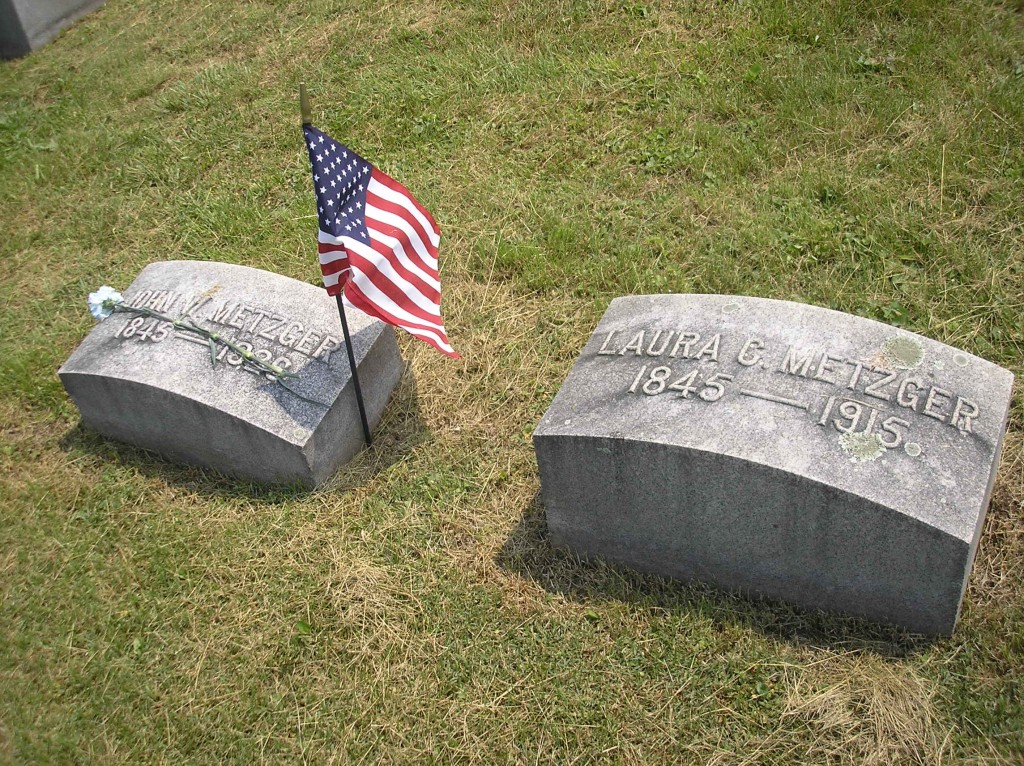 John Metzgar's Civil War service was limited to duty in the Emergency Force of 1863 from 4 July 1863 through 11 August 1863.  The regiment received the designation of the 36th Pennsylvania Infantry while it was in service.  John was a member of Company C at the rank of Private.
After the Civil War, John married a woman named Laura and they are found in the 1880 Census for Halifax where John was working as a grocer.  One known son, Calder C. Metzger, was born to the couple around 1872.  In 1890, John Metzger reported to the census that he was a Civil War veteran but did not indicate the name of his regiment, company, or dates of service.  In 1900, John was a merchant in Halifax, with son Calder, age 27, living in the household and working as a shoe manufacturer.  After 1910, John no longer needed to work and was living on his "own income."  In the 1920 census, he is recorded as a widower and a servant, Rebecca Freeburn, is living with him.  Living next door is John's son, Calder Metzger, the shoe manufacturer.  John's wife Laura died between 1910 and 1920.  John died in 1926.
No pension record was found, probably because the Civil War service was too short for him to qualify.
——————————-
Continued tomorrow…. For other posts in this series, click here.