Posted By Brian Tomlin on August 13, 2012
Here are six blogs that on on Civil War Topics that are regularly updated and feature information, photographs and other materials of interest to Civil War Researchers.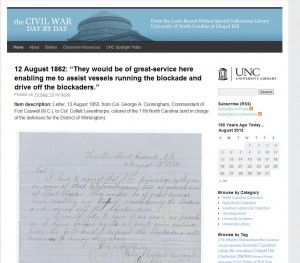 Civil War Day by Day. The University of North Carolina Library produces this blog using documents, photographs and other primary source materials from its collections and presents them on a day by day basis reflecting what was happening 150 years ago. It is a nice telling of the Civil War through primary sources.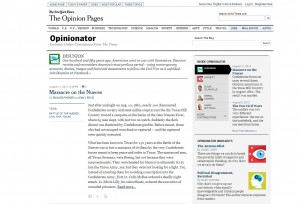 Disunion. Another Day by Day blog, this one produced by the New York Times. The New York Times began publicationin 1851 and is going through thier own archives to present stories form each day of the war.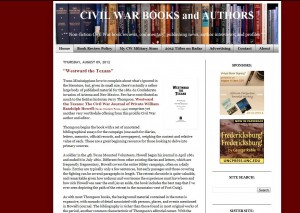 Civil War Books and Authors. Andrew Wagonhoffer is a civil war book reviewer. His blog contains a good selection of the many Civil War related books currently being published.
Rantings of a Civil War Historian. Eric Wittenberg, an Ohio attorney who grwew up in Reading, PA and went to Dickinson College. His blog seems to specialize on the Gettyburg Campaign, but features many interesting stories on a variety of cavalry and military horse topics of the period.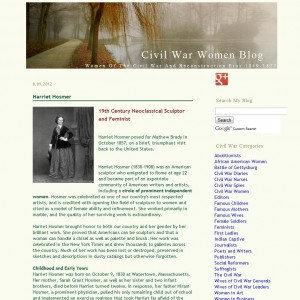 Civil War Women' Blog. Majority of the posts are on a single woman from the Civil War and Reconstruction era. Fascinating stories and photographs that tell another parat of the history of the time period than many of the sites and blogs. I wish the site said who wrote it.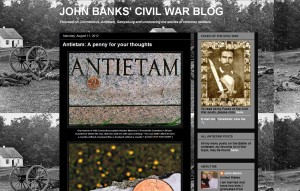 John Banks' Civil War Blog. Most interesting part of this blog is a series of posts called "Faces of the Civil War" which tells sotries of individual soldiers and their expriences with photographs, records and other documents.
We would like to know what other Civil War Blogs you read.