Posted By Norman Gasbarro on July 28, 2012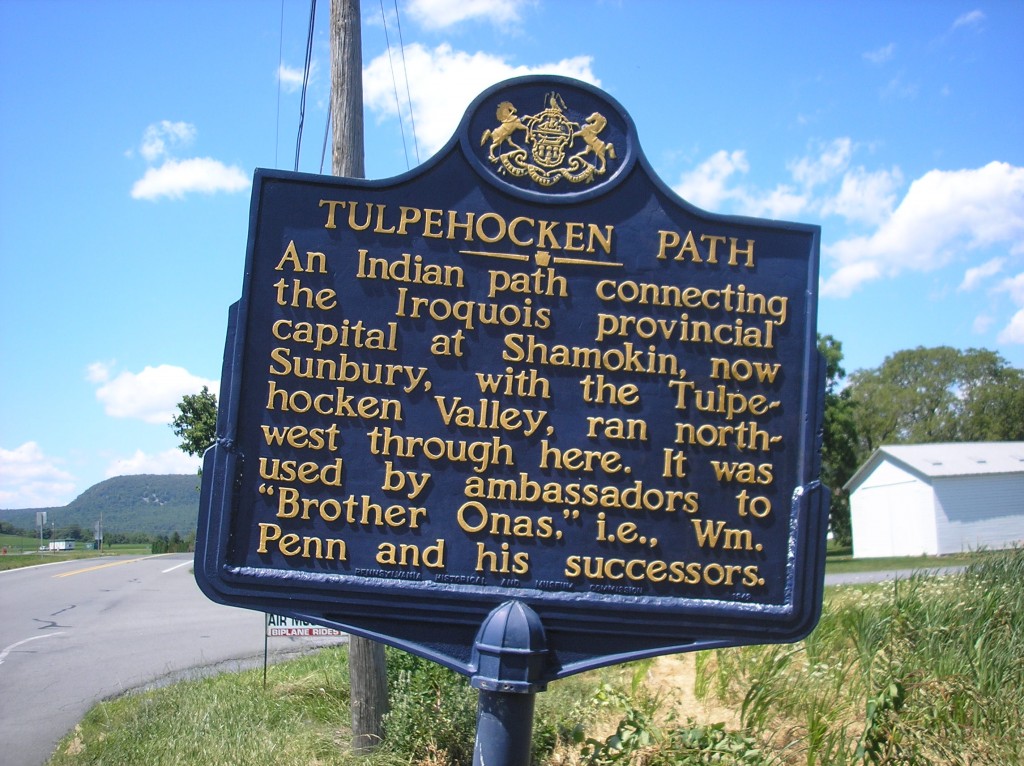 Families of many Civil War veterans of the Lykens Valley area originally settled in Berks County, Pennsylvania, and later migrated north and west along established routes through the mountains.  Before and at the time of the Civil War, one of the most used paths was from Tulpehocken Township in Berks County, through Pine Grove Township in Schuylkill County, Lykens Township in Dauphin County, and through the gap in Mahantongo Mountain at Klingerstown.  The terminus of this path was Sunbury in Northumberland County.  Three historical markers, placed by the Pennsylvania Historical and Museum Commission indicate key points on this path.
THE TULPEHOCKEN PATH

An Indian path connecting the Iroquois provincial capital at Shamokin, now Sunbury, with the Tulpehocken Valley, ran northwest through here.  It was used by ambasadors to "Brother Onas," i.e., William Penn, and his successors.
This historical marker is located in Bethel Township, Berks County, Pennsylvania, on Lancaster Avenue (also known as State Route 501), across the road from the Bethel-Tulpehocken Public Library.  The general route of the path that was followed by travelers and settlers moving from Berks County across the mountain into the area of the triangle that is under study in this Civil War Research Project is the present-day Pennsylvania State Route 501.
As can be seen on the 1860 map shown above, the red dotted line (representing the "Tulpehocken Path") passes by an "Old Fort" and "Quick Silver Spring" before descending on the other side of the mountain "to Pine Grove."  The two other historical markers that can be seen along the route are pictured below.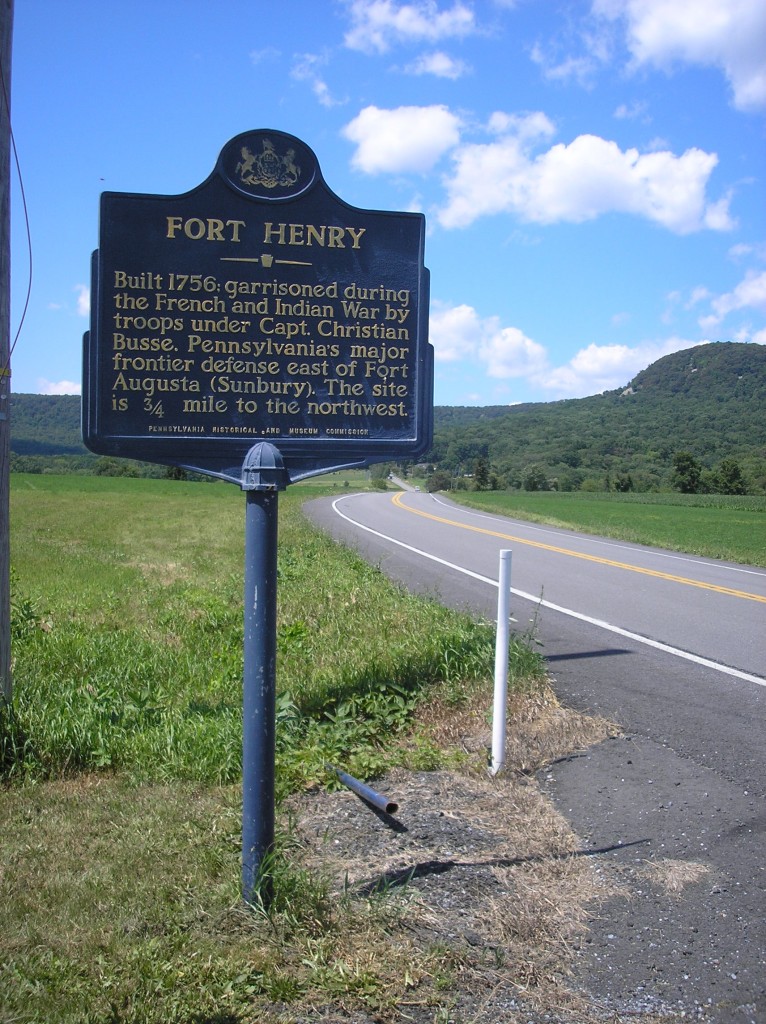 FORT HENRY

Built 1756; garrisoned during the French and Indian War by troops under Capt. Christian Busse. Pennsylvania major defense east of Fort Augusta (Sunbury).  The site is 3/4 mile to the northwest.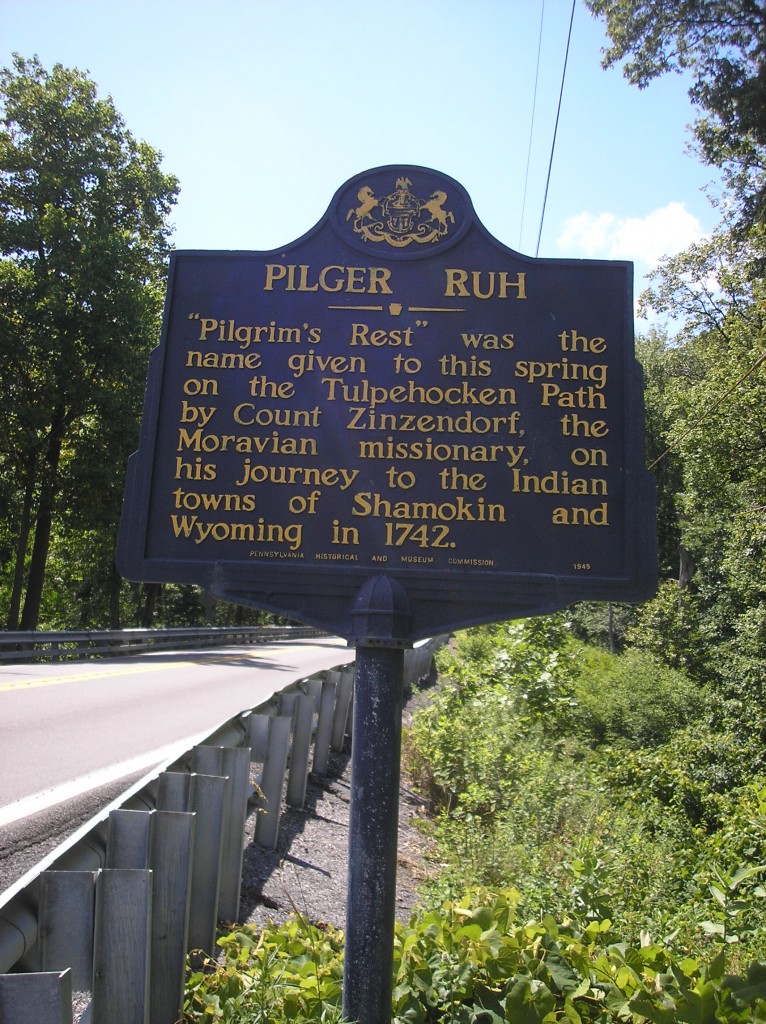 PILGER RUH

"Pilgrim's Rest" was the name given to this spring on the Tulpehocken Path by Count Zindendorf, the Moravian missionary, on his journey to the Indian towns of Shamokin and Wyoming in 1742.  Pennsylvania Historical and Museum Commission.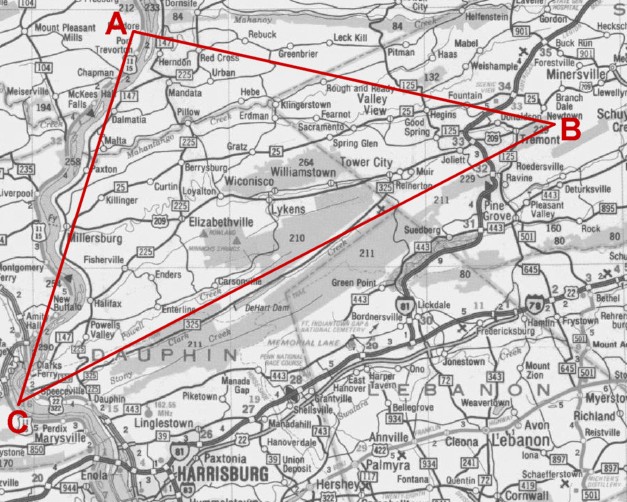 Pine Grove, Schuylkill County, is located at State Route 501, just south of "Triangle B" on the Civil War Research Project Map (shown above – click on map to enlarge).  The next part of the journey was to cross the angle of "Triangle B" toward Klingerstown, which is at the gap in the Mahantongo Mountain.  Once inside the triangle, the Lykens Valley opened to the west.  Many chose to remain in the Lykens Valley.  Some chose to continue the journey beyond the Mahantongo.
For a blog post by Earl G. Troutman on the Tulpehocken Path and the Mahantongo Valley, see:  The Mahantongo Valley.
————————-
The map cut is from a map of Berks County, 1860, as available on the web site of the Pennsylvania Archives.  The original map was published by H. B. Bridgens.