Posted By Norman Gasbarro on June 16, 2012
Found in the records of the 50th Pennsylvania Infantry, Company A, is Franklin Wiehry, who died of disease during the Civil War and is supposedly buried at Arlington National Cemetery, Arlington, Virginia.
Practically nothing is known of the early life of Franklin Wiehry, whose name is spelled several different ways in the records:  Wiehry, Weihry, Wehry, and Wheiry.  It is possible that he was the son of Johannes Wehry (1803-1893) and Lea [Kramer] Wehry (1808-1871) – they had a son who is referred to as Persal Wehry in the records, born about 1837, which could be the same persons or perhaps a twin. This family was from the Donaldson area of Schuylkill County and there was another soldier, Benjamin Wehry, who survived the war who was living in Donaldson in 1890., who could have been a brother, though Benjamin has not been connected to Johannes and Lea Wehry.  However, not much has been confirmed about Franklin and the Veterans' File Cards at the Pennsylvania Archives point out some of the confusion: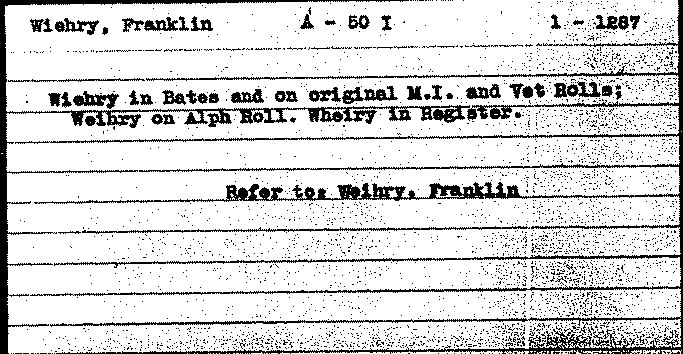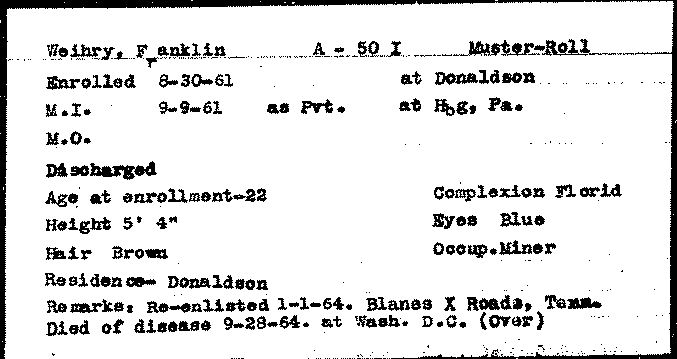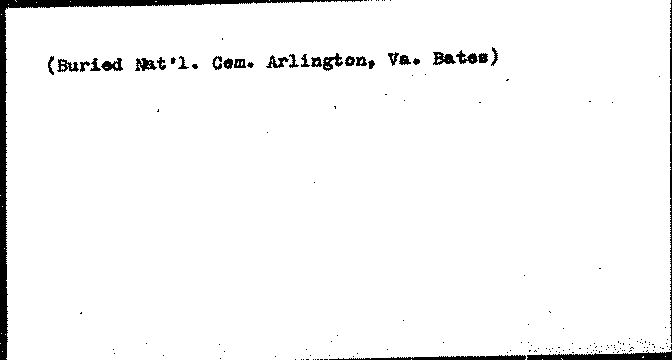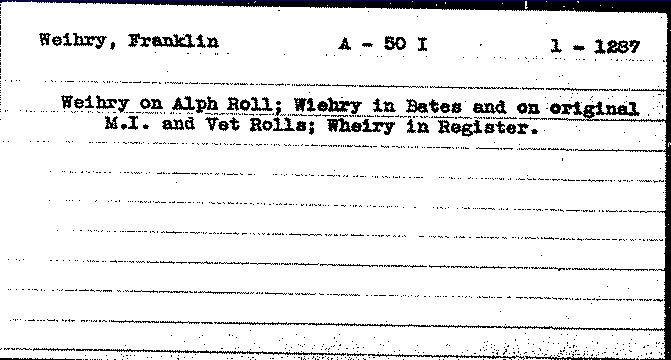 The four cards shown above from the Pennsylvania Archives reveal the name confusion.  The actual record is filed under "Weihry" and begins with the second card.  Franklin Wiehry enrolled at Donaldson (presumably his hometown) on 30 August 1861 and then reported to Harrisburg on 9 September 1861 for "muster in" to Company A of the 50th Pennsylvania Infantry as a Private.  As an 1861 enrollee, he was one of the first to sign up for this regiment and he joined for a three year term. At the time of his enlistment, he stated he was 22 years old, but it is believed that he was actually closer to 24. He stood 5′ 4″ tall, had blue eyes, a florid complexion, and brown hair. He gave his occupation as miner.
The regiment was sent into the field and fought in battles at Bull Run, Chantilly, South Mountain, and Antietam, and then moved into Kentucky and to Vicksburg with the regiment.  They were involved in the siege of Knoxville and the pursuit of Longstreet's army to Blaine's Crossroads, Tennessee, where they went into winter quarters.  Franklin then re-enlisted as a "veteran" along with most of the surviving members of his company.  This regiment had sustained many losses – wounded, killed and captured – as well as losses to the ravages of disease – but that did not stop Franklin from signing up for another three years (or for the duration of the war).  As it turned out, Franklin Wiehry himself contracted a disease a few months after re-enlistment.  He was sent to the hospital in Washington, D.C., and it was there that he died on 28 September 1864.
According to Bates, he was buried in Arlington National Cemetery, Arlington, Virginia.  However, his grave is not registered in the National Cemetery database, so it is possible that he is one of the many "unknown" soldiers or he could be buried elsewhere.
No one applied for a pension based on Franklin Wiehry's service  or perhaps someone did and the file has not yet been located.  There is no record he was ever married.
This mystery is one of many pertaining to Civil War soldiers who went off in service and never returned.  Their remains were never sent home.  Their burial place has been forgotten or lost.  It's hard to imagine that someone served for more than three years and no one really knows what he did during his service and what happened to him.
Perhaps a reader of this blog knows something more about him and will be willing to share it.
This is a continuation of the story of the men who served in the 50th Pennsylvania Infantry, Companies A and C.