Posted By Norman Gasbarro on May 3, 2012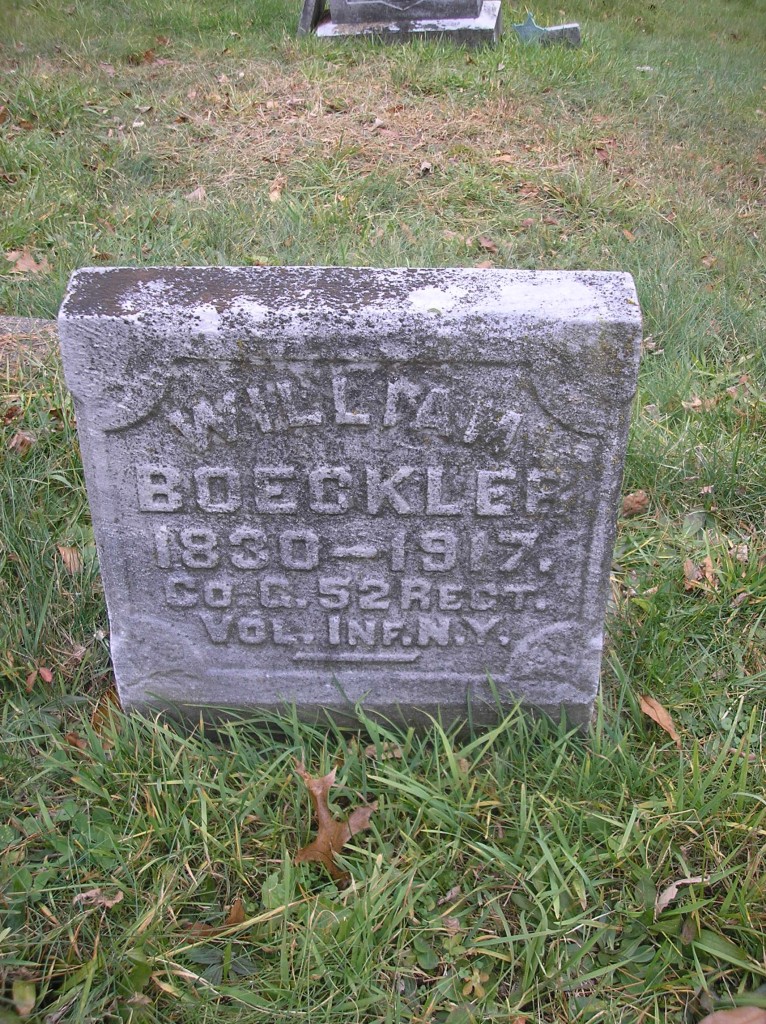 William Boeckler [also known as William Bueckler, William Bokeler and William Bucker), died in 1917.  For many years, he was the "Barber of Lykens."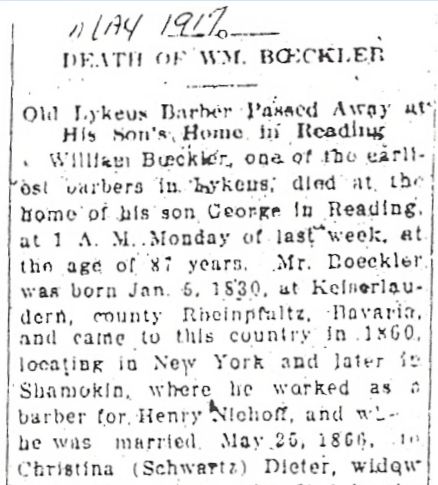 Death of Wm. Boeckler

Old Lykens Barber Passed Away at His Son's Home in Reading

William Boeckler, one of the earliest barbers in Lykens, died at the home of his son George in Reading [Berks County, Pennsylvania] at 1 a.m. Monday of last week, at the age of 87 years.  Mr. Boeckler was born 5 January 1840, at Keinerlaudern, county of Rheinpfaltz, Bavaria, and came to this country in 1860, locating in New York and later to Shamokin, where he worked as a barber for Henry Nichoff, and — he was married 25 May 1866 to Christina [Schwartz] Dieter, widow of John R. Dieter, who died in the army of sickness, and who had surviving him three children:  Louisa Dieter of Philadelphia; James E. Dieter of Reading; and Amanda Dieter of Wiconisco.

Mr. Boeckler was the father of eight children, two of whom (William Boeckler and Emma Boeckler) died in infancy, and Albert Boeckler, later in life.  The surviving children are:  Henry Boeckler, Charles Boeckler, and Oscar Boeckler, of Lykens;  George Boeckler of Reading;  and Clara [Boeckler] Koppenhaver (Mrs. Clinton Koppenhaver) of Shamokin.

He came to Lykens in 1866 where he engaged in the barbering business until he had arrived at the age of 75 years of age having devoted 50 years to this calling.  He was the oldest citizen of Lykens, highly respected and admired for his principle of giving unto all others the right of their own opinions.

His wife preceded him in death 30 May 1915, since which time, he had made his home with his children residing here, Charles and Henry and George of Reading, to which place he went four weeks ago.

Deceased was a veteran of the Civil War.  He enlisted as a private in Company G, 52nd New York Volunteer Infantry [52nd New York Infantry], September 1861, at New York, and was sent to Washington, D.C., then Alexandria, Virginia, where he was located during the winter of 1861-1862.  He then was sent to the front and engaged in the battles of Bull Run and Manassas, when he was sent back to the neighborhood of  Alexandria, then by water to Ship-a-Point, then toward White House, Virginia, then to Fairfax.  On 1 June 1862, he was taken prisoner and sent to Richmond, Virginia (Libby Prison); then to Saultzburg (North Carolina ) Prison, from there back to Belle Island, near Richmond, exchanged, put on James River and taken to Annapolis, Maryland, then to Alexandria, Virginia, camp of parole, 186, remained there until examined and received an honorable discharge 5 January 1863.

His funeral was held from the home of his son Henry on East Mall Street at 1 o'clock Thursday afternoon of last week.  The services were conducted by L. Burch Wilson, Free Thinker of Reading.  Burial took place at P.O.S.A. Cemetery.

The following relatives from out of town attended the funeral:  George Boeckler, wife and daughter; James Dieter of Reading; Mrs. Clara Koppenhaver, Shamokin; William Jentsel and wife of Wiconisco;  Henry Grim, Tower City; August Schwartz and wife, Mrs.Daniel Koons, Mr. Savage and wife; Richard Mosser and wife, Mr. and Mrs. Ressler, Frank Geist and family of Hegins, Pennsylvania.

The family extend their sincere thanks to friends and neighbors for the kind assistance given them during their hour of sorrow.
The Pension Index Card is shown below indicating that his only service was in the 52nd New York Infantry, Company G.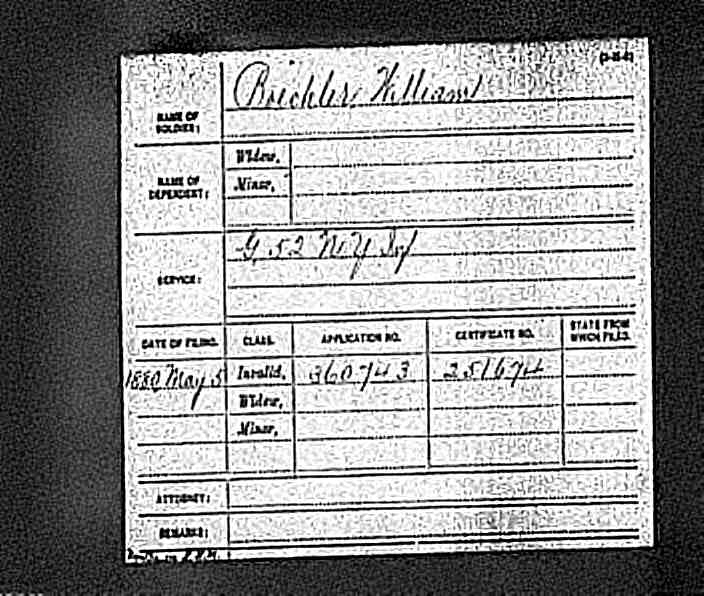 For his service, William Boeckler is recognized on the Lykens G.A.R. Monument:

The above article, supplied by Sally Reiner of the Lykens-Wiconisco Historical Society is from her collection and was supplied by her for this post. Pension Index Cards are from Ancestry.com.  There is no record at the Pennsylvania Archives for William's Civil War service because he served in a New York regiment.  Additional information is sought on the life and military experiences of William Boeckler – especially pictures and stories, but any information provided will be helpful.