Posted By Norman Gasbarro on May 31, 2012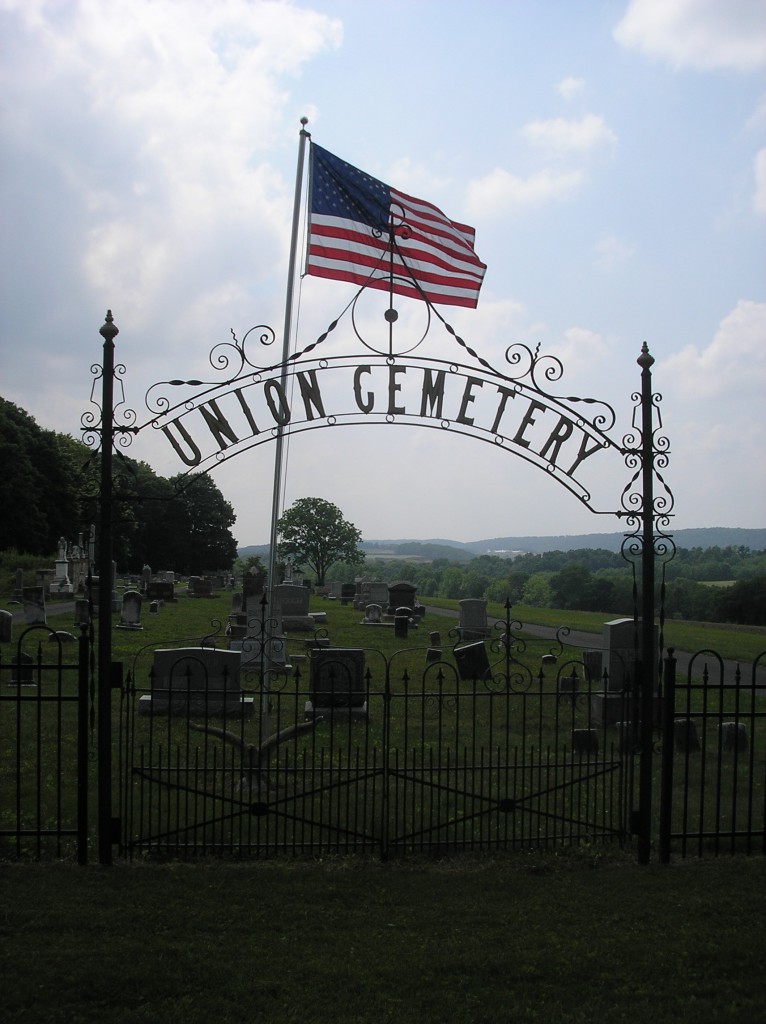 Although Pillow is located in Dauphin County, Pennsylvania, the Pillow Union Cemetery is actually located on the north side of the Mahantongo Creek, which places it in Jordan Township, Northumberland County.  To locate the cemetery, head east on Market Street from the central square of Pillow, cross the small bridge for the Mahantongo Creek, and then take the first left onto Cemetery Road.  The Union Cemetery is on the left side of the road just beyond the crest of the hill.
Seven identified Civil War veterans are buried in this cemetery.  The photos of the graves of three will be presented today followed by the final four tomorrow.  It is possible that others buried here had some Civil War services – certainly many who are buried here had connections to the war in that they were of an age to serve.
—————————
PERCIVAL SAUSSER (1841-1907)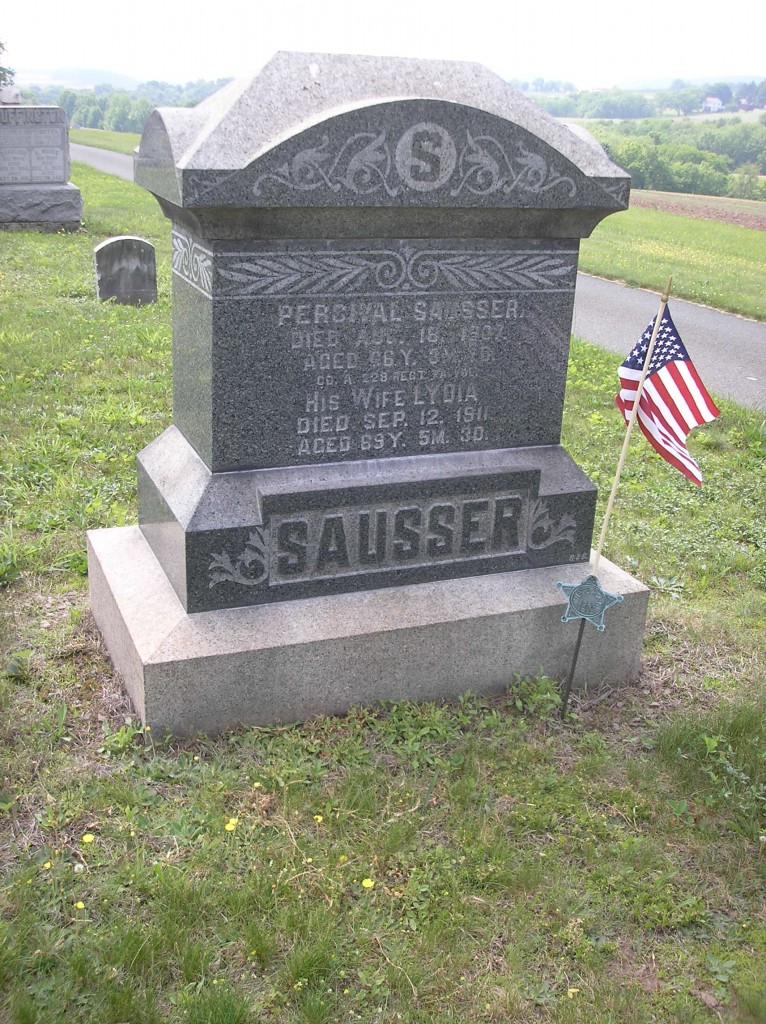 Percival Sausser was born in Pennsylvania on 17 May 1841, a younger child of Jonathan Sausser, a cabinetmaker, and his wife Rebecca.  The family, which included an older brother William Sausser (born about 1836) and a younger brother Anthony Sausser (born about 1844) was living in Mifflin Township in 1850. In the 1850 census Percival was recorded as "Passawell Sauser."
The Veterans' Index Card at the Pennsylvania Archives (above) does not indicate enlistment or service dates, but other records confirm that Percival mustered into the 208th Pennsylvania Infantry, Company A, as a Corporal on 30 August 1864.  In fighting with the regiment, Percival Sausser was seriously wounded at Fort Steadman, Virginia, 25 March 1865.  The 1890 Veterans' Census states that his leg was shot off.  Percival spent the remainder of the war in the hospital and was discharged at Alexandria, Virginia, 10 July 1865, on a Surgeon's Certificate of Disability.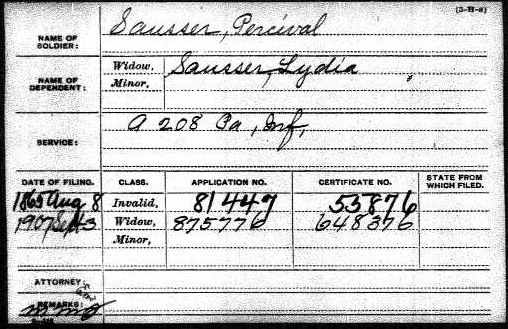 The early pension application in 1865, less than one month after his discharge, and the subsequent awarding of a disability pension, are confirmed by the Pension Index Card.  More detailed records of the nature of Percival's wounds as well as other genealogical information should be available in his Pension File.  The Pension File has not yet been obtained by the Gratz Historical Society, so if it is available through any descendants or researchers, this contribution would be appreciated.
Around 1868, Percival married a woman named Lydia who is also found as "Liddie" in the records.  They appear together in the 1870 Census for Liverpool, Perry County, Pennsylvania, where Percival is employed as a stone cutter.  No 1880 census record has yet been located.  In 1890 Percival was living in Uniontown (Pillow), Dauphin County.  In 1900, Percival and Lydia were living in Lower Mahanoy Township, Northumberland County, where he was a farmer on his own farm.  By 1900, the couple declared that they had been married for 32 years, but it was also reported that they were childless.
All the while, Percival was collecting a disability pension as a result of losing his leg in the war.  After his death on 18 August 1907, Lydia applied for Percival's pension benefits, which the record shows that she received until her death, 12 September 1911, at 69 years, 5 months and 3 days.  Both are buried together in Pillow Union Cemetery.
—————————–
JONATHAN ANSPACH (1835-1908)

Jonathan S. Aunspach, also found as "Jonathan Anspach" was born 22 November 1835, and died 14 February 1908.  He is listed as a laborer in the the 1860 and 1870 censuses, living with his wife Leah, in Lebanon County, Pennsylvania.  In 1860, a one year old child named Simon J. Anspach is in the household.  In 1870, a 9 year old son named William Anspach and a7 year old daughter named Emma Anspach are in the household.
There is a "G.A.R." star-flag holder at the grave of Jonathan S. Aunspach in Pillow Union Cemetery where he and his wife are buried – which indicates he was a Civil War veteran.  However, no Pension Index Card has been found and all efforts to place him in a specific Civil War regiment have failed to date.  He has also not yet been located in censuses after 1870.
Information is being sought by the Civil War Research Project as to whether this individual is a Civil War veteran, and if so, the nature of his service.
——————————
JOSEPH HECKERT (1838-1864)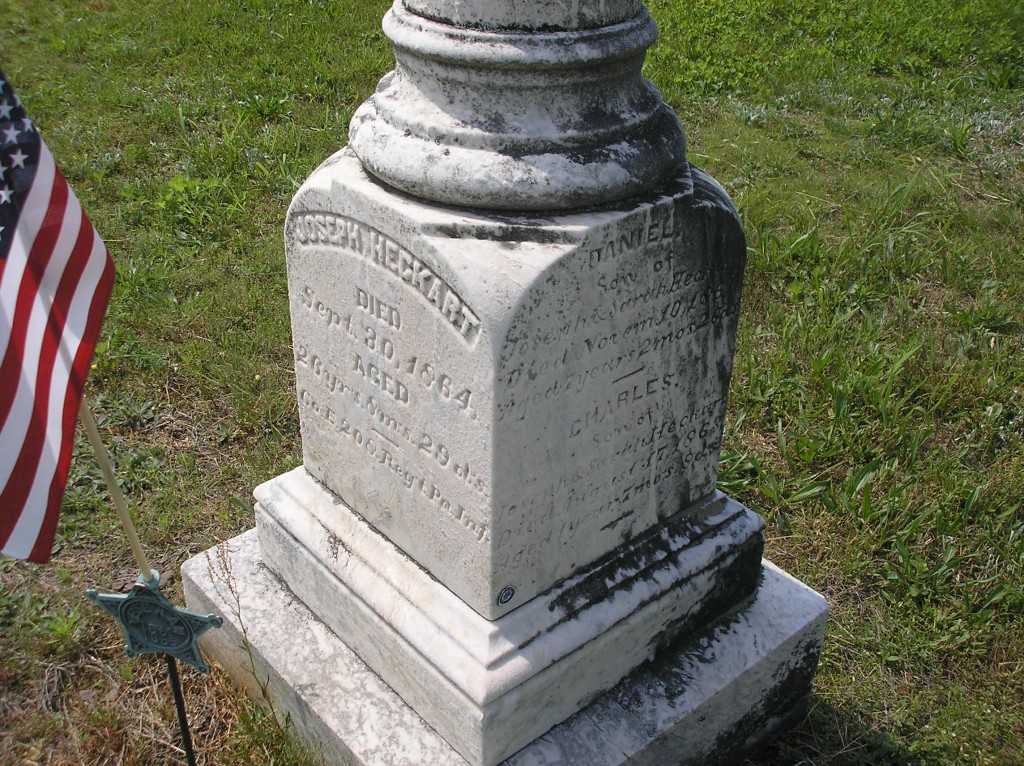 It is believed that Joseph Heckart (also known as Joseph Hekert) was the son of Peter Heckart (1791-1876) and Eva Christine [Witmer] Heckert (1795-1845) and was born either 1 January 1838 or 31 December 1837 in Northumberland County, Pennsylvania.  Peter Heckert was a farmer and his many younger children are found in several different locations in the early censuses of 1850 and 1860, sometimes living on the farms of older siblings.  Since Peter's wife died in 1845, it is possible that the older children took in the younger ones to help raise them.   However, Peter Heckart, as a widower, was the head of his own household in 1860, which was located in Sayville, Perry County, and in that household were his son Joseph Heckart and wife Sarah along with their two young sons, Jeremiah, age 2, and Benjamin, age 1.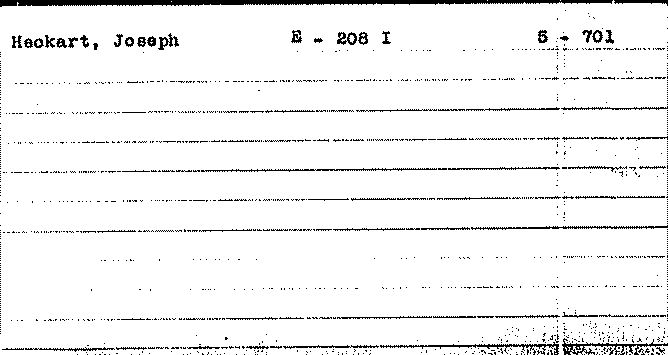 It is not clear from the census records when Sarah and Joseph were married, but on the grave marker, two deceased young children are noted – Charles and Daniel – both of whom died during the Civil War.  Joseph waited until 30 August 1864 to join the 208th Pennsylvania Infantry, Company E, as a Private.  One month later he was dead.  He was killed near the Appomattox River in Virginia, either on the 29 September or 30 September 1864.
Sarah was left a widow with young children and less than one month later, she submitted her application for a Widow's Pension, which she received based on the untimely death of her husband in the war.  She continued to collect the pension for nearly 45 years until her death – receiving benefits for more than 500 months to the one month her husband served.
—————————-
Continued tomorrow.  Anyone with more information on any veterans being researched by the Civil War Research Project is urged to contribute it.