Posted By Norman Gasbarro on April 15, 2012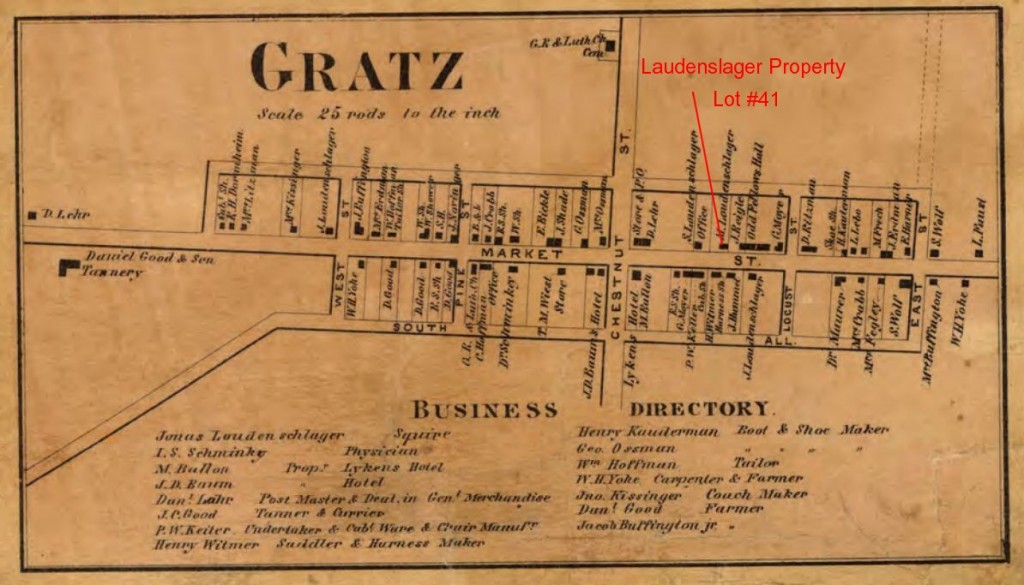 The lot numbered 41 in the original Simon Gratz layout of the town of Gratz, Dauphin County, Pennsylvania, was sold in 1816 to a farmer, Peter Ritzman, an early settler of Lykens Township.  Ritzman built the house shortly afterward and by 1818 sold the property to Jacob Hoover.  Hoover continued to live in Lykens Township where he farmed and ran a saw mill.  A number of different tenants occupied this Gratz house during the Hoover ownership.  In 1838, Hoover sold the property to Levi Schreffler who unfortunately died shortly thereafter, his heirs thereafter selling it at public auction.  The highest bidder was Daniel Laudenslager (1819-1883) who kept it until 1845 when he sold it to Daniel Emanuel (1808-1902), a Gratztown butcher.  A sheriff's sale conveyed the property to Elizabeth Laudenslager in 1851 which at the time had a two-story house, a kitchen and a stable.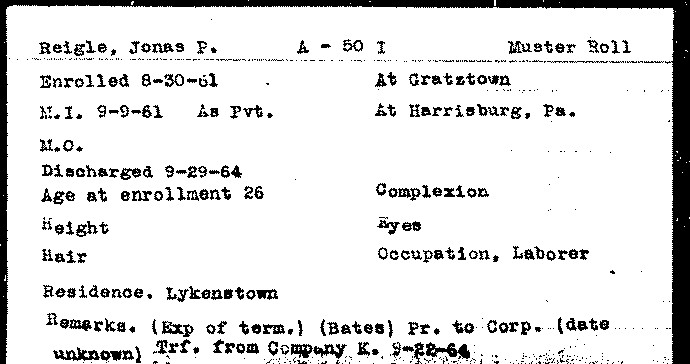 In 1858, Jonas P. Riegle (1835-1889), a newlywed to Rebecca Holtzman, lived here as a tenant but soon thereafter moved to Lykens Borough. During the Civil War, Jonas served in the 50th Pennsylvania Infantry.  Jonas P. Riegle was a direct descendant of Andreas Riegel, an early pioneer settler of the Lykens Valley who had married the daughter of Johann Peter Hoffman (1709-1797) and therefore is a Hoffman family descendant.  During the war, Jonas contracted typho-malarial fever and was hospitalized in Kentucky.  After the Civil War, Jonas P. Riegle moved to the Wiconisco and Williamstown areas where he worked as a clerk in a store and as a butcher.
In recognition of his Civil War service, Jonas P. Riegle is named on the Lykens G.A.R. Monument: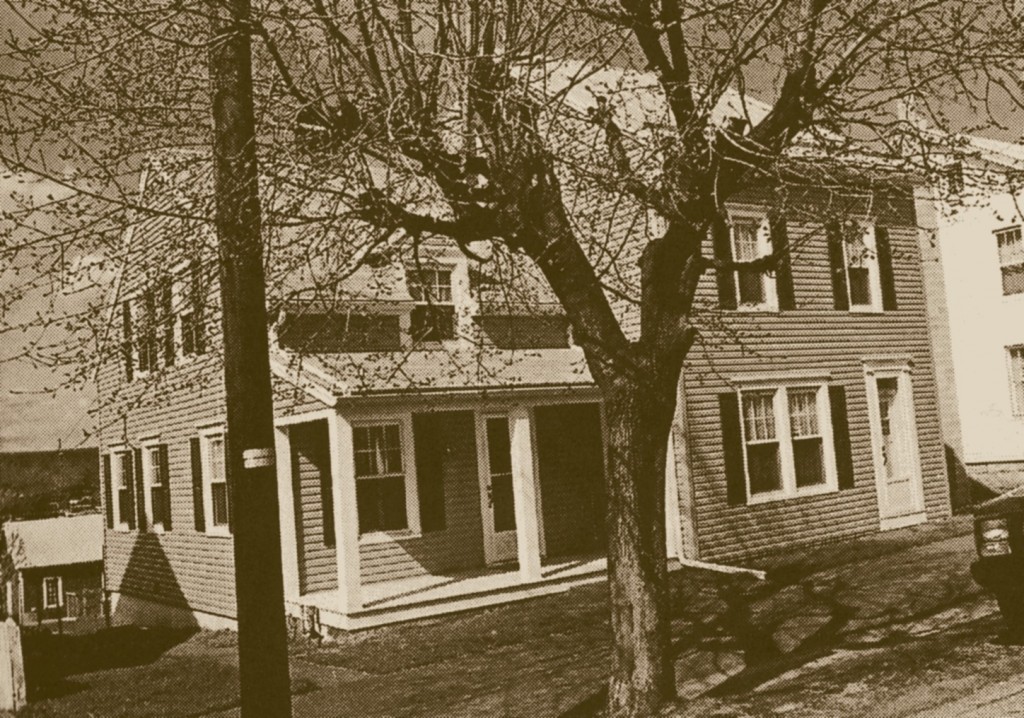 The earliest picture available of the house on this property was taken in the late 20th century and is shown above.  The oldest part of the house is at the right in the picture.  The left side addition was added years later and was therefore not part of the structure during the Civil War.
In 1860, after a brief ownership by Isaac Moyer, Lot #41 and its buildings were conveyed to Jonas Laudenslager.  In 1865, this property, Lot #41, was owned by Zacharias Laudenslager.  Another property owned by Zacharias Laudenslager, Lot #46, was previously discussed on this blog.
There were several persons named Isaac Moyer who lived in the Lykens Valley area at various times.  At this time it is not known which one owned this property, although the property records show that he was from Pottsville and had a wife named Susanna.  There are two persons named Isaac Moyer who are presently being researched who served in the Civil War, but a Gratz property connection has not yet been established with either of these.
After the Civil War (in 1866), Jonas Laudenslager sold the property to Jonas Schoffstall and his wife Catherine Schoffstall.  Catherine, a widow in 1900, was living in the property in 1900 with her son Henry D. Schoffstall, a shoemaker.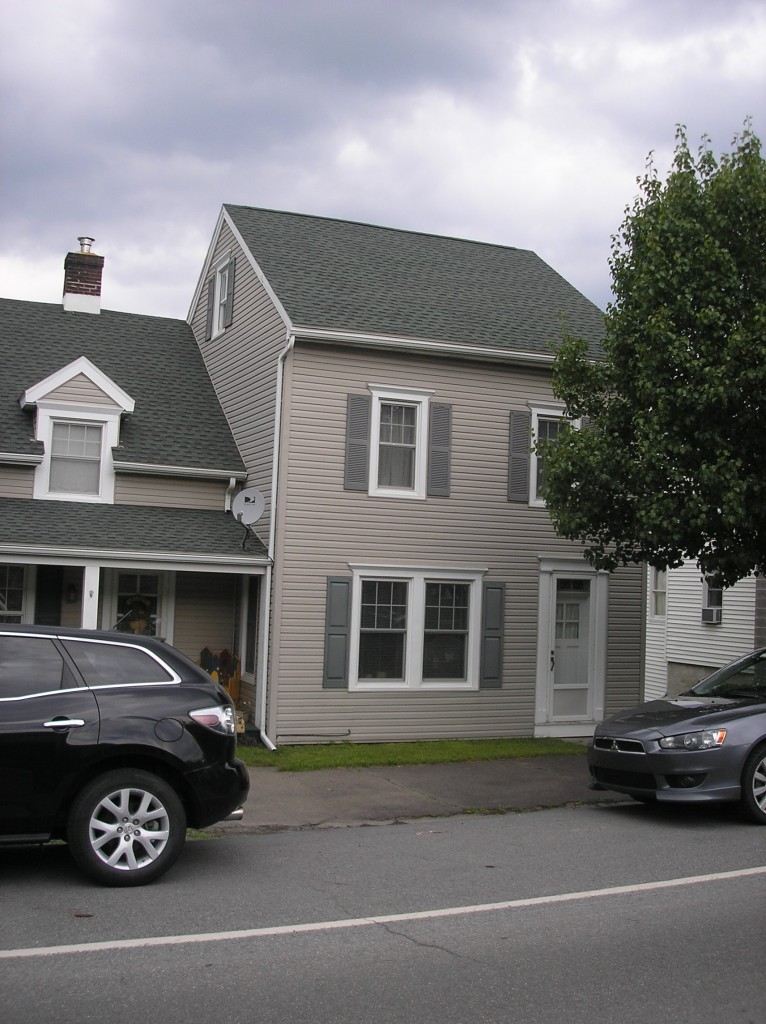 This is part 34 of an ongoing series on Gratz during the Civil War.  Some of the information for this post was taken from the book A Comprehensive History of the Town of Gratz Pennsylvania.  
Other parts of the series on Gratz During the Civil War can be found on this blog by clicking on "Walking Tour."