Posted By Norman Gasbarro on April 5, 2012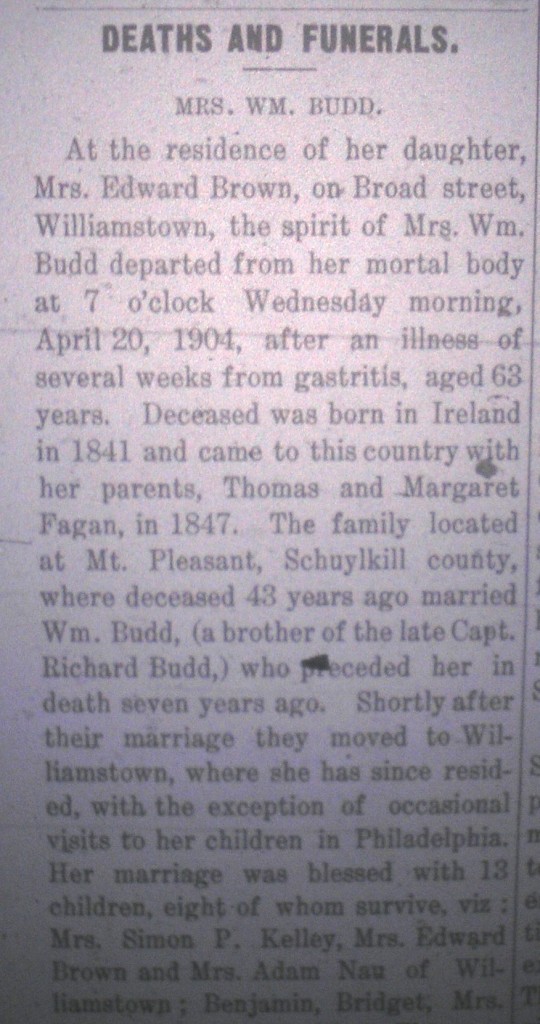 DEATHS and FUNERALS

WILLIAMSTOWN, 29 April 1904 — At the residence of her daughter, Mrs. Edward Brown, on Broad Street, Williamstown, the spirit of Mrs. William Budd departed from her mortal body at 7 o'clock, Wednesday morning, 20 April 1904, after an illness of several weeks from gastritis, aged 63 years.  Deceased was born in Ireland in 1841 and came to this country with her parents, Thomas Fagan and Margaret Fagan in 1847.  The family located at Mt. Pleasant, Schuylkill County, where deceased 43 years ago married William Budd, a brother of the late Captain Richard Budd,) who preceded her in death seven years ago.  Shortly after their marriage they moved to Williamstown, where she has since resided, with the exception of occasional visits to her children in Philadelphia.  Her marriage was blessed with 13 children, eight of whom survive, viz:  Mrs. Simon P. Kelley, Mrs. Edward Brown and Mrs. Adam Nau of Williamstown; Benjamin Budd, Bridget Budd, Mrs. Patrick Connelly, Mrs. Dora Flanagan and Mrs. Kate Ryan of Philadelphia.  One brother, Patrick Fagan of Williamstown and two sisters, Mrs. Hall of Williamstown and Mrs. Thomas Challenger of Tower City, also survive.  There are 27 grandchildren.

Mrs. Budd was a consistent member of the Catholic Church and when her health permitted always gave her presence at Sacred Heart Church.  The funeral took place on Saturday morning at 10 o'clock, when requiem mass was sung by Rev. Father Kennedy.  Interment in Williamstown Catholic Cemetery.  The pallbearers were James H. Reilly, John Punch, John Carr, John Kinney, P. B. Brown and P. J. Meehan.  R. W. Day was the funeral director.

Among those from a distance who attended the funeral were Mrs. Martz (nee Maggie Fagan,) Mrs. Dora Brennan, Philadelphia; Stephen Gibbons and wife, Shamokin, and children of the deceased from Philadelphia.
——-
The above obituary appeared in the Lykens Standard on the date indicated.
Sarah [Fagan] Budd was buried in the Catholic Cemetery in Williamstown and today, a tall monument marks her grave and that of her husband: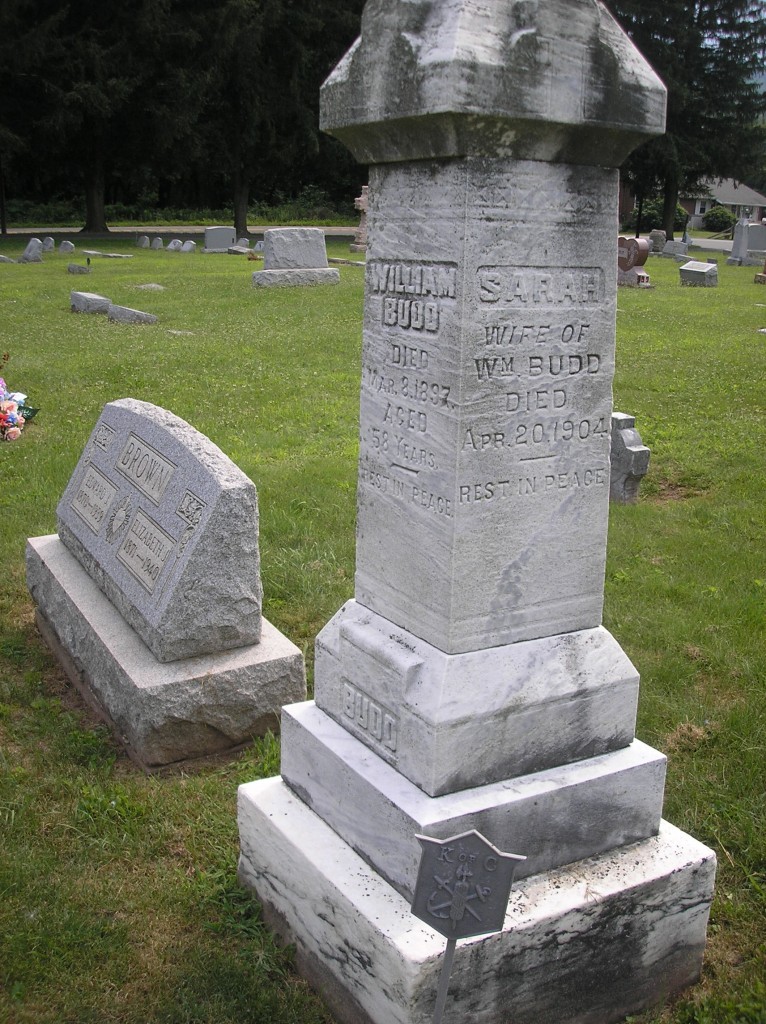 An emblem of the Knights of Columbus is present at the grave site, presumably because William Budd was a member.
Some basic information was included about the military service of William Budd when his military marker was featured in the post on Sacred Heart of Jesus Church and Cemetery.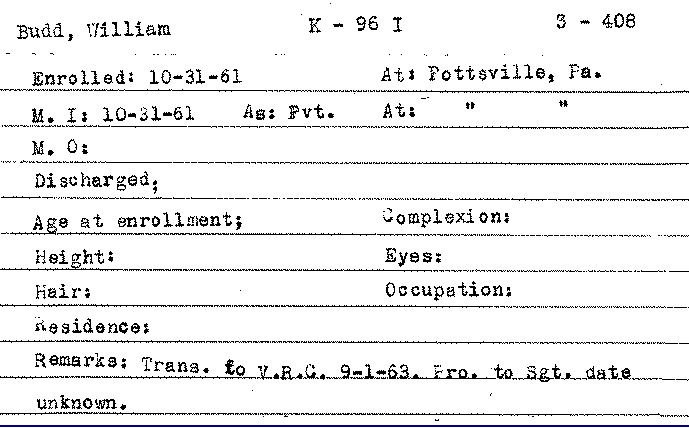 The Veterans' File Card (shown above) indicates a transfer to the Veteran Reserve Corps, otherwise known as the Invalid Corps, as well as a promotion to Sergeant on an unknown date.   The extent of his injury cannot be be discerned from the above record.
In the 1890 Veterans' Census, William Budd was living in Williamstown, Dauphin County, Pennsylvania.  He noted his service only in the 96th Pennsylvania Infantry and no mention was made of his Veteran Reserve Corps experience.  Also noted on the census page was that his disability was "heart disease."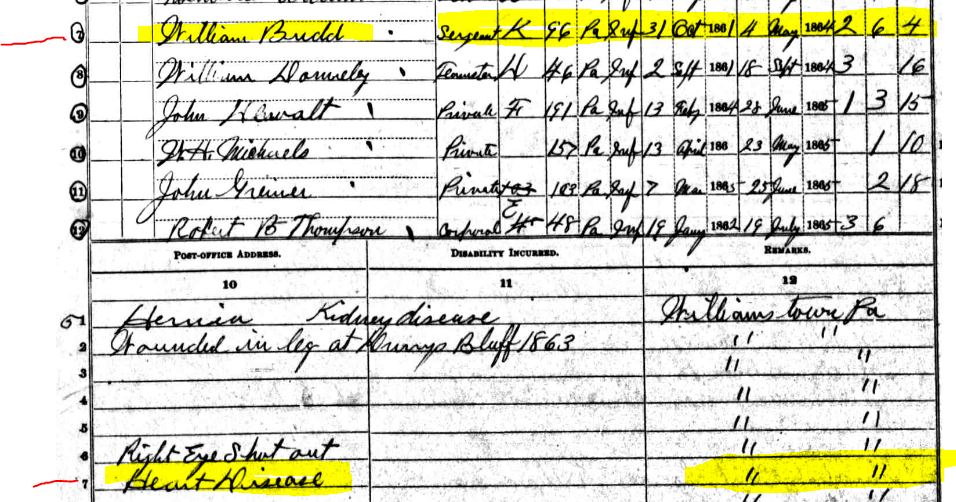 Finally, the Pension Index Card for William Budd is shown below: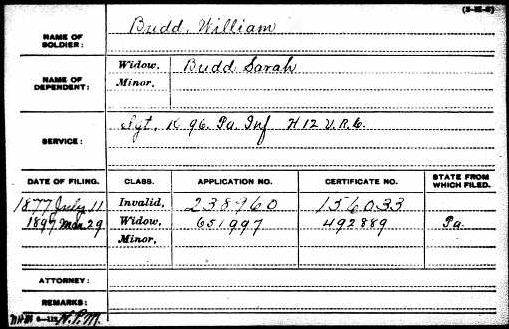 William Budd had a significant enough disability to apply for a pension in 1877, before the pension requirements were relaxed.  He was awarded a pension based on service in the 96th Pennsylvania Infantry and the Veteran Reserve Corps.  When he died in 1897, his widow applied for his pension and received it, which she collected until her death in 1904.
Information is sought on William Budd and his Civil War service and well as his family and his work life.  He was a coal miner as was his brother.  Pictures, documents and stories are especially welcome!
Prior posts featuring Captain Richard Budd can be found by clicking here.
Documents shown above are from Ancestry.com with the exception of the Veterans' File Card which is from the Pennsylvania Archives.