Posted By Norman Gasbarro on April 6, 2012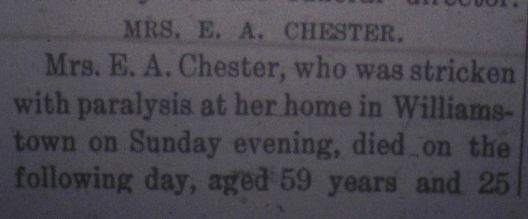 MRS. E. A. CHESTER

WILLIAMSTOWN, 6 May 1904 — Mrs. Esther A. Chester, who was stricken with paralysis at her home in Williamstown on Sunday evening, died on the following day, aged 59 years and 25 days.  Deceased, whose maiden name was Esther Garland, was born in Llewellyn, Schuylkill County, and shortly after her marriage moved to Williamstown where she had since resided.  She is survived by five children as follows:  Albany Chester, Mrs. Thomas Warlow, and Mrs. William Bordner of Williamstown; Holden Chester and Sallie Chester of Shamokin.  Two brothers, John Garland of Llewellyn, and Rev. Thomas Garland of Mt. Carmel; and one sister, Mrs. Sarah Challenger of Harrisburg. also survive, besides 12 grandchildren.

Deceased was the widow of Daniel Chester, who served in the Civil War and was one of the prime movers in organizing the Grand Army Post [G.A.R.] at Williamstown, which was named in his honor.

The funeral took place yesterday afternoon, services being conducted at her late home by Rev. O. E. Stocking of the M. E. Church, of which she was a member.  Interment was in the Williamstown Evangelical Cemetery.  R. W. Day was the undertaker and the pall bearers were…. [the pallbearers were not named in the obituary and the obituary ended as is stated].
The above obituary appeared in the Lykens Standard on the date indicated.  A complete copy of the obituary is available in the Civil War Research Project.
Much more information is sought on the life of both Daniel Chester and his widow.  The following is known about the military service of Daniel Chester: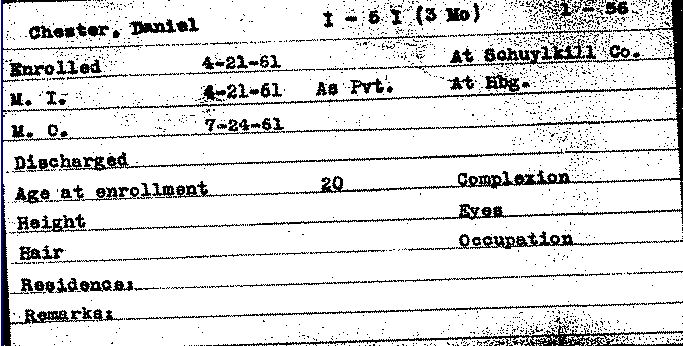 Daniel Chester enrolled at Schuylkill County and was mustered into the 5th Pennsylvania Infantry, Company I, as a Private, at Harrisburg, for three months service.  He was 20 years old.   He was discharged on 24 July 1861.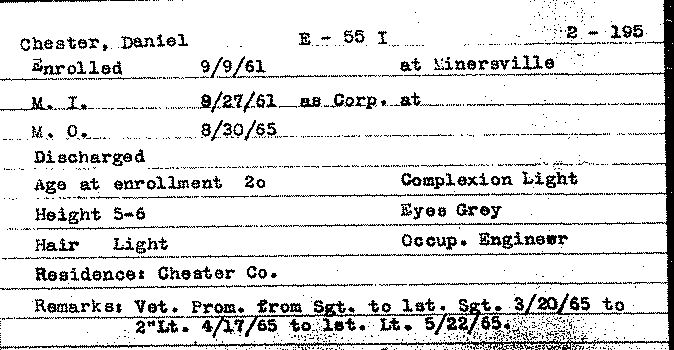 Daniel enrolled for his second enlistment at Minersville, Schuylkill County, on 9 September 1861 and was mustered into service, probably at Harrisburg, on 27 September 1861.  His regiment was the 55th Pennsylvania Infantry, Company E, and his initial rank was Corporal.
He gave his age as 20 at enrollment.  His physical description was 5′ 6″ tall, gray eyes, light complexion, and light hair.  His occupation was engineer.
He was promoted from Sergeant to 1st Sergeant on 20 March 1865, then to 2nd Lieutenant on 17 April 1865, and finally to 1st Lieutenant on 22 May 1865.
Following his Civil War service, Daniel Chester did not apply for a pension.  His death in 1877 prompted his widow to apply and as a result, she received a pension as is shown by the Pension Index Card (below).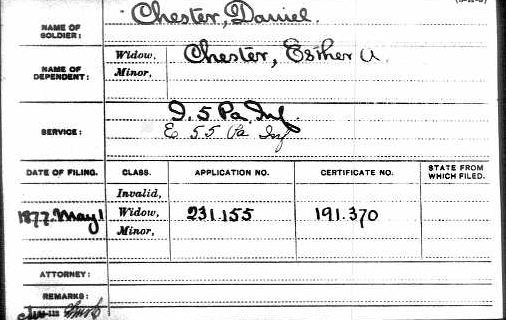 At this time, little else is known about Daniel Chester.  Readers are invited to contribute photographs and documents that will shed light on the important contribution of this veteran not only through his war service, which from the record appears to be for the full duration of the war, but also on his civic role in forming the G.A.R. post in Williamstown, Dauphin County, Pennsylvania.