Posted By Norman Gasbarro on April 9, 2012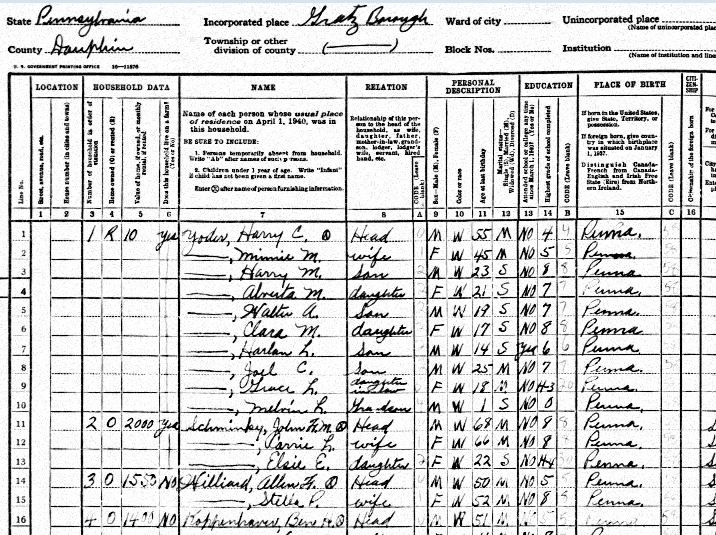 After 72 years, the 1940 United States Census has finally been released by the National Archives and Records Administration and is available on the NARA website.  However, the demand for searching this important census and obtaining copies of the enumeration sheets has caused problems at the NARA website and corrections and improvements are presently being made to facilitate access.
Until the 1940 Census was released, the latest national census available was for 1930.  The Gratz Historical Society has copies of all censuses of Gratz Borough and Lykens Township for 1930 and prior.
Copies of the newly released 1940 Gratz Borough and Lykens Township Census in both print form (hard copy) and digital form are now available on ancestry.com.
There is very little in the 1940 census that directly affects the study of Civil War veterans.  Most of the Civil War veterans nationwide had passed away before 1940 and only one known veteran from the Lykens Valley area survived after 1940, Henry Maurer, who has previously been mentioned on this blog. See: Last County Civil War Vet Marks Birthday.
Indirectly affecting the Civil War Research Project are a good number of widows of veterans who were still alive in 1940 as well as the then-aged children of the veterans.
After the 1940 census sheets are studied by members and staff, a blog entry will be posted that will describe how this census can be used to draw conclusions about the legacy of the Civil War veterans.
Note:  There are 18 enumeration sheets for Gratz Borough and 31 enumeration sheets for Lykens Township.  The portion of page 1 of the 1940 Census for Gratz Borough is at the top of this post.  Click on document to enlarge.