Posted By Norman Gasbarro on March 7, 2012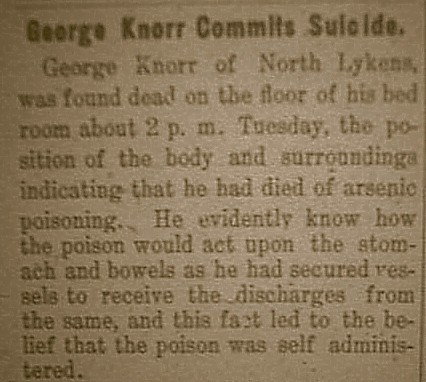 George Knorr Commits Suicide

LYKENS, 14 August 1903. — George Knorr of North Lykens, was found dead on the floor of his bed room about 2 p.m. Tuesday, the position of the body and surroundings indicating that he had died of arsenic poisoning.  He evidently knew how the poison would act upon the stomach and bowels as he had secured vessels to receive the discharges from the same, and this fact led to the belief that the poison was self-administered.

The coroner was notified of the affair who instructed his deputy, Dr. G. M. Stites of Williamstown, to hold an inquest over the remains, which he did that evening, selecting the following jury:  Cornelius Bowman, Dr. J. A. Ulsh, Amos Matter, Jacob Alvord, Newton Koppenheffer and Harvey Koppenheffer.  The facts elicited are substantially as follows:  Mr. Knorr came to town Monday morning to purchase cracked corn at the granary for his chicks, and on his way home stopped at a drug store and secured a box of Rough-on-Rats, telling the clerk that he wanted to destroy the rats which were carrying off his chicks.  He then returned home and complained of feeling unwell, shortly after which he retired, giving his wife his purse containing his quarterly pension.  Mrs. Knorr left the house about 9 a.m. and on returning at about 2 p.m. and not seeing her husband about told Mary Engle, who resides with her, to go up to his room and see if he was there, when he was found lying on the floor, dead, as above stated.  The premises were searched for the wooden box containing the balance of the poison, bus as it could not be found it is supposed that he took the fatal dose on his way home and threw the balance away, perhaps into the Wiconisco Creek, which he had to cross at the foot of Market Street.  Another fact that adds to his belief is that he acted as if intoxicated on arriving home and sat on a chair in the yard, where his swaying motions were noticed by Jacob Alvord who was passing at the time and who went to him.  The poison had already commenced its deadly work and caused a revulsion of the stomach, which, on account of Mr. Knorr being periodically addicted to the cup, was naturally attributed to intoxication, and Mr. Alvord left.  And for this same reason his wife was not alarmed when he retired, thinking he would feel better after taking a good sleep.

The verdict of the jury was arsenic poisoning.

Mr. Knorr has been a resident of this place for about 40 years, and was employed at Short Mountain Colliery up to about three years ago, since which time, on account of failing health and advanced age, he has not been able to follow any regular work.  He intended spending his remaining years in a Soldiers' Home, and the necessary papers for his admission had been forwarded to the proper authorities, with favorable action thereon.   What led the man to self-destruction can only be attributed to a deranged mind, as he has been melancholy at intervals during the past year.  He was aged 62 years, 5 months and 6 days.  There are no children.

Mr. Knorr was a veteran of the Civil War and a pensioner at $8 per month.  His military record is good, having been enrolled as a Private in Company D, 143rd Regiment Pennsylvania Volunteers [143rd Pennsylvania Infantry], 7 September 1863, and serving his country faithfully until honorably discharged at Hart Island, New York, 12 June 1865.

The funeral will take place at 2 p.m. today, Rev. L. M. Fetterolf conducting the services.  Interment in Citizens' Cemetery.
The above story was taken from the Lykens Standard of the date indicated.
In the 1870 and 1900 censuses, George Knorr reported his occupation as coal miner.  In 1870, his father-in-law, Andrew Dieter (also known as Andrew Dietrich) was living in the household.  Elizabeth was a direct descendant of Lenhart Dietrich whose Dietrich descendants were noted in a previous post.  George and Elizabeth had an adopted daughter "Katie" who is mentioned in 1900 census but is not mentioned in the obituary.
George Knorr was drafted into the 143rd Pennsylvania Infantry, Company D, as a Private and mustered in at Harrisburg, 7 September 1863.  He served until discharge on 12 June 1863.  He was 22 years old at the time he was drafted.  Not much other information about him is found on his Pennsylvania Veterans' File Card at the Pennsylvania Archives.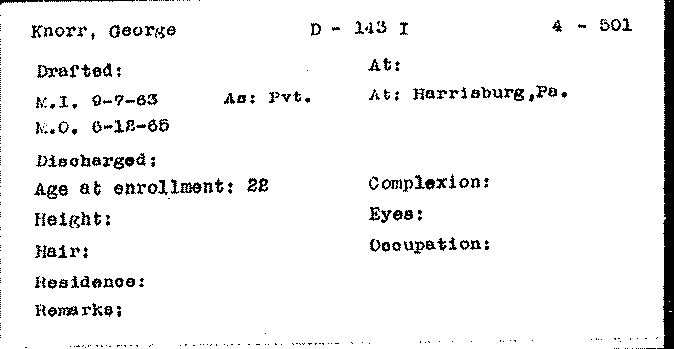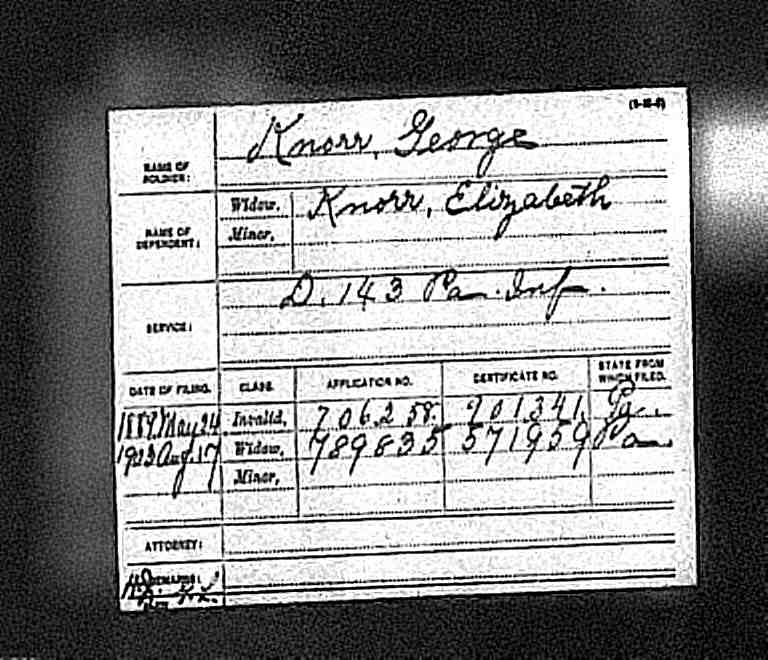 George Knorr applied for and received a pension for his Civil War service.  Despite the nature of his death, his widow Elizabeth [Dietrich] Knorr was able to receive the pension until she died.  The application for admission to the Soldiers' Home has not yet been located.  It is possible that there is a copy of it in the pension file at the National Archives.
George Knorr was buried in the Lykens Citizens' Cemetery on South Second Street, Lykens, Dauphin Count.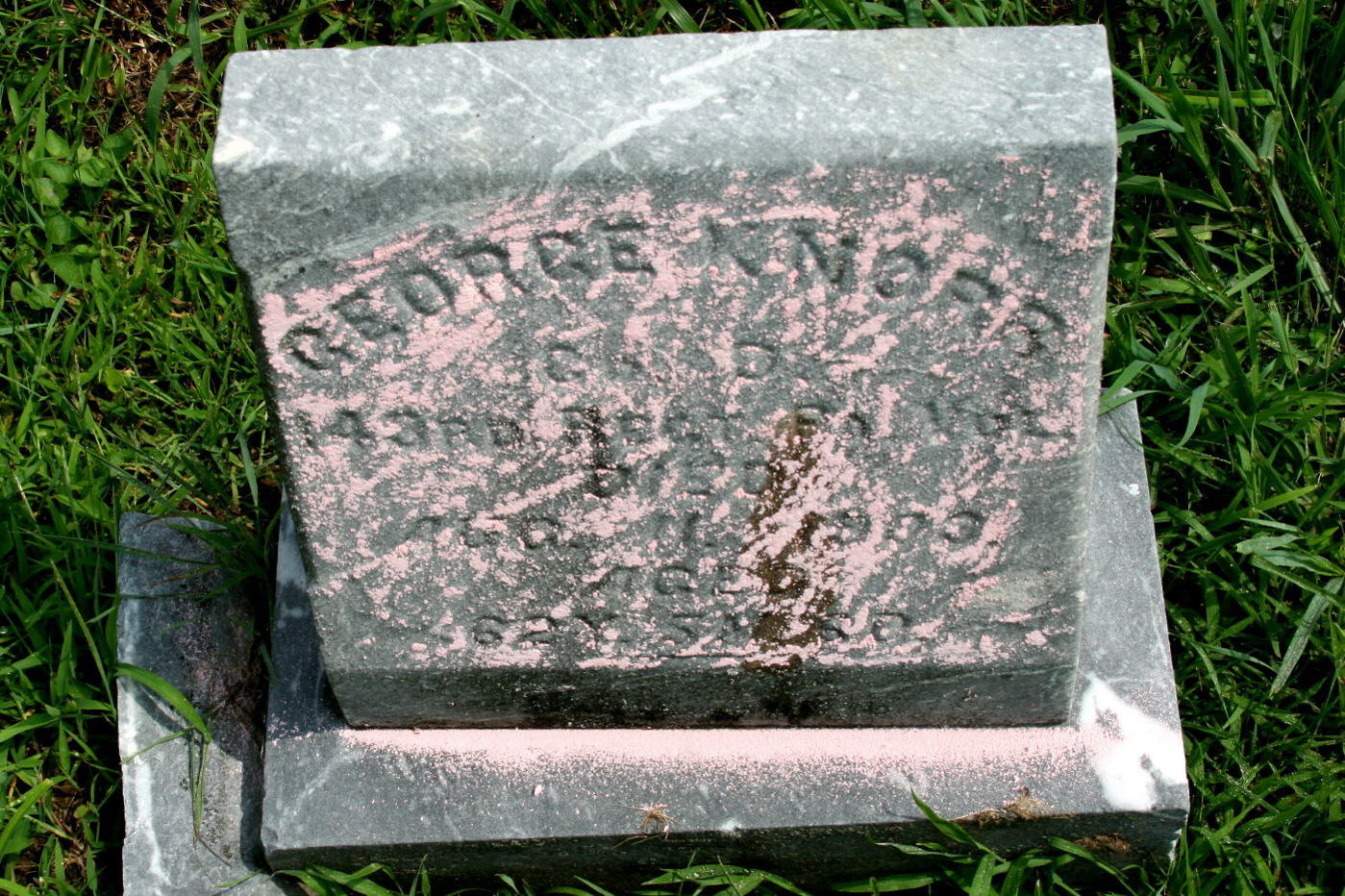 In recognition of his Civil War service, he is noted on the Lykens G.A.R. Monument – however, as George Knarr.

The Pension Index Card for George Knorr is from Ancestry.com.
More information is sought on George Knorr.