Posted By Norman Gasbarro on March 2, 2012
An Honorable War Record

LYKENS, 7 August 1903. — We read almost daily in the papers of the State the military record of some veteran of the Civil War who believes his services were of much character as to prove of interest to the general public, but we doubt if any can show up a more honorable record than our old friend, John McCarty of North Lykens.  Here it is:

Enlisted 26 April 1861 and mustered into the service at Harrisburg as a Private in Company F, Tenth Regiment Pennsylvania's Volunteer Infantry [10th Pennsylvania Infantry], to serve three months under Capt. E. G. Savage and Col. S. A. Meredith.  The regiment proceeded to Chambersburg until 8 June, thence to Greencastle, Middleburg and Williamsport, until 1 July 1861; thence into Virginia, through Martinsburg and Bunker Hill until 18 July 1861, thence to Charleston, 23 July, to Harper's Ferry, to Hagerstown and Harrisburg, sharing the fortunes of the regiment in all its movements, and was discharged 3 July 1861 at Harrisburg, Pennsylvania, by reason of the expiration of his term of enlistment.

Re-enlisted as a Private 10 October 1861, to served three years in Company G, Ninety-sixth Pennsylvania's Volunteer Infantry [96th Pennsylvania Infantry] under Capt. James Douden and Col. Henry F. Cake.  He shared the fortunes of this regiment in the following engagements:  West Point, 6 May 1862; Gaines' Mills, 27 June 1862; Golding's Farm, 28 June 1862; Charles City Cross Roads, 30 June 1862; Malvern Hill, 1 July 1862; Second Bull Run, 30 August 1862; South Mountain, 1 September 1862; Antietam, 17 September 1862; Fredericksburg, 13 December 1862; Mud March, 20-24 January 1863; Gettysburg, 1-3 July 1863; Rappahannock, 7 November 1863; Wilderness, 5-7 May 1864; Spottsylvania, 8 May 1864; Cold Harbor, 1-2 June 1864; Petersburg, 15-30 June 1864; Berryville, 5 September 1864; Opequa, 18 September 1864; Fisher's Hill, 23 September 1864.  On 27 September 1864, he was transferred to Company L, and finally and honorably discharged 15 October 1864, in camp, on account of the expiration of his term of enlistment.

Mr. McCarty is a member of Heilner Post, No. 232, G.A.R., of this place, and none take a deeper interest in its welfare.  We may also add that he is proud of his adopted country which he helped save from disruption, and on the dates of important events in the nation's history the stars and stripes are unfurled from the windows of his peaceful home, painted green in fond recollection of the oppressed land of his birth beyond the sea.
The above article appeared in the Lykens Standard, 7 August 1903.  Feature articles on the war service of area individuals often appeared in the newspapers while they were still living as the example above proves.
John McCarty was one of many immigrants who came from Ireland and settled in the Lykens-Wiconisco-Williamstown area to work in the mines.
Unfortunately, not much more is known of John McCarty and more information is sought by the Civil War Research Project.  He did serve in the same regiments as Henry Keiser and the Civil War Rsearch Project has a copy of Henry Keiser's war diary which is in the process of being transcribed and indexed.  It is not known at this time whether John McCarty is mentioned in the diary.
John McCarty's initial enlistment was for three months in the 10th Pennsylvania Infantry.  At the time, he was residing in Wiconisco and working as a coal miner.  He enlisted at Lykens as a Private in Company F: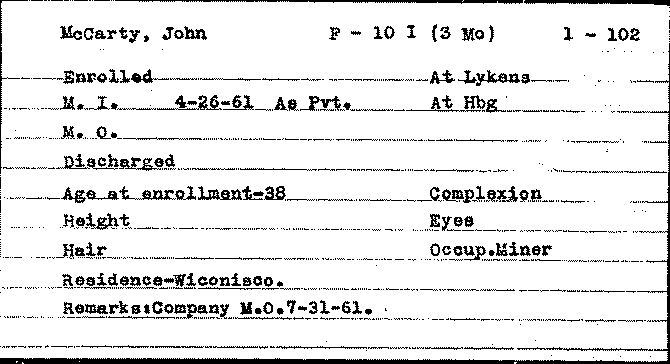 The original second enlistment was in the 96th Pennsylvania Infantry, Company G.  He enrolled at Lykens for a three year term as a Private.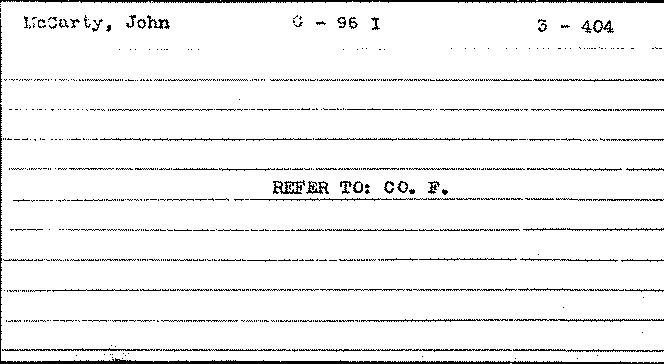 John McCarty, was transferred to a different company of the  96th Pennsylvania Infantry as part of a late-in-the war consolidation of companies and regiments, as were most of the members of the 96th Pennsylvania Infantry, Company G, who chose to re-enlist.  This fact is recorded in John McCarty's Pennsylvania Veterans' Card File record at the Pennsylvania Archives: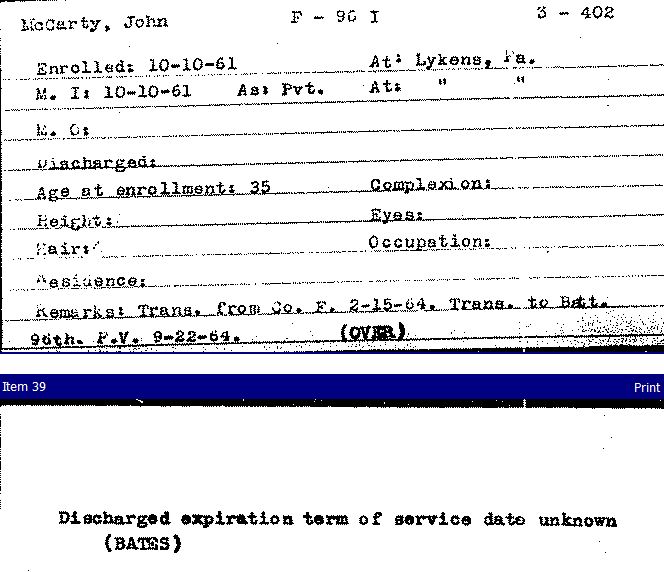 The card notes that the transfer was to a "Battalion" but this may be in error.
In July, 1863, John McCarty was at Gettysburg and took part in the battle there.  His name appears on the tablet for the 96th Pennsylvania Infantry at the Pennsylvania Memorial at Gettysburg:
John McCarty's was also a member of the Heilner Post 232, G.A.R. of Lykens and as such, his name appears on the Lykens G.A.R. Monument:

The Civil War Research Project is seeking more information on John McCarty.  Anyone with information, including genealogies, pictures, and documents from family, military and pension records, is urged to contribute!