Posted By Norman Gasbarro on March 19, 2012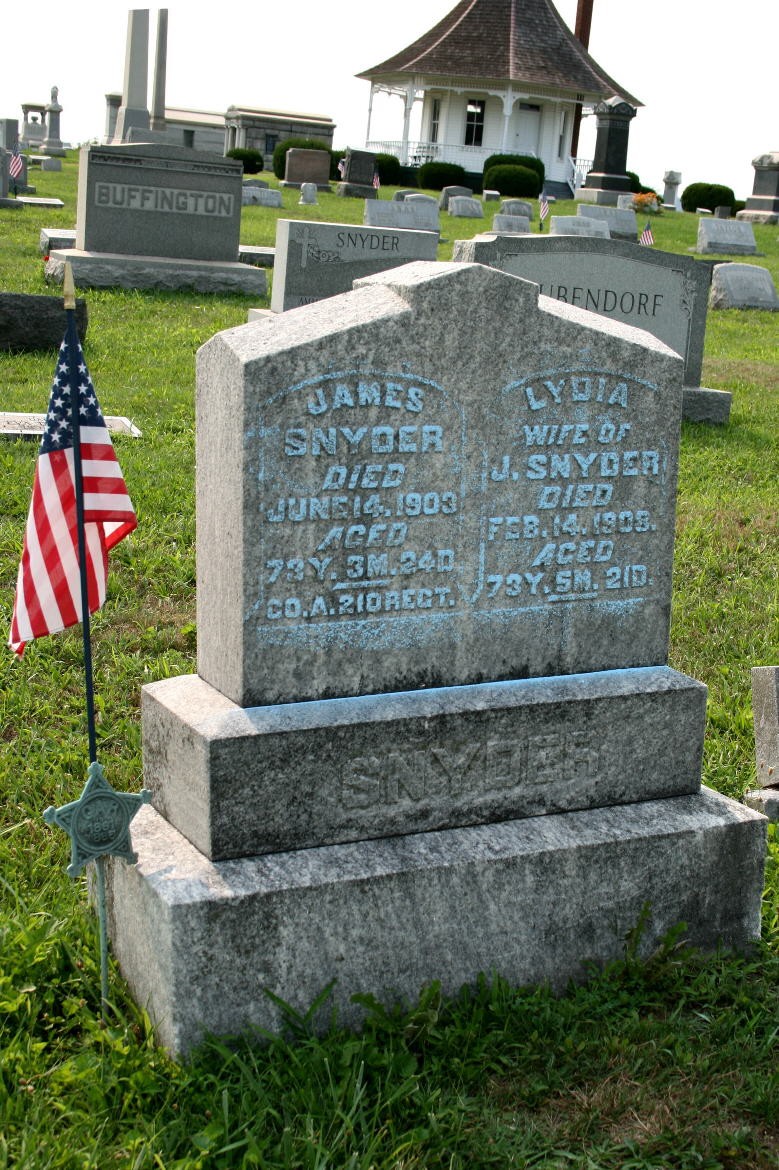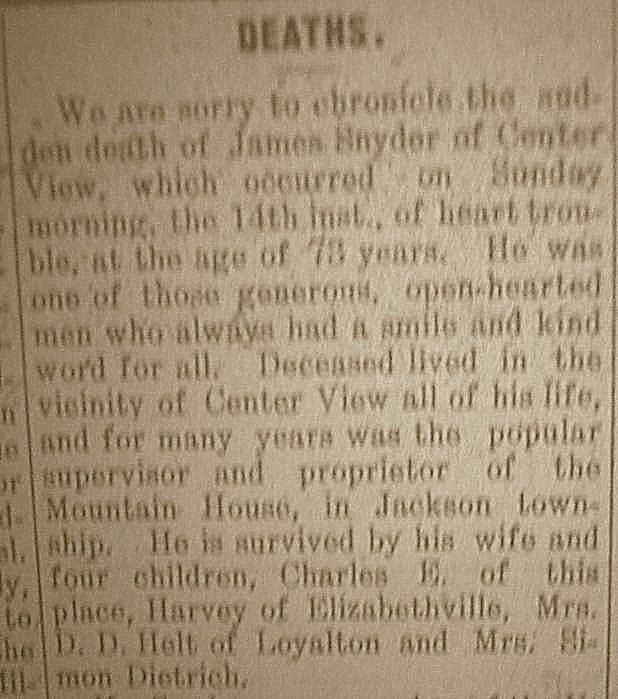 James  Snyder

LYKENS, 19 June 1903. — We are sorry to chronicle the sudden death of James Snyder of Center View, which occurred on Sunday morning, the 14th inst., of heart trouble, at the age of 73 years.  He was one of those generous, open-hearted men who always had a smile and kind word for all.  Deceased lived in the vicinity of Center View all of his life, and for many years was the popular supervisor and proprietor of the Mountain House, in Jackson Township.

He is survived by his wife and four children, Charles E. Snyder of this place, Harvey Snyder of Elizabethville, Mrs. D. D. Helt of Loyalton and Mrs. Simon Dietrich.

Mr. Snyder was a member of the U.B. church, and Revs. J. E. Francis and James Shoop had charge of the funeral services.  Interment took place in Maple Grove Cemetery, Elizabethville, Wednesday morning.

Comrade Snyder enlisted in defense of his country 8 September 1864, was mustered into service at Harrisburg under Capt. Bowerman as a private in Co. A, 210th Reg., Pa Vol . Infantry [210th Pennsylvania Infantry].  His regiment was assigned to the Third Army Corps of the Potomac.  He shared in the fortunes of his regiment in all its movements and engagements, including Hatch's run, Feb. 5-6, 1865; siege before Petersburg, Five Forks, Bull Run, assault on Fort Steadman, and in first line of battle at Appomattox Court House, and saw Gen. Lee surrender 9 April 1865.  He was once wounded but remained with his regiment; was honorably discharged 30 May 1865, at Arlington Heights, Va., and was laid to rest with military honors by B. F. Miller Post, No. 393, G.A.R. of Fisherville, of which he was an honored member.
The above obituary appeared in the Lykens Standard on the date indicated.
—————————-
The following is adapted from a biographical sketch that appears in Captain Enders Legion (p. 218-220).  It tells of the interrelationship of James A. Snyder with some other Civil War veterans from the area.
James A. Snyder was married to Lydia McColly, the daughter of Robert McColly and Anna Catherine Lubold.  She was born 23 Jun 1834 and died 14 Feb 1908.  Her brother, Amos McColly, served in the Civil War in the 92nd Pennsylvania Regiment, Company K, 9th Cavalry [9th Pennsylvania Cavalry].  Lydia's sister, Caroline Lubold McColly married Cyrus Minnich, who also served in the Civil War in the 173rd Pennsylvania Regiment (Drafted Militia) Company H [173rd Pennsylvania Infantry] and the 203rd Pennsylvania Volunteer Infantry, Company H [203rd Pennsylvania Infantry].  James later was the proprietor of the Mountain House Hotel.  Their son, Harvey H. Snyder was born in 1868 and married Jennie Dorcia Miller.  Family lore indicated that Harvey was also a hotel inn-keeper in Loyalton, Pennsylvania.  Their daughter, Orpha Alva Snyder, who was born in Jackson Township, Dauphin County, Pennsylvania, on 10 Dec 1896, married Joel Esli Enders who was born in Fisherville, Pennsylvania, on 25 Nov 1883.  He is the son of Israel Otterbein Enders and Caroline [Keiter] Enders.  Joel had 12 sisters and brothers.  Orpha and Joel had two children:  Mary Caroline Enders, born 5 Aug 1918; and Robert Calvin Enders, born 27 Oct 1925.  Joel was a railroad freight handler.  Orpha's grandfather, James A. Snyder served gallantly in the Civil War in the 210th Pennsylvania Regiment, Company A [210th Pennsylvania Infantry], with at least 14 other members of the Enders family tree and many local residents.

James A. Snyder enlisted 10 Sep 1864 at Camp Curtin, Harrisburg, Pennsylvania, in the 210th Pennsylvania Volunter Infantry Regiment Company A.  He fought in numerous battle, such as Hatcher's Run, the Bellefield Raid, the Destruction of the Weldon Railroad, Dabney's Mills, Gravelly Run and a final skirmish at Appomattox Court House.  They were upon the front line to the last, the flag of truce proclaiming the Confederate surrender, passing through the lines of the Brigade in which it stood.  During the three day battle at Gravelly Run, the regiment's Commanding Officer, Colonel William Sergeant was mortally wounded, while gallantly leading his command on 31 Mar 1865.  Adjutant Morris Schlesinger, a scarred veteran and Captain John N. Hughes were also killed.  Schlesinger, when found upon the battlefield, weakened by his wounds, exclaimed, "This is the death I have sought."  The regiment losses were 35 killed, 115 wounded and 150 missing.  James A. Snyder marched in the Grand Parade in Washington and was mustered out with the company 30 May 1865 with the rank of Private.
—————————–
James A. Snyder is buried at Maple Grove Cemetery in Elizabethville, Dauphin County.  His grave marker is pictured at the top of this post.
His Civil War service is confirmed by the following three documents: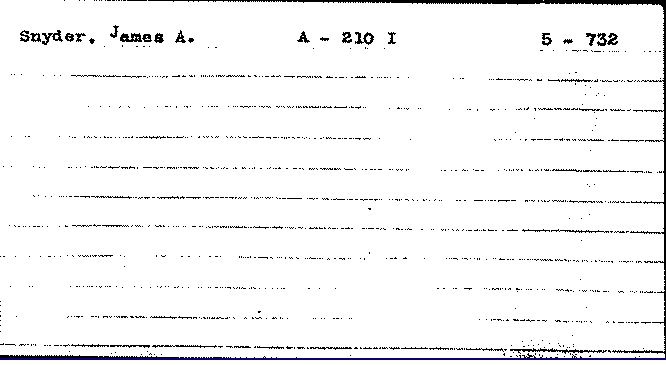 The Pennsylvania Veterans' File Card (above) is from the Pennsylvania Archives.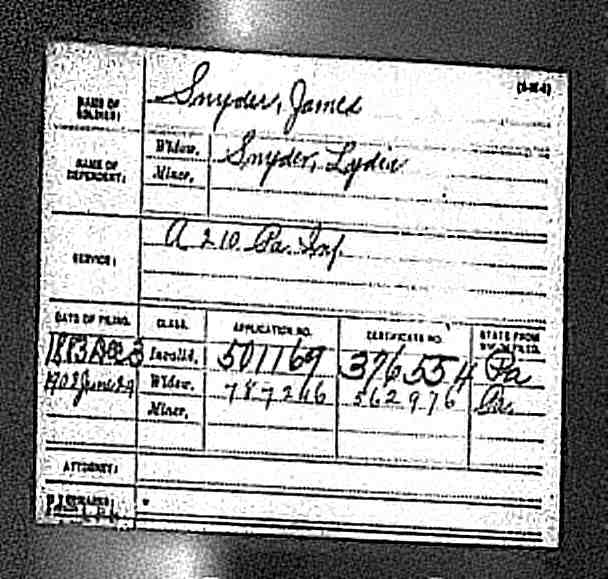 The Pension Index Card (above) from Ancestry.com confirms that James A. Snyder received a pension for his service in the 210th Pennsylvania Infantry, and that his widow collected the pension after his death.  The Civil War Research Project has copies of some selected items from the pension files which are available from the National Archives in Washington, D.C.
A copy of the discharge papers (shown below) of James A. Snyder was provided by his great-grandson, Ed Bechtel of Loyalton.
For his Civil War service, James A. Snyder was honored with recognition on the Lykens G.A.R. Monument.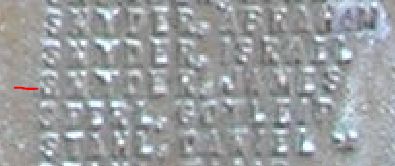 Previously, James A. Snyder was also mentioned in other posts here on this blog (click to read post):
Halifax Area Civil War Veterans.
As always, additional information is sought on James A. Snyder as well as all other veterans associated with this Civil War Research Project.  Click here to contact the project.