Posted By Norman Gasbarro on March 29, 2012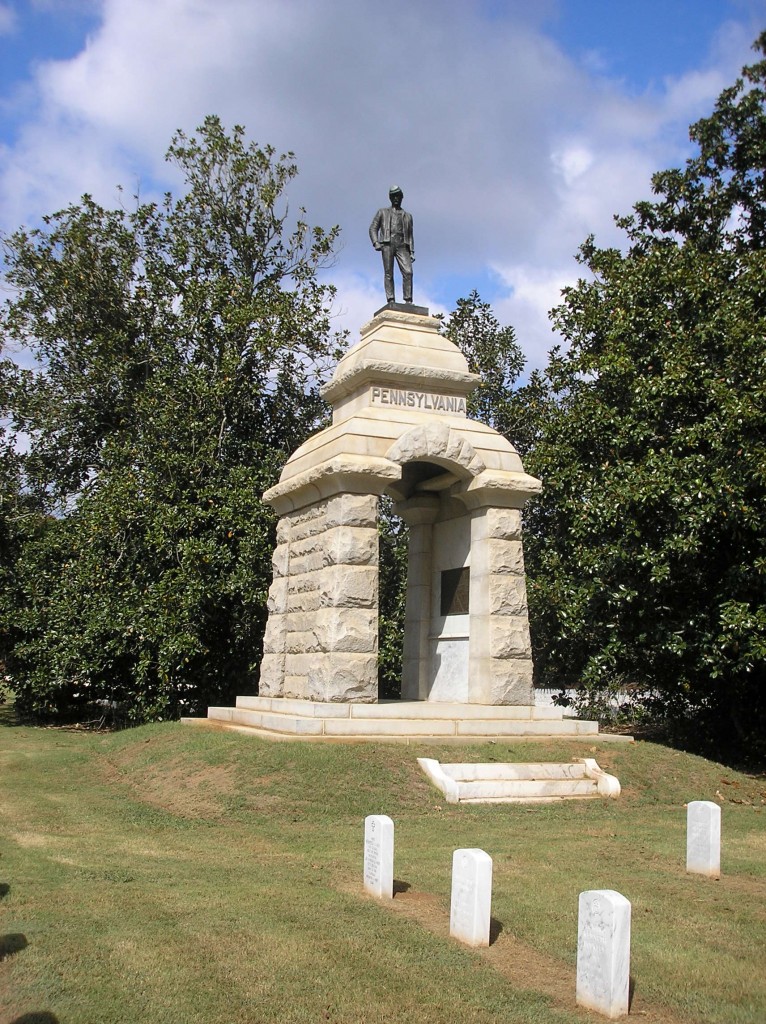 The Pennsylvania Memorial at Andersonville National Cemetery, Andersonville, Georgia, is a 35 foot tall  marble arch that sits on top of a 20 square foot base.  At the top is a small a dome of Italian marble with a bronze sculpture of a Union prisoner of war who stands and sadly views the rows of graves before and around him.
Many men from the Lykens Valley area were imprisoned at Andersonville.  Few came home to tell their story. The ones who didn't come home are buried in Andersonville National Cemetery – some in graves marked "Unknown" while others have headstones with names and regiments noted.
The Pennsylvania Memorial at Andersonville has a special meaning to the Lykens Valley area veterans as it honors their fathers, sons, brothers and cousins who were there during the war.  It is the first of many monuments and memorials to the Lykens Valley area veterans presented on this blog that is found in the deep south.  In additional posts, the dedication of the monument, the extent of the cemetery, other monuments in the cemetery, the remnants of the camp itself, and life and death stories of this prison camp will be presented.  Also, a list of those men who were known to have a connection to the Lykens Valley area and who were imprisoned at Andersonville will be given.
This monument had been erected by the state of Pennsylvania in pursuance of an Act entitled "An Act to Commemorate the Heroism, Sacrifices and Patriotism of the Pennsylvania Soldiers in the Union Armies of the Late Rebellion who died in Andersonville Prison, Georgia, While Confined There as Prisoners of War:" by the erection of a suitable monument in the cemetery at that place: creating a commission for such purpose: creating a commission for such purpose, and appropriating the necessary money therefor.

Approved 18 July 1901, by His Excellency, William A. Stone, Governor.

Commissioners.

James Atwell, President

Ezra H. Ripple, Secretary

William T. Ziegler —- Harry White —-William H. Bricker

James D. Walker, Supt.
In Memoriam Pennsylvania's Sons at Andersonville

To the 1,848 of her devoted sons who died in Andersonville Prison, where they were held as prisoners of war, in the years 1864 and 1865, and who are buried here, Pennsylvania dedicates this memorial of her undying love.  The faithful men whose names adorn this monument and the pages of their country's history were loyal unto death to the flag of the Republic.  Their lives are woven into the precious fabric of American Freedom.  Through their sufferings they have left a legacy of strong, patient, patriotic endurance to coming generations.  With gratitude to Almighty God, who gave this nation such heroic spirits in the time of trial, Pennsylvania cherishes their memory, their loyalty, their sacrifices and their grave, a priceless heritage for evermore.

Here sleep the loyal and the brave,

By kindly death from prison freed,

Who gave their precious lives to save,

The nation in its time of need.

This monument cannot disclose,

Nor can the skill of mortal make,

A record of the countless woes,

They suffered for their country's sake.

To him, alone, who knoweth all,

Is known the anguish they endured,

Awaiting the last bugle call,

With breaking hearts while here immured.

Denied a soldier's splendid death.

Where glory rolls her martial drum,

They tasted death at every breath,

And bravely met their martyrdom.

Enshrined in Pennsylvania's heart,

To flag and freedom ever dear,

They are who bore the patriot's part,

And nobly served their country here.

And while the stars their vigil keep

Across the silence of the sky,

The nation's love for these who sleep

At Andersonville shall not die.

This monument to these soldiers, is here built by a people's love, fretted, blazoned and decked, with the hearts they built it of; and let it here securely stand, in form, in stone, in cap, in gate, 'till every shrine in every land, will these lives commemorate.
The post tomorrow will feature information about the dedication ceremony for this monument.