Posted By Norman Gasbarro on January 25, 2012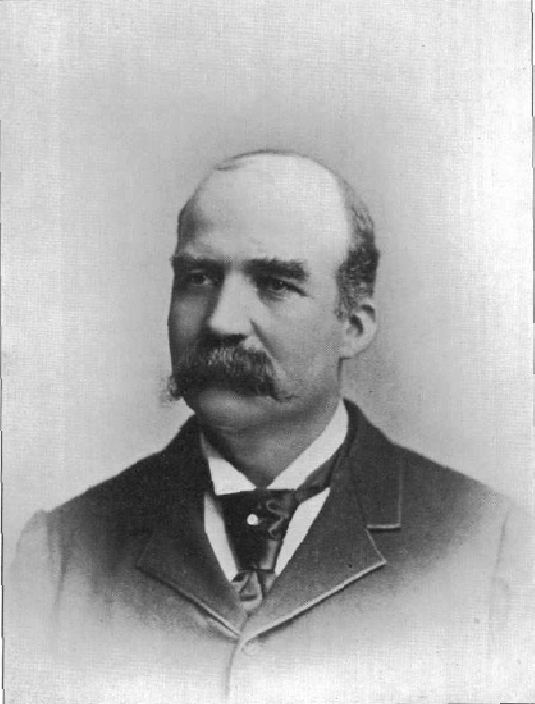 ALEXANDER F. THOMPSON, senator and attorney-at-law.  He was born at Pottsville, Schuylkill county, Pa., December 7, 1845.  He is a son of Alexander and Isabella (Pennman) Thompson, both paternal and maternal sides of the family being of Scottish ancestry.  The father, Alexander Thompson, was born in Dalkeith, Scotland, in 1808, and spent the first twenty years of his life in his native land.  In 1828 he emigrated to America, accompanied by his brother George, by James and Robert Pennman, and by Isabella Pennman, who afterwards became his wife, and her sister.  Landing at New York, they at once proceeded to Schuylkill county, Pa., and settled where the city of Pottsville now stands.  In 1857 Mr. Thompson removed to Porter township, Schuylkill county, and engaged in flour milling, lumber manufacturing and agricultural pursuits, giving eight years to these occupations.  From 1865 until 1871 he did contract work in the mines of Williamstown, and from 1871 until the date of his death, in December, 1873, he lived a retired life.  Alexander Thompson and Isabella Pennman were married at Pottsville.  They had nine children: Robert, who died in childhood; David P., who resides in Illinois; William W., who died at Frederick, Md., while serving in defense of his country in 1862; Elizabeth, wife of Hiram Kimmel, who died at Carver Hospital, Washington, D. C., while acting in the capacity of a nurse; Jennie, wife of Benneville Houtz, residing in Tower City, Pa.; Alexander F.; Robert B., a miner, residing in Tower City; Isabella, wife of George Paul, of Tower City, and James 0., residing in Reynoldsville, Pa. Mrs. Isabella Thompson died in Pottsville in 1852.  Alexander Thompson was again married, in Pottsville, to Mary Bast, of that city.  To this second union eleven children were born: Isaac, residing in Tower City, Pa.; George. residing in Alaska; John, residing in Tower City; Andrew, of Shamokin, Pa.; Abraham, of Tower City; Charles, who was killed in the mines at Tower City; Mary, wife of George Stout; Winfield, William, Elmer, and Rebecca, all residing in Tower City, Pa.  Alexander F. Thompson, at the age of twelve, was engaged in the winter in driving a four-horse team hauling logs to the mill, and in summer in working on the farm.  He was employed thus for two years; the two following years he spent in the grist mill of his father.  In 1862, at seventeen years of age, he enlisted at Pottsville in company B, One Hundred and Twenty-ninth Pennsylvania volunteers, under Col. J. K. Frick and Capt. William Wrenn, for nine months.  He was mustered in at Harrisburg, then proceeded with his regiment to Washington, D. C., where they joined the Army of the Potomac, in Virginia.  Mr. Thompson completed his term of service in May, 1863, and returned to Tower City, where he worked in the mines until June 30 of the same year, and then reenlisted in company E, Thirty-ninth State militia, under Captain Mull and Colonel Campbell.  He spent six weeks at Chambersburg and Greencastle, Pa., was discharged at Harrisburg in August, 1863, and returned for a time to his old occupation of mining.  He enlisted for the third time, January 20, 1864, in company G, Seventh Pennsylvania cavalry, Capt. William Wrenn and Captains McCormick and Hinkson.  He joined his regiment at Nashville, Tenn., and went with them through the Atlanta campaign, and during this term of service had two horses shot from under him, one at Rome, Ga., and one at Lovejoy Station.  He was finally mustered out of the service, August 23, 1865, returned to Tower City, and for four years following worked in the mines, during which time he saved enough money to carry him through four terms at the Freeburg Academy.  After this he again went back to Tower City and worked in the mines until 1872.  Then for two and a half years he was a partner in the firm of Snyder & Thompson, in the general mercantile business, at Lykens.  At the end of that time he sold his interest in the business and became a law student with C. W. Raber at Lykens, and Hon. A. J. Herr at Harrisburg.  He was admitted to the bar in 1877, and opened an office at Lykens the same year.  Mr. Thompson was elected to the Pennsylvania House of Representatives in November, 1880, and re-elected in November, 1882, and served four years in the House.  He was subsequently elected to the State Senate in November, 1884, and re-elected for a second term in November, 1888.  Mr. Thompson was married, at Lykens, October 24, 1872, to Lizzie A. Halk, daughter of William and Rebecca (Laudenschlager) Halk, the former a merchant tailor at Wiconisco.  To their union has been born two children: W. Claud, student-at-law, secretary and treasurer of the Williams Valley Light, Heat and Power Company, and Warren Ray, graduate Pennsylvania State College, now taking electrical engineering course at Pennsylvania State College.  Mr. Thompson is a lover of horses and has a track of his own.  He has some fine specimens of fast horses.  He is a member of Post No. 232, G. A. R., at Lykens, and past commander of William Thompson Post, No. 174, Tower City.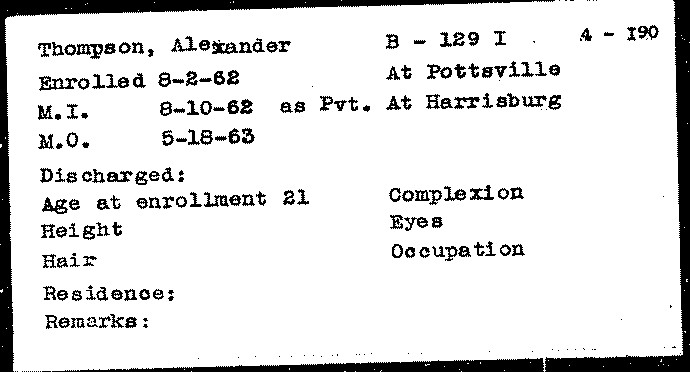 Alexander F. Thompson was mustered into service in the 129th Pennsylvania Infantry, Company B, as a Private, on 10 August 1862, in Harrisburg, Dauphin County, Pennsylvania.  He served until discharge on 18 May 1863.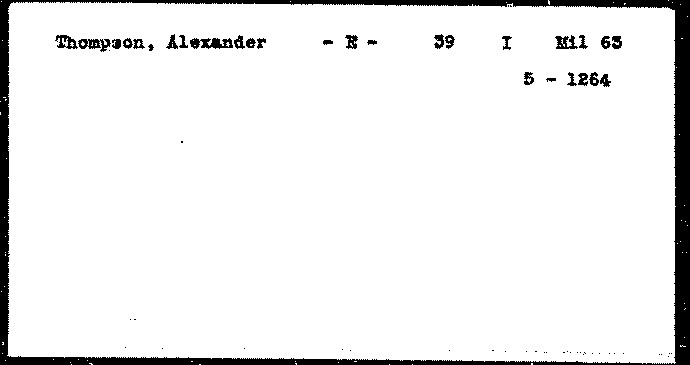 Alexander F. Thompson then answered the call for emergency forces in July 1863, serving in the 39th Pennsylvania Infantry, Company E, as a Corporal until his discharge on 2 August 1863.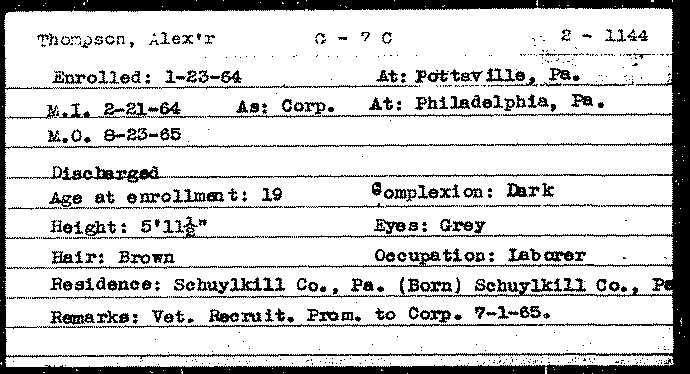 Finally, Alexander F. Thompson enrolled in the 7th Pennsylvania Cavalry, Company G, as a Private, at Pottsville, and was mustered in at Philadelphia, 21 February 1864.  According to records at the Pennsylvania Archives, he was eventually promoted to Corporal on 1 July 1865.  He served with the 7th Pennsylvania Cavalry until his discharge on 23 August 1865.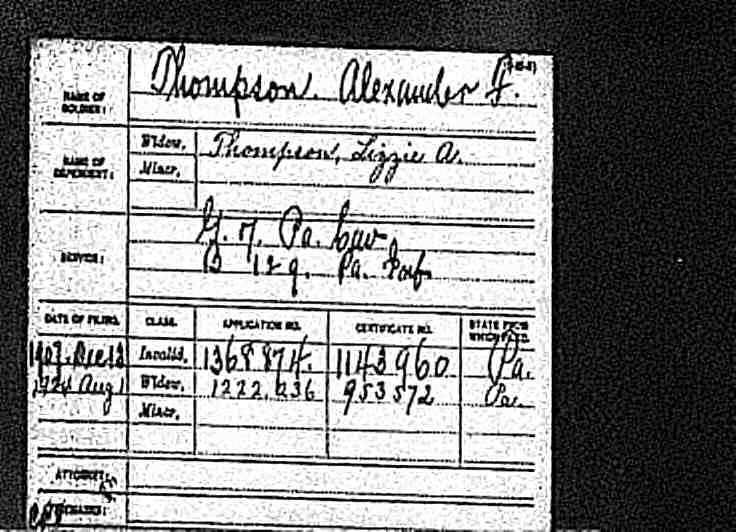 For his Civil War service, Alexander F. Thompson was awarded an invalid pension.  After his death in 1924, his widow, Lizzie [Hawk] Thompson applied for and received the pension until her death.

Alexander F. Thompson was one of the founding members of the Heilner G.A.R. Post #232 in Lykens, County, Pennsylvania, and his name appears on the G.A.R. Monument tablet as a founding member and his rank of Corporal is noted.  The monument is in front of the historic G.A.R. Hall in Lykens, now the home of the newly-formed Lykens-Wiconisco Historical Society.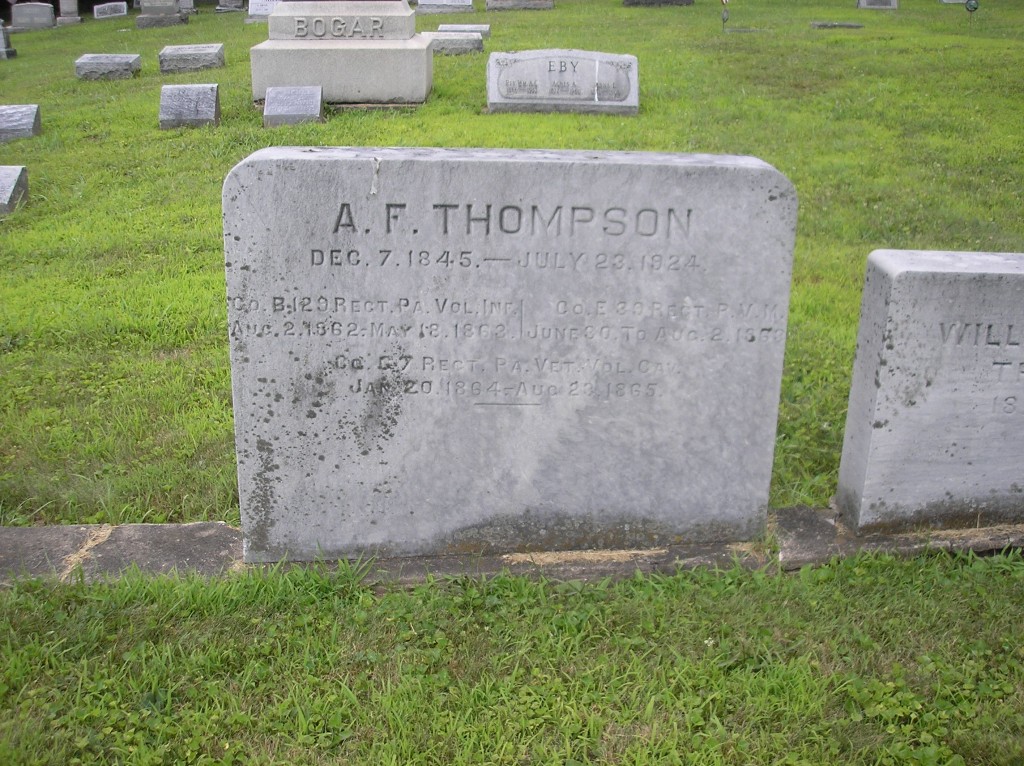 Alexander F. Thompson is buried in the Calvary United Methodist Cemetery in Wiconisco, Dauphin County, Pennsylvania.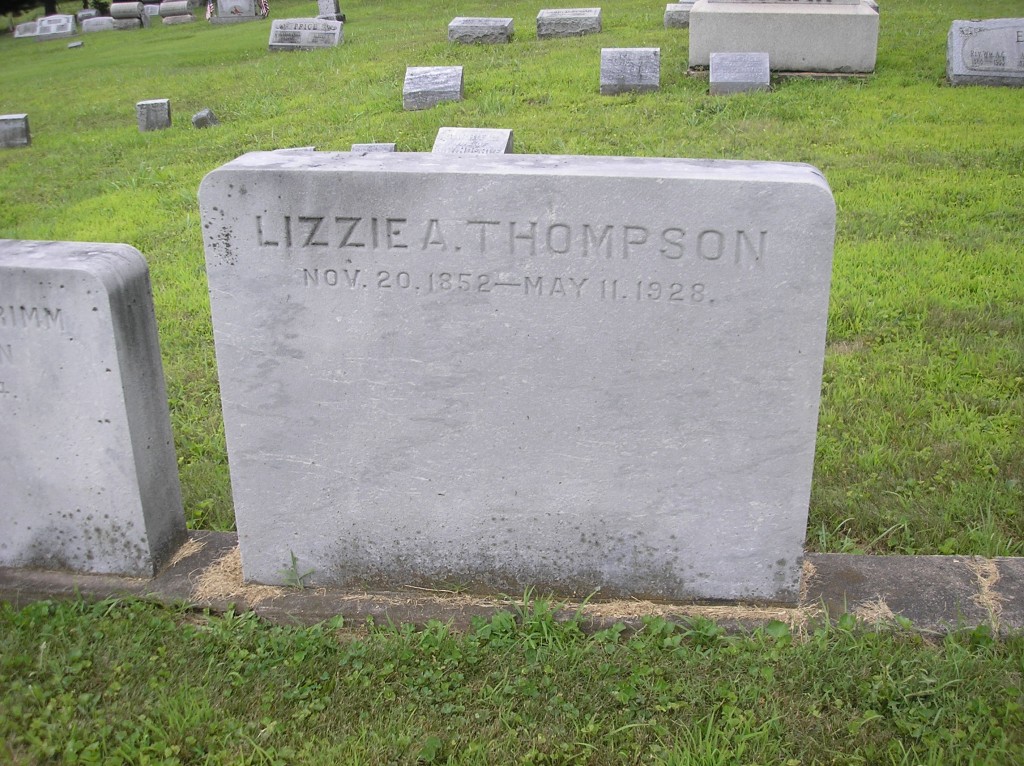 Lizzie [Hawk] Thompson, the wife of Alexander F. Thompson is buried alongside him in the Calvary United Methodist Cemetery in Wiconisco.  Although Alexander was the son of a Scottish immigrant, Lizzie was a direct descendant of one of the pioneer settlers of the Lykens Valley, Johann Peter Hoffman.  Lizzie's father was William Hawk (1828-1905) and her grandmother was Magdalena Riegle (1793-1868).  Magdalena's parents were Andreas Riegel (1750-1815) and the daughter of Johann Peter Hoffman, Anna Catherine Hoffman (1751-1819).  As a descendant of Johann Peter Hoffman, Lizzie had many cousins who served in the war.  The marriage of Lizzie and Alexander did not take place until 1872 and by that time the returning veterans were taking an active part in the politics and social life of the Lykens Valley area.  Undoubtedly, the family connections of Lizzie played a role in the political ascent of Alexander F. Thompson as well as the fact that he entered the legal profession shortly after his marriage.
Alexander's large family and his connections with the coal industry in the valley were also important in his political rise.  His half-brother Charles was killed in the mines and he had a brother William who died of disease in the war – as well as a sister Elizabeth who served as a nurse in the war and also died.  Tomorrow's post will focus on what is known about Alexander's brother and sister and their Civil War service.  Alexander F. Thompson was also a past commander of the William Thompson G.A.R. Post at Tower City – which was named for his deceased brother.  In a prior post on this blog, the Tower City veterans were discussed and picture of some the G.A.R. veterans was posted in the hopes that one of the unidentified veterans could be identified.  That veteran, pictured below, could be Alexander F. Thompson.  Reader comments are sought!
There is also another Thompson in the posted picture – David Thompson – who has not yet been thoroughly researched, so it is possible he could be connected to the Alexander F. Thompson family.
The portrait of Alexander F. Thompson was contributed by Sally Reiner of the Lykens-Wiconisco Historical Society who also transcribed the biographical sketch that was taken from an old county history.  Veterans' File Cards are from the Pennsylvania Archives.  The Pension Index Card is from Ancestry.com.